TORONTO – Hours before first pitch at Rogers Centre, players absorbed the devastating news in a pair of unusually subdued clubhouses: Miami Marlins starter Jose Fernandez, an All-Star pitcher who recently turned 24, died overnight in a tragic boating accident.
As televisions played developing coverage of Fernandez's death, players and staff watched quietly.
"You get a lump in your throat and a pit in your stomach," Toronto Blue Jays president Mark Shapiro said. "It's a perspective blast."
For Shapiro the news brought back a wave of personal memories from spring training of 1993, when he was a member of the Cleveland Indians front office. In March of that year Indians relievers Steve Olin and Tim Crews were killed in a spring training boating accident that seriously injured left-hander Bob Ojeda. After those losses, baseball games seemed insignificant in comparison.
"Baseball's one of those games that's unforgiving in the sense that it keeps moving, it keeps going," Shapiro said. "There's a comfort to that, but there's also a cruelty to that.
"We all deal with that whether it's kids being born, family members lost, it keeps moving. It's a hard thing to get past for a team and an organization. Not being (in Miami) it's hard to begin to think about. The only reason I can begin to think about it is because I went through something as terrible and as horrific."
The Blue Jays recognized Fernandez's death with a moment of silence before Sunday's game against the New York Yankees, while the Marlins and Atlanta Braves cancelled their game entirely. Yankees manager Joe Girardi kept Donovan Solano out of the starting lineup because the infielder played with Fernandez in Miami for three years.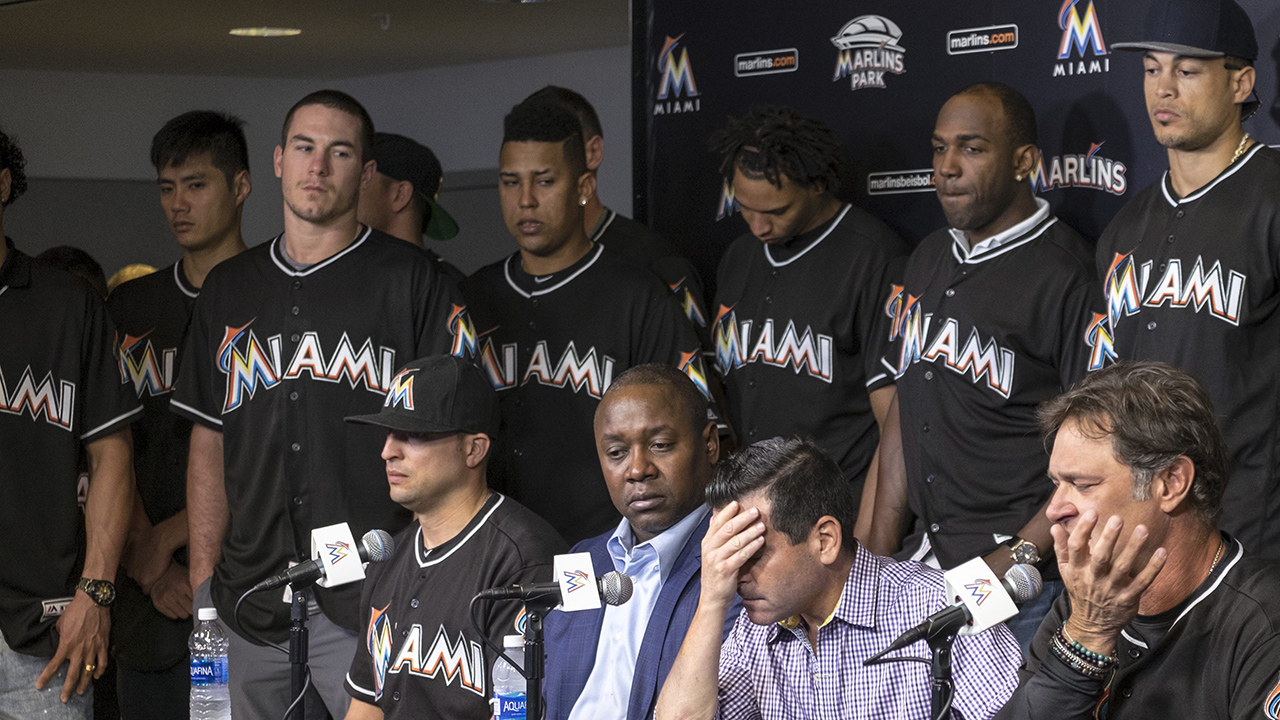 Marlins manager Don Mattingly, bottom right, addresses media in Miami as his team looks on. (Gaston De Cardenas/AP)
Even from a distance, both teams in Toronto felt the loss of Fernandez. In Miami, Marlins manager Don Mattingly spoke tearfully about Fernandez's love for the game while his teammates stood nearby as a show of support.
"When you live in close quarters with people for 183 days and spring training, in a lot of ways baseball becomes your family," Shapiro said. "You lean on people more than you think. There are stronger leaders than you ever know and there's greater comfort being with each other than with anyone else. It's a reminder that the clubhouse is your home and the team is your family."
Armed with devastating stuff, Fernandez was a two-time All-Star, former Rookie of the Year and legitimate 2016 Cy Young candidate. But Sunday's outpouring of emotion has nothing to do with production and everything to do with who Fernandez was personally. As Mattingly put it, "there's just joy with him when he played."
"You tend to forget, particularly people watching from a distance, you tend to forget that these guys doing super-human things for three hours a day are just human beings, just people," Shapiro said. "Everybody probably goes home and pays a little more attention with their loved ones.
"It's a reminder for all of us what's most important in life."