MIAMI – There was no sample-size randomness to help Canada pull off an epic upset of the ridiculously stacked Dominican Republic, the type of any-given-day stuff that sometimes allows a 39-year-old retired for three years and barely touching 90 mph to shut down a collection of all-stars.
Sure, Ryan Dempster managed to emerge from a hard contact-filled first unscathed. But four batters into the second it was 3-0 for the defending World Baseball Classic champions and he was fortunate to only surrender one more over the next five batters before the inning was over.
An early deficit on top of an already stiff mismatch was too much for the Canadians to overcome Thursday, a 9-2 thumping from the dancing and dominating Dominicans leaving them with no margin for error from here on out.
Following an off-day Friday, Canada will send Philadelphia Phillies prospect Nick Pivetta to the mound Saturday against Julio Teheran and the Colombians in a must-win, with another back-against-the-wall contest to follow Sunday versus the similarly stacked United States.
"We have to win now," manager Ernie Whitt said in summing things up succinctly.
The pressure to perform on a given day, one so counter-intuitive to baseball's inherent everyday grind, can make it difficult to play as the favourite in tournaments like the Classic, but the Dominicans were on point from the get-go.
St. Louis Cardinals ace Carlos Martinez dotted BBs for four dominant innings, inducing a weak 5-3 grounder from Justin Morneau in the first on a pitch clocked at 101 mph. The only run against him the Canadians managed was on a balk, and the 4-1 lead he handed to a power-arm loaded bullpen was never in imminent danger.
Still, the Canadians hung with them until the sixth, when consecutive singles off Kevin Chapman to open the inning set the stage for Jose Bautista, who crushed a 2-0 fastball to the concourse behind the left-field bleachers. That made it 8-2 and the only question that remained was whether Canada could avoid the mercy rule and not burn too many relievers.
"I can't think of a team that was better than what the DR team puts out there – I've been involved with this since 2006," said Whitt. "I thought the U.S. team in 2006 was a good team, but I think they have more consistent arms coming out of this DR team. There's no soft spot in the lineup. You make one mistake and they're going to hurt you."
A predominantly Dominican crowd of 27,388 made Marlins Park feel like a stadium in Santo Domingo, the fans singing and dancing in the standings while the players exited the dugout to celebrate each returning runner after he scored.
"I thought I was in Quisqueya," Bautista said in Spanish and interpreted by MLB. "It was great energy from our fans, from our people. When you play for your country, it cannot be compared to many things. So we felt very good on the field, they transferred that positive energy to us and we were able to perform."
—
DEMPSTER'S DUE: Forget the result, Ryan Dempster taking the mound after not throwing a pitch of consequence since the 2013 World Series with the stuff he was featuring showed a remarkable amount of guts.
Relying mostly on a fastball that touched 90 and his splitter, he tried to nibble on the edges of the zone but couldn't get the Dominicans to expand. They got to him in the second when Nelson Cruz opened the inning with a double and scored on Gregory Polanco's RBI single before Welington Castillo went oppo for a two-run shot.
Jose Bautista capped the rally by poking a chopper through the 3-4 hole to score Jose Reyes.
Not exactly the outcome he had in mind.
"I actually felt really good out there for no pitching that long," said Dempster. "I overthrew a couple of pitches, one of them being the home run, it stayed up over the plate, but I felt in control of my emotions out there, trying to make one pitch at a time. Unfortunately I didn't make enough good pitches against a really good lineup that swung the bat really well."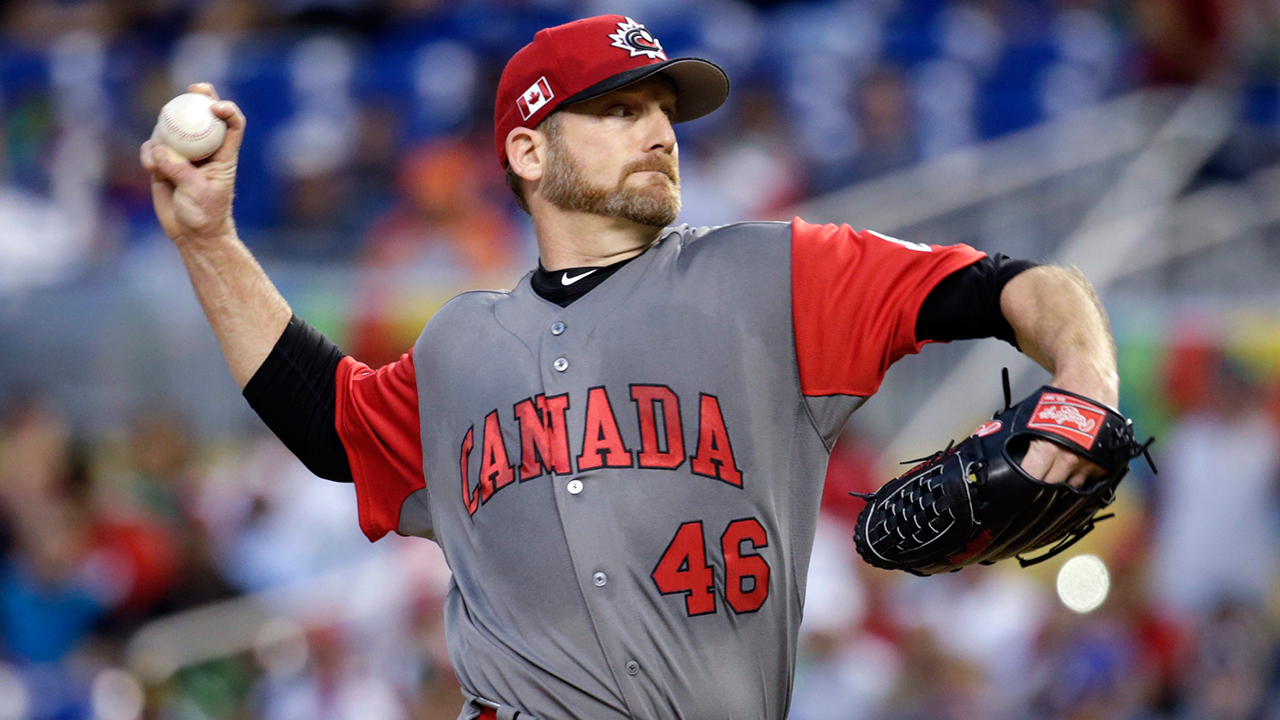 Canada pitcher Ryan Dempster throws during the first inning against the Dominican Republic, Thursday, March 9, 2017, in Miami. (Lynne Sladky/AP)
---
Dempster allowed four runs on seven hits and a walk with a strikeout – on a Bautista check swing – in two innings, but threw only 49 pitches, so he'll be eligible to pitch in one of Canada's next two games.
"If Ernie needs me I'll be ready to go," said Dempster. "I don't expect anything. I've been thrilled with the opportunity so far, and I'll be prepared and ready whether it's to get a hitter out, or pitch an inning, or pitch two, whatever it is."
Whatever happens, Dempster has no regrets. He made a point of relishing the wild environment he pitched in – "the emotion of it all is pretty incredible," he noted – in the event he doesn't get into another game.
"I enjoyed every bit of tonight," he said. "That's probably the least upset I've been after pitching as poorly as I did in that second inning than in my entire career. I really did just soak it in, I'm proud of myself for not being afraid to fail and to go out there and work hard toward something."
—
PLAY SOME D: Canada executed a beautiful relay in the fifth inning to cut down Jose Bautista at home and keep a one-run Dominican rally from opening up even further. Dalton Pompey picked up Carlos Santana's smash to centre by the 407 mark on the wall, made a perfect throw to shortstop Jonathan Malo, who fired a perfect strike to George Kottaras at home, who comfortably tagged Bautista, trying to score from first, for the out.
"I knew right off the bat with Dalton's speed we probably had a shot at home plate," said Malo. "He went fast to get the ball, I figured it was going to be a tough throw for him because he had to go all the way to the wall, so I tried to go out as far as I could, he gave me a good throw and a good chance to get him out at home and we got him."
The out kept the score at 4-2, but Adrian Beltre soon cashed in Santana with a single that made it 5-2 before Kevin Chapman took over from Jim Henderson and escaped the jam.
"They have a very solid team, all we're trying to do is stay as close as possible in that situation," said Malo. "I was lucky enough to make a good throw there."
—
A FOR ALBERS: The best Canadian pitching line of the night belonged to Andrew Albers, who threw two shutout innings in relief of Ryan Dempster to really stabilize the game for Canada.
He allowed only a two-out Manny Machado single in the fourth, quickly recovering to get Robinson Cano on a groundout. More importantly, he used only 28 pitches, and will be a candidate to either pitch against Colombia on Saturday or perhaps start versus the Americans on Sunday.
"In international play, the game's never over, it's all about going in there and trying to stem the tide a little bit and try to give us a shot," said Albers. "I can't think of too many better lineups – unless you're going to an all-star game somewhere. Then maybe. That's a pretty formidable lineup over there even though it's early in the season, obviously those guys can swing it a little bit, so you've got to be on top of your game."
Canada manager Ernie Whitt (12) greets Rene Tosoni (9) and Justin Morneau (33) before their game against the Dominican Republic in the World Baseball Classic, Thursday, March 9, 2017, in Miami. (Lynne Sladky/AP)
—
MALO THE MAN: Not only did Jonathan Malo, a 33-year-old who spent the past five seasons playing for the Quebec Capitales of the independent Can-Am League, show up in the field, he did so on the basepaths, too.
In the third, he got down the line hard to force Jose Reyes into a throwing error that pushed him to second, and eventually he scored on a Carlos Martinez balk to cut into a 4-0 Dominican lead. Then in the fifth, he avoided a double play by charging up the line and promptly scored on Dalton Pompey's double.
"It was so fast, I didn't even see it," Malo said of the balk. "I figured something had happened and I was glad they called it, but (the balk) was very quick."
—
SEIZE THE MOMENT: International tournaments are inherently cutthroat and Pete Orr, a veteran of more than his share of events, believes baseball players must make a mental adjustment when playing in them.
"There's no waiting around. You don't get the chance to necessarily feel things out. The game's halfway over or all the way over at that point," he said. "You don't have to be overaggressive or play out of, try to do things you don't normally do, but you got to be prepared to do them right away, that's for sure.
"It's a Game-7 situation every game you play and you have to be ready to take advantage of everything you can do. It's hard that way because when you play a 162-game schedule, you train yourself in your mind. If you played this way for 162 games, you would burn out. So you have to kind of adjust the way your mind plays the game."
—
QUOTABLE I: "I kept waiting for the pitcher to hit. He never hit and that got really tough." – Ryan Dempster on the deep Dominican lineup.
—
QUOTABLE II: "I was excited when Greg (Hamilton) and Ernie (Whitt) talked about it and said to me they thought it could bode well with the experience that I have. Then I saw the lineup and I was like, 'Well, maybe not them.'" – Ryan Dempster on drawing the start versus the powerful Dominicans.
—
QUOTABLE III: "It took a lot of courage. He was out there competing his butt off and unfortunately it didn't go quite as well as he would have liked. He still made some good pitches and competed. Taking three years off, not having seen a hitter, that's tough. I'm sure he won't be the only one down the road with that lineup." – Andrew Albers on Ryan Dempster.