The first time Curtis Granderson encountered an infield shift, the current Toronto Blue Jay was actually playing the Blue Jays as a member of the Detroit Tigers.
Looking out from the batter's box, he noticed Toronto's second baseman, Aaron Hill, positioning himself closer to first base than second, particularly in two-out situations. Hill had recognized Granderson's tendency to pull groundballs through the hole. Granderson smiles remembering it.
"I was actually joking with him," Granderson said. "I was like, 'Hey, man — move back! Move back!'"
Today, it's not such a rare occurrence. Granderson is the fourth-most shifted player in the game, facing an infield shift in 85 per cent of the 259 plate appearances he's made this season. That's up from 68 per cent last season, and only 29 per cent in 2015. And the shifts have become much more aggressive. Hill was merely playing a few steps to his left. Now, second basemen line up against Granderson in shallow right field.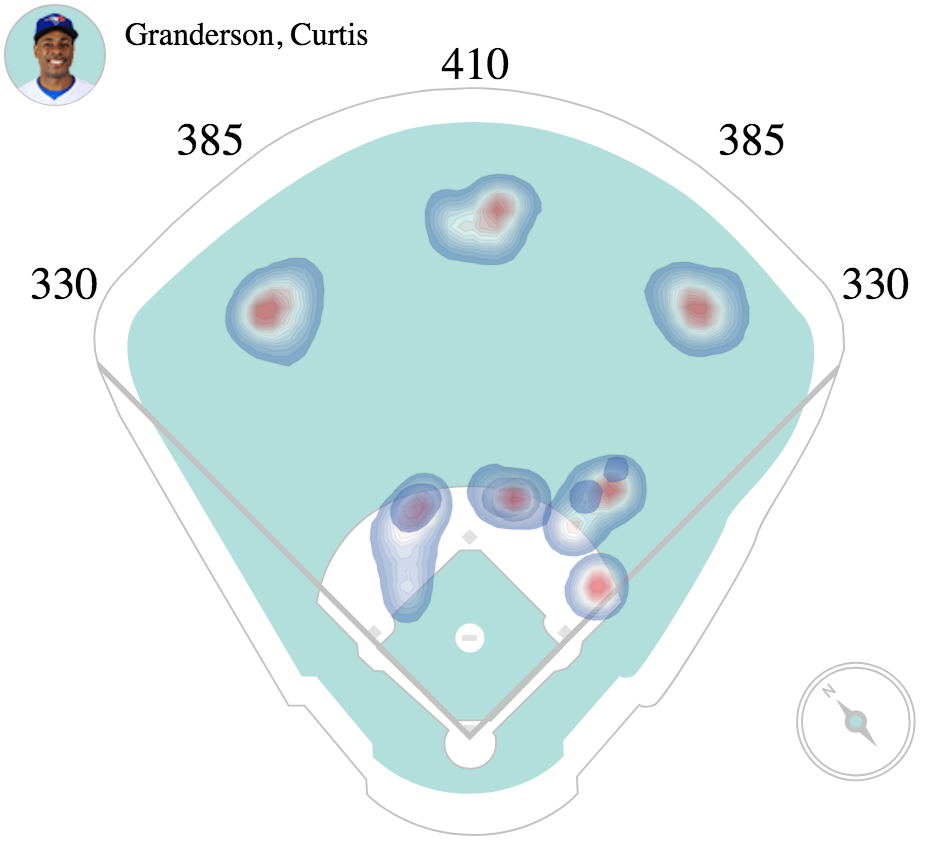 And here's why. This is every ball Granderson's put in play since 2015: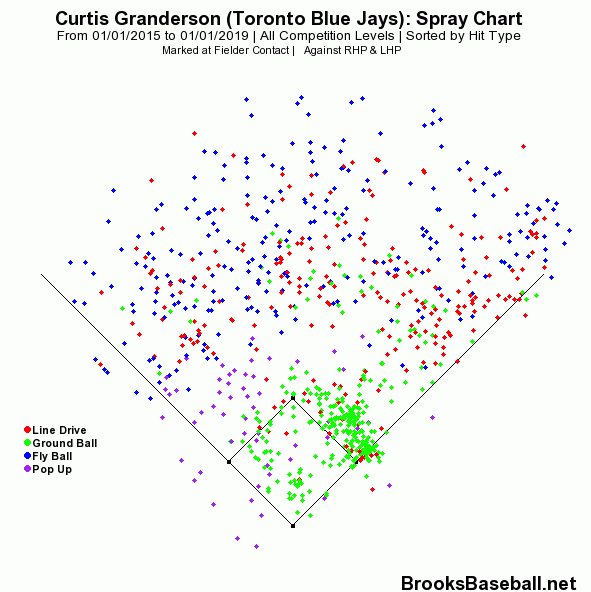 While he'll shoot balls in the air all over the outfield, Granderson has an obvious tendency to pull groundballs to the right side of the infield. For the opposition, it's a percentages play. Over time, Granderson will get out more often with three infielders positioned on the first base side of second.
MLB-wide, shifts are becoming more common. According to Baseball Savant, 17.4 per cent of all plate appearances prior to the all-star break faced a shift. That's up from 12.1 per cent in 2017. Last season, only the Houston Astros, Tampa Bay Rays, and Milwaukee Brewers employed a shift more than 20 per cent of the time. This season, 10 teams are over 20 per cent, while the forward-thinking Astros are at 40.
And Granderson isn't even technically the most shifted player on his team. That mantle belongs to the switch-hitting Justin Smoak who, in his 242 plate appearances this season batting left-handed, has faced a shift 87 per cent of the time — third to only Chris Davis (91 per cent) and Joey Gallo (89 per cent) across the majors.
Unsurprisingly, the groundballs on Smoak's career spray chart — when batting left-handed — all cluster in the same area as Granderson's:
"It's not like I'm trying to pull the ball," Smoak says. "I try to think middle of the field."
But when he puts the ball on the ground against a right-handed pitcher, it's almost always going to the pull side. And it's almost always going to be an out. Smoak's hitting .172 on groundballs this season, and .136 on groundballs against the shift. Granderson's hitting .144 on groundballs in general, and .114 on grounders against the shift.
Of course, no one wants to hit a groundball. Even before launch angle was in vogue, players knew the best way to pile up extra-base hits — and, therefore, the best way to maximize earning potential over their careers — was to drive the ball in the air. But, when you have a power-predicated approach like Smoak and Granderson, groundballs are bound to happen. And it's no fun to watch them so routinely vacuumed up when, a few years ago, some were sneaking through the infield.
Most fans see an elementary solution to that problem: hit the ball the other way. If all the defenders are positioned on one side of the infield, why not merely hit it where they aren't?
"I get it. When you see a guy hit the ball the other way, from the outside looking in a lot of people will say, 'Wow, that's how you're supposed to do it.' But a lot of times that's accidental," Granderson said. "Guys weren't trying to do that. They got beat, had a late swing, and they ended up hitting the ball that way."
It's simply not so easy. This season, 86.6 per cent of groundballs have been hit either up the middle or to the pull side. A groundball the opposite way is a difficult thing to execute.
"Especially with left-handers, when we tend to hit the ball to the left side of the field, it's usually in the air," Granderson said. "Think of when you have the infield back and the runner on third — and all you have to do is hit a groundball to get the runner in. The failure rate is still pretty high on that. That's a situation where you can hit the groundball anywhere and get the run in. And guys still can't do it."
Livestream the Toronto Blue Jays on the most popular devices. Plus, get over 150 marquee MLB matchups, the Home Run Derby, All-Star Game and Postseason.
Turns out, squaring up major-league pitching is hard enough — putting the ball exactly where you want to is something few in the game can do. Players put years of repetition into their swings in order to consistently drive the ball on an upward plane. Start messing with that muscle memory and bad things can happen.
"The times I've thought about it and tried to go the opposite way, it didn't work out too well for me," Smoak said. "My swing gets long. I start rolling over to second, rolling over to first. I feel like it's better to just try to hit it hard and not worry where it goes. It's gonna find holes, it's just a matter of squaring it up."
Plus, when a batter is shifted, they're not only positioned strategically — they're pitched strategically, as well. When a pitcher has a shift behind him, he's not going to purposefully throw the hitter something on the outside half of the plate that can be easily served to the opposite field. He's going to throw fastballs in on the hands, breaking balls down and in — anything to help generate groundball contact to the pull side.
"I'm not going to try to hit an inside fastball the other way," Smoak said. "What does that do for me? Nothing."
Sure, hitters could bunt the ball in the opposite direction. But executing a good bunt against major-league pitching is much more difficult than it looks. You're still trying to manipulate one round object with another round object. And the first round object is moving at an extremely high rate of speed.
Average fastball velocity in the majors has gotten progressively harder every season since 2008, topping out at its highest ever in 2018 with pitchers averaging 93.7 m.p.h. on their heaters. Meanwhile, fastball movement has remained remarkably consistent year over year — there hasn't been a sacrifice in action even as pitchers focus more on velocity. Bunting, a skill major-leaguers rarely work on as they focus on refining their swings, gets more difficult every year.
"I've tried it a few times. But I always bunt it to the dugout," Smoak said. "I always go too far left, because I don't want to bunt it back to the pitcher. And, honestly, being able to get a bunt down, it's not something I go out there and practice every day. That's not my game."
Plus, in going the other way with soft contact such as a bunt, Smoak and Granderson would be doing the opposition a favour by limiting themselves to a single. Smoak is second on the Blue Jays with a .480 slugging percentage. Granderson is fifth at .426. If they both settle for opposite-field singles, Toronto has now lost two of its top five threats for an extra-base hit.
And considering neither player steals bases or runs particularly well — StatCast sprint speed measures Granderson as a league-average runner, and Smoak as the 15th slowest in the game — it will typically require a couple more hits to bring their bunt singles home. Only a homer or a very well-struck extra-base hit will score either man from first. And the odds of that happening are diminished considering Smoak and Granderson are two of the most-likely Blue Jays to provide such a swing.
"If I do bunt and get on, I'm probably not going to steal. So, a double play still gets them out of the inning," Granderson said. "We've got to try our best to get into scoring position as quick as possible, as often as possible. Because, ultimately, that gives us the best chance to score runs."
You also have to look at things from the athlete's perspective. Ballplayers don't get paid for bunts and soft contact. They get paid for hitting the ball hard, hitting it high, and hitting it far. The fact Smoak and Granderson are both capable of drawing walks and hitting for power — production that translates to a high OPS — is one of the primary reasons why they're still major-league regulars in their 30's. They'd no doubt like to continue earning a living — they won't if they cease doing what they're best at.
"The players have always historically played to how you get paid," Granderson said. "And the game recently has lent itself to — if I hit the ball out of the ballpark, and I get myself on base, then I'll get taken care of. … How do I do that so I can get rewarded? I've got to try to drive it."
And in that vein, here's how it's gone for Granderson this season when he's put the ball in the air vs. a shift: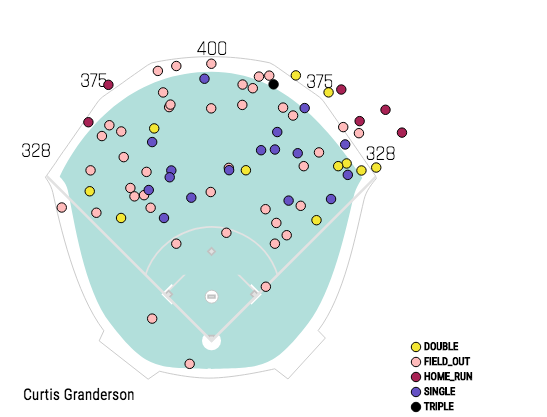 And here's Smoak when batting left-handed: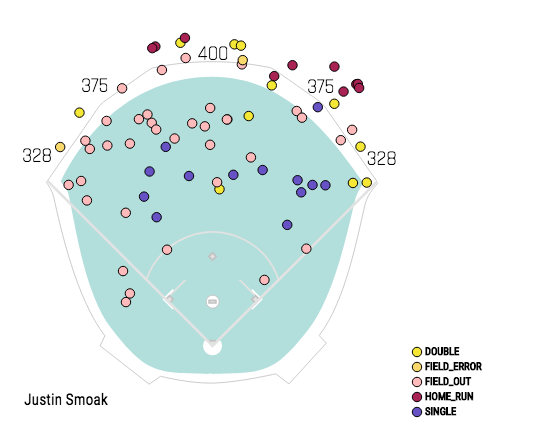 Granderson is 35-for-77 with 18 extra-base hits. Remarkably, Smoak is almost identical at 34-for-73 with 21. Those batting averages are over .450.
For players like Granderson and Smoak, two of the most frequently shifted in the game, the best approach against the strategy is clear — either take a walk or get the ball in the air at a high rate of speed.
"Even if you look at it historically, a lot of the highlights from the 80's, 70's, 60's, very rarely do you see groundballs hit to the shortstop side from left-handed hitters. Now, it's quantified. If we hit it on the ground, typically it's on the ground to the pull side. So, if I were coaching, I'd shift against us, too," Granderson said. "But if I hit the ball in the air more, then the shift doesn't matter."