DUNEDIN, Fla. – There's real danger in reading much into any spring training game. Intrasquad contests? Good luck.
But even if the results of Monday's Toronto Blue Jays intrasquad game are meaningless, players had an early chance to make a strong impression on coaches and the front office staff seated behind home plate.
Look no further than Chris Colabello for evidence that a strong first impression matters. The journeyman 32-year-old didn't make the Blue Jays out of spring training last year, but he played well enough to get the call in early May. By season's end he had 15 home runs and an .886 OPS. Now there's no doubt that he's on the Blue Jays' 2016 roster, but he's played for too long to assume those numbers will simply repeat themselves.
"It would be irresponsible at this point in my career to handle it any differently," Colabello said. "I'm out here trying to get better every day, working on things that I need to work on.
"As soon as we step between the white lines, it becomes about competing every day. Whether it's the big leagues, triple-A, double-A, indy ball, college, high school, all I want to do was compete."
Colabello homered and doubled Monday, the final tune-up for the Blue Jays before their Grapefruit League schedule begins against the Philadelphia Phillies. Big hits are nothing new for Colabello, whose four-month-old French bulldog is named Clutch. But for lesser-known players in Blue Jays camp, Monday represented a chance to show their stuff in a live setting.
"It's against our own guys, so it's a totally different feel, but they want to get in a game-type situation," manager John Gibbons said.
Of the 10 pitchers on Monday's schedule, only starter J.A. Happ has a guarantee of making the team. The others, from 14-year veteran Brad Penny to Rule 5 pick Joe Biagini to ambidextrous pitcher Pat Venditte, are here to make an impression.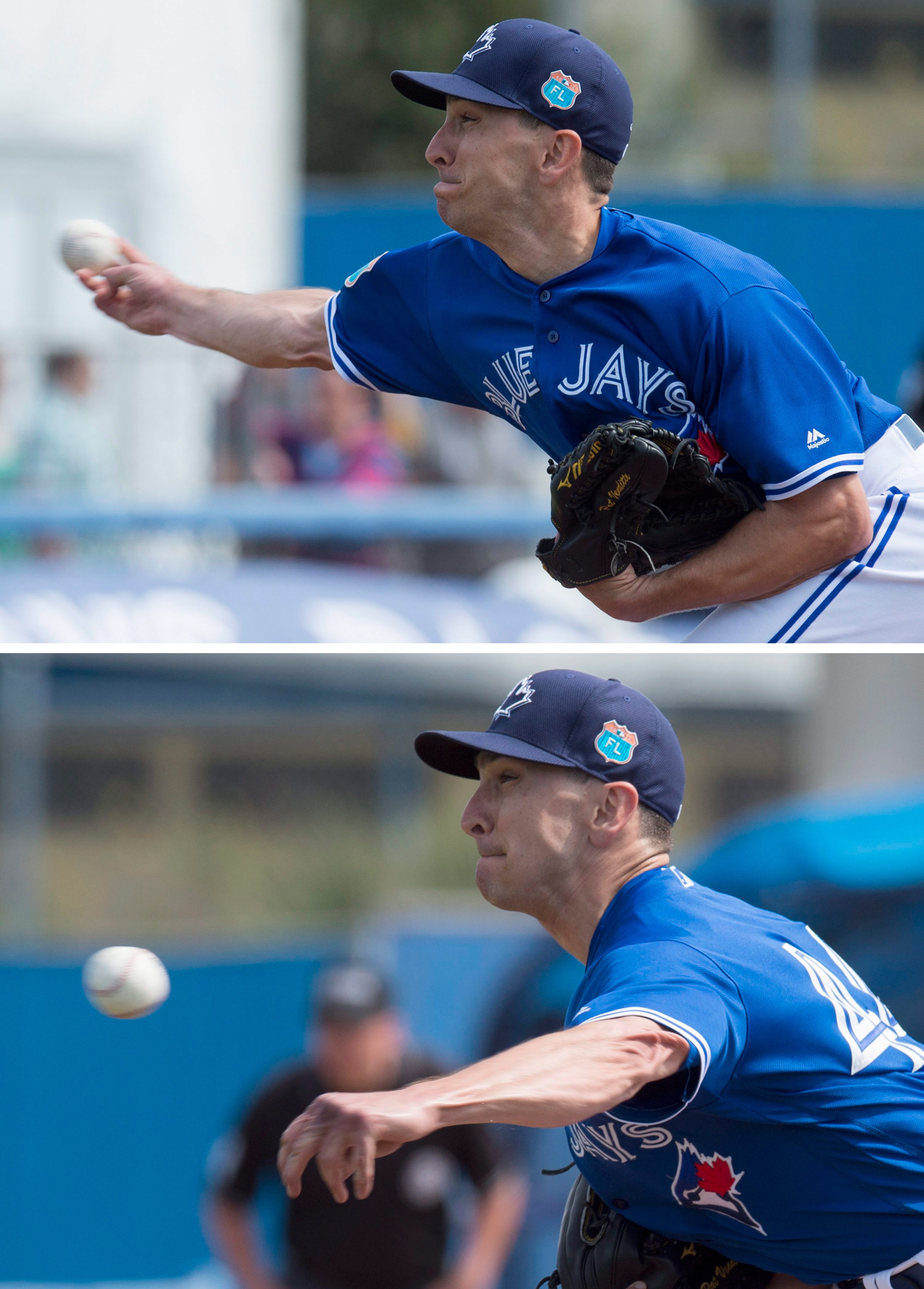 Blue Jays switch-pitcher Pat Venditte is seen pitching with both hands on Monday. (Frank Gunn/CP)
Penny started opposite Happ, displaying a fastball that sat in the 86-89 mph range along with a slow curve. He was followed by Venditte, who posted a 4.40 ERA in 26 games for the Oakland Athletics last year, when he became the second switch-pitcher in MLB history, joining Greg Harris. He was especially effective against left-handers, allowing an opponents' on-base percentage of .191.
"Having that left hand is really what's allowed me to stick around," Venditte said.
Both deliveries were on display Monday, as Venditte alternated seamlessly from one low-arm slot delivery to the other. His approach stood in contrast to that of Biagini, a tall right-hander whose fastball sat in the 94-95 mph range. He started in the San Francisco Giants' system last year, but his chances of sticking with the Blue Jays as a Rule 5 pick depend on his ability to get outs in relief. Though the 25-year-old hasn't pitched out of the bullpen much since college, he looked sharp Monday, mixing in a change-up and curveball on his way to two strikeouts.
"If someone had said you're going to have a shot to make the big-league team or at least have this experience, I would have said 'absolutely,'" Biagini said.
It'll be weeks before we know whether the likes of Venditte and Biagini have a real shot at making the opening day roster. Reading much into one inning of baseball is ill-advised at the best of times, and especially when everyone's just getting started. But as Colabello can attest, there's nothing wrong with making a strong first impression.
"Things happen in baseball," Colabello said. "It's a long season."