Every day during the off-season, Dustin McGowan thought about it. Was he making the right decision by trying to transition back to the starting rotation from the bullpen? Was he jeopardizing his career? Would he be at peace with himself if his arm blew out yet again?
"That was part of having to be 100 per cent on board with it," he says. "If something was to happen, I knew that it was my decision, nobody else's but mine, and I can live with that. If it was somebody else's decision that forced it, I probably couldn't live with it, but this is what I wanted to do.
"Ultimately that's how it's supposed to be."
McGowan's soul searching paid off when he won a job in the Toronto Blue Jays' rotation during spring training and his first reward comes Friday night, when he takes the mound in the home opener against Masahiro Tanaka and the New York Yankees. The start will be the first for the 32-year-old since Sept. 26, 2011 at Chicago, and it is the latest peak in a career with more than its fair share of valleys.
A first-round pick in 2000, McGowan was on track for regular opening day assignments when he tore the labrum in his right shoulder midway through the 2008 season. The first of three shoulder surgeries in a five-year span followed – he also had a knee operation in 2009 and underwent Tommy John surgery on his elbow in 2004 – and he routinely wondered if he'd ever pitch again.
"There were a lot of those points," McGowan says with a wry grin. "But I'd also look at it like this: each time I made it through, and each time it felt like I got my stuff back. That was the concerning thing each time I had a surgery, am I going to lose my stuff? Each time it kept coming back and that encouraged me to keep working – there had to be a point where I just get healthy."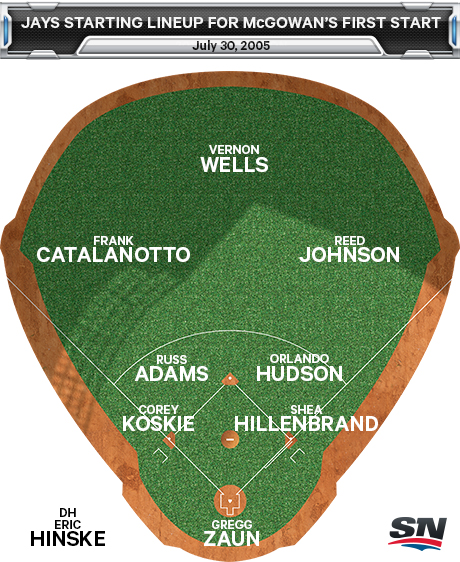 That point seems to have finally come last season, when he was working his way back from the last of his shoulder surgeries. The procedure came in 2012, months after previous plans to have him return to the rotation fell apart in spring training when a bout of plantar fasciitis led to more shoulder problems.
Given what had happened, the Blue Jays decided to bring him back as a reliever, and McGowan's work with the weighted ball program made his return a success. In 25 games he posted a 2.45 ERA with 26 strikeouts in 25.2 innings, and he felt so strong throughout the season, with little trouble bouncing back on days after he pitched, that the thought of starting again re-entered his mind.
At season's end, he spoke to the Blue Jays about it, and with their blessing came into camp intent on the making the rotation. When J.A. Happ struggled and developed a back problem, McGowan found his place, even as debate raged whether he should be in the bullpen or not.
"We know how valuable he can be in the seventh, eighth inning and potentially the ninth inning, and he definitely fell into a nice groove in the bullpen, so it was a difficult decision," says pitching coach Pete Walker. "But based on how he feels physically, his feelings toward starting again, and obviously the opportunity was there, he's taken advantage of it."
Still, as remarkable and inspirational a story as McGowan's comeback is, key questions linger.
Can he withstand the rigours of starting over the course of a long season? And given that he's only thrown 94 total innings in the majors and minors since his shoulder surgery in 2008, how much can the Blue Jays realistically expect from him?
There's no handbook for this.
"You would look at past workload, even if it's five, six years ago, but I'd say the No. 1 factor is how is he feeling during the year," says GM Alex Anthopoulos. "Is he starting to tire? Maybe along the way you skip him a start, maybe you move him back a few days just to try and keep him strong."
Adds Walker: "You play it by ear. We're definitely not putting a number on it right now."
Whatever the case, McGowan intends to be smarter this time.
"At any sign of discomfort," he promises, "that's when I have to shut it down."
McGowan didn't do that in 2008, and he still wonders what might have happened if he had spoken up about the pain in his shoulder earlier. The hurt became too much to bear during a July 8 start against the Baltimore Orioles. After getting Brandon Fahey on a grounder to second to end the fourth, he walked into the dugout and told manager Cito Gaston he was done.
For eight or nine starts before that one, the aches in his shoulder kept getting worse and worse, but McGowan told no one.
Why?
"Hard-headed," he says. "Wanting to pitch. I should have known it was time to shut down, but my mindset was if I was making it through those starts, I'd make it through this one, too."
But the start against the Orioles was the tipping point.
"I'll never forget, and I wish I would have now, but I almost told our pitching coach Brad Arnsberg in the bullpen that there's no way I could do it," McGowan says. "Every pitch I was holding my breath and gritting my teeth. I didn't know what was going on, but after I finished that fourth inning, there was no way I could throw another pitch. Literally, it felt every time I would throw someone was stabbing me."
The years since have been a constant series of hopeful rehabilitations and crushing setbacks, and now McGowan is here. A sell-out crowd will fete his return and hope he can still fulfil all that promise, after all these years.
McGowan, meanwhile, will look to keep things simpler. He'll try to contain his adrenaline, and he'll think of all the people who helped him along the way: his wife and two daughters, the Blue Jays training staff that "put in more hours than they probably should have with me," and of the goals he wrote out for himself before the season began.
"My No. 1 goal is stay healthy," he says, "and go from there."
Really, that's all there is to it. For the rest of his career, McGowan will be start-to-start, even pitch-to-pitch, doing what he loves most, with no regrets about how things turn out.