MIAMI – Eric Gagne made his big-league debut Sept. 7, 1999 at the age of 23, throwing six shutout innings for the Los Angeles Dodgers in a 2-1 loss to the Florida Marlins. Nearly two decades, 187 saves, a Cy Young Award, multiple injuries, an admission of performance-enhancing substance use and several years of rest later, the right-hander is once again in Miami, this time representing Canada at the World Baseball Classic at age 41, a first step, he hopes, toward a longer-term return to the game.
What would the kid who allowed only two hits and struck out eight before a crowd of 13,644 at Pro Player Stadium make of him sitting in the Marlins Park dugout now, clad in a Canada hoodie and red shorts, trying to make a go of it again?
"I would think that I'm crazy. Out of my mind," Gagne says laughing. "But I'd really respect that, doing it for the love of the game. That's really what I'm doing it for. I did that movie, Spaceman, with Bill Lee. He's 69 years old and still pitches. He still loves it. That's the purest form of baseball – just go out there and have fun and enjoy it, enjoy the grind."
For how much longer the right-hander from Mascouche, Que., gets to enjoy the grind is uncertain.
Gagne hasn't pitched in the majors since Sept. 25, 2008, when he threw a scoreless seventh inning for the Milwaukee Brewers in a 5-1 win over the Pittsburgh Pirates. He went to camp with the Brewers the following spring but didn't last three weeks, and ended up logging 102.2 innings for the Quebec Capitales of the independent Can-Am League instead.
The next spring he went to camp with the Dodgers but was again quickly released, that time not bothering to try and find someplace to keep pitching.
"I was done mentally," says Gagne. "Physically I could have done it. My arm felt good. My back was a little bit iffy, but I was beat up from five years of rehab, pretty much. I did throw for the Red Sox (in 2007), I did throw in Milwaukee (in 2008), but I was never healthy and that really takes a toll on your mind. Mentally, it's hard. I needed a break, to get away from the game."
So he did. Sort of.
He bought baseball equipment company B45 and dove headfirst into the business, leading a total redesign of its gloves. He purchased a stake of the Trois Rivières Aigels, one he recently sold. He wrote a book with Martin Leclerc in which he admitted using human growth hormone. He helped finance Spaceman, making a cameo as a bartender. He began working with young players in Quebec, which led to turns coaching the French national team.
Eric Gagne, businessman, did OK.
"I'm not a businessman, I understand the business of baseball," he says. "I like the challenge and when you retire, you're looking for something that can challenge you mentally, physically and emotionally, and that's really what I found in business."
Still, Eric Gagne, pitcher, couldn't really let pitching go, and as his back and shoulder improved with rest and his arm regained strength through his throwing with the kids he trained, his mind wondered.
An outing for the Aigels in 2015, designed more to draw a crowd, offered more encouragement, especially since Gagne had never made peace with not pitching.
"I don't think I ever will, I don't think anybody ever does make peace without the game," he says. "We all have that ego that thinks we can always do it."
After the Capitales game, Gagne started believing he could, in fact, do it again.
He began a regimented throwing program, taking his time to avoid setbacks, and passed all the physical challenges. His body responded well to throwing and he started regaining velocity.
He built toward another Can-Am start, this time with the Ottawa Champions last September, and went five innings, allowing only a single run. He felt so good afterwards, he called Baseball Canada's director of national teams, Greg Hamilton, and told him that he was throwing well, and that if there was a need at the Classic, he was interested.
Hamilton told him to keep throwing and stay in touch. Gagne did just that.
"When you're not willing to put in the work, that's when you step away from the game," he says. "That's what I did. Now I've been trying to put the work in and working out with the young guys, I found out I still love this game so much I'm willing to give it another try, and make sacrifices for it."
Just as important were the mental adjustments he made with how he was going to have to pitch if he was really going to try a comeback.
Long gone were the days when his wicked big-velo fastball-curve-change combo allowed him to save a record 84 consecutive games and earn him the nickname Game Over with the Dodgers. By the end of his career, he was barely surviving on the mound, frustrated by his inability to adjust to what his body could offer.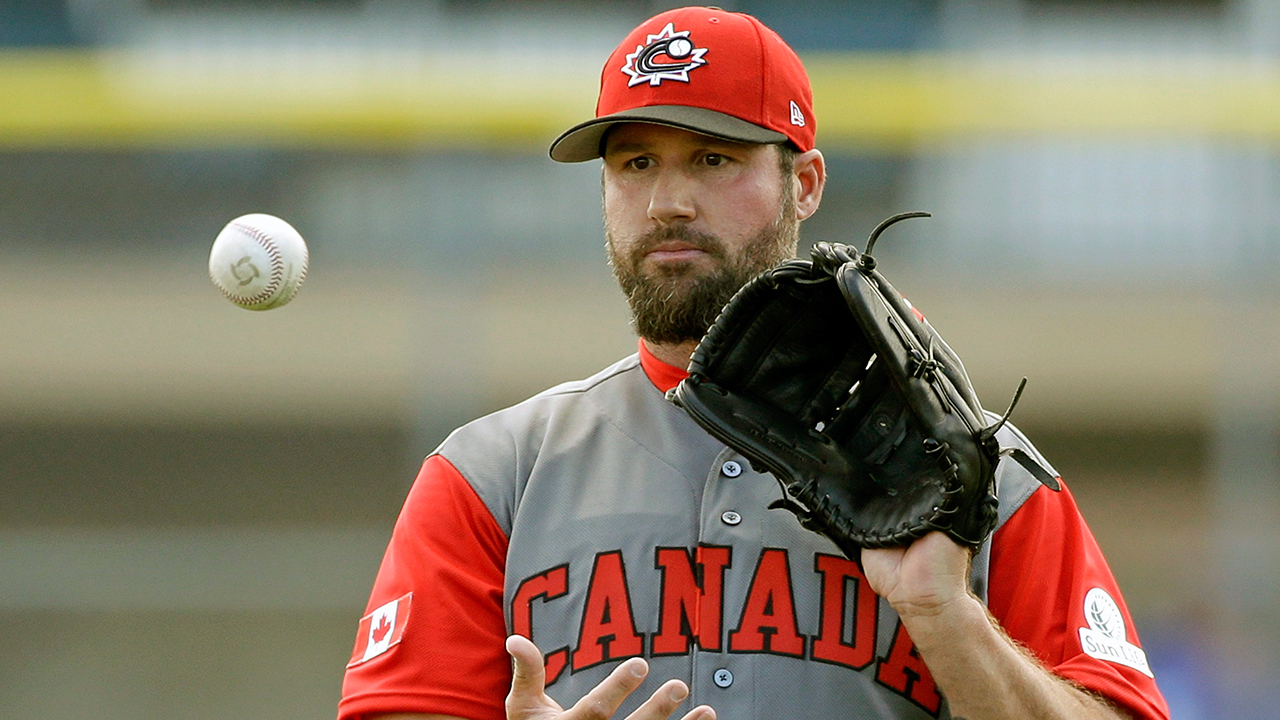 Canada pitcher Eric Gagne catches the ball after a warmup pitch before facing the Toronto Blue Jays in an exhibition game, Tuesday, March 7, 2017, in Dunedin, Fla. (John Raoux/AP)
---
Over the past year, as Gagne has built himself up, "I've been able to do that a little bit, make adjustments and throw the ball with what I have, not with what I want to have, which is a big difference," he says. "There's a lot more maturity, really knowing what you have and trying to make the best of that instead of hoping and wishing you have a 97 mile an hour fastball."
Before joining Canada for the Classic, Gagne says he worked out for five big-league teams, and the Toronto Blue Jays gave him a close look when he threw a scoreless inning against them in a Classic warmup game.
Gagne sat 92-93 with his fastball, touched 94, and threw both a solid changeup and a passable curve despite being so "nervous, I looked like it was my first day of school."
"You should have seen me," he says smiling.
Several scouts are covering the Classic's Pool in Miami, so there will be many influential eyes on him. To get a contract, one executive believes Gagne will need to deliver a good performance and show strong stuff at the Classic in order to get a team to roll the dice.
Gagne himself is under no illusions, and understands he'll probably have to pitch in the minor leagues and show that he can be a regular contributor.
"Of course, of course," he says of being willing to pitch in the minors. "I know the game, I know how it happens, I know they need spots on the 40-man roster and don't want to release a young guy for a 41 year old, so of course I'd be willing to do anything. I pitched in the Can-Am League, so I'm willing to do anything. I'm not doing it for the money, I'm doing it for the love of the game.
"My body feels great, but right now I'm focused on helping Team Canada."
The national team offers only a temporary fix, even if Canada manages to reach the tournament's second round for the first time.
Once the Classic experience is over, Gagne will need to find someone else that will let him keep pitching.
"When I get on the mound, I feel so happy, I feel like I'm in my element, even though I get so nervous, I get scared, I get scared to fail," he says. "That's the good part. It takes me back 10, 15 years ago, like this is what I love. I love that I'm scared to fail – it's a chance to succeed."