The Toronto Blue Jays weren't satisfied with the status quo and took part in a large roster overhaul this winter.
The club replaced two of its three starting outfielders, let go of two of its longest-tenured players, and moved on from some talented players who battled injuries. Toronto even dealt away young assets that were expected to be part of the future core.
Here's our spring training edition of the ex-files, where we look at 12 prominent former Blue Jays and how they've been fitting in with their new teams.
---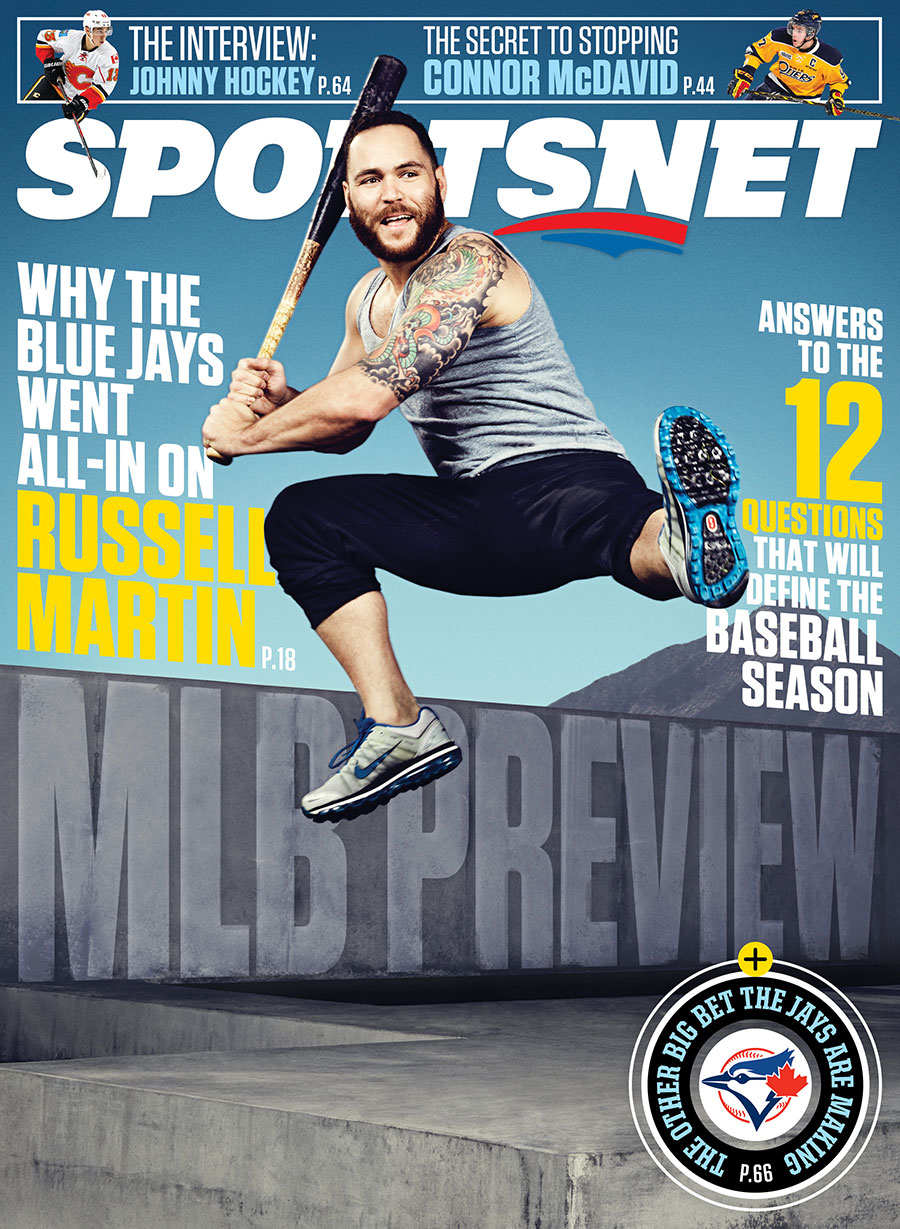 Sportsnet Magazine's MLB Preview:
Why the Blue Jays went all in with Russell Martin, and answers to the 12 questions that will define the baseball season. Download it right now on your iOS or Android device, free to Sportsnet ONE subscribers.
---
Colby Rasmus, Houston Astros:
The centre fielder signed a one-year, $8 million deal with the Astros after a slow-developing free agent market. Houston was a logical fit, and not only because there's room for his trucks. Astros GM Jeff Luhnow was a member of the St. Louis Cardinals front office that drafted Rasmus, who now gets the chance to rebuild his value following a down year.
Melky Cabrera, Chicago White Sox:
After a productive bounce-back season, Cabrera landed a three-year, $42 million deal with the White Sox in free agency. The White Sox will use Cabrera in a similar role as the Blue Jays did — hitting second in a revamped lineup and playing left field.
Adam Lind, Milwaukee Brewers:
The Brewers haven't had a stable solution at first base since Prince Fielder left for Detroit, so they dealt pitcher Marco Estrada for Lind. The longtime Blue Jay had a rough start to the spring when his oft-injured back flared up, and he was limited to DH duty in his first three games before the Brewers slowly shifted him back to first base. He has impressed at the plate since then, batting .455/.458/.636 in 24 plate appearances. It's still unclear how comfortable the Brewers will be using him against left-handed pitchers.
Brett Lawrie, Oakland Athletics:
The Blue Jays weren't planning on dealing Lawrie this winter, but they ultimately had to do so to acquire Josh Donaldson. At just 25 years old, Lawrie still has plenty of upside, but durability became an issue in Toronto. Because of that, the Athletics are being extra-cautious with Lawrie and have given the Canadian plenty of rest. He felt sore after extra defensive work on Sunday.
Kendall Graveman, Oakland Athletics:
Many Blue Jays fans focused solely on Lawrie in the Donaldson deal, but Graveman could provide Oakland immediate dividends. The 24-year-old right-hander has quickly become a favourite to land a spot at the back end of Oakland's starting rotation. In 15.0 innings, Graveman has a 0.60 ERA with eight strikeouts, four walks, and a 0.733 WHIP.
Casey Janssen, Washington Nationals:
After a reliable tenure in Toronto's bullpen, it took Janssen a while to find a new home in free agency. Eventually, he landed a one-year deal worth $3.5 million with Washington, where he's projected to slot in as one of the primary set-up men behind closer Drew Storen. Janssen has never appeared in a post-season game so it wasn't a surprise he decided to sign with one of the World Series favourites.
Brandon Morrow, San Diego Padres:
Morrow joined the Padres on a one-year, $2.5 million deal and is in competition with Odrisamer Despaigne for the No. 5 job in the San Diego rotation. Morrow has had mixed results this spring and had to miss a recent start because of a blister issue. His spring numbers: a 4.26 ERA with eight strikeouts and three walks over 12.2 innings.
Dustin McGowan, Los Angeles Dodgers:
After years of injuries, McGowan stayed healthy in 2014, but the Blue Jays bought him out for $500,000 nonetheless. The right-hander joined the Dodgers on a one-year, incentive-laden deal to compete for a job in the bullpen.
Anthony Gose, Detroit Tigers:
The Blue Jays had high hopes for the speedy outfielder but Dalton Pompey's quick ascent made Gose expendable, and he was shipped to Detroit in exchange for second baseman Devon Travis. The 24-year-old will start in centre field for the Tigers and manager Brad Ausmus will utilize Gose at the top of the order against right-handed batters to begin the season.
I'm pretty sure Gose and hose don't rhyme.
J.A. Happ, Seattle Mariners:
There's plenty of hype surrounding the Seattle Mariners, but not much of it revolves around new starter J.A. Happ. The veteran left-handed was shelled Tuesday, surrendering five earned runs on eight hits over 3.2 innings. He has a 7.27 ERA in Cactus League action, but he's still in line for a spot in the rotation as of now.
Sergio Santos, Los Angeles Dodgers:
Like McGowan, he joined the Dodgers on a minor-league contract. The 31-year-old has struck out nine batters with no walks in six innings this spring, but he had a particularly rough appearance on Wednesday.
Juan Francisco, Tampa Bay Rays:
Francisco signed a minor-league deal with the Rays in early January. He hit 16 home runs for Toronto last season but struck out too frequently and didn't provide much defensively. Francisco appears to be in a tight competition with utility man Jake Elmore for a roster spot.