At the end of each season teams typically conduct exit interviews with players before everyone parts ways, an opportunity for the sides to exchange thoughts on the season that was and look towards the year to come. Here at sportsnet.ca, we decided to do the same with every player that finished out the season with the Toronto Blue Jays.
Here's what the position players had to say (Kendrys Morales, Aledmys Diaz, Yangervis Solarte, Lourdes Gurriel Jr. and Richard Urena spoke through Blue Jays interpreter Josue Peley; all stats are major-league totals in 2018; pitcher exit interviews coming Tuesday):
Think you know how this year's playoffs will unfold? Predict the playoff winners, from the Wild Card games to the World Series and you could win a share of over $5,000 in prizes.
CATCHERS
Russell Martin
352 PA | 10 HR | .194/.338/.325 | 56 BB | 82 K
"It's just a disappointing year for me. I definitely expect myself to produce more. Defensively and offensively. That's really it. I've been proud of the young guys who have come in. And I've been motivated by them. Seeing what they're able to do, it kind of re-energizes you a little bit. Because, at the same time, I still want to be an everyday player. So, they're putting a little pressure on me, too. So, all that stuff is good. Especially going into the off-season. I'm definitely going to need to turn it up a little bit. I'm going to try to get back to elite status and I'm going to have to train my body as good as I possibly can to be explosive and back to that dangerous player that I can be. That's going to take discipline, that's going to take determination, and that's going to take dedication. So, the three D's. I'm going to focus on the three D's."
Luke Maile
231 PA | 3 HR | .248/.333/.366 | 25 BB | 67 K
"I thought that offensively it was a step in the right direction. I think defensively there were some times that things could have gone a little bit better. I think I'm capable of doing a little bit more, and being a little bit more of a presence back there. At the end of the day, we didn't win enough games. So, I think everybody has to look and see what they could have done differently. But certainly, offensively for me, after the year I had last year, I'm happy. I wanted to be more aggressive in the batter's box and just do a little bit more damage. From a mechanical standpoint, I was trying to hit the ball in the air a little bit more. And I think I did that overall. I think it got me hunting some middle of the plate fastballs a little bit more aggressively than I was last year. I think that there's some room to grow there as well. But, all in all, I was pleased."
Danny Jansen
95 PA | 3 HR | .247/.347/.432 | 9 BB | 17 K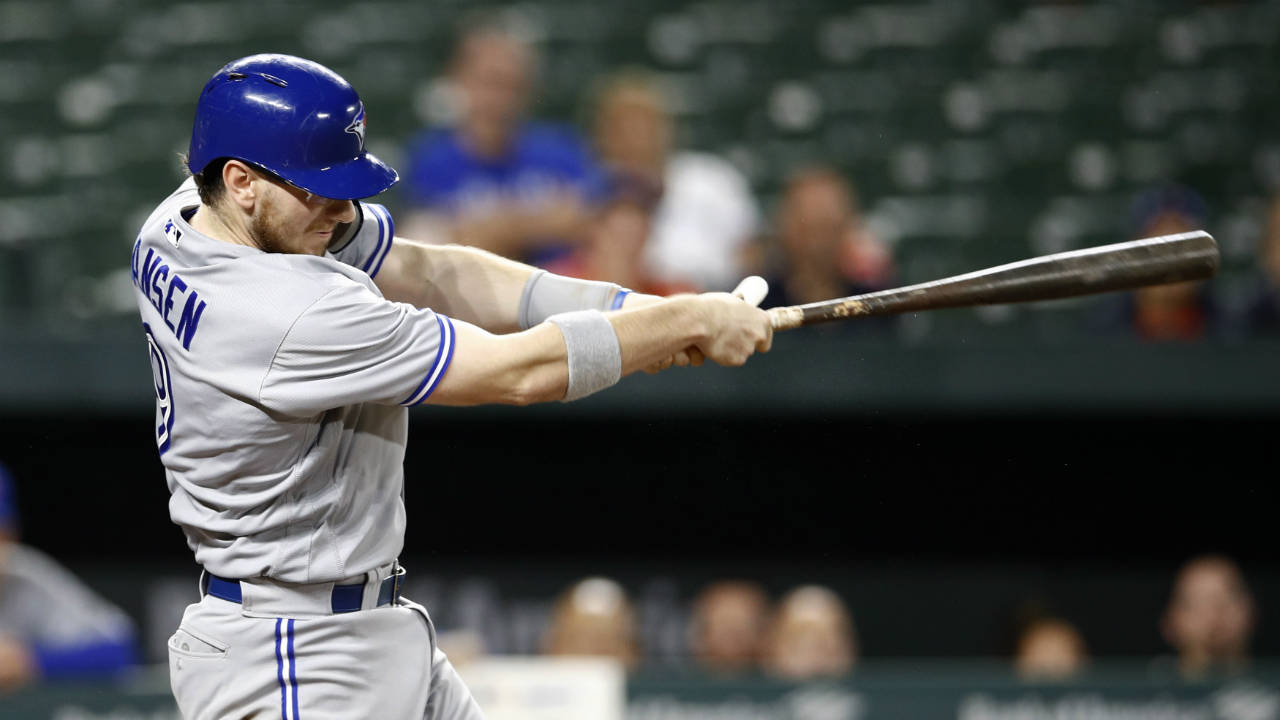 Patrick Semansky/AP
"It was a great year — I made my ultimate goal. Obviously, I don't want to settle for just coming up here — I want to stay here. So, I'm going to do everything in the off-season that I need to work on to get better so that I can have a chance to be up here all the time. I had goals just to get better at game calling. That's always something I've improved on. It's always just a chess match. And I love the challenge and embracing it. And I think I've gotten a lot better, just being up here, talking with guys, talking with Pete (Walker), Dane (Johnson), Russ, Maile, all them guys. It's definitely helped me improve it. And I'm just always looking to make it better. This winter I'm going to be working on throwing. That's something that I've always wanted to be better and better at. And it's gotten better. But I still want to improve. So, I'm looking to get a little arm strengthening going and maybe shorten up my arm swing. Because I have kind of a longer one. I think that'll definitely help cut down some time. And I'm looking to get stronger, more flexible, more mobile. Shoulder mobility, ankle mobility."
Reese McGuire
33 PA | 2 HR | .290/.333/.581 | 2 BB | 9 K
"Coming into the year, I had a good feeling that I was going to get the opportunity to go to triple-A. So, I wanted to set my goal there and after spring ended, I got notice I was going to go. And then from there it was kind of setting small goals here and there throughout the season. I wanted to achieve some personal goals and all that, catching-wise and offensively doing what I can and controlling what I can for the most part. And, obviously, the big-leagues was a big goal. But even before that in the off-season I was added onto the 40-man roster. That was a previous goal that was achieved. There was definitely stepping stones all year, for sure. The goal is to hopefully make the team out of camp next year. And do everything I can this off-season to once again come into spring training in the best shape of my life. There's no holding back now that I've got the foot in the door. I definitely know that I can play at this level. And I'm going to take that confidence with me into the off-season and be excited for next year."
Ben Nicholson-Smith is Sportsnet's baseball editor. Arden Zwelling is a senior writer. Together, they bring you the most in-depth Blue Jays podcast in the league, covering off all the latest news with opinion and analysis, as well as interviews with other insiders and team members.
INFIELDERS
Justin Smoak
594 PA | 25 HR | .242/.350/.457 | 83 BB | 156 K
"Over the whole year, I just never really got hot or never stayed hot for a while. But, honestly, I feel like I still put together a good year. Going into the off-season, I'm just trying to maintain that and get better. You always want to be better than you were the year before. But 2017 just happened to be one of those years. I just felt really good all year from both sides of the plate. And this year, it's not that I felt bad, but I just felt like there was more of a grind to do what I wanted to do. Last year was an unbelievable year. It's not going to happen like that every year. But to know that I never really got hot and still put up some of the numbers that I put up, it's good knowing that I was able to do that."
Yangervis Solarte
506 PA | 17 HR | .226/.277/.378 | 31 BB | 72 K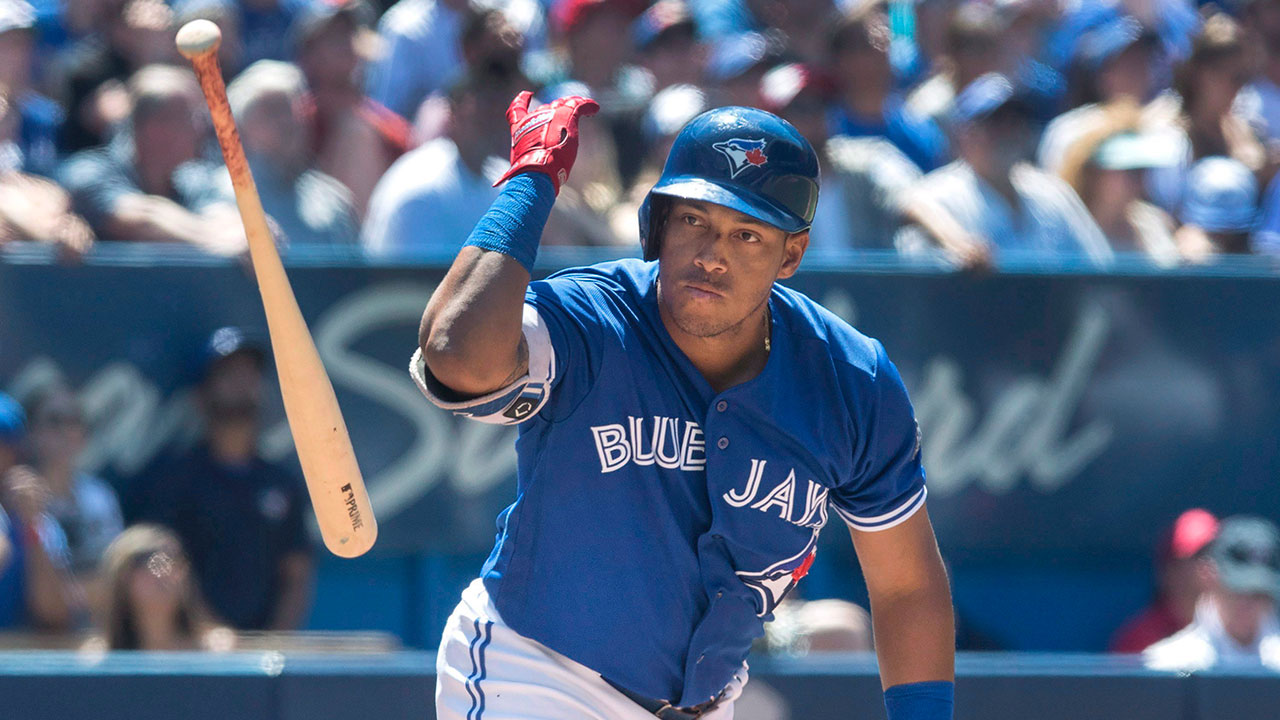 Fred Thornhill/CP
"First of all, it's disappointing a little bit collectively that we didn't achieve what we wanted – to make the playoffs. Personally, I think I had a good season. I got hurt late, I would have liked to stay healthy and put up better numbers, but that's stuff that happens. I hit the ball hard. I felt great during the season. I wasn't very lucky at times. I hit the ball pretty hard right at people. I think that if I had better luck I could have had more hits here or there but overall I feel happy. Hopefully I'll have a good off-season so I can be ready for spring training."
Aledmys Diaz
452 PA | 18 HR | .263/.303/.453 | 23 BB | 62 K
"Collectively when you don't make the playoffs, you're not happy. Personally, I think I did well, I'm happy with what I accomplished, especially in the second half. I made the adjustments I had to make coming from the National League to the American League, I'm happy they worked and I'm pretty happy with my second half, offensively and defensively. I think the biggest strides were with my defence. When you ask players they always take a lot of pride in their offence, but I wanted to become a more complete player this year so I started working really hard at spring training. I'm really grateful for all the people who worked with me here, my coaches, Luis Rivera, but also everybody who helped me in that phase of my game. That's something I accomplished that I'm pretty happy about."
Devon Travis
378 PA | 10 HR | .232/.275/.381 | 16 BB | 64 K
"The first thing that occurs to me is just the amount of games I was able to play (a career-best 103 in the majors plus 14 at triple-A). The past four years I only played 100 games one time. So I like that. Outside of that it was just a good learning year. Struggles on the field, they can build you up to be better. For me, this is a little bit of a year I can draw back on. I hope to look back and go that's the year that gave me that extra fire again. A big thing I learned is that tough years can happen, not just injury-wise, having to go out and look up at that scoreboard and be a little bit frustrating. But you have to keep going no matter what. Every single day, whether you're going good or bad, you have to keep working."
Lourdes Gurriel Jr.
263 PA | 11 HR | .281/.309/.446 | 9 BB | 59 K
"My goal this year was to play in as many games as I could because I didn't play in a lot of games the last few years, and I accomplished that. On top of that I put up pretty good numbers, so I'm happy about that. Everything to me up here is pretty much new. The first thing I realized is I have to have fun, I've always been good when I have fun out there. The manager told me to have a little bit more fun. For the off-season, I'm going to have to adjust a little bit of everything. I'm new to this, and there's a lot I have to learn still – hitting, defence, the way the game goes. I'm going to have my first full off-season to get ready for next season, get ready for 162 games."
Rowdy Tellez
73 PA | 4 HR | .314/.329/.614 | 2 BB | 21 K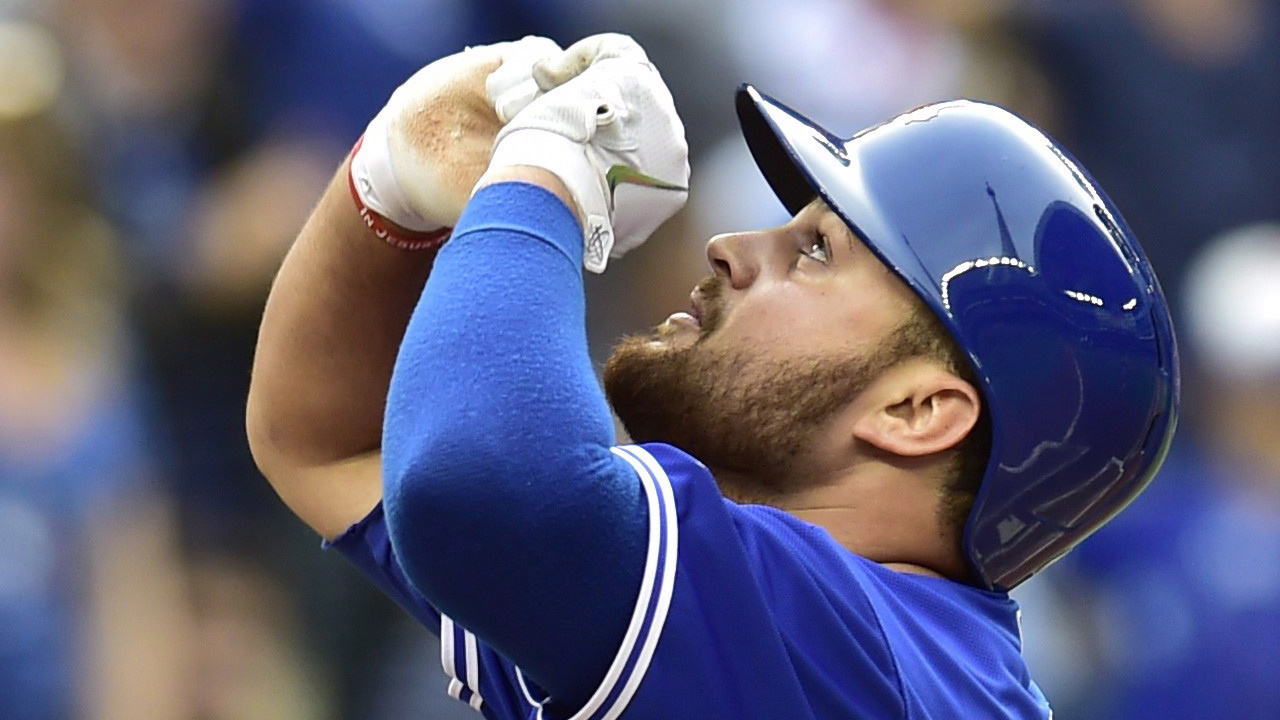 Frank Gunn/CP
"It was bittersweet. Obviously, the passing of my mom was something that nobody wants to go through. But the Blue Jays were there for me the whole way through. They let me go home when I needed to — spring training, middle of the season, obviously when she passed. And then being up here — I achieved my dream for her. So, that was probably the biggest thing for me was just learning how to play through adversity truly for the first time. Not just having a bad season but stuff away from the field. It was tough. But, in the end, that's something that happens in life. And you just have to learn to handle it and deal with it and accept that it's going to happen. So, I guess my season's been bittersweet for me. This winter I'm going to work on defence, offence, just the total aspect of my game on the field between those white lines and in the weight room."
Richard Urena
108 PA | 1 HR | .293/.340/.364 | 7 BB | 32 K
"I feel good about my off-season. Of course I didn't start here but I feel good about everything I did, I have to work on some little things in the off-season but overall I feel great. I'm going to work a lot on my physique, my body, make sure that I'm a little bit more lean to get ready for next season. Also a little bit on my defence, I could do better on that side, and also my discipline, on how to select better pitches when I hit."
Brandon Drury
86 PA | 1 HR | .169/.256/.260| 7 BB | 20 K
"Not the year I was looking for at all. I think it's going to make me better in the end. I've always been very hungry and very prepared, so I guess it's going to add to that. I learned from the adversity, it teaches you how hard the game is, it makes you tough. I love this game and to not be able to play it has killed me this year. It's been awful on me. It's going to make next year really exciting, just to be able to go out there and play again. I can't wait for next year to come already so I can go out there and play again."
Jon Berti
15 PA | 0 HR | .267/.267/.467 | 0 BB | 4 K
"It's been a crazy year, that's for sure. It's been a wild one full of ups and downs. I started in Buffalo then I got traded to the Indians organization. I was there for about seven weeks and then was traded back and sent to double-A. I knew it was a good opportunity. I had some playing time and we had a really good team there. I had some hopes (of being called up), obviously, at the end of the year, but for it to actually happen in this way is pretty cool."
OUTFIELDERS
Kevin Pillar
542 PA | 15 HR | .252/.282/.426 | 18 BB | 98 K
"It was the first time I had to go through a significant injury (a sternoclavicular joint sprain sustained in July). That's what stands out to me. I'm proud of the way I was able to come back from that. I hit more doubles than I've hit in my career (40) and I think I'm at a career-high in RBIs, too (59). I was able to at least prove to myself and to our coaching staff that I can still run and steal some bases. I have a pretty good rate this year (14/17), and that's something I'd hopefully like to do more moving forward. Despite the numbers, I think I found some (mechanical) things that work as far as what I'm doing in the cage and what I do in BP. I've found some things that I can use hopefully for the rest of my career. Defensively I feel like it's just been an OK year. It's kind of a weird year. I feel like sometimes for me it comes down to opportunity. This year for no reason, whether I've become a bit more savvy in my positioning and I'm having a better understanding of hitters and our pitchers, I feel like I haven't had a lot of opportunities to go out there and make some great plays. On the video board stuff, you see highlights. I see myself make a play and I'm like, 'Damn, I feel like I haven't done that this year.' But I can't go out there and make that happen. The opportunity has to present itself."
Randal Grichuk
462 PA | 25 HR | .245/.301/.502 | 27 BB | 122 K
"It was a frustrating year. We had a lot of talent and as a group we obviously underperformed, but I think injuries obviously hurt us as well. I take away that it's a long season. I didn't start the way I wanted to, but I definitely give props to myself for being able to turn it around, because I know it was only 80 or 90 at bats (struggling), but that's tough mentally on a player. I would like to see what it would have been like if I had started out slightly better, didn't get hurt and had another month of at bats under my belt, but I'm pleased with the way I finished after the first couple months."
Teoscar Hernandez
523 PA | 22 HR | .239/.302/.468 | 41 BB | 163 K
"It was a pretty good year. I made some of the adjustments I wanted to make. First full season in the big-leagues. Everything that I was thinking about doing this year, I've done it pretty much. I'm going to keep working and get better for next season. I take the (defensive plays) that are good, and the ones that are bad I just learn from them. I know this year's been pretty tough (defensively), but those things happen in this game. You're not going to be able to make all of the plays. Bad plays happen in this game. It happened to me this year. You just try to look forward and try to do better next year."
Anthony Alford
21 PA | 0 HR | .105/.190/.105 | 2 BB | 9 K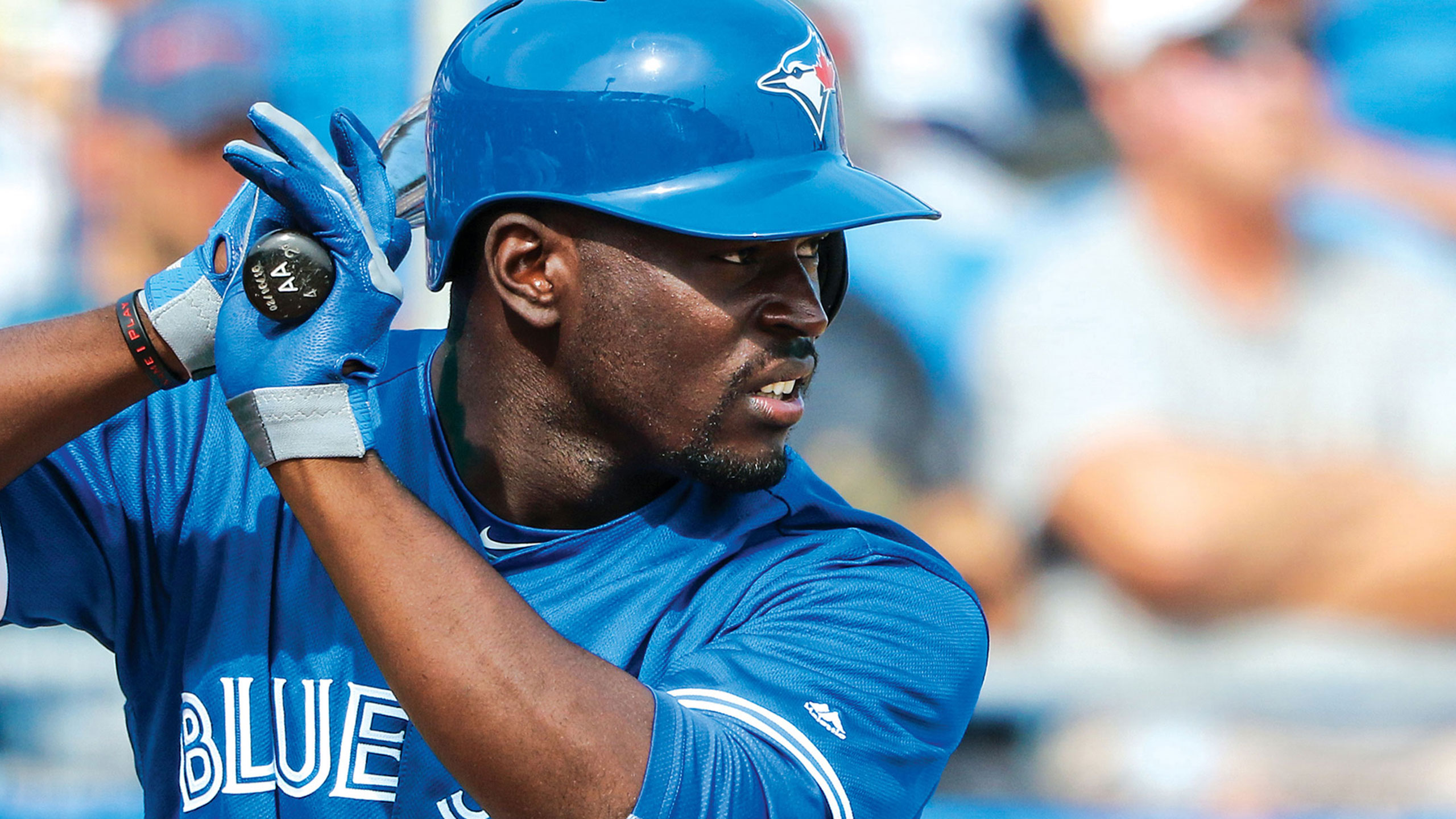 Justin K. Aller/Getty
"I struggled early on. My biggest thing was never giving up – fighting until the end no matter how tough the start was. I focused on putting together a strong finish and that's what I felt like I did towards the last month or month and a half of the season. I started having way better at-bats. Found a way to get consistently hard barrels. (I learned) no matter how dark of a place you're in and how bad you're struggling, just keep fighting with everything you have. Being more selective (was important). Not swinging at what they want me to swing at. Being patient. Waiting them out. Getting my pitch. Not missing fastballs in the zone. Not chasing. I've been able to string together good at bats as opposed to early in the season, I'd go a day or two or three days feeling good and then the next four or five days I'd feel lost in the box. Towards the end, I feel like I was able to put together not only good at bats throughout the day, but for weeks at a time. I didn't have the season I wanted to have, but I put together a strong finish."
Billy McKinney
132 PA | 6 HR | .252/.320/.470 | 11 BB | 32 K
"I've been doing all right, but I still think I have a lot of work to do. I'm always hard on myself, never satisfied until the job's done. I've still got a lot of work to do. I'm always trying to improve every aspect. Hitting, defence, baserunning, everything. Just glad to be here and looking forward to the future with the Blue Jays."
Jonathan Davis
27 PA | 0 HR | .200/.259/.240 | 1 BB | 6 K
"A great year. Not in a bragging way, but I believe that I was consistent. I tried to help my team win every day. I stayed healthy for the most part, which is one of the main factors for me – if I can stay on the field, then I feel like I can contribute in some way whether it's defensively, on the bases or at the plate. I know my glove was very good this year. Last year I made two or three errors and this year I only made one error that was on a bad hop in a bad outfield. It happens, but I really believe that I helped the team each and every day by playing defence. It's been great. Just being able to reach the big-leagues, my lifelong dream, it's been a dream come true."
Dwight Smith Jr.
75 PA | 2 HR | .262/.347/.477 | 7 BB | 13 K
"I take away the positives from the season and then whatever negatives I just work on in the off-season. I played a lot of games and stayed healthy for the most part. That's always a positive. I'd say it worked out pretty good for my goals this year. You don't want to try to do too much (right after the season), because your body's just not going to be there. That's how everybody's going to feel. Even teams going to the playoffs, no one's 100 per cent. You've got to be smart about it."
DESIGNATED HITTER
Kendrys Morales
471 PA | 21 HR | .249/.331/.438 | 50 BB | 95 K
"Personally and as a team, we weren't very consistent. The results weren't what we wanted and a lot of things happened over the course of the season, mostly with our health. But it happens. The best we can do is leave this season behind and start getting ready right away for the off-season and next year. At the plate, I had to deal with some adjustments at the beginning of the year that I wasn't used to because of a lot of different reasons. Now, I know the changes that I made that worked out in the second half, so I'm going to keep on working on those and do what I do every off-season, get ready for the marathon next year."