TORONTO — Josh Donaldson looked at the question-asker with those big, white, intense eyes. Well, maybe not so much at—more through.
The question posed pertained to how much the reigning MVP was hampered by injuries this season. The nagging hip injury that held him out of a series against Tampa in mid-September, the first time he's missed three straight games since 2012. The welts from the nine pitches that hit him this year, the highest total of his career. The thumb. The back. The general physical corrosion that all ballplayers experience over the 162-game grind, especially one who plays the game with remarkable severity like Donaldson. Just how bad did it get?
Donaldson shrugged. He frowned his lips. He shook his head.
"I feel fine," Donaldson said. "I feel fine."
Later in the scrum, Donaldson's last of 2016 after his Toronto Blue Jays were eliminated from the post-season by Cleveland on Wednesday, the same topic came up again, this time phrased differently. Again, a shrug. A frown. A headshake.
"I feel fine," Donaldson said again. "I feel fine."
This is, of course, unsurprising. And it's his right. Donaldson's not the type to complain to the media about any ailments he's been playing through, and, when it comes to medical information, players are deserving of more personal privacy than they normally get.
But it's undeniable that Donaldson played through something gnarly down the stretch. His power numbers eroded in September, as the prolific home run hitter swatted only three long balls in the season's final month, after hitting nine in August, and six each in July and June. His manager, John Gibbons, gave him 19 games as the Blue Jays' designated hitter this year, the most he's ever played in a single season.
But if you're going to mention those things, then you also have to mention that Donaldson was without question his team's best player in the post-season, batting .417/.462/.667 and scoring a team-high six runs. Donaldson leads the post-season with 15 hits, and even though he won't play any more games, he could maintain that lead for some time, as the runner-up has 10. Six of those hits were doubles. No other Blue Jay had more than one.
And this is not to mention Donaldson's defence, which was as sound and reliable as ever. He made too many strong plays to list, but surely you remember the full-extension, tongue-out, diving snag he made on a 102-mph Carlos Santana grounder in the fifth inning of game four, just moments after Cleveland had cut Toronto's deficit to one. The tying run would have easily scored from second base if that ball got through. And a lot of the time that's what happens. Similarly hit balls had a batting average of .441 this season.
Josh Donaldson makes a diving catch on a ground ball out in front of Cleveland's Roberto Perez during fifth inning of Game 4 of the ALCS. (Frank Gunn/CP)
---
Simply put, Donaldson gave everything he had in the nine games the Blue Jays played this post-season. Just ask him—he'll tell you so.
"I put everything I had into it," Donaldson did, in fact, say. "I love this game. I love to play this game. I have a passion to play this game. I have a passion to compete. And I love playing with the teammates that I have in this clubhouse.
"I try to go out there each and every day and lay it all on the line. So that when I look in the mirror each and every day I don't have any regrets. Because I did everything that I could."
Sure, that's what a lot of athletes say. But when you watch Donaldson play the game for six months straight (seven with spring training, eight with the post-season) you see that he's not just saying that. A Josh Donaldson game in July is the same as a Josh Donaldson game in October. He gives everything every night.
And his nights will be scrutinized that much more next season when Donaldson is a focal point of this team's new offensive core along with Russell Martin and Troy Tulowitzki. Some would say those three were the Blue Jays' core this season, as well. But that's greatly unfair to the contributions of the soon-to-depart Jose Bautista and Edwin Encarnacion, who both deserve to have their names fashioned to an upper ring of Rogers Centre in big white letters someday.
Martin, too, played through a baffling collection of physical impediments this season. Only one catcher in the American League—the seemingly indestructible Salvador Perez—has served as many innings behind the plate over the last two seasons as Martin's 2,063.1. And only one qualified catcher has put up a better OPS than Martin's .760 over that time as well—the perennial MVP candidate, Buster Posey.
Next season, Martin may be afforded the ability to take some more days off considering the Blue Jays will no longer need to carry the offensively challenged Josh Thole as their backup catcher in order to handle a knuckleballer. But Gibbons will still want Martin in his lineup as much as he can. And he knows the soon-to-be 34-year-old will want that, too.
"A lot of guys can be dramatic in this game—they like everybody to know when they're banged up and that kind of thing. Those two aren't. They're not that way at all," Gibbons said on the Jeff Blair Show Wednesday morning, referring to Martin and Donaldson. "You know what, they're the type of guys that, 'Hey, that's a part of this business. I'm getting paid a lot of money to go out there and play.' And that's really the attitude they take. No excuses. Just, 'Hey, let's go do it.'"
Like Donaldson, Martin wasn't interested in elaborating on the injuries he played through this season as he stood at his locker and patiently fielded questions in both French and English Wednesday night. Nor did he want to talk about how his role on the team would evolve going forward, and what it might be like next season to be pencilled into a Blue Jays batting order without the names Bautista or Encarnacion in it for the first time in nearly 10 years.
"I'm not really thinking about that right now," Martin said. "I'm going to wash this one away and get back on track and get the body feeling good again and make sure that I do what I need to do to get myself ready for next year.
I can't control what's going to happen with certain guys. I love all the guys that are in here. We battled through the grind, through the marathon, the whole year. I wish them all the best."
The final piece of 2017's offensive core, the shortstop Tulowitzki, didn't speak to reporters after the game Wednesday night. He was approached to, said he would in a few moments after he decompressed, and walked back to a private area of the clubhouse never to return.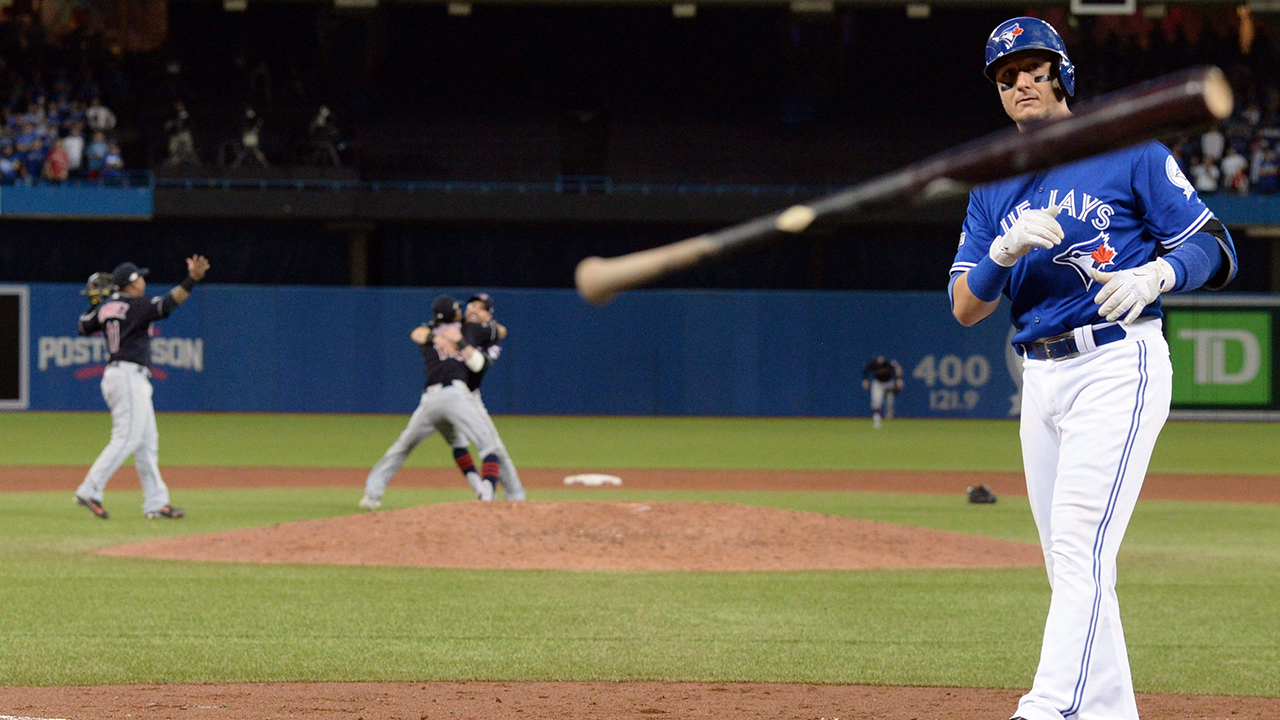 Troy Tulowitzki throws his bat after making the final out in Game 5 of the ALCS against Cleveland. (Nathan Denette/CP)
---
And that's his right. No athlete has to talk after games. Most would prefer to make their statements on the field. And when it comes to that, Tulowitzki was a mixed bag this season. He hit .169/.293/.325 in April before pulling his numbers up significantly over the next five months to a respectable .254/.318/.443.
Still, those numbers are nowhere near his career averages as he wasn't the hitter that he once was during his best days in Colorado. But Tulowitzki was every part the absurdly gifted shortstop he's always been, making plays on a nightly basis that looked easy but most certainly are not.
Encouragingly, the 24 home runs Tulowitzki hit was his highest total in three years and suggests he could help replace some of the power vacuum left by Bautista and Encarnacion with a full, healthy, productive season in 2017.
Unless the Blue Jays make a significant offensive addition this off-season, the team will likely be asking Tulowitzki to do just that. And they'll be asking Donaldson to continue to perform at the exceptional level he's set for himself. And they'll be asking Martin to turn in another productive season at the plate and another year of handling Toronto's best-in-the-AL pitching staff. A lot will be asked of those three. But, then again, a lot is asked every year. That's the job.
"I think the toughest part is we didn't achieve what our main goal was," Donaldson said when asked to sum up the season the Blue Jays completed Wednesday night. "But what makes it more difficult is you're going out there and you see what everybody's going through. You see the sacrifices that are being made. You see guys going out there and doing everything that they possibly can.
"We grinded together. We shed blood with one another. It's kind of one of those things where nobody wants to go home. But, unfortunately that's the case."