Toronto Blue Jays prospect Rowdy Tellez managed just one Grapefruit League at-bat this spring and the imposing first baseman made it count, rocking a home run off the club offices beyond the right-field wall at Florida Auto Exchange Stadium.
Pretty good way to earn some notice.
"It was awesome," says the 6-4, 245-pound slugger. "I was playing over at the minor-league complex, Doug Davis came over and said, 'Hey, we got to go.' I was, 'Alright.' Hop in the van, come over, wasn't expecting much to happen, and they said I was going in for Edwin Encarnacion, got in, got a groundball (defensively), got to take an AB and got a pitch I could handle.
"It left my bat and I was like, 'This is great.' Hopefully it left an impression."
The prodigious raw power Tellez possesses has done that just as much as the mammoth drive March 31 against the Philadelphia Phillies. A 30th-round pick in 2013, the 20-year-old slipped in the draft over signability concerns, eventually getting bought out of a USC scholarship for $850,000.
He's a rarity in the Blue Jays far system – a prospect with big-time pop.
"What I like about Rowdy the most is he's got a lot of naturalness as a hitter, a lot of rhythm and timing," says Blue Jays assistant GM Tony LaCava, who oversees the farm system. "There are a lot of hitting schools that take the naturalness out of hitters – they teach efficiency but you don't always see the rhythm and timing you used to see in some of the great hitters of the past.
"Rowdy's a bit of a throwback in terms of his swing and the way he goes about it. He's got a chance to hit and hit for power."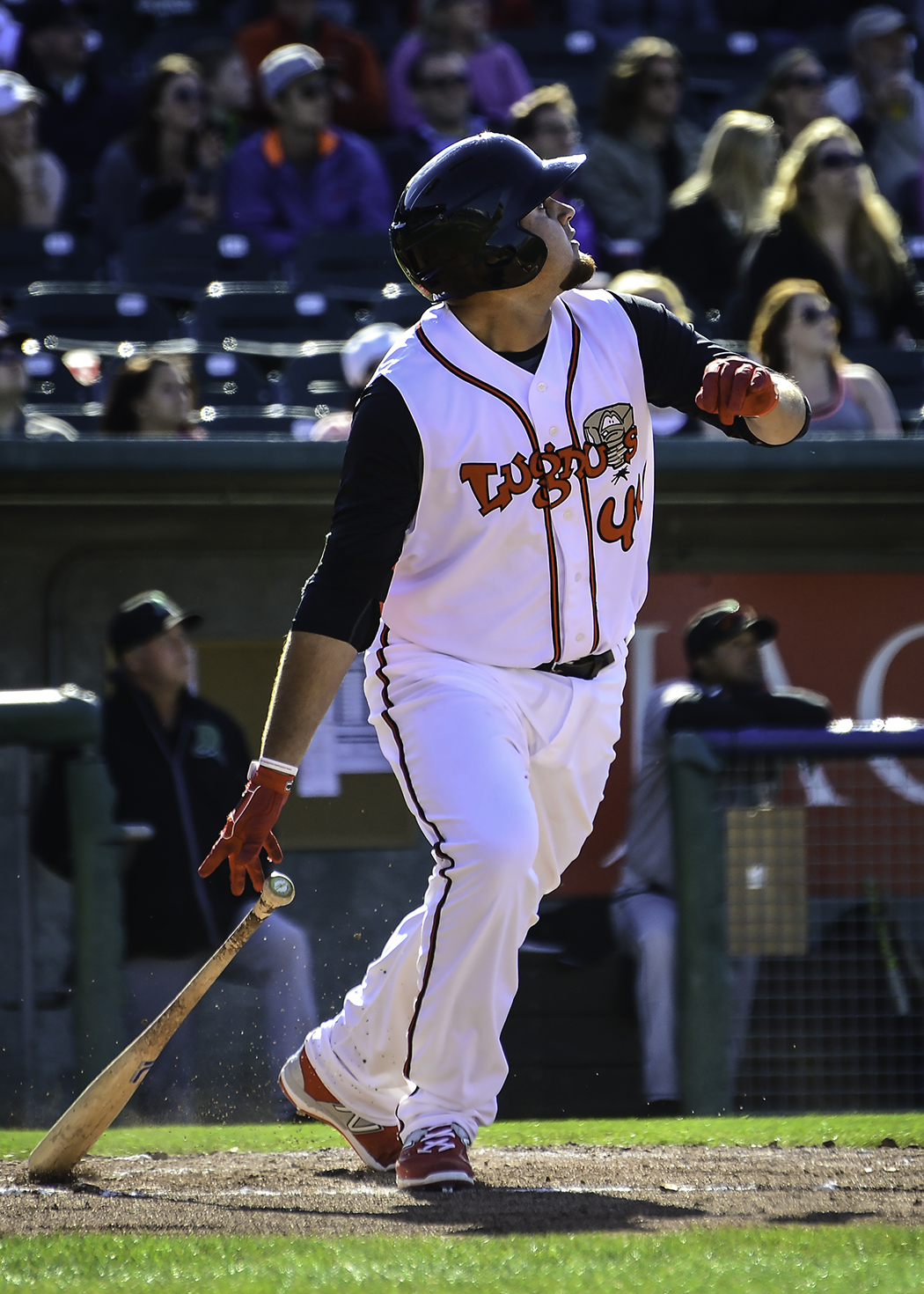 Photos by Kyle Castle, Lansing Lugnuts
Tellez is doing just that at low-A Lansing, hitting his third homer in Thursday's 6-1 victory over Lake County as part of a three-hit effort. Through 21 games, he's slashing .274/.315/.440 and has 13 RBIs, although his strikeout-to-walks ratio of 22-5 is a bit of a concern. He's going down on strikes in more than a quarter of his at-bats.
"A power hitter in general is going to have some swing and miss to him," says LaCava. "The fact that he does have a bigger swing, that's going to be a part of his game. Obviously as he continues to progress he'll learn. I don't want him to concede too much with two strikes, because he does have a chance to do damage. If it becomes a big issue, we can always take a look at that, but right now it's not a priority."
Over the winter, the native of Elk Grove, Calif., worked on his defence with former all-star Derrek Lee, focusing on his footwork, positioning and throwing.
"Everything," Tellez says. "Not only stuff on the field – flexibility, mobility, quick feet, laterals, hip flexibility. On the field it's footwork taking groundballs, hand-eye co-ordination and trusting my hands, making sure I'm as confident on defence as I am on offence. …
"I've got to become a better defender to be able to stay on the field. I don't want to become a DH," he adds. "Derrek, along with other people, helped me with some infield. Within the organization it's Mike Mordecai and Danny Solano, they've been helping me day in and day out."
Injury Updates
Adonys Cardona – The 21-year-old right-hander has recovered from the broken olecranon (elbow bone) he suffered last season at single-A Lansing and LaCava says he's "very close to being placed."
"He's in extended (spring) right now, he topped at 97 the other day, so his arm strength is back," says LaCava. "Our goal for him this year is to get him through the year healthy, he'll be used in a priority bullpen position, a role that's two innings, off a couple, two innings, off a couple."
The Blue Jays felt Cardona had front of the rotation potential when they gave him a $2.8 million signing bonus, but the injury won't necessarily keep them from starting the lightning-armed Venezuelan again in the future.
"It could be, but this year the priority would be to get him through the year healthy and make sure he goes home and has a regular off-season," says LaCava. "We'll bring him back and see where he's at. That's always a possibility."
Matt Smoral – The 6-8, 220-pound lefty was built back up slowly because of a minor twinge in his upper back/shoulder but is "close, he's waiting for an opportunity to get out of (Florida)," says LaCava. "He's pitching in extended, it looks like he's healthy, now it's getting him in the right spot."
Jeff Hoffman – The 6-4, 185-pound righty, chosen ninth overall in last year's draft, has turned heads in his recovery from elbow surgery and is nearing a minor-league assignment. There's already some talk he might find a way to contribute at the end of 2015 for the Blue Jays, although LaCava sounds a more cautious tone.
"He's recovering from Tommy John so I don't want to overstate things, but I'm really pleased," he says. "He's feeling good, he's made every outing he's supposed to make and his stuff has been everything we've heard it was. Upper 90s, he can hit that, but it's easy, two breaking balls, a changeup – he's showing four quality pitches. Good delivery, good size, everything is really positive."
John Stilson – A third-round pick in 2011, the 24-year-old would have made his Blue Jays debut last year if not for shoulder surgery. A return to the mound "is very close, early May we're going to try to get him out of there," says LaCava. "We'll have to see where the opportunities are but he's certainly Buffalo capable. Eventually he'll find his way back there, it's just a matter of time."
Here's a look at the rest of the Blue Jays farm system through the first month of the minor-league season (all comments from LaCava).
Triple-A Buffalo Bisons
SP Scott Copeland (2-1, 1.44 ERA, 0.84 WHIP) – "He's got a really good sinker, it's late, and he gets a lot of groundballs with it. His velocity is 90-92, he'll every once in a while hit better than that, but the biggest thing right now is (triple-A pitching coach) Randy St. Claire is working with him on a slider, trying to get consistent with that, and also to finish off his changeup."
SP Randy Wolf (3-0, 1.57 ERA, 1.52 WHIP) – "The reports are good. He's obviously a veteran, a guy that's had success at the major-league level, he's not a big stuff guy, never was, so we're encouraged by what he's doing down there and it's nice to have a guy that has that experience as a possibility."
RP Bo Schultz (1-1, 2.89 ERA, 5 saves, 0.75 WHIP) – "He's been good. Power pitcher, he's starting to become consistent with his slider, we're encouraged with that."
RP Steve Delabar (1-0, 1.23 ERA, 0.82 WHIP) – "He's had some good outings. Velocity, as it was in spring training, is pretty close to what it was, now it's just a matter of some consistency there in his outings. He's hitting on his splitter more than he did last year. Now it's a couple of things, consistency and opportunity."
Double-A New Hampshire Fisher Cats
SP Matt Boyd (1-1, 1.31 ERA, 0.82 WHIP) – "He continues to work on his secondary stuff, left-hander, he's got some deception to him, plenty of velocity for a lefty. It's a matter of his two breaking balls becoming consistent and that's a work in progress. But he's had great results and he's proven that he can pitch at that level for sure."
SP Johnny Anderson (1-1, 3.54 ERA, 1.13 WHIP) – "His stuff is probably the best (at New Hampshire) but he hasn't had the results. John's had some health issues in the past, two Tommy Johns, we really like him and last year our goal was to get him through the year healthy. He did that. This year we're going to see what he does. We're starting him right now, we'll see how that goes, but at some point, you could look at him as a power left-handed reliever, so he can go either way right now."
SP Taylor Cole (0-2, 6.52 ERA, 1.66 WHIP) – "He continues to do his thing. His results haven't been as good as last year, but his peripherals are still good. Good changeup, 90-92, tops out at 94."
LF Dwight Smith (.321/.365/.474, 2 HRs, 10 RBIs) – "We've taken (the switch to second base) off his plate. We saw plenty of it in spring training, we may revisit it in the future, but right now he's going to concentrate on left field. He's a solid left-fielder, and it looks like he's starting to heat up, swinging the bat well. He's always had good at-bats, as you saw during spring training, and he's continued those."
Single-A Dunedin Blue Jays
3B Mitch Nay (.217/.308/.304, 1 HR, 6 RBIs) – "Mike Barnett, our hitting co-ordinator, saw an opportunity. Mitch came in with raw power and naturally he's a middle of the field guy, the raw power doesn't necessarily translate into games as a middle of the field guy. They felt they wanted to get together and try to pull the ball a little more – instead of looking to right-centre, taking an approach of looking at left-centre. They went about with that mindset and that was the change.
"Any time a change has been made you have to give it a chance to manifest. He's working on it, so far so good, and he's making progress."
SS Dawel Lugo (.234/.268/.377, 2 HR, 10 RBIs) – "We're really pleased with how he's adjusted and adapted to the Florida State League. He's hitting in the middle of the lineup and he's playing well at short."
SP Jairo Labourt (1-2, 5.27 ERA, 1.76 WHIP) – "He's been a little uneven in terms of performance. The stuff is good, he's topping in the mid-90s, he's hitting on his slider at times. Just needs to be more consistent with his command and control especially. The stuff is there."
RP Alberto Tirado (1-0. 3.09 ERA, 1.29 WHIP) – "He's actually had more success in the 'pen. His velocity is good, upper 90s, hitting on his slider, he's been good. Right now we wanted to keep him in short doses, not have to turn lineups over, just give it a look like that. It doesn't mean we won't look at him starting in the future, but for now we want to see how it looks."