No matter what athletes say, the playoffs are a different animal than the regular season. The heart beats a little faster and adrenalin pumps at a steadier rate when stakes are higher.
Reputations are built off players' ability to control emotions and we'll get a fresh chance to see that in action this month.
Here are five players who'll face the most pressure during the MLB post-season …
CHRIS SALE
The lefty has enjoyed a Cy Young-calibre season, but his 2017 will largely be measured in Boston by what he accomplishes in October. With David Price (more on him later) out of the rotation, Sale will shoulder the most pressure among Red Sox starting pitchers.
Oh, and don't forget: Sale has never appeared in the post-season during his eight years in MLB. He's had an up and down August and September and that will definitely need to change for a pitcher with a history of wearing down in the latter months of seasons.
CLAYTON KERSHAW
Questions about his playoff performances have long dogged Kershaw, standing as the only blemish on his Hall of Fame resume. With seven losses and a 4.55 ERA over 18 games in the post-season, some would argue the concerns are warranted.
Kershaw did come out of the bullpen to earn a pressure-packed save in Game 5 of the 2016 NLDS that advanced Los Angeles past Washington. But three of his four starts in those playoffs were ugly.
The Dodgers finished atop the NL West in each of the past five seasons, but never once made it to the World Series. Like it or not, Kershaw is the poster boy for that.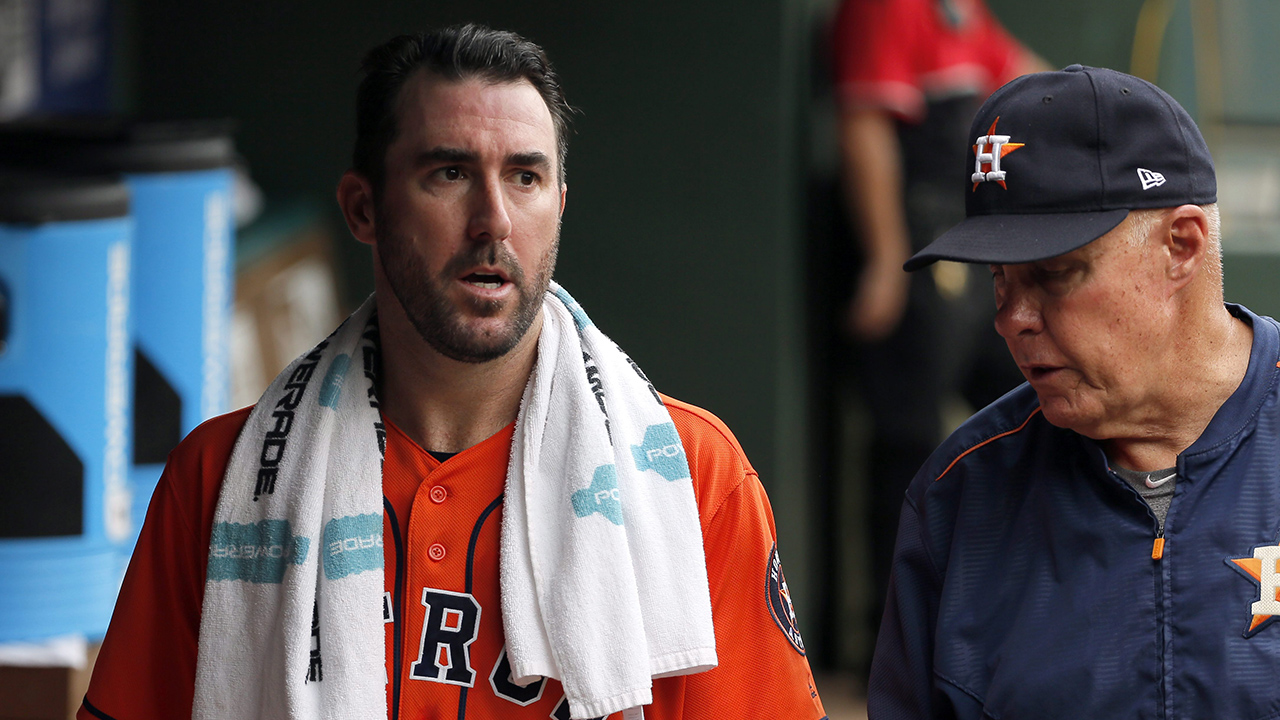 JUSTIN VERLANDER
The Astros paid a big price, in prospects and dollars, to acquire the right-hander at the August trade deadline. The deal was made solely with this month in mind and now the 13-year veteran gets his chance to prove he was worth it.
Verlander, who's been dominant since joining Houston, has a long track record of post-season success — 3.39 ERA, 1.08 WHIP in 98.1 innings. He likely won't need exterior pressure to motivate him; Verlander has twice been a member of losing World Series clubs and is likely still burning to add a championship ring to his gaudy list of achievements.
BRYCE HARPER
Harper has found success in his small dose of post-season at-bats, but like Kershaw, he wears it for his team's futility. The Nationals have been even worse than the Dodgers — they've reached the post-season in three of the past six years, yet never advanced past the division series. And the sense is time may be running out for their core.
Harper will be a free agent at the end of the 2018 season, but at the moment, his club is fielding quite possibly its best playoff roster ever. There's immense pressure on Harper and his teammates to make good on that.
DAVID PRICE
No player on this list faces more October questions than Price. His tenure in Boston is not even two years old, but is already filled with post-season failure, media squabbles and serious injury concerns.
Price will be spared, in a sense, because he'll pitch out of the bullpen instead of the rotation during the playoffs. He's looked good in his new role so far, but make no mistake: If Price struggles at all in the post-season, Red Sox media and fans will be prepared to jump all over him.