TORONTO – Ezequiel Carrera is an optimistic guy by nature, so with Edwin Encarnacion due up in the 11th inning of the wild-card game against the Baltimore Orioles last fall, the Toronto Blue Jays left-fielder went to his locker to fetch a parrot. An ode to the slugger's bizarre, unique and trademark home run trot, the plush toy with the wrap-around armband had become a frequent tool for hijinks. Once, for instance, Carrera fed it seeds on the bench.
Anyway, thanks to that little bit of prescience, the stuffed bird became an amusing and appropriate accessory to the wild celebration when Encarnacion launched a walkoff homer into the second deck and, as always, circled the bases with his folded right arm extended out like a wing.
As the ball sizzled to left field, Carrera collected the stuffed animal from the tunnel, strapped it on his left arm and was among the crowd waiting at home plate. "I know Edwin is a guy that's really clutch in those situations," Carrera says through interpreter Josue Peley. "So when he came up to hit, I just went to get it and tried to make something happen. Thank God something happened right away, so I looked like a genius."
Memories of that iconic moment are among the many sure to come flooding back when Encarnacion returns to Rogers Centre for the first time Monday since signing with Cleveland during the off-season. The way his free agency played out remains a sore point with some fans still frustrated that the Blue Jays ended up making the best offer to a player who wanted to stay, yet a deal didn't happen.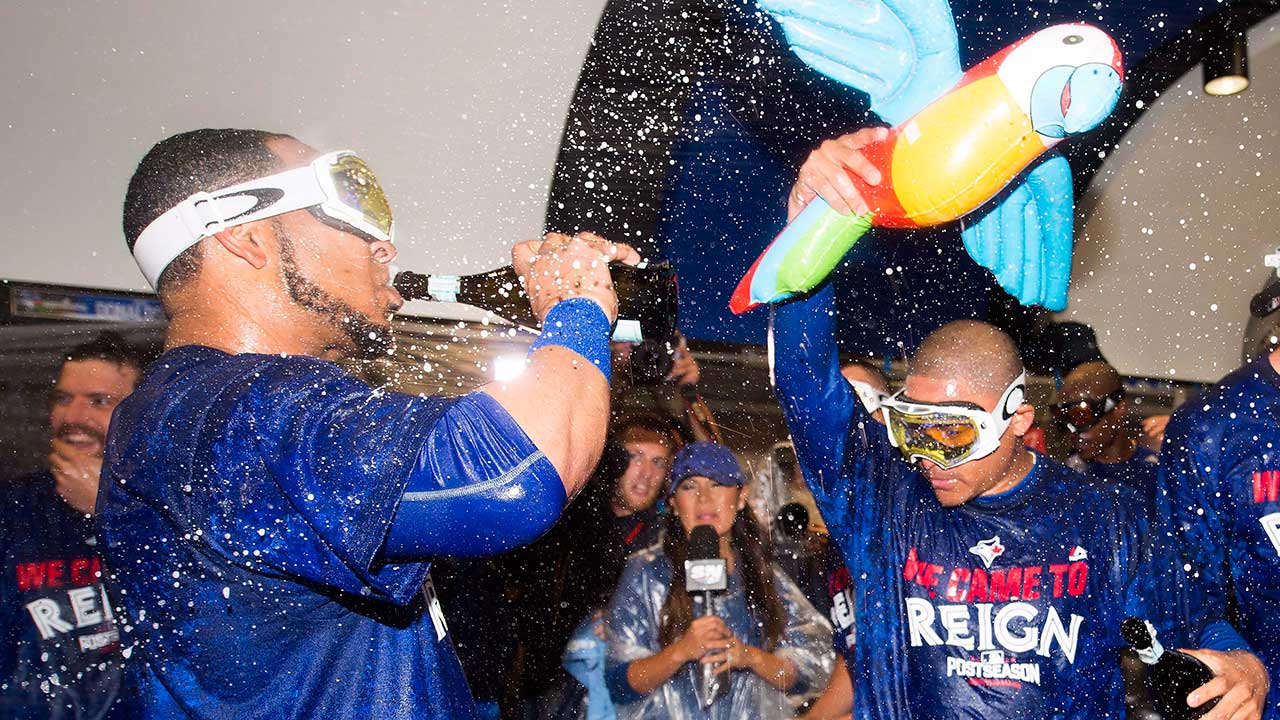 Encarnacion delivered the decisive blow in the 2016 American League wild-card game. (Nathan Denette/CP)
---
Regardless of where you land on the spectrum of opinion on the matter, Monday will be emotional for Encarnacion, the fans who adored him and the former teammates who suited up alongside him.
"Eddie is one of the most consistent baseball players and human beings I've ever been around. I haven't really had the opportunity to tell him how much he really meant to me, but from afar, admiring him, he's been a big part of my development as a baseball player as far as the way I carry myself, whether I'm very successful that day or feel like I have no chance," says Kevin Pillar. "You think about what happened in free agency, people sit here and want to complain that we gave him the best offer and he didn't sign back and we moved on, whatever, however it happened.
"You earn the right to go out and test the market in this industry, it's an extremely difficult thing to do in this game," Pillar continues. "Obviously in a perfect world, he would have been able to foresee the future and signed that deal, knowing it was his best offer on the table. That's not how it worked out. But I think the Blue Jays as an organization and Blue Jays fans need to get on their feet and give him the respect he deserves because he was a huge part of this organization for a long time."
There's no arguing that for a player who spent 7½ years with the Blue Jays, collecting 239 home runs, 679 RBIs and an .878 OPS in 999 games, along with four homers and 14 RBIs in 20 post-season contests. But his former teammates remember him for much more beyond those numbers, too.
STEADY EDDIE
RUSSELL MARTIN: "A consistent personality that you could rely on. He did well most of the time, but you would never know if he was doing well or if he was scuffling. You always felt like he was a team-first guy and as a teammate you appreciated that. It's tough to be steady in this game. It's a game of failure, man. Golly. It's unusual, you don't see it too often and when you do recognize it, you appreciate it. You can be consistent in how you compete and in how you perform, but it doesn't mean you're going to be consistent in all facets of life as a teammate. Eddie just had great teammate qualities. If you needed advice, if somebody needed to be talked to, he always brought the right type of advice, whether it was a tap on the back or a, 'Come on, let's go, clean it up,' type of thing. He was always there. Most of the time he was quiet, but when he said something, you listened."
EZEQUIEL CARRERA: "Aside from being a great teammate, Edwin for me was like a brother. He helped me not just inside the clubhouse, but also outside the clubhouse. I only knew him for two years, but it's like I've known him forever. He's a different type of hitter than me but he helped me a lot with how to approach pitchers, what counts I was getting pitches and he was getting pitches, so he helped me with how to approach who we were facing that night. He's a really professional guy. That's something you don't see that often, a guy who doesn't change every day, really steady. It was easy for me and the other guys to talk with him and be close with him because 0-for-4 or 4-for-4, he was the same guy."
[snippet id=3319157]
RYAN GOINS: "One thing you can guarantee is that he was the same guy every day, no matter if he was struggling or not. He always had fun, always was trying to help everybody he could, if you were new, if you were old, whatever. He was always there for you and would share all his knowledge with you, too. He'd always tell you if he had stuff on pitchers that he was seeing. He was a quiet guy but when he had something to say, you listened, that's for sure."
KEVIN PILLAR: "His clubhouse presence wasn't mentioned enough, just because he isn't a big talker. When there were times when we had closed-door meetings or players-only meetings, or even just sometimes on the bus, when he spoke, it spoke volumes. People listened. He didn't say a lot, but he was kind of like a Godfather for our team. He sat behind the scenes, and when opportunity presented itself, he would say something and everybody would listen and take it to heart."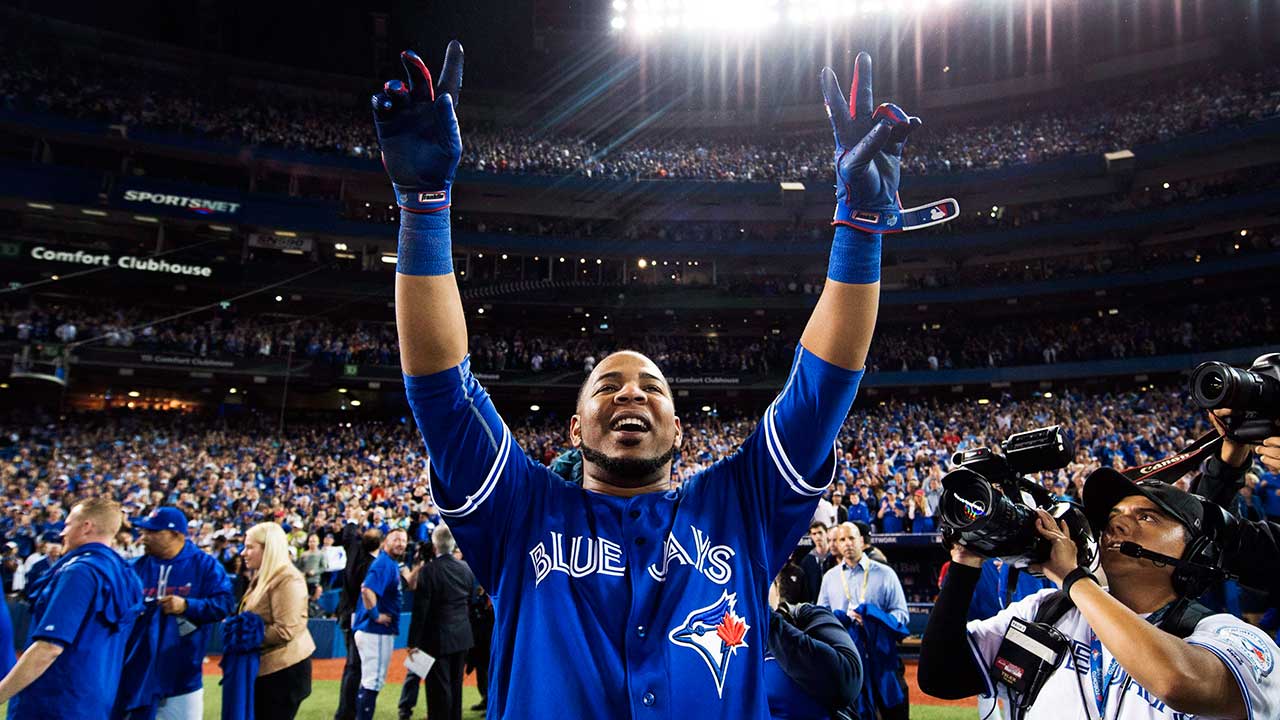 Encarnacion was able to win over his teammates and the fan base during his Blue Jays career. (Nathan Denette/CP)
---
THE PARROT
KEVIN PILLAR: "It's one of those things in sports you really can't explain. You don't know why he does it or where it came from. You hear the story. It doesn't make a lot of sense. (Encarnacion first did it on a grand slam April 28, 2012 and two origin stories are, one, he happened to round the bases at an angle like a plane, or two, he stuck out his arm to balance himself as he rounded first; either way, he kept doing it at the behest of teammates) But it's awesome to see. We play this really old-school game and we talk about showing people up and showboating but I don't think anyone was upset when they saw the parrot, even as an opposing pitcher or team. It was so unique and so cool."
RUSSELL MARTIN: "It's just a funny thing. A lot of things can be gimmicky, like it's just for show, but I feel like everybody loved the parrot. He seemed to enjoy it, too. For a guy who doesn't showboat, he doesn't like to show people up, it was nice to see him have fun within the game."
EZEQUIEL CARRERA: "He doesn't try to make fun of anyone – he just liked it. That's something that hasn't been imitated, it's only him, it's original so it's something I liked."
RYAN GOINS: "I was happy to see it about 200 times. It's sick. When guys have things they do when they hit homers that fans can get into and teammates like, too, it's pretty cool to see."
THE WALKOFF
RUSSELL MARTIN: "I was on the bench and it was just instant relief. It's tough to get more pressure than in an elimination game, playing a tough team, a team we battled with all year – we've had our share of disputes with the Orioles. I don't remember how that whole game went down but I remember that one swing. It was the swing and looking at the expression of the catcher behind the plate, you knew the ball was well-hit and then seeing it sail into the stands. It was like, yes, we're going back to the post-season."
KEVIN PILLAR: "I was close to the steps because I remember getting out of the dugout fairly quick and running out there. You think about Joe Carter, you think about Jose Bautista, Edwin's got to be up there for one of the biggest homers in the history of the Blue Jays. That will be one of my fondest baseball memories, ever, him hitting the homer, Carrera being prepared and coming out with the parrot. It's awesome."
EZEQUIEL CARRERA: "I'm always trying to be positive and make jokes with the guys. I always had the parrot in my locker but in that situation, I put it right behind the dugout in the tunnel, and it was ready there whenever we needed it, right there behind the door. As soon as he hit the ball I grabbed it and ran out with it."
RYAN GOINS: "When Z had the parrot on the field, I don't know how he timed it like that, but it was cool, man. I was sitting next to him so I don't really know where he got the parrot from. The one-game series is different, but it's fun. A walkoff homer is exciting any time, doing it in a game like that is even bigger."
[relatedlinks]