If last off-season offers any indication, it could be months before the Toronto Blue Jays finish adding to their bullpen.
It wasn't until February that the Blue Jays added John Axford and Seung-hwan Oh, while Tyler Clippard didn't sign until March. And really there's no rush, not when dozens of relievers are available in free agency and the best bargains tend to emerge late.
This year, the same approach would work again. While some contending teams will spend aggressively on premium relievers early in the winter, the Blue Jays can reinforce their bullpen closer to spring training. All it takes is patience.
The same wait-and-see approach won't necessarily work as well with the starting rotation, though. Even if the 2019 team isn't expected to contend, the Blue Jays need starters for a few reasons. Among them:
• Counting on a prospect like Sean Reid-Foley for 30 big-league starts would be asking too much, regardless of his eventual promise
• Adding arms now reduces the chances that the Blue Jays will be scrambling for a Mike Hauschild type next summer
• A successful off-season addition can be traded for prospects in July, when pitching's always in demand
With those factors in mind, the Blue Jays will look to add to a rotation that combined for a 5.14 ERA in 2018. They won't be alone, however, and because there are fewer appealing free agent starters than relievers, the Blue Jays should be prepared to move more quickly for the right arm.
The trade market offers some intriguing options including Sonny Gray of the Yankees and Jon Gray of the Rockies. As for free agents, the four arms below should be on the Blue Jays' list of potential targets, too…
Garrett Richards, RHP
3.66 ERA | 3.62 xFIP | 16 starts | 76.1 innings | 87 Ks | 34 BB | 95.9 m.p.h. fastball velocity | 11.4 % swinging strike rate
Even though Tommy John surgery will likely sideline Richards for the entire 2019 season, he's one of the most intriguing free agent pitchers available. Armed with a high-spin rate fastball and a swing-and-miss slider, the 30-year-old has legitimate front-of-the-rotation stuff.
With that arsenal and Richards' track record of success, it's no surprise that more than a dozen teams have already expressed interest. He'll be able to choose from a wide range of suitors eyeing rotation upside for 2020.
The Blue Jays checked in on Richards in the first week of free agency as they surveyed the market for pitching. Given that he lines up with their timeline for contention, Richards looks like an ideal target, even if it means making an offer that goes beyond the two-year, $10 million deals signed by Tommy John veterans Michael Pineda and Drew Smyly last winter.
Yusei Kikuchi, LHP
3.08 ERA | 23 starts | 163.2 innings | 153 Ks | 45 BB
Kikuchi will be posted within the next month after a strong season with the Seibu Lions. He missed time with a shoulder injury early in the season, but if his medicals check out he's worth pursuing.
Still just 27 years old, Kikuchi's the youngest free agent starter available–young enough to contribute when the Blue Jays return to contention.
Lance Lynn, RHP
4.77 ERA | 3.98 xFIP | 29 starts | 156.2 innings | 161 Ks | 76 BB | 93.2 m.p.h. fastball velocity | 10.0 % swinging strike rate
Lynn's season started poorly, and he had a 5.10 ERA when the Twins traded him to New York, but he finished the season strong after moving closer to the third-base side of the pitching rubber. After the trade, the right-hander had 61 strikeouts compared to 14 walks with 2.1 WAR and just two homers allowed. As usual he took the ball when asked, starting 29 times.
Last off-season the Blue Jays kept loose tabs on Lynn, who ended up landing a one-year, $12 million deal with Minnesota. He's now a 2019 bounce-back candidate and at the very least you're getting durability.
(Just as long as you're not the superstitious type–the last time the Blue Jays signed a former Cardinal who had just been traded from the Twins to the Yankees, it didn't work out too well.)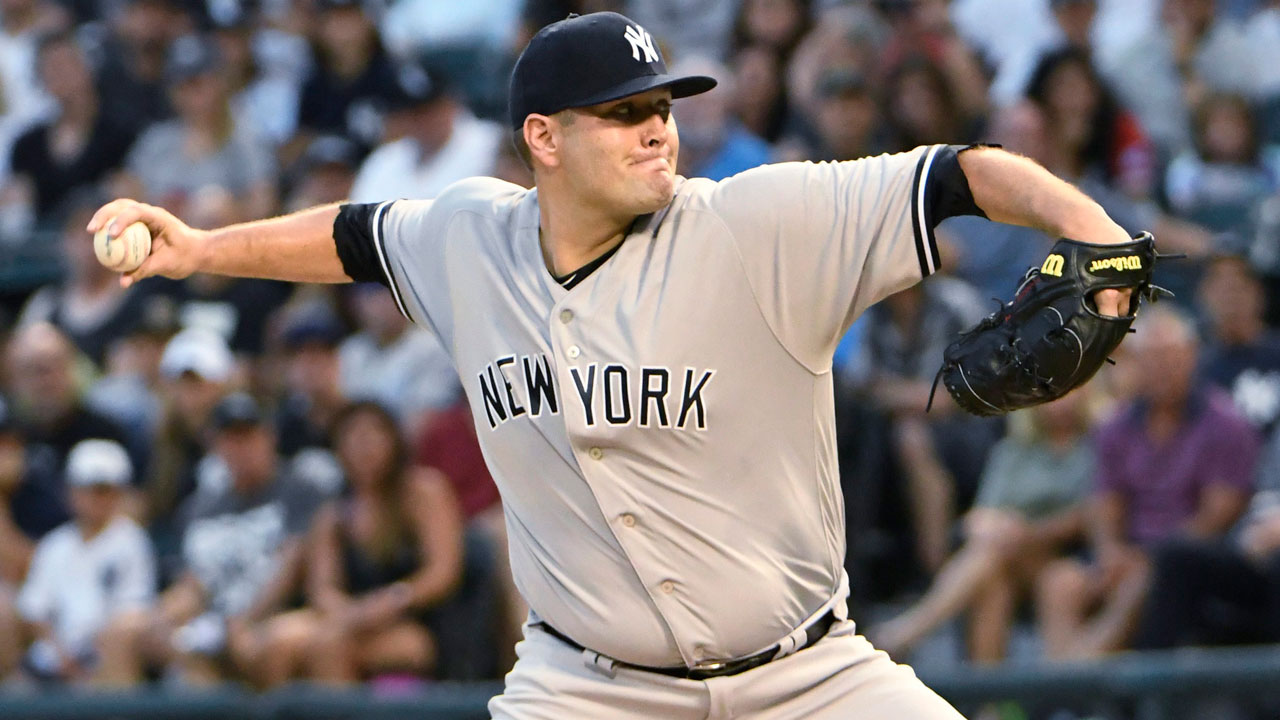 Trevor Cahill, RHP
3.76 ERA | 3.80 xFIP | 20 starts | 110 innings | 100 Ks | 41 BB | 91.8 m.p.h. fastball velocity | 11.7 % swinging strike rate
Cahill still generates lots of ground balls, but he has gradually changed his pitching style over the years, throwing more off-speed pitches to complement his sinker. The formula worked in 2018, when he returned to Oakland and helped the Athletics reach the playoffs.
That season sets up an interesting chance at free agency for Cahill. He has had trouble staying healthy in recent years, with just 193 total innings from 2015-17, but he's still just 30 years old, and his past success as a reliever could add to his trade value when contenders are seeking reinforcements next summer.
MLB Trade Rumors predicts a two-year, $22 million contract between Cahill and the Blue Jays. That might be a little high for a pitcher who last started more than 20 games in 2013, but $16 or $18 million over two seems reasonable. Hey, nobody said signing free agent starters was cheap.