When I was eight years old, I got a Sports Illustrated subscription as a present. Every Thursday, I couldn't wait to rush to the mailbox to get the brand-new edition of SI. I devoured hundreds and hundreds of them as a kid, inhaling hundreds of thousands of words from some of the best writers on the planet.
Yet despite all that reading, a few stories stick in your memory. The May 8, 1989 edition of SI contained one such story. The cover page of the story was a picture of a young slugging first baseman, absolutely beaming. The article itself then described in great detail the powerful exploits of this young slugger, how he could hit a baseball further than just about anyone else on Earth.
I can still remember the headline, without peeking: Give Us a Smile, Hit It a Mile. The writer of that unforgettable piece was the late, great Ralph Wiley. The subject? Fred McGriff.
Young Fred McGriff was an absolute killer. In the first four-plus seasons of his career, he swatted 34 or more homers three times. He twice finished in the top 10 in MVP voting and won a Silver Slugger. His 1989 season — the one spotlighted in that SI opus — was particularly incredible. That year, McGriff led the league in homers and park-adjusted offense. At age 25, McGriff looked destined to be a franchise player for the Jays.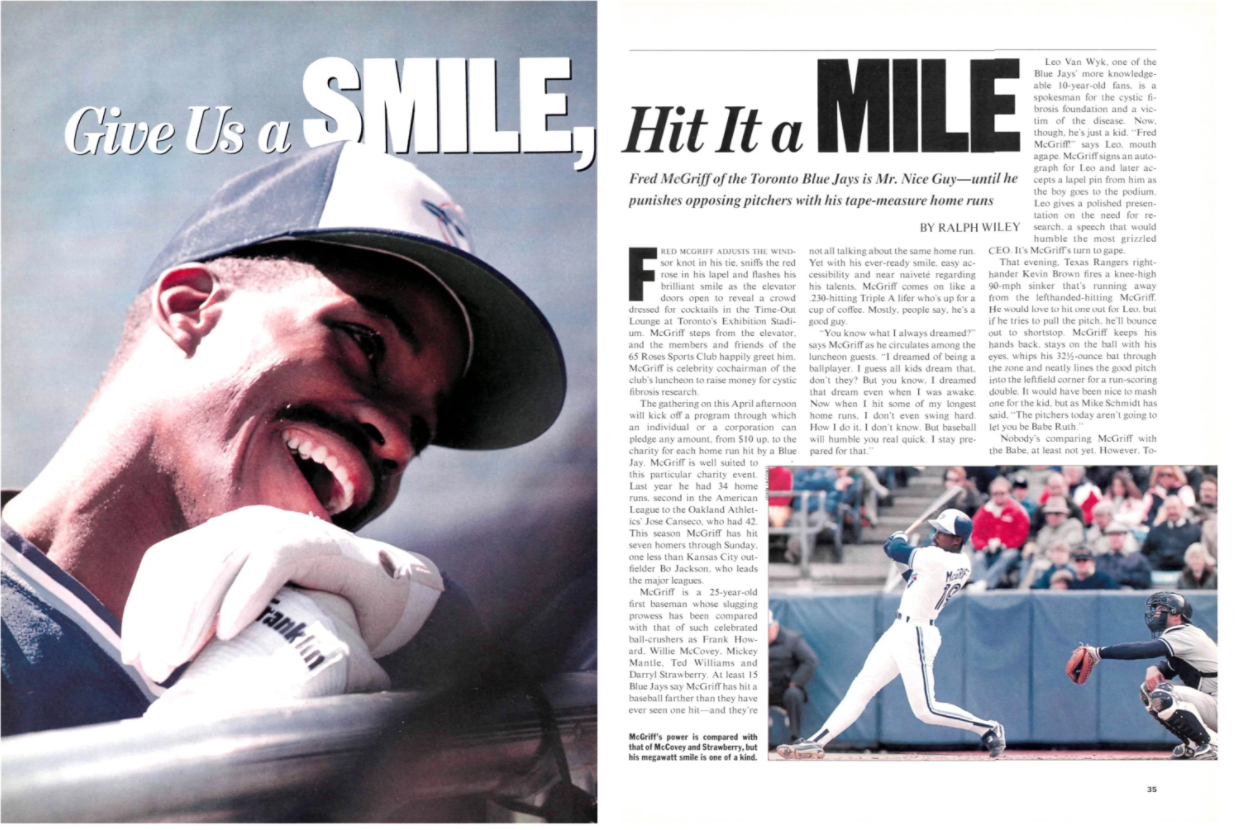 But McGriff never achieved that level of baseball lore in Toronto. The reasons have nothing to do with his talent, and everything to do with a quintessentially late-80s/early '90s lack of understanding of how offense works, as well as a bad mix of timing and circumstance.
Despite the impressive 125 home runs McGriff hit as a Blue Jay, he never drove in more than 92 runs with Toronto. This irked a good-sized chunk of the Jays fan base, who like many other fans in that era, regarded a hitter's Triple Crown stats as the key to understanding his value. It wasn't just that lack of runs batted in that chafed some of the local populace. While McGriff's 119 walks in '89 would today be considered a great and hugely valuable contribution to the team's success, back then it was viewed (in some corners anyway) as a sign that he was too passive at the plate.
Go beyond that 1989 campaign and consider all 578 games that McGriff played in Toronto. What you get is a player who ranks way up there in multiple categories on the franchise leaderboard. To wit:
OPS+: 1st (153)
Offensive Win%: 1st (.726)
OBP: 3rd (.389)
Slugging: 3rd (.530)
OPS: 3rd (.919)
Perhaps more Jays fans would've grown to love McGriff's wait-on-your-pitch-then-whack-it approach if given more time to get to know the guy. Sadly, that's where timing and circumstance reared their ugly heads.
The 1990 Blue Jays were a very good team, but also an unlucky one. Their run differential pointed to a club that should have won 92 games; instead they won 86, finishing second in the AL East after winning the division the year before.
Still, the '90 Jays had some gaping holes to fill, most notably at second base and in the outfield, where slap-hitting Manny Lee, along with aging George Bell and Mookie Wilson, dragged down an impressive collection of talent. Meanwhile, the Jays' biggest area of depth lay at first base, where they employed a pair of 25-and-under players with big-time hitting talent in Fred McGriff and 21-year-old John Olerud.
So Pat Gillick pulled the trigger. The Jays GM made a two-for-two swap with the Padres, acquiring a do-it-all second baseman and a power-hitting outfielder. In exchange, he sent back the best shortstop in franchise history, and a raking, up-and-coming first baseman. That's how both Tony Fernandez and especially McGriff never quite got the accolades they deserved. Roberto Alomar and Joe Carter, though, very much did.
There's no denying that Alomar was magnificent as a Jay, making the All-Star team and winning the Gold Glove award in each of his five seasons with the team. Carter gave the club six and a half seasons, whacking 30 or more homers four times in a Toronto uniform. But both players might've merely gone down in team history as very good Blue Jay players rather than the folk heroes they'd become if not for one thing: Two years after McGriff got shipped to Southern California, the Jays won their first of two straight World Series.
And it was Alomar…
and Carter…
…who struck the two biggest blows of that magical two-year run.
McGriff would go on to play for six different teams, never spending more than five seasons in any one stop. His numbers are huge by historical standards (493 homers, 1,550 RBI, a batting line of .284/.377/.509), but merely very good by 1990s standards, when a phalanx of beefy first basemen did their best impression of Paste from Bases Loaded.
Still, we've seen plenty of players go into the Hall of Fame with strong numbers that fall a little bit short of established Cooperstown standards. In multiple cases, starring for one team helped shape voters' perceptions. Jim Rice played the same number of seasons as McGriff, putting up inferior numbers in the process. But he spent all of those 16 years in Boston, which was good enough for the electorate to vote him in.
There's an alternate universe in which the Jays trade Olerud instead of McGriff to San Diego, then watch McGriff team up with their uberathletic second baseman, run-producing right fielder, and a cast of big-name veterans to win those two World Series crowns. In that universe, the Jays parlay the revenue made from those championships into a rich contract extension for their big first baseman, then watch him pick up a passel of All-Star appearances and top-10 MVP votes, all while playing in Toronto. At the end of it all, McGriff gets the benefit of the doubt from Hall voters, and a statue right outside Rogers Centre.
If they ever cast Sliding Doors 2, here's hoping they make it about Fred McGriff. The gap between mere greatness and baseball immortality is often much smaller than we'd care to admit.