During the off-season we'll be taking a closer look at some potential free agent targets for the Toronto Blue Jays. Today it's Lance Lynn.
Player: Lance Lynn | Age: 30 | Position: SP | Throws: Right
2017 stats:  33 GS | IP 186.1 | ERA 3.43 | FIP 4.82 | WHIP: 1.229 | K/9: 7.4
MLB Trade Rumors Signing Prediction
Four years, $56 million, Rangers.
Why he's a potential fit for the Blue Jays
The Blue Jays were reminded of the importance of starting pitcher depth this past season. And given the uncertainty of Aaron Sanchez's right middle finger, coupled with the impending free agencies of Marco Estrada and J.A. Happ after the 2018 season, that depth will be a continuing concern.
That's why the Blue Jays could be well served by signing Lynn. The right-hander is no ace, but rather a durable starter who can soak up innings from the middle of a contender's rotation. Think along the lines of what Mark Buehrle was for the Blue Jays during the latter years of his career.
In other words, a bulldog on the mound.
Lance Lynn takes a line drive to the head and walks it off! #mlb https://t.co/2aOZHcmDb7
Yes, Lynn did miss all of 2016 after undergoing Tommy John surgery, but he returned to start 33 games and toss 186.1 innings this past season. Those are right around his career norms: Lynn has averaged 32 starts and 189 innings since 2012. All told, he's a pitcher who can be pencilled in to a rotation and left alone.
The Blue Jays could do a lot worse considering the unclear future of their rotation.
Why he might not be a fit for the Blue Jays
Lynn was extended a qualifying offer by the Cardinals, so the Blue Jays would have to forfeit a draft pick and international bonus pool money to sign him. As well, the dearth of free agent starting pitching will likely result in a hefty contract for Lynn. The current Blue Jays front office has been cautious in handing out such deals and might be especially hesitant in this case because of the red flags that exist.
The right-hander posted an impressive ERA in 2017, but some of his peripherals regressed in alarming fashion. Lynn walked 10.1 per cent of batters he faced — only Diamondbacks lefty Robbie Ray posted a higher walk rate among qualified starters in baseball.
In addition, Lynn's home run rate rocketed to 1.30 per nine innings, while his strikeouts continued to decline, culminating in a career-low 7.4 K/9 in 2017. There's also the case of his career-worst 4.88 FIP, which suggests he pitched worse than the sum of his results.
That's not what you'd like to see from a pitcher you plan on bringing over to the American League East.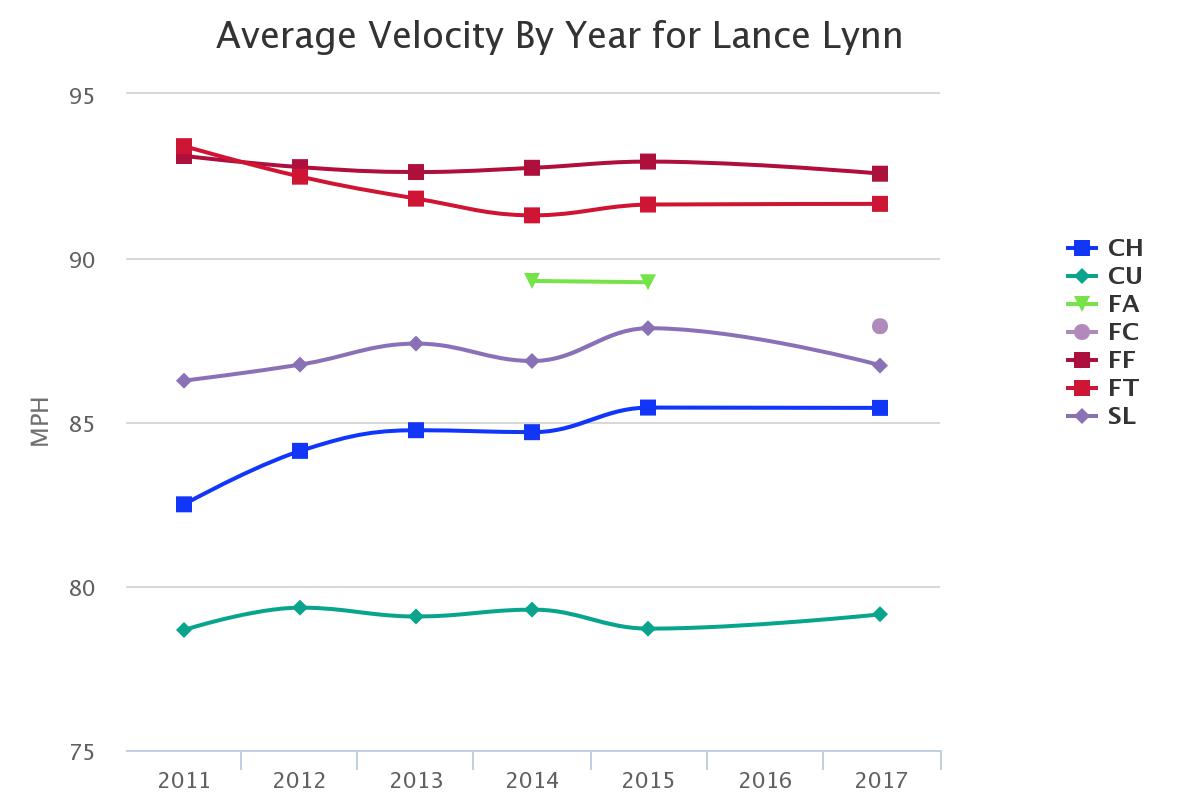 Lynn's representatives will likely point out that 2017 was his first year removed from surgery. His velocity was not affected and it's worth noting some pitchers tend to grow stronger as time passes after Tommy John.
Any team that inks Lynn will be hoping that's the case.
The latest Lance Lynn buzz
The Texas Rangers are looking to upgrade their rotation and have had "sustained interest" in Lynn and fellow free agent starter Alex Cobb, according to Jon Morosi of MLB Network.
Morosi previously reported that the Baltimore Orioles were also interested in Lynn.