TORONTO – Give Martin Perez some credit. He threw the cutter close enough to the strike zone that any hitter would have to consider swinging but far enough inside that it would be tough to drive. It was a borderline pitch – technically speaking a ball – but close enough that home plate umpire Adam Hamari still called it a strike. Perfect placement.
Well, perfect placement for the Twins at least. Vladimir Guerrero Jr., didn't like the call, and his body language reflected that frustration when he placed his hands on his knees and sighed in apparent surprise. It was perhaps the most visible sign of frustration yet from the top prospect, who gathered himself quickly and politely asked Hamari where he had the pitch.
That borderline call was just one of many frustrating moments for the Blue Jays in a 8-0 loss to the Twins Monday. Marcus Stroman allowed his first home runs of the year, the Blue Jays' lineup managed just three hits and Charlie Montoyo got ejected for the first time as a big-league manager after arguing balls and strikes.
Granted, Hamari called plenty of low strikes for Perez, so there was reason to argue. Plus, a 1-5 road trip can test any team's patience. But even in the face of that frustration, the Blue Jays are encouraging Guerrero Jr., to trust what got him here.
"All we can do is say 'relax and you're going to be all right,'" Montoyo said. "We all know he's going to be all right. But he's 20 years old. Of course anyone would show frustration when struggling and he showed it today.
"And I kind of like it. But he's going to be all right. We're going to work with him and be patient, but he's the number one prospect for a reason."
A difficult night for Guerrero Jr., began in the field, when he booted a routine ground ball for his second fielding error of the season in the second inning. Later, he charged a slow roller by Nelson Cruz only to come up empty again. While he did help start a double play in the fifth, games like this are a reminder that the top prospect's defensive consistency isn't there yet.
When the Blue Jays first promoted Guerrero Jr., they did so with the understanding that he would continue to develop in the majors. Inevitably, there would be struggles, but team decision makers hoped that Guerrero Jr., would avoid letting defensive miscues impact his plate approach and vice versa.
"He's not that type of kid," Montoyo said. "He's making errors because he's a prospect and needs to get better at third. It's not because he's taking his at-bats to the field. I know that for sure. He's a pro."
Regardless, there were struggles on both sides of the ball for Guerrero Jr., who went hitless in three at-bats with two strikeouts looking and one double-play grounder. A tough night for any player, but perhaps especially difficult for someone still awaiting his first big-league hot streak.
Of course it's early, and Guerrero Jr., isn't the only young player to scuffle after arriving in the majors. His Hall of Fame father hit .185 with a .481 OPS in his debut with the 1996 Expos. Even Mike Trout took some time to adjust to major-league pitching.
It's worth noting pitchers are succeeding when they challenge Guerrero Jr., with off-speed pitches low and away. Entering play Monday, most of his swings and misses came on breaking balls on the outer part of the plate.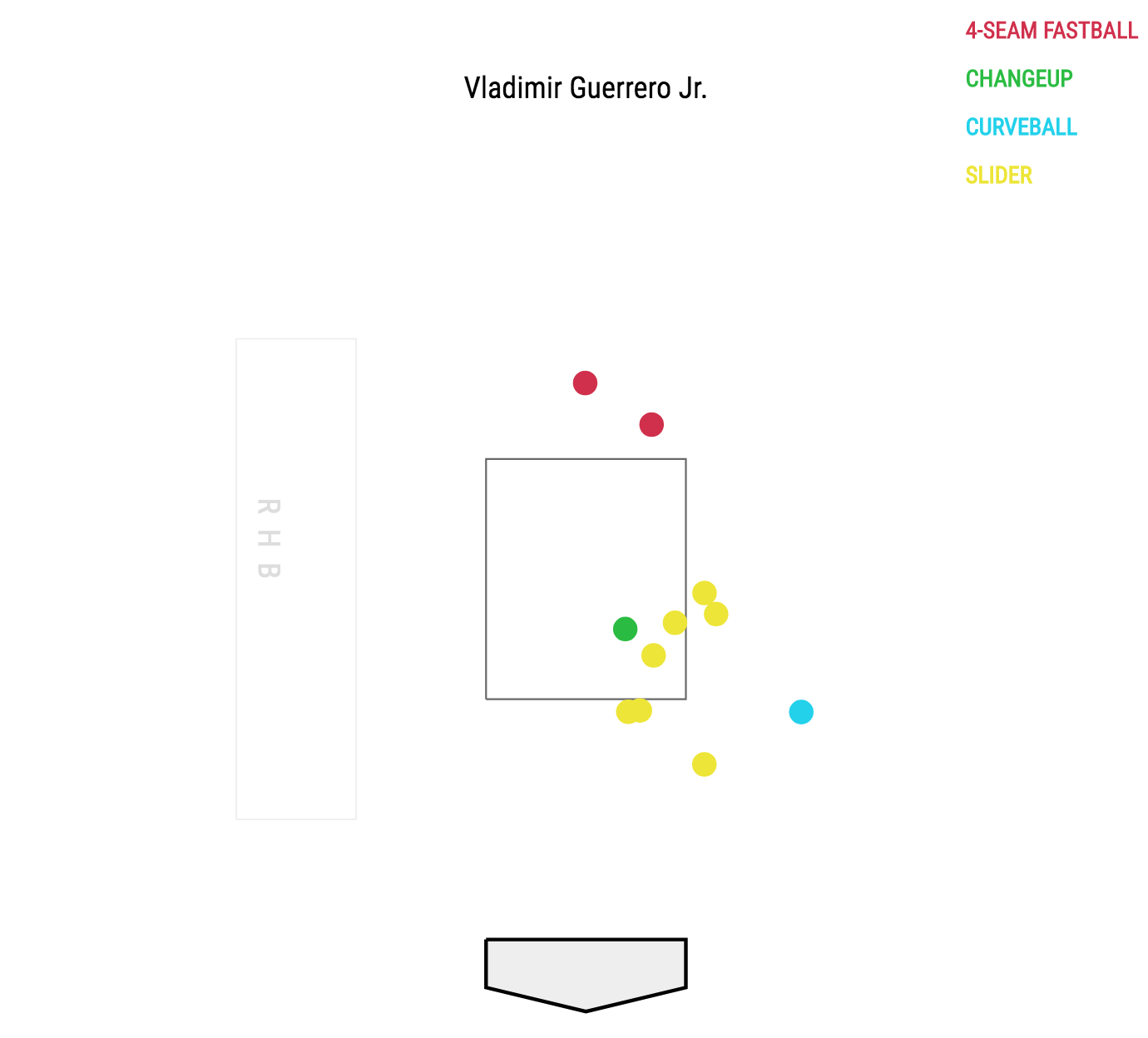 That formula worked again for the Twins, as Perez induced three swinging strikes on change-ups low and away. Making matters worse, umpires are calling some borderline strikes on Guerrero Jr., putting him behind in the count more often.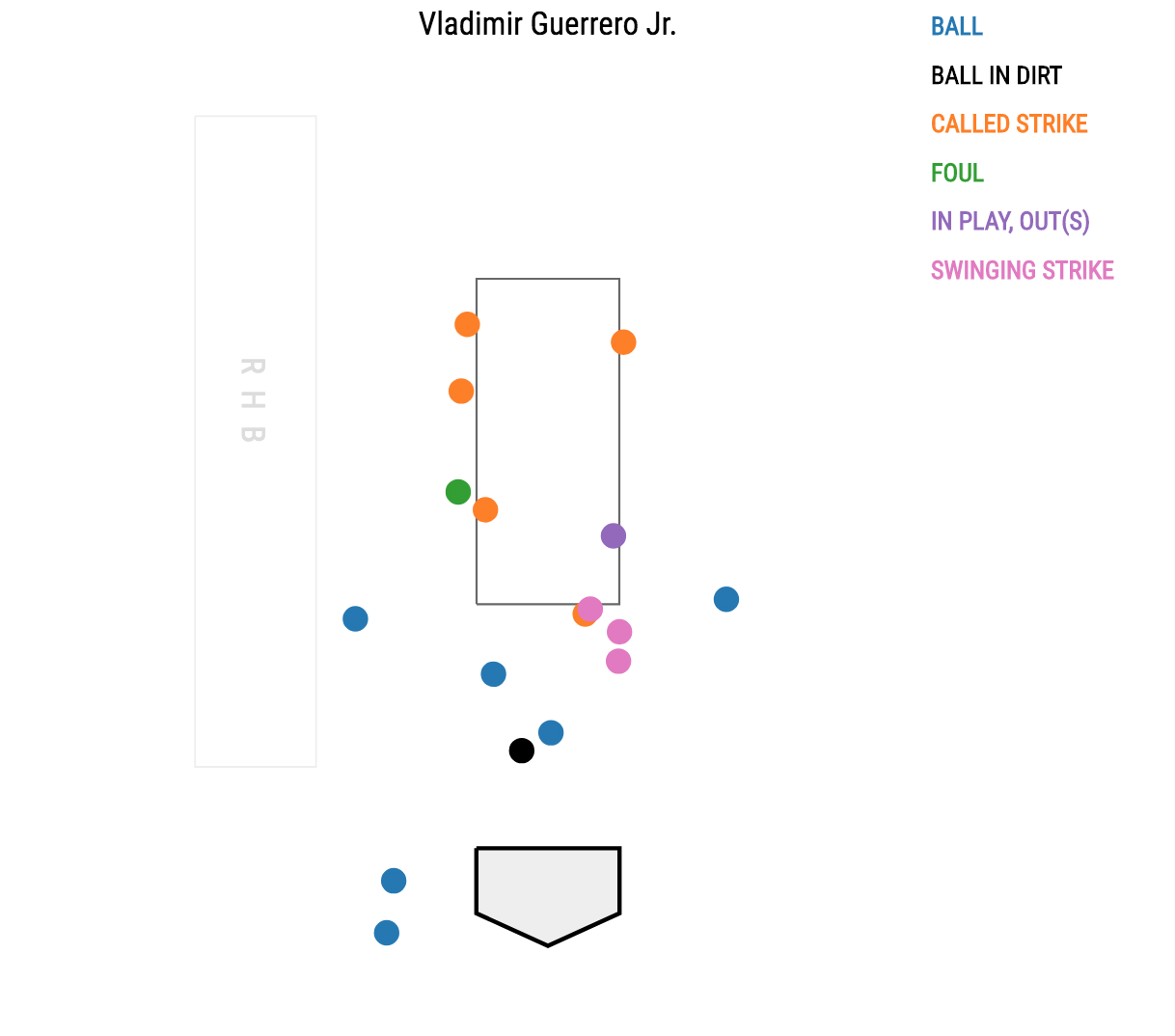 Whether you attribute those calls to his rookie status or small sample randomness, the end result is the same: fewer favourable counts for a player known for his exceptional strike zone judgment.
Meanwhile, Stroman allowed his first two home runs of the season on a night he lasted just 4.2 innings. All told, he allowed eight hits, two walks and five earned runs before giving way to a heavily-taxed Blue Jays bullpen. That's the second consecutive tough start for the right-hander, whose ERA rises to 2.96.
"Every one of my spinning pitches was up in the zone," Stroman said. "It's just feel. I just lost a little feel at the very, very end of my delivery when the ball's leaving my hand. That's it. I'll make an adjustment and figure it out."
By now, Stroman has shown that he can make those adjustments start to start and year to year. At third base, that same type of challenge awaits Guerrero Jr.
"He's here for a reason," Stroman said. "You have to have unbelievable confidence in yourself to get the job done. You play 162 games. You go through spurts where you have two or three bad starts. You go 0 for 15, 0 for 20. It's part of baseball. It's part of life. He's going to be fine. He knows how good he is and that he's going to be here for a long time."
More immediately, there's now a template to follow for opposing pitchers: avoid the centre of the plate and try to locate your best off-speed pitches low and away. Now it's on Guerrero Jr., to adjust back while continuing his defensive development. No easy task for any player or prospect, even one with the talent to overcome those obstacles and become a star.
"He's got to make an adjustment just like anybody else," Montoyo said. "People make it seem bigger, but he's just a kid and he's going to be all right."