TORONTO – There's a Twitter account called Gibby GIFS (@GibbyGIFS) that you may have come across which is true to its name, offering a collection of short John Gibbons clips that loop over and over and over. From heated arguments with umpires, to indelible facial expressions to the trademark dugout lean, it's all there, in one spot, the best of the antics Toronto Blue Jays fans have become accustomed to over the years.
"It's funny because I see all these pictures and I'm hanging over the rail and people are commenting," Gibbons says with a smile one lazy Sunday, leaning back in his chair, hands clasped behind his head, legs resting comfortably atop his desk. "You've got to relax someway. Baseball can be a slow-moving game. It's not like there's the intensity of football or some of those high-energy, fast-paced sports.
"But my mind's always churning. I'm thinking the game, watching our guys out there, primarily the pitchers, because that's where you make your moves. I love to chew sunflower seeds and drink a Diet Coke or Diet Pepsi, whomever the sponsor is. People say, 'You look like you're at a picnic.' Well, it's not a bad picnic. But I'm locked in, I'm intense. A lot of things churn inside."
That Gibbons has largely kept that churn hidden away from his players, fellow coaches and the general public is to his enduring credit, the dugout demeanour part of a reasoned approach to his role. Teams, in many ways, take on the personality of their manager, he believes, and he's played for tense and tightly wound skips whose brooding weighed down the men on the field. The game is hard enough with all its inherent stresses and pressures. The guy in charge shouldn't be piling more on, too.
"This isn't contrived because of that – this is my personality," says Gibbons. "But I think that works best."
Over nearly 1,600 games during two stints, his instinctive ability to read the moment and project just the right vibe – be it throwing back some seeds all baseball chill or waddling out on his old ex-catcher knees to rage against a call his guys didn't get – has become an ingrained part of the Blue Jays experience.
All of which makes Wednesday afternoon's home finale against the Houston Astros, Gibbons' final home game as Blue Jays manager, all the more poignant. That he won't be returning in 2019 for the final year of his contract has been known for weeks and obvious for months, and an announcement would make sense in the coming days. Over the course of this season's teardown, the 56-year-old has carried on knowing the end loomed with his usual humility, humour and dignity, demonstrating in August and September that he can work just as effectively with young players trying to find their way as he did with veterans ready to win.
He plans to stay in the game and says, "I would like to keep managing," but he acknowledges that, "those jobs are hard to come by." Despite the uncertainty, all Gibbons has exhibited is what the situation has called for, whatever he's feeling about his future kept inside to himself.
"I've been here in Toronto a while, so I have a special connection to the Blue Jays," Gibbons replies when asked about working toward the inevitable end. "You know, I was always a Met as a player and then for a number of years as a coach, so I'll always be a Met. But now I'll always be a Blue Jay, too. I'm proud of this organization. They gave me an opportunity. They put a lot of money in my pocket – that's never bad thing. People who have worked here for a long time, they care about the team and I'm one of those guys now.
"I wanted to be a great player – that didn't happen," he continued. "And then I got into coaching and I wanted to be a big-league coach, it was my number one goal, and then I got that. Then I always had dreams of maybe being a manager. Most times those are unrealistic because very few get that chance. I was fortunate that I did. Then things move on and I've been with the Blue Jays for a lot of years now, and it's deeper than that. It's not just, well you're a major-league manager for this team or that team. There's a connection here. I will always be proud of this organization. I will always root for it."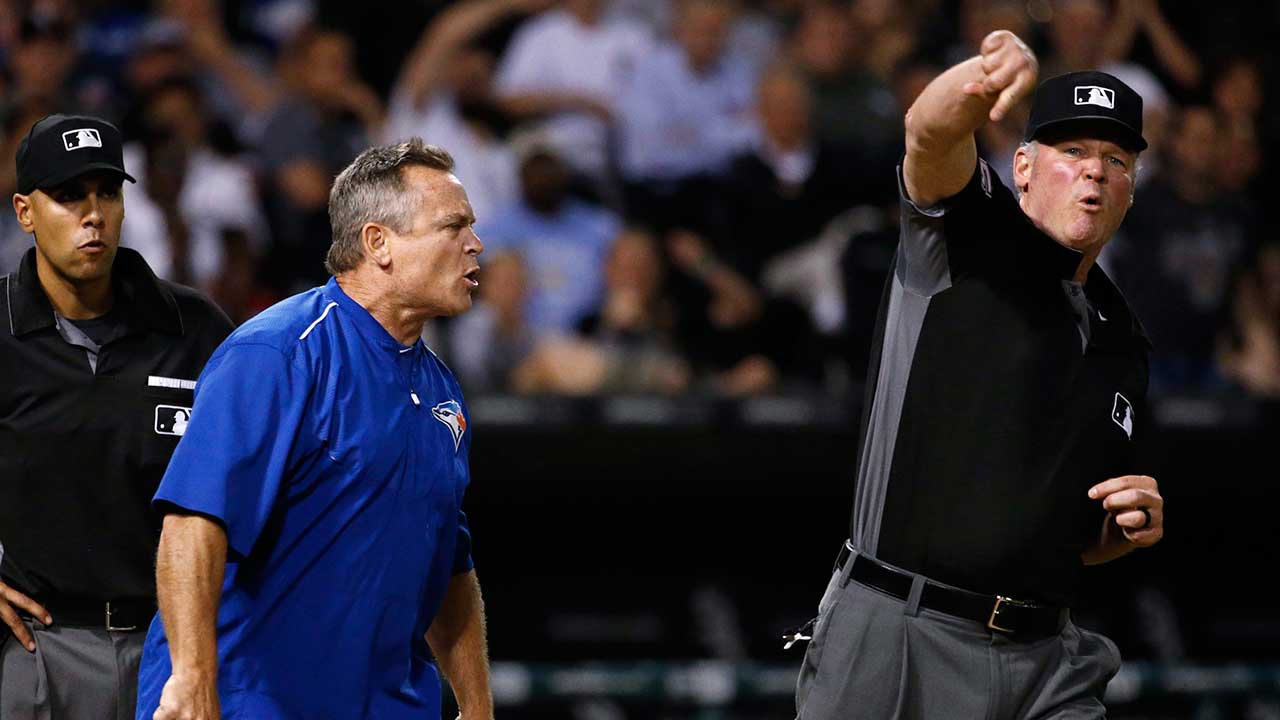 Gibbons will depart with a place secured alongside the franchise's most important figures.
Among managers, he trails only Cito Gaston in games (1,764-1,578) and wins (913-791) and he led the Blue Jays through two of their seven trips to the post-season. While he didn't win back-to-back championships like Gaston did, Gibbons was in charge through the club's finest moments since then, when the runs of 2015 and '16 rekindled a long dormant national passion for the team.
Few would have expected that from Gibbons when he first joined the Blue Jays as a bullpen catcher in 2002, hired by former minor-league roommate J.P. Ricciardi, the GM at the time. Gibbons was promoted to first base coach when Carlos Tosca took over from the fired Buck Martinez midway through that first year, and then was named interim manager when Tosca was fired Aug. 8, 2004.
On Oct. 4, 2004, after removing the interim tag from his friend's title, Ricciardi memorably said, "If you can't play baseball for John Gibbons, you can't play for anyone." But he also added that, "there's a side to Gibby you'll never see … don't let his niceness act as a sign of weakness." Those words proved prophetic in 2006, when Gibbons had well documented altercations with Shea Hillenbrand and Ted Lilly.
The two incidents painted him, unfairly, as a hothead – "John Gibbons is a good ol' boy with a big bad temper," I regrettably wrote on Aug. 23, 2006 while I was with The Canadian Press – a label that stuck with him through his June 20, 2008 firing. Even when former GM Alex Anthopoulos made him a surprise pick as the manager to replace off-to-his-dream-job John Farrell ahead of the 2013 season, that was mostly what people remembered about him.
Over time, Gibbons learned how to handle all the different elements at play in what he described as "a major market – this isn't a small little town," which, "can be overwhelming at first."
"When you first start out, you're getting pulled from every direction and depending on the personalities – every club is different – you've got some different battles to fight," Gibbons says. "I've had some things in the past. Sometimes you've got to fight fire with fire, man. That's just the way it is. Everybody's got one goal, everybody's got rules to follow, what have you, but they have different personalities and you've got to take all those on. I think I have a pretty good understanding. We get players from all over the world, all walks of life, all different economic backgrounds, educational backgrounds and things like that. If you can hit, throw or catch a baseball, you can be successful in this game. So you've got to adjust to who's in that room out there. Treat them like men, expect that in return and then fight them if you have to."
[snippet id=3305549]
Avoiding a one-size-fits-all approach has been crucial during this tenure with the Blue Jays, when he's had more than his fair share of big personalities and high-maintenance players to deal with.
One tense moment was caught on camera in August 2016 when Gibbons and Josh Donaldson exchanged heated words in the dugout after the third baseman slammed his bat walking down the steps. Troy Tulowitzki and Josh Thole ultimately stepped in between them. A handful of other incicents took place behind the scenes, most simply a byproduct of highly competitive men in a highly competitive environment.
Such moments were outliers.
Players for the most part appreciated that Gibbons let them create and govern their own environment without imposing himself in a player-whisperer way like Joe Maddon or with a leading-from-the-front approach of Buck Showalter. If players adhered to Gibbons' two line-in-the-sand expectations – show up on time and play hard – they wouldn't have a problem.
"If you have to actively try to be the leader, that don't work, that's phony. People see right through that. I see right through it," he says. "I think everybody understands that when you're the manager, you are the leader and there are certain things you've got to do. If you don't live up to that, you're in trouble. But as a leader, it's all right to be their friend, get along with them, have fun with them. Everybody's got to recognize that fine line – we can't cross that – because in the end I make decisions that affect their careers or life, really. That's never an easy thing to do. Ever since I started, I just wanted these guys to feel free anytime they want to come and talk to me, whether it's baseball related or life or what's going on off the field, that they trusted me. And then I run the games and make the decisions, right or wrong. And we all can live with that."
For the past six seasons the Blue Jays have lived with that, and in 2019 they won't, and things will change. Gibbons will leave with an imprint on a franchise he was unlikely to make, his conservative-Texas-to-the-core persona finding a welcoming home in often centre-left Canada.
"I told you my bloodlines come from liberal Boston," he quips about why he's been such a good fit in Toronto. "Unlike the culture out there in the world today, you can disagree on how the world should be run or different people's beliefs, it doesn't mean you can't be friends and get along. That should never alienate you. I know I don't have all the answers, I just like people. Being from Texas, even though that's not my roots (he was born in Great Falls, Montana), I see Canadians as a lot like people down South. They're good people. They're friendly, hard-working, not a lot of BS all the time, so I hit it off with some of them, you know? I respect people's beliefs – I don't agree with them most the time, but I respect them – so I've really enjoyed Toronto. Good thing, because I've been there long a while now, and I'll never forget it. I may even come back and visit someday when my coaching career is over.
"Maybe I'll go to TIFF."
He wasn't kidding about that. Someone should be there to make a GIF if he does.