The Blue Jays have surged to 12-5 out of the gate, one of the best starts to a season in franchise history. A group of surprise contributors have helped lead the way, with more fireworks in Wednesday night's blowout win over the Royals.
Just one problem: Devon Travis has earned that distinction in the hitting department, but only when you turn that leaderboard upside down. Among the 248 players with 40 or more plate appearances so far this season, Travis ranks fifth-worst in park-adjusted offence, batting a horrific .140/.213/.163.
The Jays trotted out the oldest collection of position players in the majors last year, with an average age of 31. For a team that's ranked among the three oldest in baseball in each of the past three years, Travis was supposed to offer a glimmer of upside as the 27-year-old second baseman who's the second-youngest position player in the everyday lineup. So we have to ask: Why has Travis been so awful so far in 2018?
Let's start by noting that Travis couldn't hit a lick last April either, batting an abysmal .130/.193/.195. He's somehow fared even worse this year. And by somehow, we mean he's been beating the ball into the ground at an alarming rate. Check out Travis's launch angle charts comparing how the ball's come off his bat April of last year vs. this year: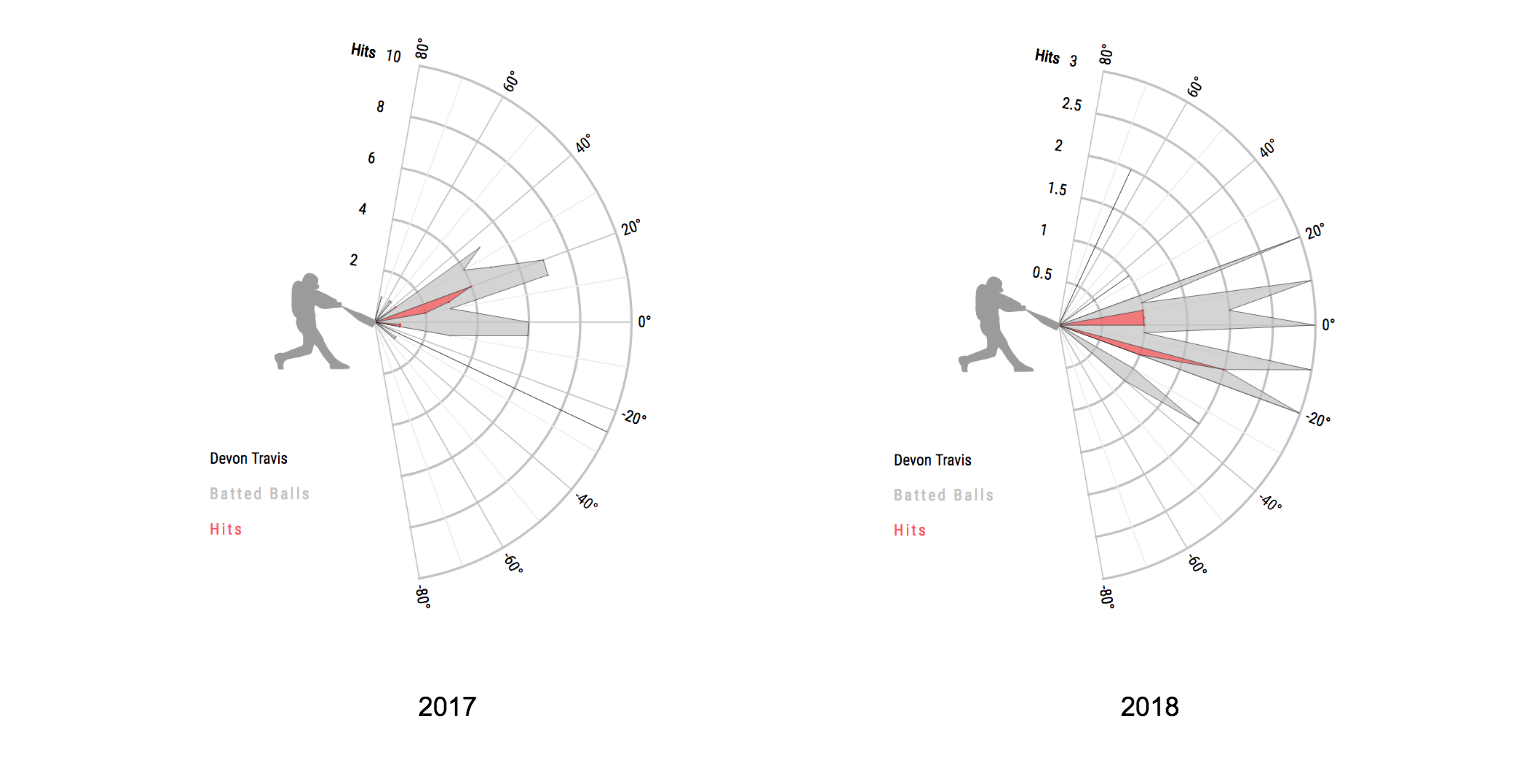 Source: Baseball Savant
If you prefer numbers over pictures, Travis has smacked nearly three groundballs for every flyball so far this season, compared to a nearly dead-even ratio in 2017 as a whole; his ugly 60.7 per cent groundball rate ranks fourth-highest in the American League this year. (The highest? Russell Martin. Ugh.)
What's causing this big jump in worm-burners? One possible explanation is a change in how pitchers are attacking him. Last season, opposing pitchers fired some variant of fastball (four-seamer, cutter, sinker) at Travis 53.9 per cent of the time. That number's jumped to 61.3 per cent of the time this year.
Of course, that jump might simply demonstrate a chicken-or-the-egg situation. Travis might not be hitting more groundballs because he's seeing more heat — he might be seeing more heat because he's hitting more groundballs, and because pitchers aren't afraid to challenge him. Some of the other hitters who've seen the most fastballs this season are Jose Iglesias, Kolten Wong, J.P. Crawford, Logan Forsythe, and Jonathan Lucroy, banjo hitters all.
The good news is that Travis has a recent blueprint for inspiration on how to snap out of his atrocious start. He can simply refer back to his explosion in May 2017. He hit .364/.373/.646 that month, blasting four homers and an incredible 16 doubles in just 99 at-bats.
Except here's where things get weird. You'd typically expect a player to improve his results as he becomes more selective at the plate, working counts in his favour so he can hammer pitchers' mistakes. But Travis's May 2017 leap came with an incredibly weird twist: He struck out 20 times and walked just once during that magical month. He made a lot more hard contact and elevated the ball more frequently, but he did so by hunting the first hittable pitch he could find, and swinging from his heels when he got it.
A knee injury ended Travis's season after just nine more at-bats in June. Still, thanks to that May rebound the end result of his season was a career-best 32.2 per cent hard-contact rate, plus that encouraging near 1-to-1 groundball-to-flyball rate.
Now here's where we invoke the most relevant (and catchy) song in the baseball world:
Yes, these are all small, misleading sample sizes. Research by Baseball Prospectus writer Russell Carleton shows that many key statistical indicators can require 200, 300, even 500 plate appearances before we can start to trust them as reliable. Obviously we are nowhere near that stage.
Here's what we do know: Travis won't keep getting second chances forever. Sure, we can invoke Justin Smoak here, pointing to a hitter who muddled along in the big leagues for years before finally seeing the light in his age-30 season. The difference lies in pedigree. Smoak was a first-round pick back in 2008, going 11th overall to the Texas Rangers. Travis, by contrast, was a 13th-rounder in 2012…423 players heard their names called before Travis did that year.
Still, the first two seasons of Travis's big league career continue to tantalize, with 163 games netting a strong .301/.342/.469 batting line. Throw in that the Jays don't have any major league-ready second basemen available to take Travis's place, and they'll keep rolling with what they've got…while hoping their second baseman's vendetta against the turf ends soon.