NEW YORK – Part of playing the kids is understanding that school-of-hard-knocks days are an inherent accompaniment, which makes patience through the pain mandatory.
To that end, Toronto Blue Jays manager John Gibbons offered rookie starter Sean Reid-Foley both rope and advice, the latter in a discussion on the mound, on Saturday afternoon in an 11-6 drubbing from the New York Yankees.
The 22-year-old right-hander, making his second big-league start, had a wide gamut of new experiences rammed down his throat by the American League wild-card leaders.
From grinding at-bats by legit boppers before a hostile crowd of 44,478 to being let-down by defenders going through growing pains, too, Reid-Foley had to wear it all in his 4.1 innings of work.
His final pitching line – eight runs, six earned on seven hits and three walks – wasn't pretty and part of the challenge for any young player is shaking off that kind of day. But so too is taking the good from an outing in which he showed off his power repertoire by striking out six, and grinded through even as errors by Danny Jansen and Devon Travis, and a bad route by Teoscar Hernandez that let a routine out fall in for a hit, fuelled the damage against him.
"Obviously it was a tough one but he showed me some things, too," said Gibbons. "When he started pitching a little more, when he wasn't so predictable, using his change-up and things like that, he made some good pitches at times. It's good to get this one under his belt at Yankee Stadium, it's a pretty good hitting lineup. He's just going to learn from all that. He's got what he needs, he's just got to take the mentality that he's got to pitch."
Under different circumstances Gibbons might have pulled the plug on Reid-Foley earlier, but after Marcus Stroman's blister reopened Friday and limited the righty to four frames, the Blue Jays needed some innings and the kid needed reps.
"That's the only way you figure things out, is to stay on the field and pitch. That was my intention," said Gibbons. "Plus, you can't kill your 'pen, either, they've had a long year, as well. I think that's important, that's only going to make him better."
Rarely does Gibbons visit the mound to speak with a pitcher, but he did just that in the third inning, after a Miguel Andujar two-run double opened up a 5-0 Yankees lead.
The inning opened with the fly ball by Giancarlo Stanton that Hernandez misplayed and the inning could easily have slipped out of control after Andujar's drive.
"Just compete, focus on pitch to pitch, stop looking ahead, things like that," Reid-Foley said of Gibbons' message. "He really wanted to make sure I was in the moment and going with what was working in that moment."
After the discussion, Reid-Foley induced a ground ball that Travis fielded but made a poor throw on, which allowed a run to score when the next batter, Greg Bird, hit a grounder that should have been the third out.
Stanton turned around a Reid-Foley fastball in the fourth that included two strikeouts while Andujar took him deep in the fifth. Gleyber Torres, another of the Yankees' gifted kids, followed with a base hit that ended Reid-Foley's afternoon.
Certainly Reid-Foley has plenty to work on.
"Frustrating. But I felt fine out there," is how he evaluated his outing. "I got behind in counts and threw balls that missed over the plate and obviously I paid for them. They took advantage of my mistakes."
Two of the three walks he issued scored. Of the 24 batters he faced, only 12 saw a first-pitch strike. Four times he was in a 2-0 count, and five times it was 2-1. Early on in particular, his command was erratic and included one Bull Durham-esque wild pitch into the opposite batter's box.
At the same time, he threw 54 fastballs at an average of 93.6 m.p.h., topping out at 95.8. His 11 sliders led to one whiff, two called strikes and two foul balls. His 22 change-ups generated two whiffs and six foul balls.
With some refinements, the stuff will play.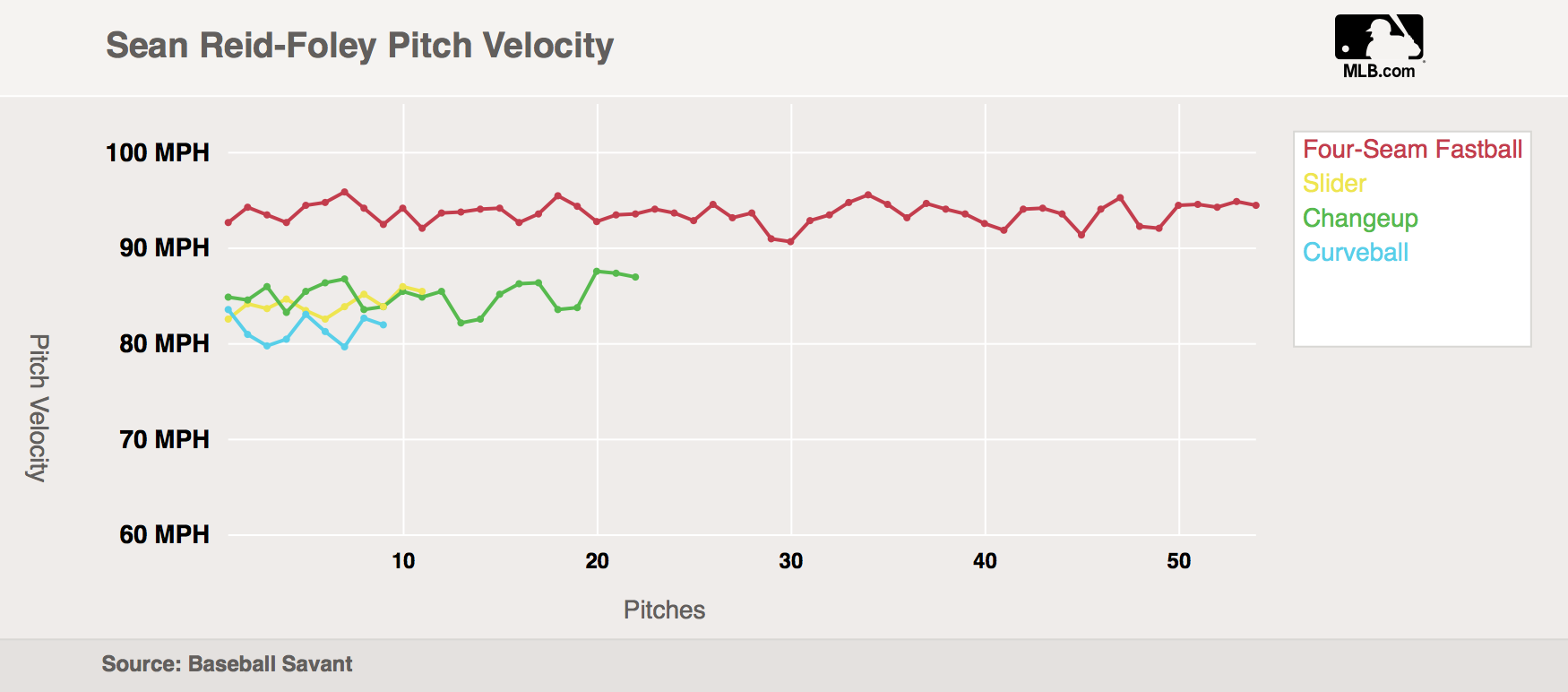 "Sometimes the result isn't what you want," said Reid-Foley. "Something that I learned today is that no matter how bad it's going I can still eat innings. I let a couple of batters in the fifth inning get away from me when I was ahead of them, but you learn something every time you're out there. You may think you've covered it, and you haven't."
Right now, though, the Blue Jays will have to take the good with the bad.
Jansen added two more hits, including an RBI single in a five-run sixth, but also threw a ball into centre field as Torres advanced on a wild pitch, leading to a run. Billy McKinney, who came over with Brandon Drury in the J.A. Happ deal, made his Blue Jays debut and was picked off after a walk in the third and was thrown out at third to end the sixth after his single and a Neil Walker error allowed three runs to come in.
"I felt comfortable and confident," said McKinney. "I made a mistake on the bags and I've got to make up for that, but other than that I felt comfortable and felt like I did all right."
Hernandez, meanwhile, misread the ball off Stanton's bat but singled and scored in the sixth and walked in the eighth.
On some days, this is what it's going to be and it's on everyone to make sure these pains turn into long-term gains.
"McKinney was probably excited, he's just got that look of a good baseball player, so we'll excuse that one," said Gibbons. "The other guys, yeah, there's a ton of talent, they're just trying to harness it and put their whole game together. That is part of it.
"A guy like Teoscar, he's got big-time power, he's still learning how to hit. He's going to strikeout a lot and I think over time, he'll cut that down quite a bit, which will be huge for him."
Blue Jays bullpen coach Dane Johnson has known Reid-Foley for years, meeting him as a teenager when he played on the same travel ball team as his son, Cobi, who is the closer at short-season A Vancouver and was recently named a Northwest League all-star.
As Reid-Foley endured the ups and downs of development, Johnson "kept an eye on him throughout the minor-leagues, maybe giving him whisper here or there, shooting him a text, when he was down or struggling, to keep pushing forward because you're going to have your peaks and valleys."
"He weathered all that stuff," continued Johnson, "and it was great to see him persevere and be here at the major-league level."
There's plenty more of that to come, for Reid-Foley and plenty of other young Blue Jays alike.