TORONTO — An intriguing question I found myself wrestling with as I filled out my ballot for the class of 2019 is whether or not the real-time information available on sites such as Ryan Thibodaux's Baseball Hall of Fame Vote Tracker should play a role in the process.
Certainly the growing accountability voters have shown in recent years by publicly revealing and discussing their ballots is a good thing — it's a level of transparency that sharply contrasts a typically opaque realm. Thibodaux, and the predecessors whose work he built upon when he launched his site for the 2014 voting cycle, are in part, at least, reason for that.
But as the number of ballots unveiled during the voting process increases, the early returns and trends can without a doubt affect the decision-making of eligible voters, especially given the need for strategic selections caused by the 10-player maximum and spike in enshrinement-worthy candidates.
Imagine for a moment the implications if, while electing governments, we could accurately count official votes as they were cast while polls remained open (a more accurate accounting than exit polls). Without a doubt, the progressive returns would spur some people to act based on where the tally was headed.
Obviously the stakes are nowhere near as significant when it comes to Cooperstown, and Thibodaux's work has given fans a fun and deeply informative way to follow the build-up from the ballot's release in November through the announcement date — this year, Jan. 22.
It's also allowed candidates to track how they're faring in a given year, with Larry Walker conceding over the weekend that, "I get constantly reminded of where the numbers are at, family members are letting me know, and there are ways to know online so I've seen them myself."
The iconic Canadian slugger from Maple Ridge, B.C., added that he's declined requests to participate in campaigns for his cause, saying "I don't have that bone in my body," and "I don't want to go out there and be all fake about something that I'm not real about."
Yet he's subject to an emotional roller-coaster of the piecemeal gains or losses, although in typical fashion, he fluffed that off: "I don't have enough brains between my ears to have any emotions like that. I just go with the flow and whatever happens goes."
How fair that is to players on the ballot is another conversation.
As I finalized my decisions in the final week of December, I was certainly aware of the emerging trends in how my colleagues had voted and, in one case, the continued lack of traction for Jeff Kent led me to again keep push him off my ballot, convincing me that a voting slot could be better used elsewhere.
The ability to gain insights into where a vote is headed is an unintended consequence of online tracking.
"I never intended to influence the process, only to track it," Thibodaux says in an email. "There have been instances when a voter has voted for a player who was in danger of not receiving five per cent of the vote, and thus falling off the ballot entirely, even though the voter did not have the player ranked in their personal top 10. There have been instances when a voter cast a 'strategic ballot,' passing up on voting for a sure-thing, slam-dunk candidate tracking over 90 or 95 per cent in order to vote for a deserving candidate who was struggling to gain traction. My sheet can be used to identify both the slam dunks and the players in danger of falling under five per cent and everyone in between.
"While I'm somewhat uncomfortable with voters using the sheet in this way, I also understand why they do, and maybe even should do it."
My starting point this year were the six players I voted for last year who didn't hit the 75 per-cent threshold — Barry Bonds, Roger Clemens, Edgar Martinez, Fred McGriff, Mike Mussina and Larry Walker.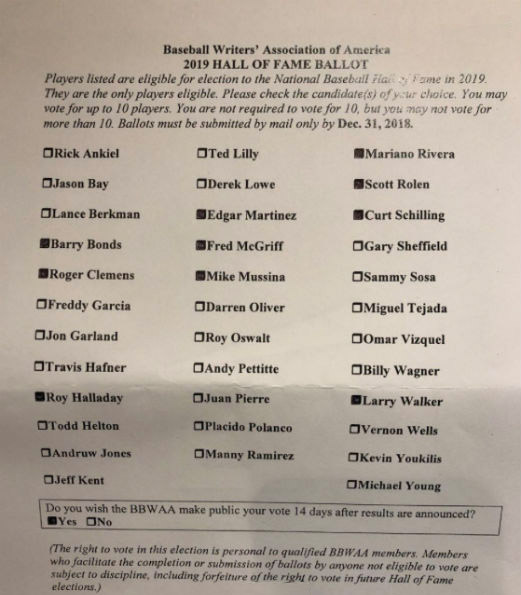 I checked all their names again this year, along with two newcomers: Roy Halladay and Mariano Rivera (although my research went far deeper than this, duh!).
That left me with two slots and I wanted to restore the two names I had previously voted for, Kent and Curt Schilling, whom I dropped last year in order to vote for Martinez and McGriff as their time on the ballot neared its end.
I ended up voting again for Schilling but not Kent after seeing that he was trending in the teens, as he has since debuting on the 2014 ballot. Instead, I used the final spot on my ballot to vote for Scott Rolen, whose JAWS score of 56.9 is above the average of 55.7 for the 14 Hall-of-Fame third basemen and whose candidacy could be boosted in his second year on the ballot.
For voters like myself who feel constrained by the 10-player maximum, it's a factor in the decision-making process and informed by the tracker.
"There's plenty of debate every year regarding whether this is a good or a bad thing, and whether voters should or should not be influenced by real-time tracking of results. For the most part, I've stopped worrying about it," said Thibodaux. "Most (though certainly not all) voters I talk to seem to like that the tracker exists, whether they actually use it to inform their voting process or not.
"My primary motivation remains: get all the ballots. As long as the Hall of Fame allows voters to reveal their ballots whenever they wish to, I'll keep logging them, and voters can decide for themselves how to use the information that's available when they still have their unfilled out ballots in their hands, if they use it at all."
The drama that remains is to find out how much the final numbers differ from the early returns.