NEW YORK — It has been a while since the Toronto Blue Jays played an easygoing, uneventful, mishap-free ballgame that ended in victory. But that's exactly what happened on the Fourth of July in the Bronx, as Toronto took advantage of a shaky CC Sabathia start and rode the latest gem thrown by J.A. Happ to a 4-1 win over the New York Yankees.
It was Toronto's first win since last Wednesday and only their fourth over the last two weeks as they clawed back a game in an American League East race that has been steadily slipping from their grasp as the summer wears on.
"We needed that," Blue Jays manager John Gibbons said. "We've been scuffling."
Sabathia's struggles were largely to thank for Toronto's triumph, as the Yankees starter looked more than a little rusty in his return from the disabled list.
The Blue Jays couldn't crack him their first time through the order, in spite of some very loud fly ball outs, including three that carried exit velocities of 97 m.p.h. or higher and travelled 365 feet or further but still fell into an outfielder's gloves.
But Toronto's luck began to turn its second time through the order after Darwin Barney, the club's no. 9 hitter, worked a two-out walk in the third inning. Barney moved to second on a wild pitch and came in to score when Jose Bautista went the other way for a single, using a crafty swing against a two-strike Sabathia sinker on the outside edge.
Russell Martin singled behind Bautista before Josh Donaldson walked to load the bases. Justin Smoak then worked a full-count walk of his own, which brought in Toronto's second run and Kendrys Morales to the plate.
The designated hitter wasn't waiting around, lacing the second pitch he saw, an 86-m.p.h. change-up on the plate, into left field to score two and give the Blue Jays a four-run lead. That pushed Sabathia's pitch count in the inning to 39, forcing manager Joe Girardi to go to his bullpen with only eight outs recorded.
The Blue Jays struggled to get anything going against a series of Yankees relievers, despite putting runners on in each inning following Sabathia's exit. But that didn't matter because Happ was at his best, allowing only a run on four hits and two walks over six innings.
"He had just a good mix of the four-seamer and the two-seamer on both sides of the plate, up and down," Martin said. "Really, he was just not throwing many good pitches to hit."
Happ's now thrown six innings or more in five straight outings, and his ERA over that span is an exceptional 1.99. On this day, he threw a fastball 82 per cent of the time, needing only 14 breaking balls and seven change-ups to help keep New York hitters off balance. He was especially effective with his two-seamer, which he used inside to left-handed hitters and away from right-handers to avoid hard contact.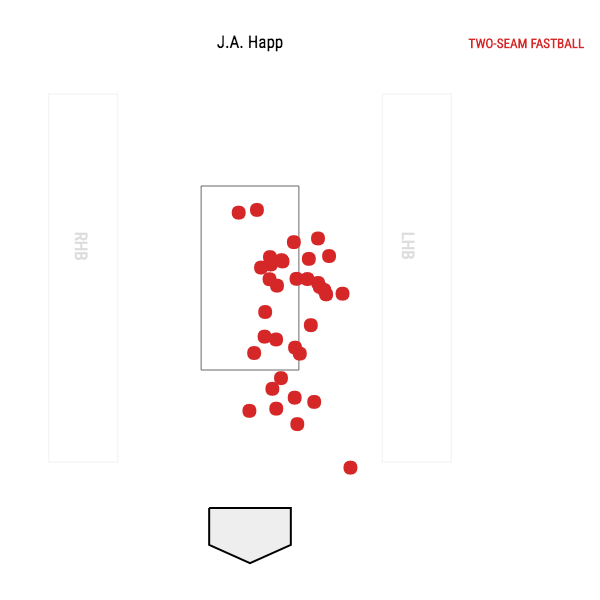 "I think it was huge," Happ said of his two-seamer. "Early on, we were using that quite a bit. Just trying to get early strikes and early outs with it."
Happ allowed only a single his first trip through the order and made just one mistake during his second, leaving a flat, 93-m.p.h. four-seam fastball on the plate to Aaron Judge, who is just about the last guy you want to do that against. Judge demolished it, sending the ball 456 feet over the wall in left-centre field, as he does.
But Happ earned his revenge in the fifth when he got Judge to strike out chasing a full-count, 95.3-mph fastball — "He threw a little extra cheese on that one," as Martin put it — with two on, two out, and the game very much hanging in the balance.
"The way you look at it," Gibbons said, "that could've been the game right there."
Gibbons extended his starter all the way to 114 pitches in the sixth — the most he's thrown in an outing since 2014 — and was rewarded as Happ struck out the side after giving up a leadoff walk to Gary Sanchez.
"I knew that I still felt fine and felt good," Happ said. "And I knew that the leash might have been a little bit longer. So, I was happy about that and being able to work my way out of that inning."
From there, Dominic Leone, Jeff Beliveau, Ryan Tepera and Roberto Osuna took care of the final three innings, allowing only a walk collectively. That brought an end to Blue Jays' five-game losing streak, their longest since they lost seven straight in early April. It was still only the Blue Jays' third win in their last 12 and only marginally improved their record against the American League East, which now sits at 14-25.
But, a win's a win. And the Blue Jays are going to need a lot more of them between now and the trade deadline if they're to have any hope of making some noise in their division and avoiding a late-July sell-off.
"We're in a position to kind of break out of it. We just want to keep ourselves in those positions where the right things happen," Happ said. "If we just keep playing good baseball, then things will go our way. It certainly feels good. Now, we have to go get this one tomorrow, get this series, and then go back home."