When Pat Hentgen appeared on the scene at his first big-league spring training, he knew who Dave Stieb was, but didn't dare approach the veteran.
By February 1990, Stieb was a six-time all-star and the unquestioned face of the Toronto Blue Jays. Hentgen, on the other hand, was an up-and-coming right-hander who'd just been added to the 40-man roster.
"He was the man," says Hentgen. "I was just trying to keep my mouth shut and try to learn."
That worked, as Hentgen developed steadily over the next two seasons. By '92, the two had become teammates, friends and, to their surprise, family.
During a conversation that year when the team was on the road, Stieb mentioned to Hentgen, a Michigan native, that his brother had married a girl from the state. Later that night, Hentgen spoke to his mother, who urged him to ask Stieb if his brother was into horses. "My brother's absolutely into horses," Stieb responded. Turns out, the daughter of a distant relative on Hentgen's mother's side had married Stieb's brother.
"I'm like, 'You gotta be kidding me,'" recalls Hentgen. "We used to kind of joke, 'We're like cousins on paper.'"
It's fitting they're relatives — if just by marriage — given the way Hentgen internalized Stieb's teachings and followed in his footsteps. The younger pitcher not only grew to provide incredible value on the mound, but eventually ascended a mountain that Stieb could never scale and later acted as connective tissue, passing Stieb's competitiveness down to the next generation, including Chris Carpenter and Roy Halladay.
[snippet id=3454869]
Though Stieb and Hentgen were teammates for parts of just two seasons in the early '90s, it was enough for the pitchers, separated by an 11-year age difference, to forge a solid mentor-student relationship. Even when Stieb left the Blue Jays following the '92 season, he stayed in touch with Hentgen, becoming a valuable sounding board.
Stieb also introduced Hentgen to his longtime agent, Bob LaMonte, who quickly signed the young pitcher. Years later, at the encouragement of Hentgen, Carpenter also enlisted LaMonte's services.
LaMonte says Hentgen learned a lot by observing Stieb at a transitional stage in his career.
"As Dave matured, it became obvious that he had to go from someone who was unhittable with natural ability, to someone who had to learn how to pitch," LaMonte says. "Stieb never knew how to pitch. He was the natural — you couldn't hit him. But then, he had to learn how to pitch better."
One of the main takeaways for Hentgen was Stieb's durability — from 1980 through 1990, he averaged 33 starts and 231 innings per season.
"What good are you if you're not on the field? That's one of the things he taught me," says Hentgen. "You gotta make your starts — the team's relying on you. I think the biggest thing is the competitiveness was off the charts for him.
"There's many times in Dave's career when he pitched and didn't feel very good. I'm not saying that guys today don't do that, I'm sure they do, but Dave didn't miss any games, Dave didn't miss starts. I think that's one of the biggest influences that he had on me: 'Make your starts. Do what you gotta do between starts to make sure you can answer the bell for the team.'"
[sidebar]
Hentgen put it all together in '93, winning 19 games while holding his own in a rotation that included veteran thoroughbreds Jack Morris and Dave Stewart. He became a first-time all-star that season, then accomplished the feat again in '94 as his maturation into workhorse continued. He was among the league leaders in innings pitched during that strike-shortened campaign, actively applying Stieb's ethos.
"I took pride in that. I tried to make all my starts," says Hentgen.
He hit a massive stumbling block in '95, however, largely struggling through the season and surrendering a league-high 236 hits over 200.2 innings. Hentgen came back the next year humbled, intent on proving himself all over again.
In the off-season the Blue Jays promoted Mel Queen — who Hentgen credits as a game-changer — to pitching coach, and signed catcher Charlie O'Brien, who'd just spent two years with the Atlanta Braves alongside future Hall of Fame pitchers Greg Maddux, Tom Glavine and John Smoltz. Hentgen says he picked O'Brien's brain throughout spring training.
What happened next even Stieb was never able to accomplish: Hentgen won the American League Cy Young award. He went 20-10, leading the league in complete games (10) and innings (265.2). Hentgen beat out left-hander Andy Pettitte, who played for a New York Yankees team that finished 88-74 and went on to win the World Series.
It was the first Cy Young in Blue Jays history, a feat made more impressive by the fact that Toronto's 74-88 record was third-worst all-time by a club with a Cy winner.
Hentgen says Stieb, who led all pitchers in wins above replacement for three straight years from 1982-84, was happy his pupil won the award, but also offered gentle ribbing.
"He always teased me because if you look at the statistics, Dave should have won four of those," says Hentgen. "Back when he played, all they cared about was wins… But everybody that played against him or with him knew that he could have easily won it in many of the given years he played."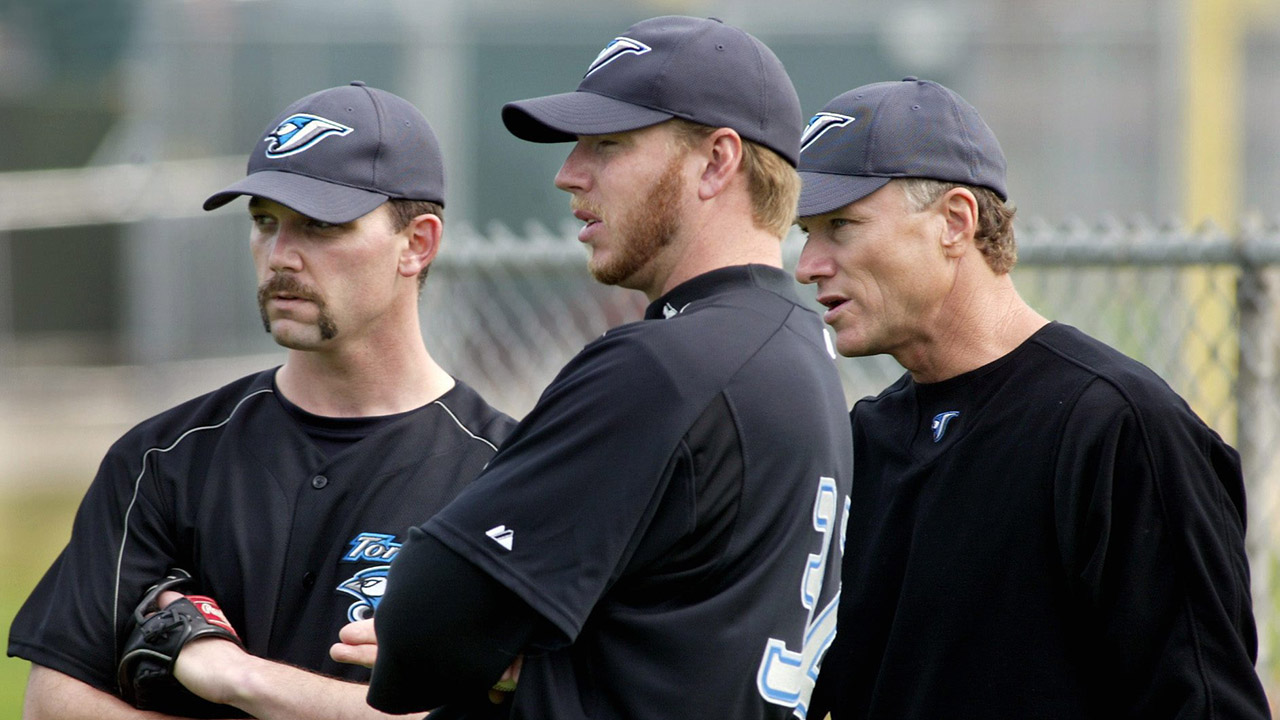 After winning a Cy Young, Hentgen became an institution to the Blue Jays pitchers that followed him.
Carpenter remembers trying to fit in and soak up anything he could from veterans in camp during his first major-league spring training. One day in 1997, after taking part in pitchers' fielding practice on Field 3 at Englebert Complex in Dunedin, Fla., he found himself seated in a dugout with Hentgen and Woody Williams.
The young right-hander was surprised that Hentgen, a star at that point, was investing time into him and treating him like a "regular person." That continued when Carpenter was eventually called up to Toronto.
"He was just real," Carpenter says. "I think the game's changed a little bit now, but at that time, when you're a 22-year-old rookie, there weren't many kids that young who were up there — most of the guys were older. It's not like today where it's a bunch of young kids breaking into the big leagues at an early age. You could get 'big-leagued' a lot back then. Guys would disrespect you, guys wouldn't pay attention to you, guys really didn't care a whole lot because they were concerned about their jobs.
"Pat was never like that. He was always real with me, which, that itself demanded respect from a person."
Hentgen became an influential role model for Carpenter, and later, fellow right-hander Halladay.
"When Carpenter and Halladay came around, they could see that Pat didn't take anything for granted," says former Blue Jays president Paul Beeston. "They would have been around him and exposed to what a professional's all about… You had to work at it if you were going to get the best of your abilities. That's what he taught them."
Injuries plagued Carpenter during his time with the Blue Jays, and it wasn't until he joined the St. Louis Cardinals that he developed into a true ace, winning a Cy Young in 2005 and the World Series in '06 and '11. Carpenter says he gained a lot from emulating Hentgen, just as Hentgen gained from emulating Stieb.
"This is a guy that went out there with a 91-to-92-mph four-seam fastball, little cutter and a wicked curveball, but he had great command and he had this tenacity and this competitiveness," Carpenter says of Hentgen. "His [pitching] day was so important to him. He went out there and competed. No matter what he had and how he felt, he was going to find a way to figure it out. That was one big thing that I took from him… When it's your day, you go out there with everything you got."
Carpenter acknowledges it was important for him to relay what he'd learned from Toronto to St. Louis, where young pitchers such as Adam Wainwright were under his wing.
"One other thing I took from [Hentgen] is just how important it is to be real," he says. "I took it on as an older guy in my career in that you don't treat that young kid any different than you treat a normal person, because you can learn from them and you can teach them and you never know how or what you can help them with throughout their time.
"I always tried to be open and honest and treat everyone with respect because that's the same way Pat was with everyone else, and me."
[snippet id=3305549]
Hentgen's current role as special assistant with the Blue Jays allows him to continue as a conduit, transferring lessons learned from Stieb to the organization's pitching descendants. He's been a guest at spring training in recent years and was in Buffalo in late May, spending time with the club's triple-A affiliate. A bullpen coach for the Blue Jays in '11 and '13, Hentgen says he wouldn't rule out returning to a major-league coaching staff.
"I've thought many times about trying to get back to full time," says Hentgen, now 48. "My youngest [child] is 16, so I'm at that stage now where two more years and she'll be going to college. Who knows where it'll take me."
LaMonte believes Hentgen could've progressed further into coaching, or perhaps even managing, but being around his family was of utmost importance to him. A supreme communicator, Hentgen was like an extra coach on the field during his playing days, asserts the agent.
"What he had that I think was of tremendous importance — he had great emotional intelligence," says LaMonte. "He was able to be a great buffer. Not only was he a great pitcher and Cy Young winner, but he was a great teammate, a great leader. He was someone who was the glue."