PORT CHARLOTTE, Fla. – Daniel Norris took another strong step towards securing a spot in the Blue Jays' rotation with a terrific start in the Jays' easy win over the Tampa Bay Rays Friday afternoon. Facing a rare spring lineup in which everybody had major-league time, Norris gave up singles to the first two batters he faced, then retired 13 of the next 15, with one of those two who reached doing it with a bunt single against the shift.
The 21 year-old walked only one – in his sixth inning of work – and struck out five, flashing a devastating 94 m.p.h fastball that he dotted several times on the outside corner at the hitters' knees, a pitch on which it's nearly impossible to get good contact.
As the rotation begins to take shape in the absence of Marcus Stroman, out for the season while he recovers from knee surgery, the mind now wanders to the order in which the Blue Jays' starters will pitch.
---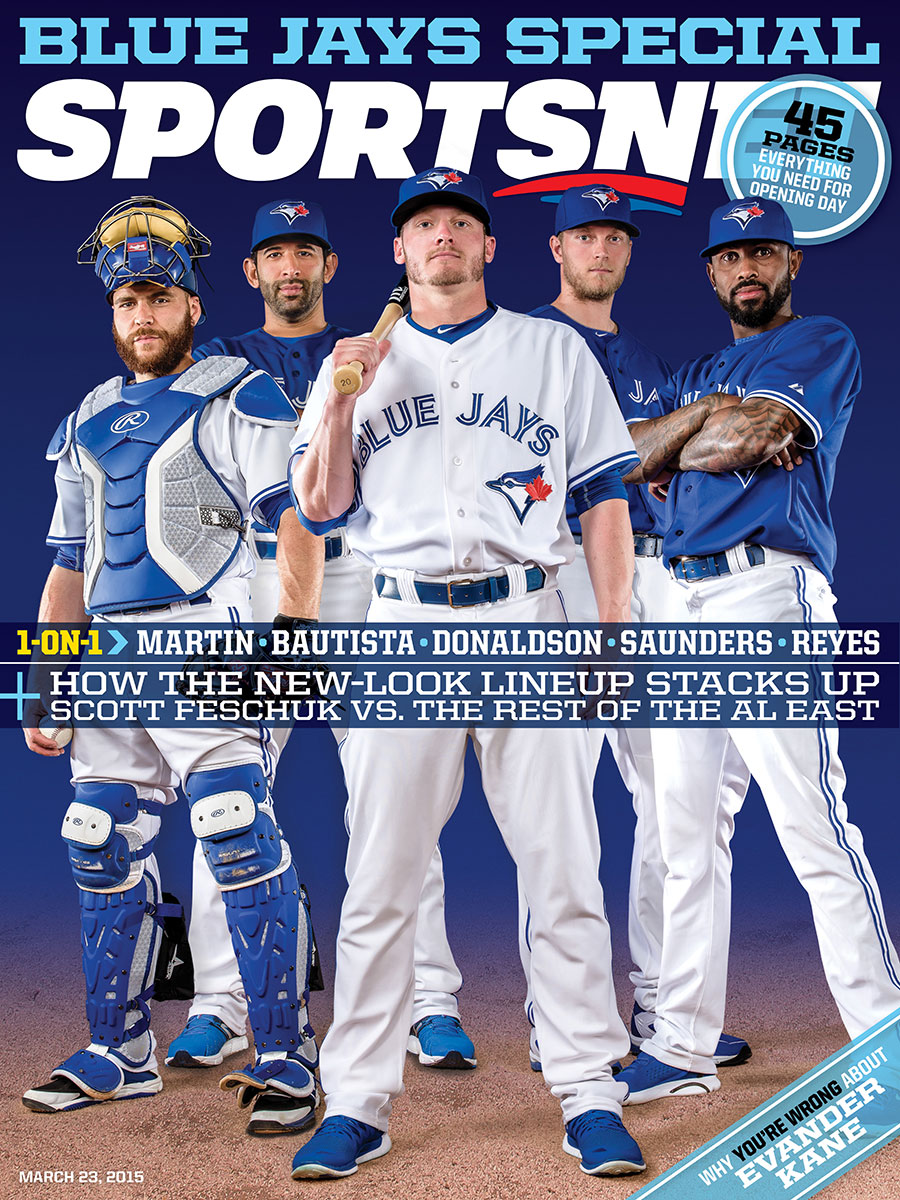 Sportsnet Magazine's Toronto Blue Jays Special: From the heart of the order to the bottom of the bullpen, we've got this team covered in our preview issue. Download it right now on your iOS or Android device, free to Sportsnet ONE subscribers.
---
Much is often made of who pitches where in a team's rotation, but the truth is that it really doesn't make that much of a difference. If you roll with the same five guys all year, which can almost never happen, and keep them in order, avoiding any weather issues and ignoring all days off — including the all-star break, then your top two starters will each get only one more start than the other three. But of course, that's never the way it works. There are rain-outs and off-days, injuries major and minor and even the now four-day all-star break, which allows a team to re-jig its rotation however it wants, so season-opening rotation order really doesn't matter at all.
Even the idea that your top starter faces the opponents' top starter more often than not is far more myth than fact. Two or three weeks into the season, off-days and rain-outs have jumbled up team's schedules so that hardly anyone's rotation matches up the way it did on opening day.
Still, an opening day start is an honour, and it says here that the Blue Jays will give this season's honour to one Andrew Scott Hutchison.
That's not to say that Drew Hutchison is the Blue Jays' best starting pitcher, though there's no reason to believe that he can't have as good a season as any of the other four who will begin the season as his rotation-mates, but just that starting Hutch in the season's first game makes the most sense.
Only one starter can pitch twice on the season-opening road trip through New York and Baltimore, and Hutchison has to pitch against the Orioles. He stole their lunch money last season, limiting the A.L. East champions to a .550 OPS against in six starts, posting a 2.54 ERA and a tremendous 0.872 WHIP.
In combination with wanting Hutchison on the mound in Baltimore, you do not want Mark Buehrle on the mound in the Bronx. Buehrle is a seasoned veteran, as consistent as it gets, but the Yankees have had his number over his entire big-league career. The lefty has struggled to a 1-14 lifetime mark against the Yanks, with an ERA of 6.21 and a 1.571 WHIP in 21 starts. Since becoming a Blue Jay, Buehrle has made six starts in the Bronx and come out of them with a 6.82 ERA and 1.545 WHIP.
The only way to assure that Hutchison gets to face the Orioles and Buehrle misses the Yankees is to either start both Aaron Sanchez and Daniel Norris behind R.A. Dickey in New York in the season's first series, or to give Hutchison the opening day nod — allowing him to also start the finale in Baltimore — followed by Dickey and then either Sanchez or Norris. Buehrle would start the Orioles' home opener, then whoever of Sanchez and Norris doesn't start the finale in New York would start Saturday night in Maryland.
Chances are strong that the New York nod would go to Norris, since the Yankees feature big left-handed bats in Jacoby Ellsbury and Brian McCann as well as lefty swinging starters Brett Gardner and Stephen Drew. Starting the lefty would also force switch-hitters Carlos Beltran and Mark Teixeira to bat right-handed, taking away the silly short porch in right field.
Giving Hutchison the opening day nod also allows Dickey to not only start the Blue Jays' home opener, but it would guarantee the knuckleballer a start against the Tampa Bay Rays, a team he's dominated to the tune of a 1.13 career WHIP and .626 opponents' OPS. If Dickey were to start on opening day, he would also start the finale in Baltimore, and therefore be the only Blue Jays' starter to miss the four-game home-opening series against Tampa Bay.
If Drew Hutchison does wind up getting the nod to be the Blue Jays' opening day starter — and it certainly appears as though that's the way things are going to go — he would be the youngest-ever to do it. Todd Stottlemyre was about three months older when he started on opening day in 1990.