When the Toronto Blue Jays acquired Michael Saunders they knew he was a better hitter than his statistics indicated.
A punishing home park in Seattle and a myriad of injuries had suppressed his production, leading to a modest .231/.301/.384 line. As a good athlete with power and a solid approach at the plate, there was reason to believe he could flourish in the hitter-friendly AL East.
That notion was initially quashed by a 2015 season lost to a rogue piece of landscaping equipment, but this year Saunders is exceeding all reasonable expectations. Whether your preferred metric is OPS, wRC+ or wOBA, he's been a top-ten hitter in baseball.
That's a level well beyond what returning to health and escaping Seattle might enable; it's a legitimate breakout. Saunders is unlikely to keep it up all season –that .373 batting average on balls in play will almost certainly drop, for instance — but he has clearly evolved as a hitter.
Perhaps the most significant way he's done so is by improving his plate coverage. As Jeff Sullivan of FanGraphs pointed out in a recent piece titled "Michael Saunders has been the Blue Jays' Best Hitter," the Canadian outfielder has always driven pitches middle-in. Entering the season 41 of his 51 career home runs had come on pitches located in that part of the plate. Now he's starting to hit outside pitches with authority, too.
That's made all the difference for a variety of reasons. Firstly, that's where he's been pitched most frequently this year.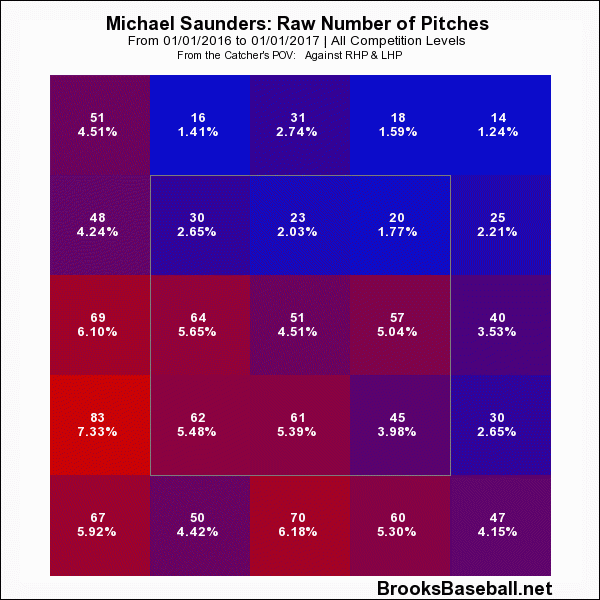 So far, 51.04 percent of the pitches he's seen have been on the outside third of the plate, or off the plate outside. In previous years he'd usually leave those pitches alone, swing through them or roll over on them. This season, more than half of his extra-base hits have come on outside pitches.
By making more of the plate his own, Saunders has opened up the whole field. With the Mariners he was rarely effective going the other way. This year his opposite-field stroke has been among the best in baseball.
| Time Period | Opposite-Field AVG | MLB Rank | Opposite-Field SLG | MLB Rank | Opposite Field wRC+ | MLB Rank |
| --- | --- | --- | --- | --- | --- | --- |
| 2009-2014 | .248 | 240th of 291 | .358 | 222nd of 291 | 63 | 221st of 291 |
| 2016 | .439 | 23rd of 172 | .805 | 6th of 172 | 238 | 8th of 172 |
Last Friday two of the home runs he hit in his "hat trick" went out to left field, a virtually unfathomable feat for a guy who'd hit just four opposite-field home runs in his previous seven MLB seasons.
On the first, Saunders reached for a 92 mph fastball well-placed on the outside corner and muscled it out.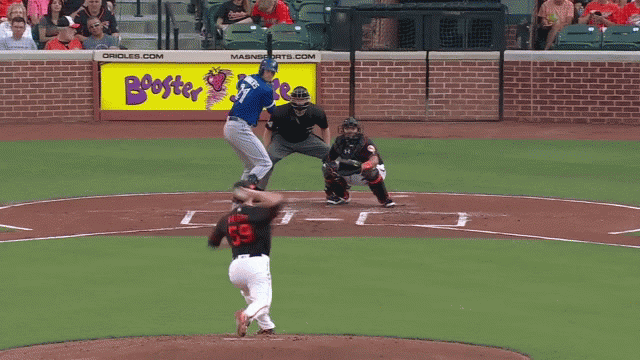 Three innings later he stayed back on an 81 mph splitter that stayed up a hair too much and scooped it over the wall.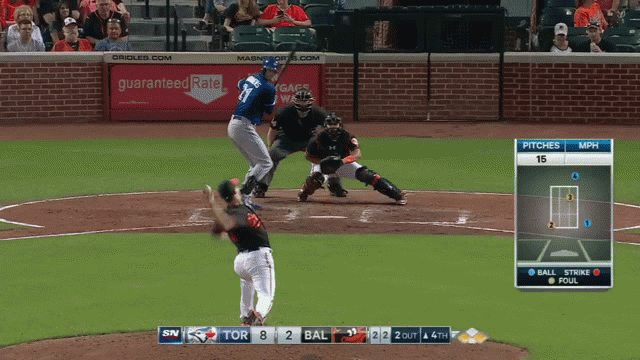 In less than half a game, Saunders hit 28.5 percent of his career opposite-field home runs. He's demonstrating kind of prowess hitting to left field that Blue Jays fans got accustomed to while watching Adam Lind in his prime.
By sitting back on the ball and hitting it where it's pitched, Saunders has also significantly improved his success against left-handers, who often look to quiet the outfielder's bat with pitches moving away from him.
The Victoria, B.C., native brought a .226/.282/.358 line against southpaws into the season and is currently hitting .300/.380/.657 against them with six home runs. The sample is small, but the difference is striking.
Saunders' first home run of the season may have been a clue to his improved plate coverage as he drove a Drew Smyly fastball on the outside corner to dead centre at 103 mph.
Perhaps more indicative of his newfound ability to hurt lefties was his home run off Brian Duensing of the Orioles. A pitch off the plate quickly became a laser beam over the left-field wall at Rogers Centre.
Southpaws and right-handers alike just don't have anywhere to attack Saunders right now. Battle plans successfully drawn up since he debuted in 2009 have been rendered ineffective by his dominance against pitches away.
Baseball is a game of adjustments and Saunders has made his. So far the pitchers haven't done the same.