TORONTO — After his 2018 breakout in which he went from a glove-first shortstop to one of the most improved hitters in the Toronto Blue Jays system, forcing his way onto Baseball America's top-100 list in the process, Kevin Smith keeps getting the same questions.
"Everyone's always asking me if it was a surprise," he says. "It's obviously the season you hope for. But it's what you train for, too. You work so hard in the off-season to have that kind of year."
No one can deny Smith's eagerness. At this time last year, he was on the phone with Toronto's development staff, asking them for the earliest date he could report to spring training. It was there in early camp that he met Guillermo Martinez, then a minor-league coordinator and now preparing for his first season as an MLB hitting coach with the Blue Jays.
Martinez had some ideas. Smith had just completed his first professional season after being selected in the fourth round of the 2017 draft — a 61-game rookie ball stint that saw him hit .271/.312/.466. Smith demonstrated some raw power with eight home runs (half of them to the opposite field), and was putting up above-average offensive numbers for a shortstop at his level. But he was striking out a quarter of the time, getting exposed by breaking balls away, and struggling to make the kind of consistent, hard contact the Blue Jays felt he was capable of.
When he studied Smith's swing, Martinez saw a loop. It was causing Smith to miss some fastballs he shouldn't have, especially up in the zone, and hampering his approach with two strikes, when he needed to be simplifying his actions in order to be more direct to the ball. Martinez broke it down for Smith with slowed-down video of the right-handed hitter's swing, and even wrote him several paragraphs of analysis with data to back it up.
"He showed me a bunch of stuff. He's really good at taking all that advanced stuff and really simplifying it down, which I think helps a lot of guys," Smith says. "When he's giving you information, we can trust that he's done the research behind it, and he knows what he's talking about. The swing, it's a super-complex movement. But he really helps you simplify it down to a few key things you can really understand."
Martinez sees loops like the one Smith had a lot these days — young hitters, misguidedly influenced by online videos and literature preaching high launch angles over everything, focusing solely on adding loft to their swings at the expense of plate coverage and hard contact.
Remember that Josh Donaldson hitting tutorial on MLB Network that consumed the baseball internet during the summer of 2016? The "they don't pay you for groundballs" one. Donaldson's ethos wasn't wrong. And there's plenty to be learned from the approach of an MVP. But scores of young players missed the point entirely and started swinging up, trying to put the ball in the air without considering why or how.
Then there are the hitting gurus peddling dubious techniques on social media. Smith recently made an example of one on Twitter.
It's a very 2019 problem. Young ballplayers merely want to learn and get better, which ideally leads to success at higher levels of competition. But with a simple internet search providing so much unchecked information presented as gospel, it can be easy to take the wrong path.
Martinez encourages his hitters to keep it simple. Don't hit ground balls. But don't hit fly balls, either. Square up the baseball. Hit line drives. Don't try to swing like someone else — swing like yourself. What works for Josh Donaldson isn't going to work for everyone. Whatever produces consistent, hard, line-drive contact is what works for you.
"A guy like Joey Votto — big dude, strong — he says all he's trying to do is square up the ball. A guy like Vladdy [Guerrero Jr.,] when you speak to him about hitting, he keeps things very, very simple as well," Martinez says. "The good players tend to understand themselves a little better. They'll apply some things that work for them and disregard other things that don't. And they're always adjusting. When they try things and they're not working, they don't get stubborn. They find a way to change."
Smith has certainly found a way to change. When Martinez identified Smith's loop, he set up a pitching machine at high velocity pumping fastballs up in the zone. He exposed the hole in Smith's plate coverage, and forced him to make an adjustment in order to produce better contact. Smith had no choice but to minimize his movement and be more direct to the ball, rather than swinging under it and trying to get it in the air.
Smith continued to work at it with Lansing Lugnuts hitting coach Matt Young early in the 2018 season, and the results were immediate. Smith put up a .919 OPS in April, and then absolutely went off in May, batting .374/.434/.687 with 20 extra-base hits over 25 games. At the end of the month, he was promoted to high-A Dunedin, where Smith remained for the rest of the season after supplanting Toronto's first-round pick from his draft year, Logan Warmoth, as the club's starting shortstop.
But he never stopped trying to improve. Often, Smith would send videos to Martinez at one o'clock in the morning, looking for suggestions of how to get even more out of his swing.
"He wouldn't stop — he was always searching for answers and trying to get better," Martinez says. "It's a good thing. He's very, very smart. And the ability's there. He has bat speed, he's strong, he's got plenty of thump. For him, the biggest thing was just understanding himself and not trying to be someone else. And he's learned how to do that now."
In the end, Smith finished his second professional season batting .302/.358/.528 with 25 homers in 129 games. All that line-drive contact paid off, just like it does in the majors, where line drives produced astronomically higher numbers than ground balls and fly balls in 2018.
MLB batted balls in 2018 (per FanGraphs)

You can see it on Smith's spray chart. The cluster of blue dots in the shallow outfield represent the times he drove balls over the heads of infielders. The Blue Jays are no doubt happy to see him using all fields, too.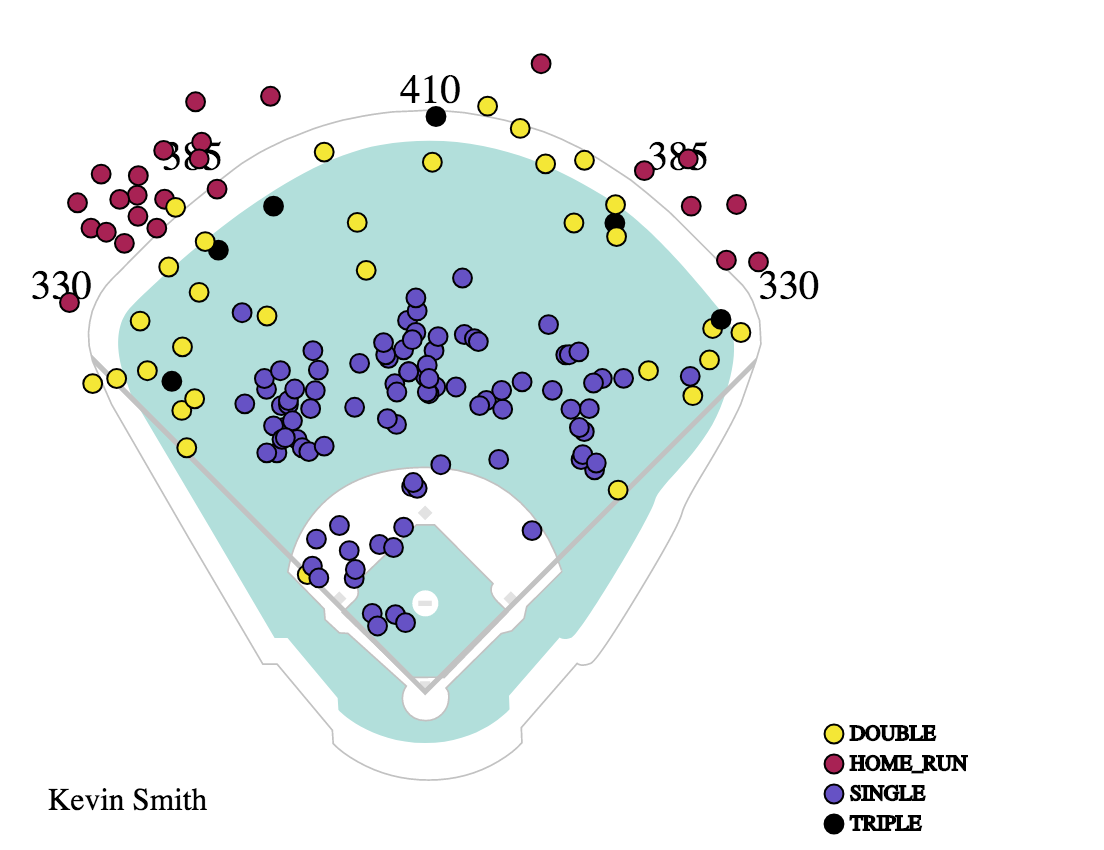 "My primary focus is to hit the ball hard. Get it in the outfield. Hit doubles. Hit extra-base hits. So, wherever it goes, it goes. But it's good to know that I can barrel balls up to all fields," Smith says. "That's what me and [Martinez] were working on — a swing that plays on any pitch, to any location."
So what's the 22-year-old's next improvement? A big focus in the gym this off-season has been functional movement patterns — the small, twitchy, habitual actions baseball players make in the field when a ball comes off the bat, or on the infield dirt when trying to steal a base. Hip rotations, lateral explosiveness, high-speed footwork — those kind of things.
Baseball has always been a game of short-burst, high-intensity movements. But in an era when balls are coming out of pitchers' hands — and off of hitters' bats — at higher velocities than ever, the quickness and efficiency of the first movement a player performs can make a massive difference. That's the idea for Smith — programming his body to be better balanced and prepared to move explosively in all directions so that his reflexive, split-second reactions put him in the best possible position to make a successful play.
Smith's already considered a well-rounded shortstop, featuring "sure hands and an above-average, accurate arm with a quick release" according to Baseball America. If the movement patterning helps Smith's first-step reactions, he could increase his range and get to more balls, unlocking another level of his development.
He's certainly done it before. Smith's swing change produced exciting results, and this season he'll get to test his ability to replicate them at higher levels, as the Blue Jays continue to throw new challenges at him. How does a young player build on a breakout season? By doing what worked before.
"I'm in early camp again, but I'll get down to Florida even before that," Smith says. "Same thing as last year — just get down there and get to work."