BRADENTON, Fla. — In November 2016, Neil Walker signed a qualifying offer with the New York Mets, locking himself in to a one-year, $17.2-million contract. He hit well for the Mets, posting a .780 OPS, and then hit even better for the Milwaukee Brewers following an August trade, putting up an .843 OPS with his new team. He played three infield positions capably (mostly second base), walked 12.3 per cent of the time, posted a 114 wRC+ and was worth 2.1 wins above replacement. It was a very strong season. If he hadn't missed six weeks with a hamstring injury, it might have been even better.
Entering free agency, Walker expected to be coveted by a winning team and compensated suitably as a versatile defender with a .778 OPS and 21.1 WAR for his career. Walker and his agent composed a list of a half dozen teams with needs at second and third base that he expected to draw interest from. But as the market opened, and promptly froze, the 32-year-old found himself waiting for a deal that never came.
"There was a lot of soft back-and-forths. And then teams decided to go in a different direction," he says. "Whether it was teams that were up against the tax threshold, or teams toward the bottom that decided they didn't want to spend, or teams in the middle that didn't need somebody like myself for position purposes or whatever the case may be. Regardless of what I anticipated from a years or numbers standpoint, it just hasn't come to fruition at this point."
So now, as players and teams across MLB are more than two weeks into spring training, Walker is in an entirely different camp altogether. Early Tuesday morning he turned up at the sprawling IMG Facility in Bradenton, where he was given a plain black cap, gray pants and a solid black jersey with his No. 18 on the back and the MLB Players Association logo on the left side of the chest.
And on Thursday, he hit leadoff for a team of unsigned players that has congregated in Bradenton to hold its own training camp ahead of opening day later this month. That displaced group played two games this week against East Japan Railway Company, a team of amateurs from the Japanese Industrial League. It was the strangest spring training game he's ever been a part of.
"It's very odd," Walker says, watching his fellow free agents take batting practice. "I know that there are a lot of guys here who are very capable of helping at the major-league level. It's frustrating. I certainly didn't anticipate not having a job by now. But you make the most of what you've got."
Odd is a good word for it. The camp has all the features of spring training — protective netting set up around carefully manicured infields, loud music emanating from a PA system, the crack of bats and thud of gloves as players take batting practice and play catch. But something feels unmistakably off.
A lack of spectators is one thing. The camp is not open to the public, and was only accessible to media and scouts prior to the two games this week. A sense of ennui hanging in the air is another. For professional athletes who thrive on competition, who crave a team atmosphere, who spent their entire adult lives working towards a common goal with dozens of like-minded peers every spring, it can't be easy to find the motivation to grind and work out every day with no light at the end of the tunnel. No opening day to prepare for. No roster spot to earn.
Still, these are experienced players. They find ways to get through. And ways to put a positive spin on a much less than ideal situation.
"It's an opportunity, you know? For us to prepare ourselves. If the phone rings, we'll be ready to go," says Travis Snider, a 30-year-old former top prospect who put up an .807 OPS in triple-A last season. "I was hoping to get a job, go back to triple-A and prove myself, and ultimately get back to the big leagues. Some conversations were had. They didn't come to fruition. That's the business.
"But this is all part of the process that we're all going through. It's not just about me. There's a group of guys here that are working hard, making the most of the situation, and just staying patient."
Bo Porter, who managed the Houston Astros in 2013 and '14, is running the show, leading a coaching staff that includes former MLB all-stars Chris Chambliss, Tom Gordon, Brian Jordan and Dmitri Young. Players have access to all IMG facilities, including fields, batting cages and weight rooms. The union covers travel, housing, insurance and a modest per diem for each player. And the camp has an undetermined end date, with player interest likely playing a large factor. Of course, they'd all love for interest to wane because players have jobs to report to.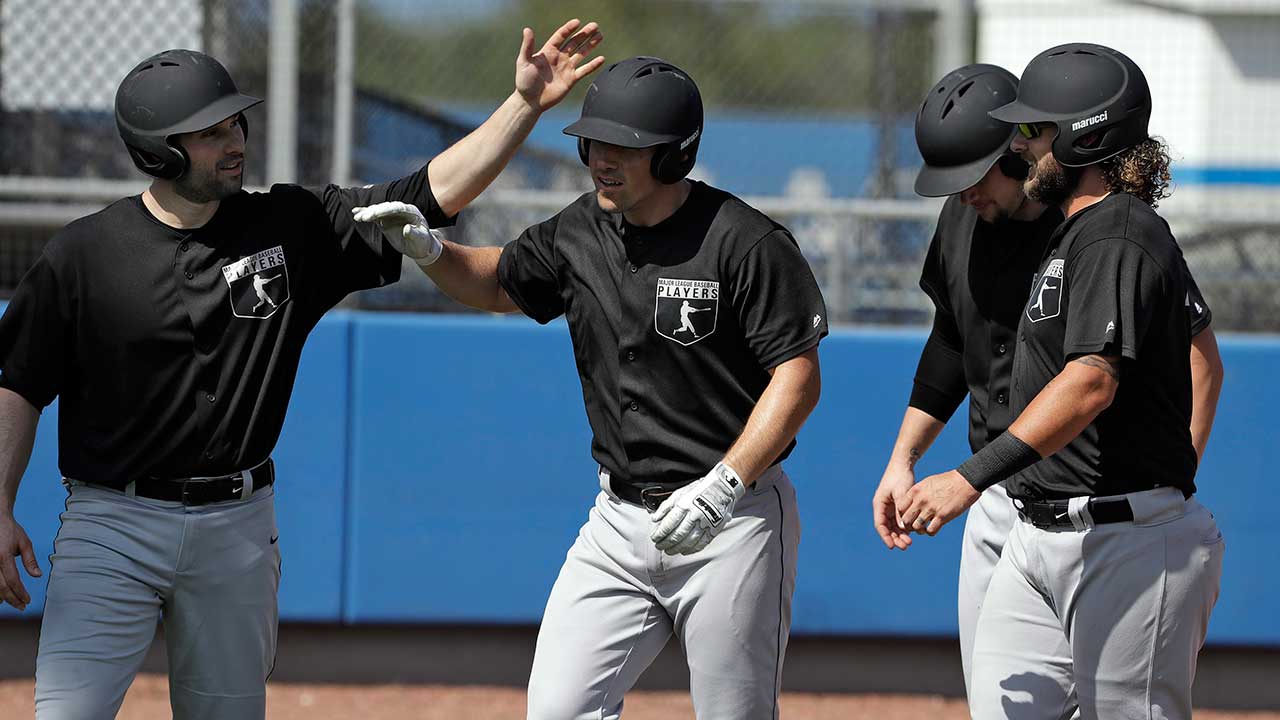 Attendance at IMG — dubbed "Camp Jobless" by some participants — has hovered around 30, fluctuating a bit as some players, such as Mike Napoli and Lucas Duda, have found contracts and departed in a reverse Survivor scenario. Others are still arriving, like Walker, who joined the camp this week after a negotiation with the New York Yankees fell through and the club opted instead to trade for Brandon Drury, who is seven years his junior.
And that's not all of them. There are more than 60 remaining unsigned players who declared free agency this off-season. None of the bigger names — such as Jake Arrieta, Mike Moustakas, Alex Cobb and too many others to list — have passed through IMG. Rather, the partakers are almost exclusively from baseball's middle-class — the type of serviceable, productive, yet unspectacular veterans in their early-to-mid 30s who have been hurt most by this market-redefining off-season.
Players like Chris Johnson, a 33-year-old infielder who hit .301/.330/.506 in triple-A last season. Tyler Clippard, a 33-year-old reliever who recorded saves for three MLB teams in 2017. And Nolan Reimold, a 34-year-old outfielder who last played in the big leagues for the Baltimore Orioles in 2016.
"It's tough to look around and see this many guys that don't have a job right now," Reimold says. "Hopefully it changes. That's why we're here. There's good players here.
"I had a little bit of interest over the off-season — nothing panned out. So, I'm just trying to stay ready in case a team calls. I think it was a good thing for me to come here and play baseball again. I guess that's all you can do. It's out of your hands."
Meanwhile, Thursday against Japan Railway East, the MLBPA secured a rare triumph. Tyler Moore, who appeared in 104 games for the Miami Marlins last season, hit a grand slam. Juan Francisco, who's been playing abroad since hitting 16 home runs for the Toronto Blue Jays in 2014, added a solo shot. The MLBPA beat their Japanese foes, 6-5.
Walker was one of two designated hitters in the MLBPA's 10-man batting order. Seeing his first pitches since September, his first live competition after a long, frustrating, endless winter, he drew a base on balls. He doesn't have a job, doesn't have a team. But he does have his first plate appearance of the season under his belt. His off-season goals were once grand and hopeful. Now, they're simpler.
"I'm just looking to get my timing down," he says. "If I can hit a ball on the barrel today, that'll be a win in itself."