TORONTO – Easy to forget now given the elite-level performer he's been over the past five years is that Jose Bautista once passed through five organizations in the span of 7½ months, eventually arriving at a dead end with the Pittsburgh Pirates.
Back then no one could have imagined that he'd blossom into a five-time all-star with the Toronto Blue Jays, let alone hang around long enough to become a 10-and-5 player, something he'll accomplish seven days into the 2015 season when he hits 10 years of service time in the majors.
Reaching that meaningful milestone qualifies him for a full pension, while doing it with at least five straight years on the same team (he's got six plus with the Blue Jays) gives him the right to veto any trade that involves him. Both thresholds are meaningful symbols of longevity.
---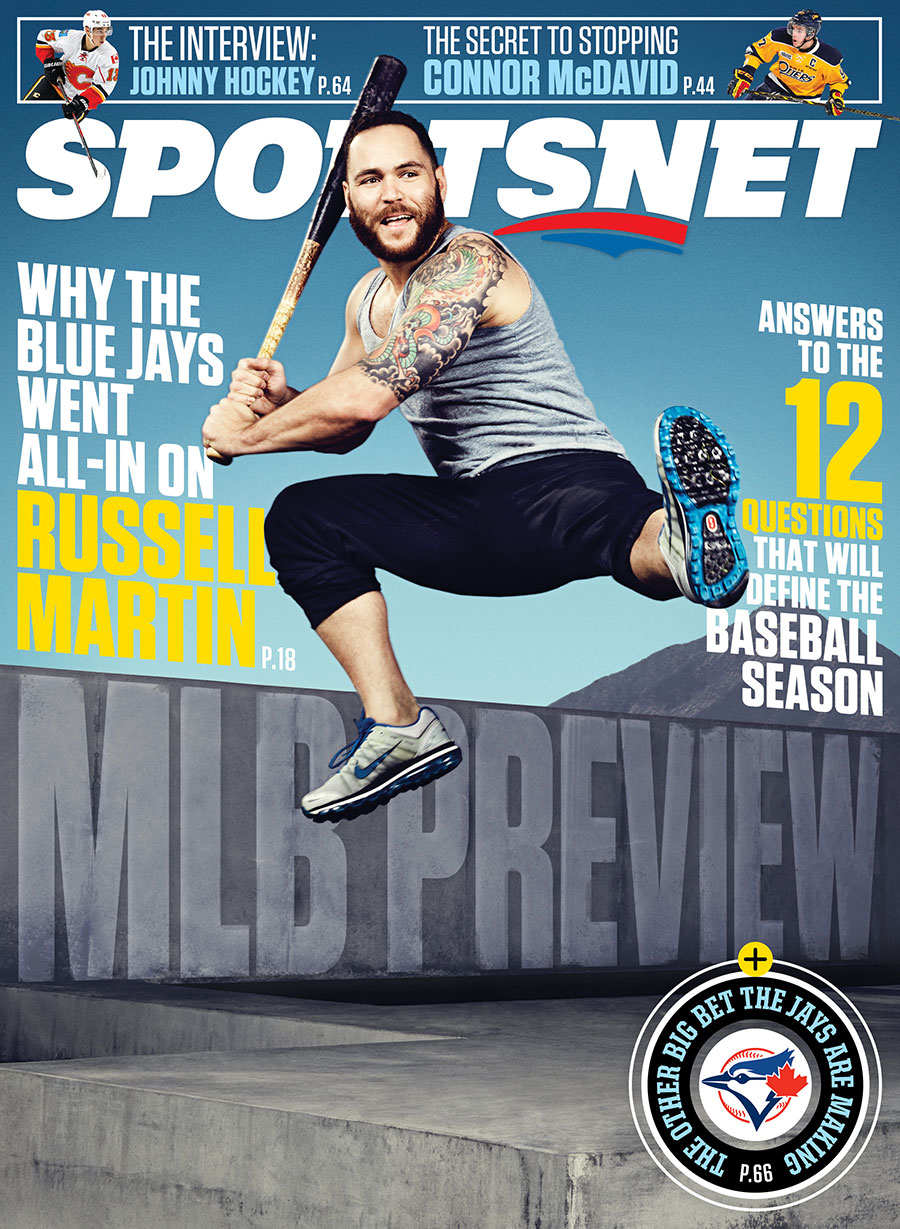 Sportsnet Magazine's MLB Preview:
Why the Blue Jays went all in with Russell Martin, and answers to the 12 questions that will define the baseball season. Download it right now on your iOS or Android device, free to Sportsnet ONE subscribers.
---
Considering he was acquired on Aug. 21, 2008 from the Pirates when then assistant GM Alex Anthopoulos claimed him off of revocable waivers and worked out a deal that sent catcher Robinzon Diaz to Pittsburgh, Bautista is certainly an unlikely candidate to have earned 10-and-5 status.
"Everybody has their road to get here, that was just my road," Bautista says during a recent interview. "Some people manage to take advantage of opportunities earlier in life, it took me a little longer to find myself as a hitter and become a more consistent producer. That's just how it worked out. That doesn't make it any better or worse, it's just my road. It's something I'm going to enjoy because ultimately it shaped me into who I am today. If that would have been different, who knows what kind of player I'd be today.
"I'm extremely proud because I've been able to stick around and contribute for so long. I'm looking forward to the years I have left."
Right now the Blue Jays hold contractual control over two of those years – at $14 million this season, with a $14 million club option for the next one – but the right to veto trades Bautista gains as a 10-and-5 player gives him some say over his future.
To be clear, the Blue Jays have no interest in trading Bautista, and despite the impressive off-season additions of Russell Martin and Josh Donaldson, he remains the club's driving force.
But with macro-level uncertainties hanging over the franchise – president and CEO Paul Beeston is retiring at the campaign's end while Anthopoulos is in the final year of his deal – the future is far from clear all around the club.
How the 2015 season plays out will obviously help determine in which direction the new president and CEO steers the organization, and a disappointing year might prompt a wider recalibration that could include using Bautista to collect assets.
The veto gives Bautista a voice should things unfold in such fashion, but he doesn't see it as something particularly significant because "unless it's a situation that's just so detrimental to your family or something, that's the only reason you might decline something."
"One way to look at it is yeah, I'm in control, I can do whatever I want, but that only works if you're being put in a bad situation," adds Bautista. "Let's say the team doesn't want you, and wants to trade you, it probably means they're either losing or they don't want you there, which is a bad situation for you. So ideally if you get traded, you're going to go to a better place. It depends on the circumstances.
"Based on my circumstances right now, the way it's playing out, it's nice to have, but as far as I know the team is going to try to bring me back next year on the option. Everybody understands and knows that I would probably command a higher salary if I was a free agent, I understand the team is getting somewhat of a discount, and I'm fine with it. I committed to the contract when I did and I'm happy playing it out."
Bautista signed his $64-million, five-year deal with a club option during the spring of 2011, and an intriguing question is what kind of contract lies ahead for Bautista. He'll be 36 once his option year is played out, but given the way he takes care of himself physically and how dominant he's been, there's reason to believe he can extend his productivity well beyond that.
For market context, the Detroit Tigers re-signed Victor Martinez, 36, to a $68-million, four-year deal this off-season. Bautista offers more power and defensive value than Martinez, but any serious talk of an extension with the Blue Jays is unlikely to take place before Beeston's replacement is in place.
"I haven't thought about that at all," Bautista says of what a future deal might look like. "I'm more concerned about trying to get to the playoffs. I've been around for almost 10 years now, I've never even sniffed second place, so that's my concern. I don't want to come to a place in time where I have to leave Toronto and have never experienced team success while being here and enjoying so much personal success. That's my focus right now and my desire. All that contract stuff will take care of itself.
"Ultimately you want to be somewhere where a team wants you just as bad as you want to stay. When the time comes, I'm sure that situation will be addressed by both parties, and I'm not in any kind of hurry. I'm doing just fine."
While there's no need to rush into another contract for either side, there needs to be an urgency in maximizing Bautista's level of play right now.
Roy Halladay and Carlos Delgado were at their most productive while playing for the Blue Jays, but they never had sufficient supporting casts around them and they didn't reach the post-season until after changing teams.
Both have spoken of how it would have been particularly meaningful to make the playoffs with the organization that drafted and developed them, and Bautista doesn't want to find himself in a similar boat.
"When you've been in a place for a long time, and you become part of the culture and it becomes a part of you – the city, the people, the fans, the team, the clubhouse employees, the front office and everything is like a family – it would be a shame that I would leave and enjoy the success in another place where those feelings don't exist yet," he says. "So I get what those guys were saying and I agree with them. It would be sweeter over here, and that's why my focus is solely on trying to get something done and accomplishing something here while I'm still under contract. It's the No. 1 thing I want to do right now in my life, other than being a father to my children – getting to the playoffs with the Toronto Blue Jays."
He's far from the only one, and the fate of many is riding on whether or not it happens.