TORONTO — When Kendrys Morales pulled his Cuban countryman Lourdes Gurriel Jr. aside in the dugout to congratulate him, the 24-year-old Blue Jays rookie was a little confused.
"I just said, 'Thank you,'" Gurriel remembered after hitting a pair of home runs Friday night in an 11-3 Toronto Blue Jays loss to the Tampa Bay Rays. "I thought it was just because I hit the two homers. But then he told me my brother also hit two."
Word travels fast across MLB these days. Yulieski Gurriel, Lourdes' 34-year-old brother, went deep twice Friday as well, helping the Houston Astros clinch an American League West title. It was the first time in MLB history a pair of brothers had multi-homer games on the same day.
The fact it was Morales delivering the news made it all the more special. Gurriel's known Morales since he was a child, and now shares a big-league clubhouse with the veteran designated hitter he looks up to as a mentor.
Next week will be a special one, too. Gurriel's older brother will be in town with the Astros for a three-game series. It'll be the first time they've shared a field together since they defected in 2016 while representing Cuba at the Caribbean Series in the Dominican Republic.
"I'm very happy but I'm also curious because it's going to be the first time that I'm going to play against him," Gurriel said. "That's never happened before. It's a little bit weird. I'll see how I'm going to feel that day."
Each of Gurriel's homers Friday were no-doubters hit well over the Rogers Centre batter's eye in dead centre field. The first travelled a projected 450-feet and came off a 99-m.p.h. fastball from Rays opener Diego Castillo. It was the longest homer record against a pitch that hard since MLB Statcast began tracking distance data in 2015.
Gurriel's home runs also gave him long balls in three consecutive plate appearances, a streak he began Thursday night when he hit a game-tying shot in the ninth inning of the Blue Jays' ridiculous comeback win against the Rays. He's the first Blue Jays rookie to go deep in three consecutive plate appearances, and the 14th player in franchise history to do it.
"He's having a tremendous year considering he's a rookie," said Blue Jays manager John Gibbons. "The more he learns the league and the different types of pitchers, he should only get better. He competes. And he knows he can hit. He's doing some kind of job."
Good things are happening practically every time Gurriel puts the ball in play these days, as he added a hard single later in Friday's game, scorching a 1-2 pitch into left-centre field at 105 m.p.h.
He's now 10-for-his-last-24 and batting .292/.320/.463 with 11 homers over 254 plate appearances this season. That includes an extended slump when he made his MLB debut, in which he hit .206/.229/.309 over 70 plate appearances before being demoted to the minors.
From that point forward, Gurriel's posted a .315/.346/.482 line and been one of Toronto's most productive hitters. At one point, he put up an 11-game multi-hit streak, the longest ever by a rookie and tied for the longest in American League history with Shoeless Joe Jackson.
That streak came to an unfortunate end when Gurriel injured his left ankle and knee in late July during an awkward slide at second base, injuries that held him out for nearly a month. He struggled upon his return, but has since rounded back into form.
"I knew when I came back from my injury, sooner or later I was going to start getting the groove back a little bit," Gurriel said. "I didn't lose confidence at all. I knew I had it in me and I just kept working hard. But I was really confident in myself and I see the results now."
As news of the feat the Gurriel brothers pulled off Friday night spread through the dugout, word quickly got to Gibbons.
"I mentioned it to him," Gibbons said. "I said, 'hey, you might as well hit three.'"
Reid-Foley struggles
If Friday was Sean Reid-Foley's final outing of the season, this can't be the way he wanted to finish it off. The 23-year-old was roughed up by the Rays, who got to him for four runs (two earned) over four innings. Reid-Foley allowed six hits and walked four, while striking out five.
As has sometimes been the case during his brief major-league debut this season, Reid-Foley was inefficient Friday, using 96 pitches to get only 12 outs. He was in the zone at times, and threw 59 per cent of his pitches for strikes. But he missed badly at others, and started nine of the 22 batters he faced with a ball.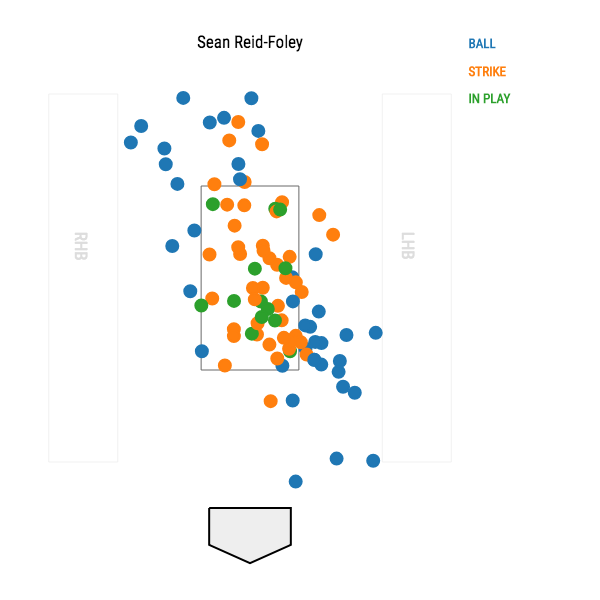 "He hung in there. But he was scattering it today," Gibbons said. "You've got to throw it over the plate, take your chances, hopefully get some balls hit at guys."
Reid-Foley did at least flash the swing-and-miss stuff that makes him such a tantalizing prospect. He earned 13 swinging strikes — including 8 with a fastball that sat at 93 m.p.h. and touched 96 — giving him at least 10 whiffs in five of his first six major-league starts. He's posted an 11.1 K/9 since his mid-August debut. The issue is the 6 BB/9 that has come with it.
Reid-Foley now owns a 5.40 ERA over those half-dozen starts, but his minor-league numbers this season are much more encouraging. He put up a 2.03 ERA over eight double-A starts to begin his season, quickly earning a promotion to triple-A where he pitched to a 3.90 ERA over 16 outings. His K/9 was over 10 at each level, and he did a better job of limiting walks at triple-A, putting up a 3.2 BB/9. And over 129.2 minor-league innings this season, he allowed only eight home runs.
It's unclear whether or not Reid-Foley will get another start this year — "We'll determine something in the next couple days, I would think," Gibbons said — but with a career-high 159.2 innings across three levels after Friday's outing, there's a chance he'll be shut down for the season. Reid-Foley's previous career high was the 132.2 innings he threw at double-A in 2017.
For his part, Reid-Foley says he feels strong, and his velocity has remained consistent throughout September. But if the Blue Jays err on the side of caution and call it a wrap, Reid-Foley says he'll have some lessons learned from his time in the majors to carry into 2019.
"I think it'll definitely help make me realize the little things that you kind of overlook in the minors," Reid-Foley said. "Just really honing all that stuff in. Spring training, no stats, nothing — just a fresh year and get back at it."