Jeff Moore is a former college player and Division I college coach who's now based in Florida, where he scouts and writes about baseball full-time.
---
DUNEDIN, Fla. – Thanks to some mid-season promotions, the Dunedin Blue Jays have been reinforced with some serious prospect talent. Jeff Hoffman may be gone, promoted to double-A, but some talent has come along from low-A Lansing to help bolster the organization's Florida State League affiliate.
Anthony Alford, CF
Now a one-sport player, having given up his aspirations on the gridiron, Alford is has quickly become the best position player prospect in the Blue Jays system, and perhaps its best overall player. A dynamic athlete, his baseball skills are much more refined than you'd expect from a player who has split his time with another sport. He's parlayed his athleticism into plus bat speed from the right side, but his ability to connect the barrel of the bat to the baseball is an innate gift and his swing mechanics are much cleaner than most young players, let alone those with limited baseball backgrounds.
Alford's a true up-the-middle player, with no concern about his ability to remain in centre field and be a plus defender there. He's still young, having just turned 21, and still needs a lot of repetitions on the baseball field, but his ceiling is higher than any other hitter in the Blue Jays' farm system, and he's much closer to reaching his full potential than I had expected from a player newly dedicated to playing baseball full time.
Richard Urena, SS
Perhaps more highly regarded than Alford because of his accomplishments at such a young age, Urena also comes with considerably more risk despite already approaching 1,000 plate appearances as a professional. Urena's tools as a baseball player are evident immediately, with plus bat speed from both sides giving him the potential to be an impact hitter. In the field, a plus arm gives him the ability to stay somewhere on the left side of the infield. This is a strong combination of tools.
At this point things fall a bit short for Urena in the application of these tools to the game. His approach at the plate is a mess, with no plan of attack and little plate discipline. His swing-at-everything approach limits the effectiveness of his raw abilities. In the field, his hands are adequate for the infield, but not a true asset, and while his range is enough for shortstop at present, there's a chance he could have to shift over to third base if he fills out any further.
The issues that plague Urena at present are ones that often come with young age, so at just 19, they are not major concerns for his future. They will, however, be a necessary part of his developmental path if he wants to reach his ceiling as an everyday shortstop.
Rowdy Tellez, 1B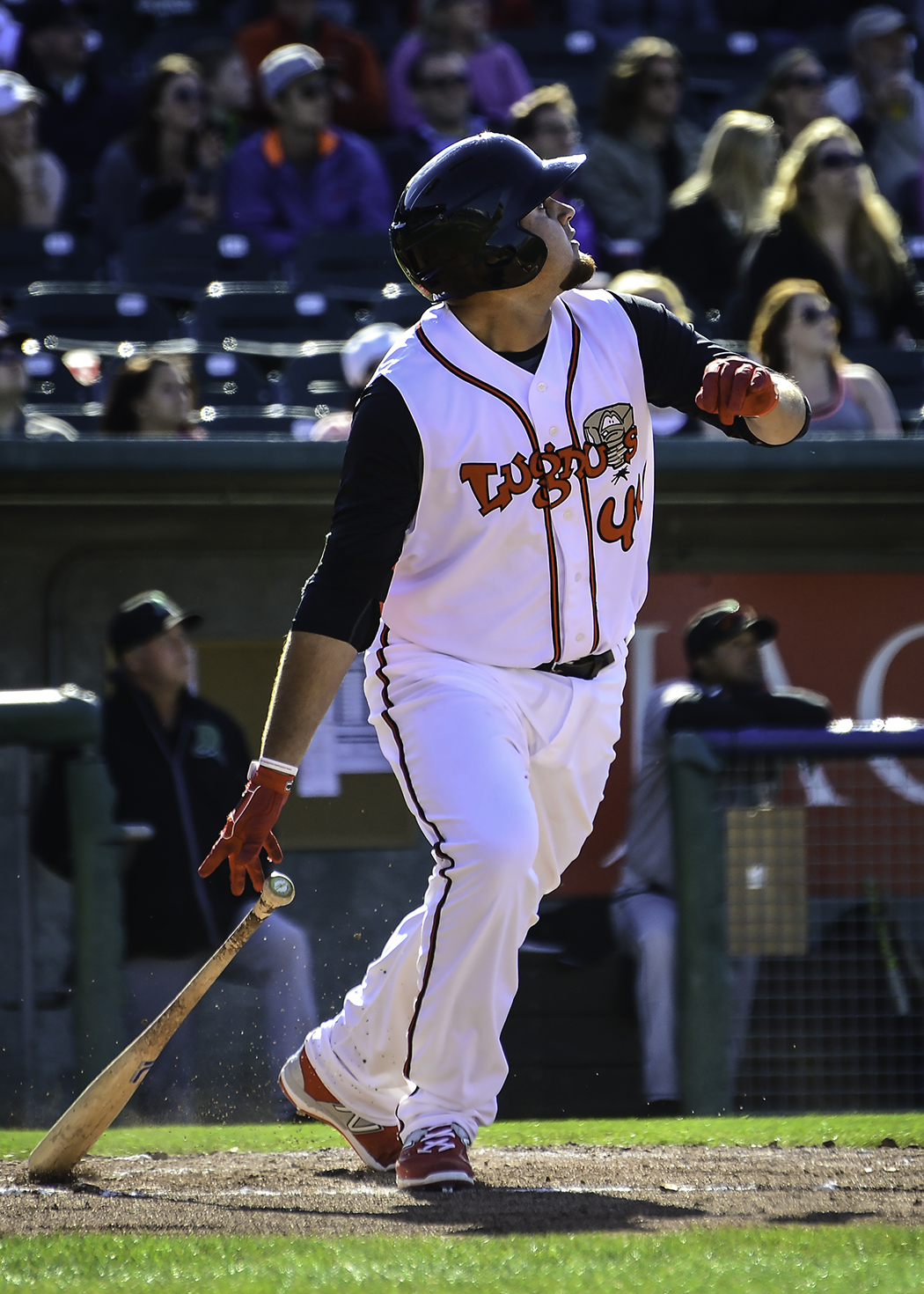 Tellez was a pleasant surprise, as the hulking first baseman showed much more control and skill with his bat than I had expected. He's more than just size, though that is the first thing you notice about him. But his left-handed swing has some feel and finesse to it that doesn't always accompany big power hitters.
It's Tellez's power that will be his calling card, however, and it will have to be as he offers little else. He's not a strong defender and is limited to first base. Plus, he's already quite slow on the bases, meaning that his bat will have to carry him. It has the potential to do that, however, meaning the Blue Jays have a prospect with the potential to be an everyday first baseman in a few years.
Jairo Labourt, LHP
The tall left-hander has a dynamic arm, but Jairo Labourt is still very much learning how to use it. He touches 95 miles per hour, though he sits comfortably in the 91-94 range, and his size makes him an uncomfortable matchup for hitters, especially left-handed ones. A potential plus slider gives him another weapon with which to attack hitters, and is a good enough pitch to carry him all the way to the big leagues.
Labourt is still being used as a starter, but the 21-year-old may be destined for a relief role. He lacks a third pitch at present (his change-up is well below-average) and his body control doesn't allow for the type of command needed to be a starter. His fastball/slider combination, however, could dominate left-handed hitters in the late innings.