Marcus Stroman says it directly and without hesitation.
"I know they're saying I'm going to be out the whole year, but I still have hope. My thought process is I'm going to be ready for September," Stroman says. "I'm not going to rush it. I would never come back prematurely. I'm going to make sure I'm absolutely 100 percent when I come back. But I want to be back on the mound in September. That's what I'm working towards."
And there you have it. Just 17 days in to his expected six-month recovery from surgery to repair the torn ACL in his left knee, Stroman is already talking about exceeding expectations. It wasn't too long ago that Stroman couldn't tie his own shoes. (Consumed with pride, he'd refuse help and spend ten minutes just putting on his socks, working up a sweat in the process.)
---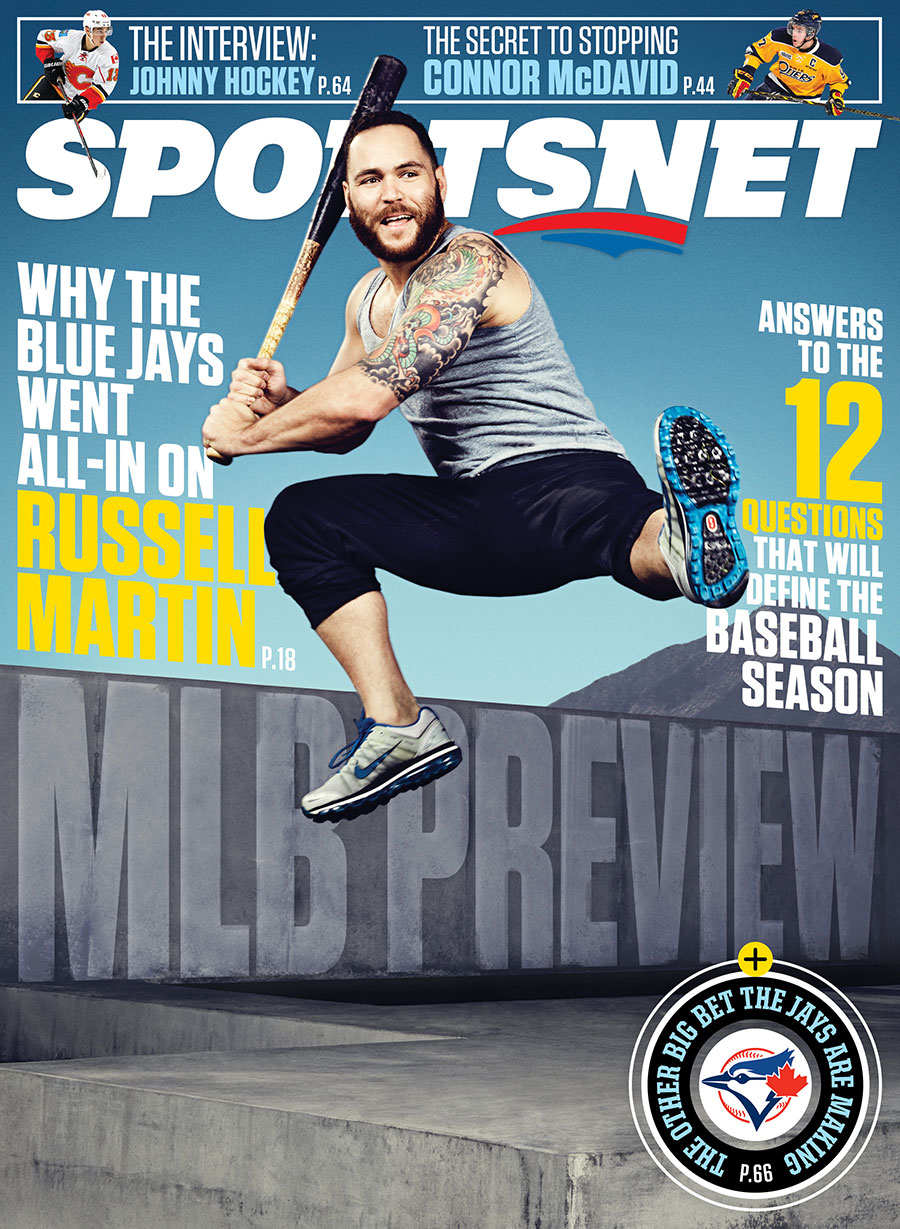 Sportsnet Magazine's MLB Preview: Why the Blue Jays went all in with Russell Martin, and answers to the 12 questions that will define the baseball season. Download it right now on your iOS or Android device, free to Sportsnet ONE subscribers.
---
But two weeks later he's already ditched his crutches, walked and performed leg lifts in a pool, worked out on a stationary bike and, on Monday morning, completed a series of body weight squats and lunges.
"I'm ahead of schedule. It's coming along pretty quick," Stroman says. "There's still some pain now and then. But it's part of the process. I'm not scared to push it. I'm not gonna push it over the limit, but I'm gonna push it to the limit."
Regardless of Stroman's optimism, no one knows if his return date will come this September, this October or next February during spring training. What we do know is that April 6, 2015 was not the opening day the 23-year-old had been dreaming of all winter—and for most of his life.
"It was bittersweet…" Stroman begins, about to lean on the tired sports cliché before reconsidering. "Actually, it wasn't even bittersweet. It sucked. It just sucked."
Stroman got up on Monday after yet another long night spent lying on his back with his left leg in a brace locked at full extension. (He sleeps in two-hour shifts, getting up when he can't bear the discomfort any longer to walk around his condo and get the blood flowing back through his leg.) He arrived at the Blue Jays' Dunedin training facility at 9:00 am for his daily round of rehabilitation and left nearly four hours later to go home and watch Drew Hutchison start the game that was supposed to be his.
The Blue Jays never confirmed Stroman as their opening day starter, but he says that prior to his injury he'd spoken to members of the team's brass who gave him very good reason to believe he'd be taking the mound yesterday in New York. He was happy Hutchison got the opportunity in his place. He was excited his team won. But at the same time he could hardly watch.
It was supposed to be the biggest accomplishment of his young career. An opening day start in his first full major league season, in front of family and friends in his hometown of New York, and on the sixth day of the month, the same number as the one on the back of his jersey, which he dedicates to his late grandmother, Gloria Major, who was born on March 6, 1943.
"I felt like I worked harder this offseason than I ever have before. I put in so much work. And it all went to waste. All because of some freak injury," Stroman says. "I was so happy the guys had success. They looked really good. But watching it sucked."
This is Stroman's life now. Every day he spends three or four hours in the gym, progressing through strength and mobility exercises for his leg, then completing workouts for his core and upper body while seated, performing the same arm routines he would in-season, minus the actual pitching. He throws balls off a trampoline and works with resistance bands to maintain the flexibility and muscle endurance in his pitching arm. He ices his knee religiously, and does more mobility and strengthening work on his own time at home, on top of what he does all day in the gym.
"It's not like I'm just sitting on my ass at home all day. I'm doing everything I can to get better. Because if there's an opportunity for me to come back this year and help this team, I want to be ready to go," Stroman says, "I'm all in. One hundred percent. I want to be there."
But until he actually can be there, he'll try not to watch his team's games. It's too upsetting. He'll check the box scores and keep track of how everyone's doing, maybe watch a highlight here and there, but sitting and watching nine straight innings of baseball that he was supposed to be a part of is just too much right now.
"I'm a positive guy, but it's still kinda tough to watch," Stroman says. "It'll be better when I'm back at school."
Right, school. He can't wait to get back to school. He got the idea when he was sitting in the office of Blue Jays orthopedic surgeon Dr. Steven Mirabello, just a few hours after he heard the pop in his knee that terrible morning in March, waiting for the results of an MRI. He'd already been braced for the inevitable, that the scan would come back saying he needed surgery and would miss six months. He'd cried a lot, on the phone with both his mom and his dad, who were just as emotional.
"That was awful. I was crushed. I was so upset," Stroman says. "But my parents really calmed me down and I told my mom right then and there, 'I'm going back to school.' I know Duke has summer classes. Let's get this rolling."
And so he's returning to Durham, N.C., to finish the final credits he needs to earn the sociology degree he put on hold two years ago to pitch professionally. He'll have four hours of class on Mondays, Tuesdays and Thursdays, studying everything from sports administration and management to entrepreneurship and technological innovation. He'll also work independently on his final research project, a paper on the portrayal of male and female athletes in the media. It's a topic he proposed himself.
While he's on campus he'll be working daily with Dr. Robert J. Butler, an assistant professor in Duke's department of physical therapy who specializes in recovery from ACL reconstruction. And when he's at home for the night, in the apartment he'll be renting not far from campus, he'll be spending time with his best friend, Ryan Bahnson, who is moving to Durham with him for the summer. Stroman figures that should keep his mind and body consumed enough not to focus on what he's missing.
Stroman always wanted to finish his degree. He intended to do it in the offseason a year and a half ago but the Blue Jays sent him to the Arizona Fall League instead. He's hardly had a moment of downtime since and although he was living his dream in the majors, he always had the nagging thought in the back of his mind that something was unfinished. He imagined going back to college after his baseball career was over and being the old man who doesn't fit in amongst a sea of twenty-somethings.
"I first went to Duke with the intention of finishing my degree. It's one of the top academic schools in the country. That's why I went there. And when I left without my degree I was really disappointed," Stroman says. "So, I'm really excited to get back on campus."
For the ever-energetic Stroman, keeping busy is everything. The next three weeks will be tough. He'll remain in Florida, rehabbing every day, following along on his phone as his teammates carry on without him. He's not looking forward to it. But then he'll go back home to Long Island for his birthday on the first of May, and a few days later he'll settle into Durham where he hopes school and more rehab will keep him occupied enough not to dwell on things. If he has it his way, the three months and five credits at Duke will fly by. And after that?
"Hey, a full six months from my surgery is September 19," Stroman says. "If we're in a playoff run at that point, I'm going to want to pitch. And I'm going to do everything in my power to put myself in a position to be there helping the team. I'll fill any need the team has. I'll start, I'll relieve, I'll do whatever. I'll be ready to go."