Alex Anthopoulos says there will be no more talking. Given along with many in baseball to musing about how it might be time to go back to a time when pitchers broke into the majors in the bullpen, the Toronto Blue Jays general manager says to expect more Roberto Osunas and Miguel Castros.
It's not economics. It's philosophy.
"With Osuna and all these guys, we're really starting to be big believers in breaking guys into the majors as relievers like the industry used to do," Anthopoulos said in a text exchange Monday. "You definitely get to monitor workload that way for the first time in the major leagues. Ideally … we would break all our pitchers in out of the bullpen."
Osuna pitched 23 innings last season, Castro tossed 80.1 at single-A. Our Shi Davidi spoke to Anthopoulos last week about how innings limitations would work on a team that will have Aaron Sanchez and Daniel Norris in the starting rotation and raw rookies Castro and Osuna in the bullpen. In effect, the GM said the Blue Jays were changing their approach away from what is seen as the industry norm – because the industry norm has led to carnage.
In the meantime, Blue Jays fans can take heart in knowing that the team won't be the only AL East team with concerns at the back end of the bullpen, at least in the early going. Dellin Betances, whose emergence was one of the reasons the New York Yankees bid adieu to David Robertson, has been lit up in the Grapefruit League and hopes that the six mph decrease in his fastball will be corrected by video work that showed he was opening up his shoulder too much — good thing Andrew Miller's around. The Tampa Bay Rays will rely on Brad Boxberger while Jake McGee takes the first month of the season to recover from elbow surgery and the Boston Red Sox announced Sunday that Koji Uehara will miss the start of the season with a hamstring injury, meaning Edward Mujica will likely get the call early.
---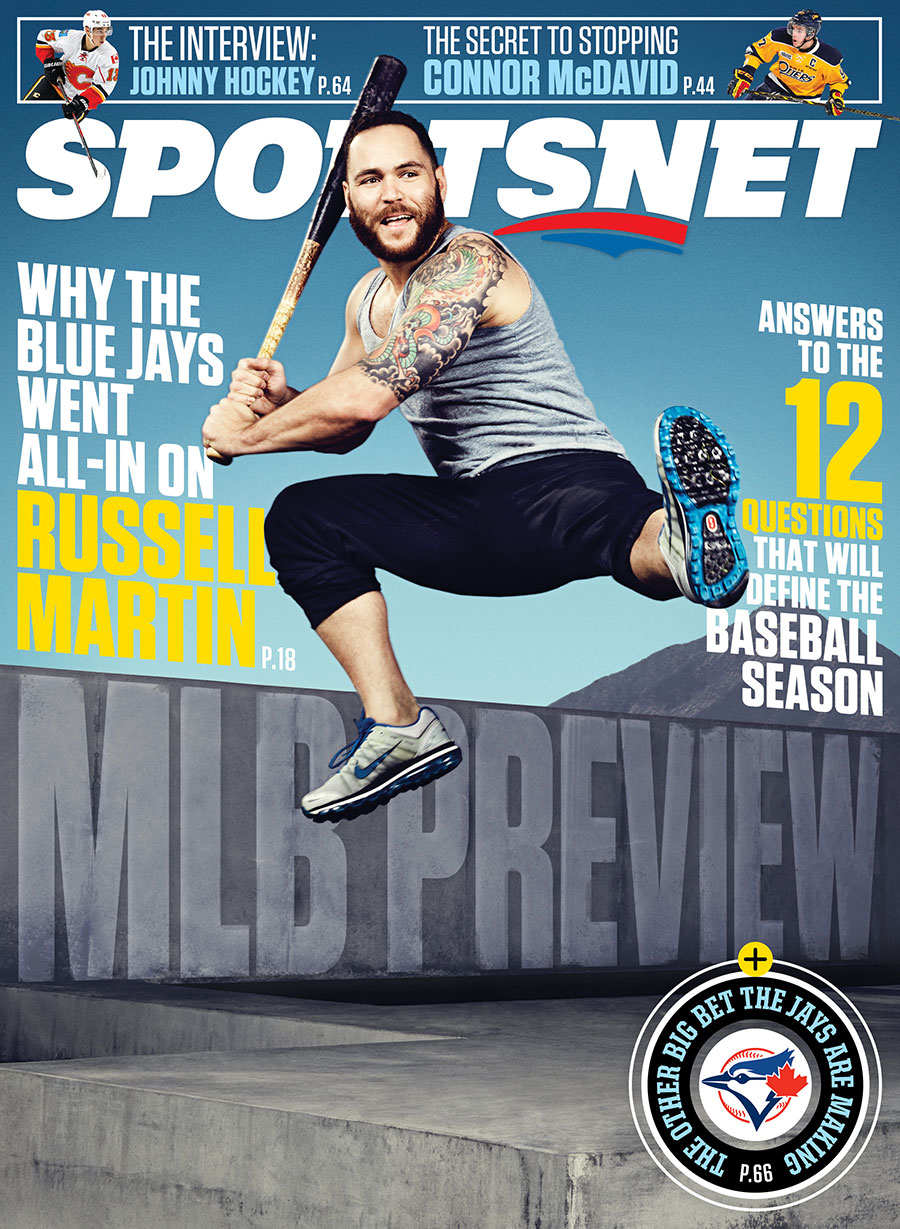 Sportsnet Magazine's MLB Preview: Why the Blue Jays went all in with Russell Martin, and answers to the 12 questions that will define the baseball season. Download it right now on your iOS or Android device, free to Sportsnet ONE subscribers.
---
WHAT I LEARNED
"When I stretch, I try not to stretch in the same area every day or around the same people. I want to make the point to go around and make sure I'm giving time to everybody … just for my own selfish reasons so I get to know these guys, Second of all, I want them to be comfortable with me – who I am and what I'm about."
— Blue Jays third baseman Josh Donaldson on how a newcomer with a team goes about acclimating himself.
"It's why it makes defence harder. It used to be you could body guys up and impede their progress as far as not getting into their lanes. Now you almost have to get your feet there before they do."
— Toronto Raptors head coach Dwane Casey on why defending in the NBA has become harder.
"Did I know that he was going to be the NBA MVP twice and play 15 years in the NBA? No, but I knew he was gifted. One coach told me in Canada when I visited with him that he could have been a pro in four different sports. He was unique skill-wise in his ability to see the game and understand the game."
— Dick Davey, Steve Nash's college coach at the University of California-Santa Clara, talks about the process of courting the player from Victoria, B.C.
QUIBBLES AND BITS
Oakland Athletics general manager Billy Beane has been hired as an advisor by Dutch Eredivisie side AZ Alkmaar, whose general director, Robert Eenhorn, holds a special place in baseball history. On May 28, 1995, Eenhorn – chosen 45th overall in the 1990 Major League Draft out of Davidson College became the last player to start at shortstop for the New York Yankees before Derek Jeter's Major League debut.Beane, of course, is no stranger to soccer: he has still not been cured of his affinity for Arsenal, has held an ownership stake in MLS teams and through his friendship with English soccer executive Damien Comolli has delved into the emerging field of soccer analytics. His friend J.P. Ricciardi, the former Blue Jays general manager, has believed for awhile that Beane will end up with a full-time gig in soccer.
The Houston Rockets are much more than simply James Harden and Dwight Howard. The Rockets, who will play the Toronto Raptors at the Air Canada Centre on Monday, have had one of the NBA's best benches since the late December acquisitions of Corey Brewer and Josh Smith. Brewer has his double digits in 32 of 46 games while Smith has hit double digits in 27 of 40. The pair has also spurred the Rockets bench to a 100.36 pace factor, which was the best in the NBA going into Sunday's win over the Washington Wizards.
Friend Jeff Passan of Yahoo! Sports broke an interesting story over the weekend: Major League Baseball is looking at the possibility of a draft combine, with the topic expected to be on the table during the next round of collective bargaining along with an international draft Those talks are expected to begin later this year.The most interesting aspect of the combine would be medical examinations – such as MRIs – that would be distributed to each team. While you'd think it would be in every team's best interests to get as much information as possible, especially on pitchers, the issue of "predictive" medical and mechanical analysis and community information has often created problems for some baseball people. When John Farrell was in charge of the Cleveland Indians' minor league system, the Indians started doing bio-mechanical analysis but Farrell later said he had some misgivings about the extrapolations that tended to occur.
THE END-GAME
You hear things, you know? Colleague Stephen Brunt of Sportsnet was the first to start wondering if maybe the conventional wisdom that had Blue Jays general manager Alex Anthopoulos fired if the team didn't make the playoffs needed to be re-examined in light of the boffo performance of pitchers he'd drafted and signed, not to mention the relatively modest $42.6 million in guaranteed contracts beyond the 2015 season.
I do know this, I've had more than one Blue Jays person tell me that Marcus Stroman and Aaron Sanchez may have saved Anthopoulos' job over the winter. So it makes sense that further another year of in-house pitching returns might leave him in good stead – or raise once again the possibility of Anthopoulos being promoted to replace Paul Beeston, leading to the hiring of another GM.
Stay tuned.
Jeff Blair is host of The Jeff Blair Show heard on Sportsnet 590 The FAN daily from 9 a.m.-noon ET. He also appears frequently on Prime Time Sports With Bob McCown.