Blue Jays reliever Joe Smith is looking forward to a new year with his new team. One that will allow him to get back to the important work he does on and off the field.
DUNEDIN, Fla. – New Toronto Blue Jays reliever Joe Smith has a very succinct description of his 2016 season: "It was a mess of a year." Then for emphasis, he repeats it. "It was a mess of a year."
What went so wrong?
Well, for starters, he and the Los Angeles Angels thought they would contend in the American League West, but that went sideways fast. In May, he suffered a left hamstring strain that he initially tried to pitch around before settling on the disabled list. Just before the non-waiver trade deadline, he was traded to the Chicago Cubs, where he struggled initially before making a second trip to the DL.
Eventually, he got right physically and had a strong September, only to be left off the roster as the Billy Goat Curse was slayed in the post-season.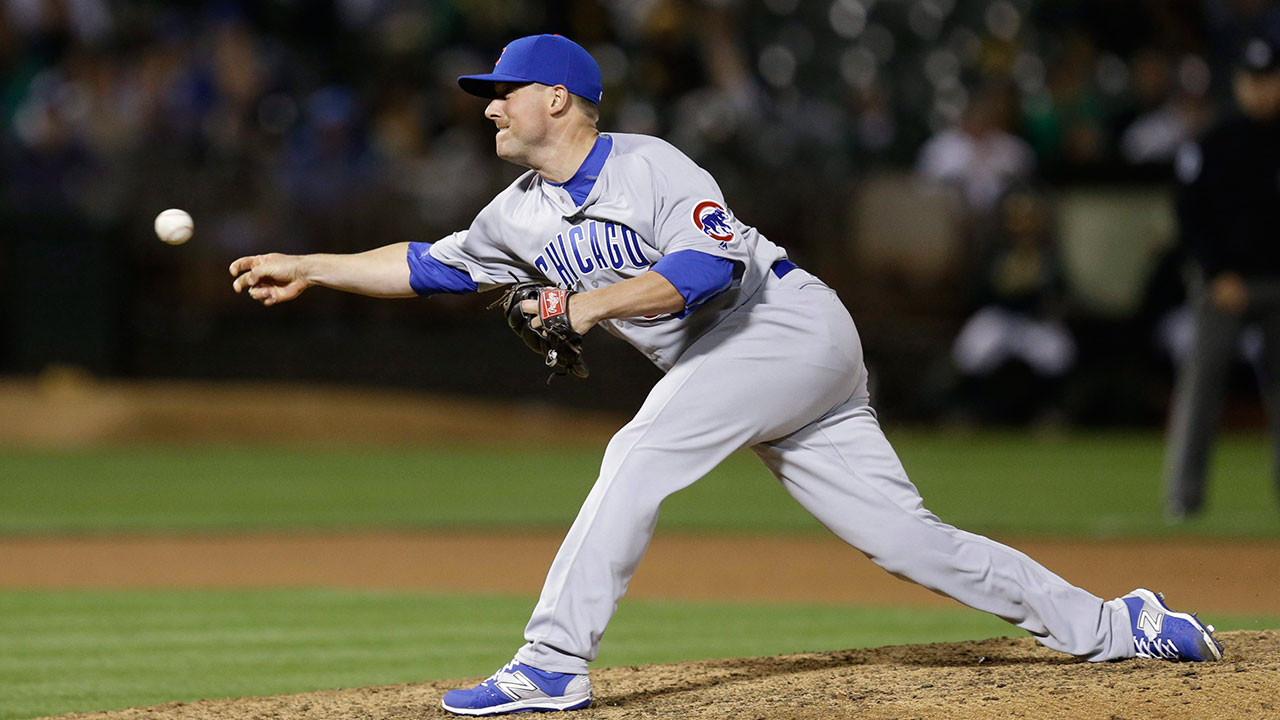 (Ben Margot/AP)
Amid all the hubbub, the 32-year-old right-hander couldn't devote his usual attention to a cause near and dear to his heart, the website helpcurehd.com he and his wife Allie LaForce, a sideline reporter for CBS and TNT, started in 2014. The charity aims to raise money to help people with Huntington's Disease, an affliction that breaks down nerve cells in the brain and dramatically impacts a person's ability to function physically and mentally.
The incurable genetic disease has already hit his grandmother and mother. Smith and his sister have a 50-50 chance of getting it, as well.
That's why "last year was just an absolute mess," he repeats one more time. "Now that things are calming down, it'll be good. We'll be able to do some things."
***
In February 2012, Smith's mother Lee, who had begun to experience symptoms of Huntington's Disease while in her mid-40s, was diagnosed with the condition. Given that she had taken care of her mother when Huntington's struck her, she fully understood what she was in for.
"It's still her, it's not like she's gone but the hardest part is what it limits," says Smith. "She can't drive a car, she struggles getting dressed and showered. Travel is really hard on her, she gets very tired walking, doing normal everyday things. The medicine is probably the most brutal part. She's 120 pounds and taking a number of pills each day, you don't know how they're going to affect her. Until they get it right it messes her up so much. Once they get it right it's good, but it takes a while."
Smith was 27 at the time of the diagnosis, just cementing himself as a reliable big-league reliever. A third-round pick of the New York Mets in 2006, he debuted the following season, posted a 3.55 ERA over 82 games in 2008 before getting traded to Cleveland that December as part of a three-team trade with Seattle highlighted by Franklin Gutierrez and J.J. Putz and that also included Ezequiel Carrera. Smith split 2009 between Cleveland and triple-A before locking down a big-league spot the next year.
Once news of his mother's illness set in, Smith started looking for ways to give back a bit more.
"Any time you're in a position where you can help people – and obviously playing Major League Baseball puts you in that kind of a position, and my wife with what she does – you want to give back," says Smith. "We can reach out and have more of a network that can help out and bring money to advance research.
"With HD, there's nothing that's going to come out and help my mom or anybody in the latter stages, but if there's something we can find that helps future people get rid of it, we feel like we're doing something. At first you're trying to find your way in this game, and then you want to do something to help. Obviously when my mom got diagnosed, this what I wanted to focus my energy on."
The fundraising is done through the Cleveland Clinic, a multi-speciality facility that does patient care, research and education.
***
People with Huntington's Disease have a 50 per cent chance of passing the gene that causes the disorder on to their children. That means both Smith and his sister Megan have 50-50 chances of suffering from it as well, with symptoms typically beginning to strike once a person is in their 30s or 40s.
A test can be done to determine if a person is carrying the defective gene. So far Smith hasn't bothered with it.
"I don't really think about it," he says. "I'm doing OK right now – I play Major League Baseball – so everything is all right. It could happen. It could not. You think about it sometimes but for the most part you don't. Just live life. Eventually I'll probably get tested and see what happens as far as kids."
Part of the research Smith supports involves pre-implantation genetic diagnosis for in-vitro fertilization so that people with Huntington's Disease can screen for eggs carrying the defective gene.

(Patrick Semansky/AP)
"That way you can take a family that has HD and they can have a healthy child from that side of things," says Smith.
The process can be prohibitively expensive and the research is involving, which is why he wants to channel his work that way. He'd consider it if he and LaForce decide to start a family. As for the uncertainty in the interim?
"There's nothing I can do. If I've got it, I've got it," he says. "There's no cure. Why worry about it? Fortunately I get to forget about it every day, come out here and act like a little kid. I guess if I was Jason Grilli and I'm still playing when I'm 41, maybe somebody will know before me. I don't know. Just live life, have fun. I get to play a game anyways."
***
At the age of 15, Smith wondered whether he could keep playing the game. As a high school sophomore he remembers throwing a pitch and feeling a sharp pain in his shoulder. It was a torn labrum but given his age, doctors were reluctant to operate, so he rehabbed the injury, switched to the outfield for a while and kept playing basketball, another of his passions.
"I couldn't throw a football anymore," he laments. "That sucked."
The next summer, the pain had become too much and he had surgery at 16. It took two years for his velocity to return to where it was before the injury, but he could no longer throw curveballs. Instead he essentially became a two-pitch pitcher, fastball and changeup. He ended up at Wright State University in Dayton, Ohio, and during his sophomore season in 2005, pitching coach Greg Lovelady and head coach Rob Cooper approached him in the bullpen and asked him to throw a pitch sidearm, just for giggles.
"We were goofing around," says Smith. "I threw a couple and they were like, 'Why don't you stay like that?' I was like, 'Yeah. No.' I had just finally gotten my arm back. I expected it to keep going. But they talked me into it."
Smith allowed only 10 earned runs over 87.2 innings the next two seasons, striking out 105 batters in the process. Then the Mets came calling and he really blossomed in Cleveland, where Blue Jays president and CEO Mark Shapiro, GM Ross Atkins, minor-league field co-ordinator Eric Wedge, third base coach Luis Rivera and quality assurance coach Derek Shelton all were at the time.

(Mark Duncan/AP)
That familiarity matters to him.
"I feel like sidearm guys have enough trouble not getting labelled," says Smith. "The minute you struggle, it's like now you're just a right-on-right guy, or whatever. … It's nice when you have someone who's seen you go out there every day and can say, 'We know what you can do when he's healthy.' They won't press the panic button after one bad week."
Smith lives on sinkers and sliders. When they're working, opponents are in for a miserable at-bat.
"Hitters try to get and stay in rhythm with us so they can get some good wood," says Grilli, a teammate of Smith's with the Angels. "The guy can do a lot with the funk and his plus stuff. He handles pressure situations real well. When his slide ball or Frisbee or whatever you want to call it is on, we need that."
***
Up until last season, Smith had been very consistent with his sidearm delivery, posting sub-3.00 ERAs from 2011-14, and a 3.58 mark in '15. But a big part of that mess last year was the 3.82 ERA he posted in 38 games with the Angels before his trade, much of that rooted in a left hamstring injury that altered his mechanics.
"It was on my land leg, so it just caused me to come up and out of [the delivery] too quick," says Smith. "Something so stupid and minor as that. They're like, 'Does it hurt?' And I'm like, 'Not really. I feel it, but I didn't tear it, I can still pitch, I'll get through it.' I was able to pitch. I just stunk."
He suffered the injury in May, but closer Huston Street was already on the disabled list and someone was needed to handle the ninth. Smith collected six saves in seven opportunities but also allowed seven runs in 13.1 innings with 10 walks against 12 strikeouts.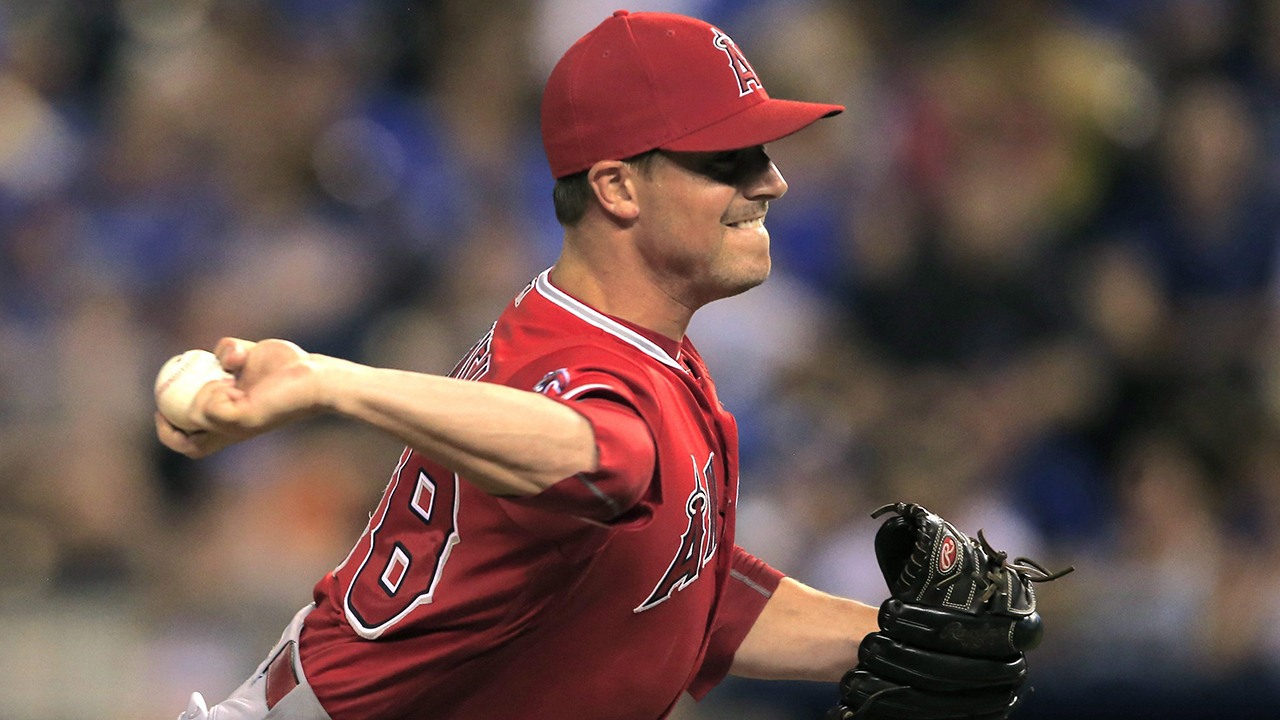 (Orlin Wagner/AP)
In June, Smith went on the disabled list, returned just before the all-star break, allowed five runs over his next 13 games and then was traded to the Cubs just before the deadline. There he struggled again, took another trip to the disabled list and returned for the stretch drive in September, allowing one run over 10.2 innings with 14 strikeouts to close the season out.
"My ball stopped sinking, it was just running, I had no control, I was just coming up and out of everything trying to protect the hamstring," he says. "It just took me a while to get in a groove. Finally in September I did and everything was good."
That's the version of Smith the Blue Jays believe they signed to a $3-million, one-year deal that includes incentives. They need him to be that version of himself.
"I feel good, I feel healthy, I'm glad to be here, man," he says. "This team, obviously going to the ALCS twice, they're hungry, they've got one thing on their minds. It's good to come here and just be focused on winning."