ST PETERSBURG, Fla. — With one out and the tying run on third base in the ninth inning Tuesday night, Kevin Pillar's spot in the Toronto Blue Jays' batting order came up. But Pillar wasn't in the game to make the plate appearance. He was in Toronto's clubhouse and Darwin Barney was at the plate, grounding out to second as the Blue Jays lost to the Tampa Bay Rays, 6-5.
"My spot comes up in that big situation and I'm sitting in here confused and stunned," Pillar said. "And just really wishing I was out there being in a position to help our team win a game."
Pillar wasn't at the plate because he was ejected from the game in the third inning by home plate umpire Chad Fairchild after grounding out in his first at-bat of the night against Rays starter Chris Archer. Pillar had taken issue with Fairchild's called strike on the first pitch of his at-bat, and told the umpire he thought the call was terrible as he ran back to the dugout.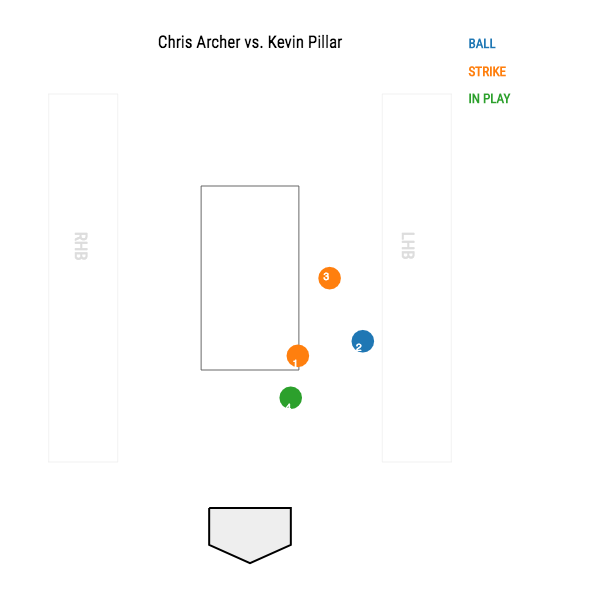 Upon hearing Pillar's remark, Fairchild immediately turned around and threw the centre-fielder out of the game.
"I didn't get an explanation. He just threw me out," Pillar said. "As I ran by home plate, I offered my opinion about what I felt the first pitch of the at-bat was. All I said was, 'first pitch was terrible.' That's it. Didn't raise my voice. Didn't use any profanity.
"That's an elite pitcher out there. And when he's getting stuff off the plate it makes my job extremely difficult. I get that we're living in sensitive times and these umpires are highly sensitive. But, at the same time, it is part of their job description. They're human beings, they're going to make mistakes. I'm a human being, I'm going to offer my opinion. I just think it's sad. I think it's really sad."
Pillar clearly thought Fairchild's hook was quick, and said he's made much more pointed remarks to umpires in the past without being thrown out of games. In fact, the ejection was the first of Pillar's 516-game career.
"It's something that I never wanted to have happen. I grew up a [Derek] Jeter fan, I know how long he played and was never thrown out of a game. That's something I was going to pride myself on," Pillar said. "I feel like I do a pretty good job of harnessing my emotions when it comes to my opinions at the plate and strike calls. But I definitely feel like there's got to be some wiggle room for some dialogue there.
"I feel like in that situation he could have been as stern as he wanted to, taking his mask off and asking me what I said, and 'why did you say that?' And we could've had some dialogue. But to immediately throw someone out like that, it's just sad.
"I would like to understand why he did it. Why he felt the need to throw me out there in the third inning for something that only me and him heard. I don't think our dugout was aware I said anything. Their dugout definitely wasn't aware of it. And however many people were here probably didn't know I said anything."
Umpire-player interactions have been a contentious issue in MLB for as long as anyone can remember, but the league's umpires clearly feel they have been excessively scrutinized by players this season. Last week, umpires across MLB wore white wrist bands to protest comments made by Detroit Tigers second baseman Ian Kinsler about umpire Angel Hernandez. Kinsler said Hernandez "needs to re-evaluate his career choice."
The protest was abruptly ended when MLB commissioner Rob Manfred informed the umpires union that it was in violation of their collective bargaining agreement. Manfred offered to have a meeting with the union in order to "diffuse the problem."
"I understand what they're going through as umpires. I'm aware of their protest," Pillar said. "But I'm at a loss for words for why [Fairchild] felt the need to throw me out of the game for not really saying anything negative about him. I had an opinion about a pitch. People have opinions about a pitch all the time. You see a lot worse from pitchers on the mound when they're not getting strike calls. They might not say anything but they do make a scene. It's just shocking to me."
Later in the game, both Josh Donaldson and Nori Aoki took issue with Fairchild's calls without getting thrown out of the game. A look at Fairchild's called pitches on the night shows the umpire didn't have a perfect game. Of course, no umpire ever does.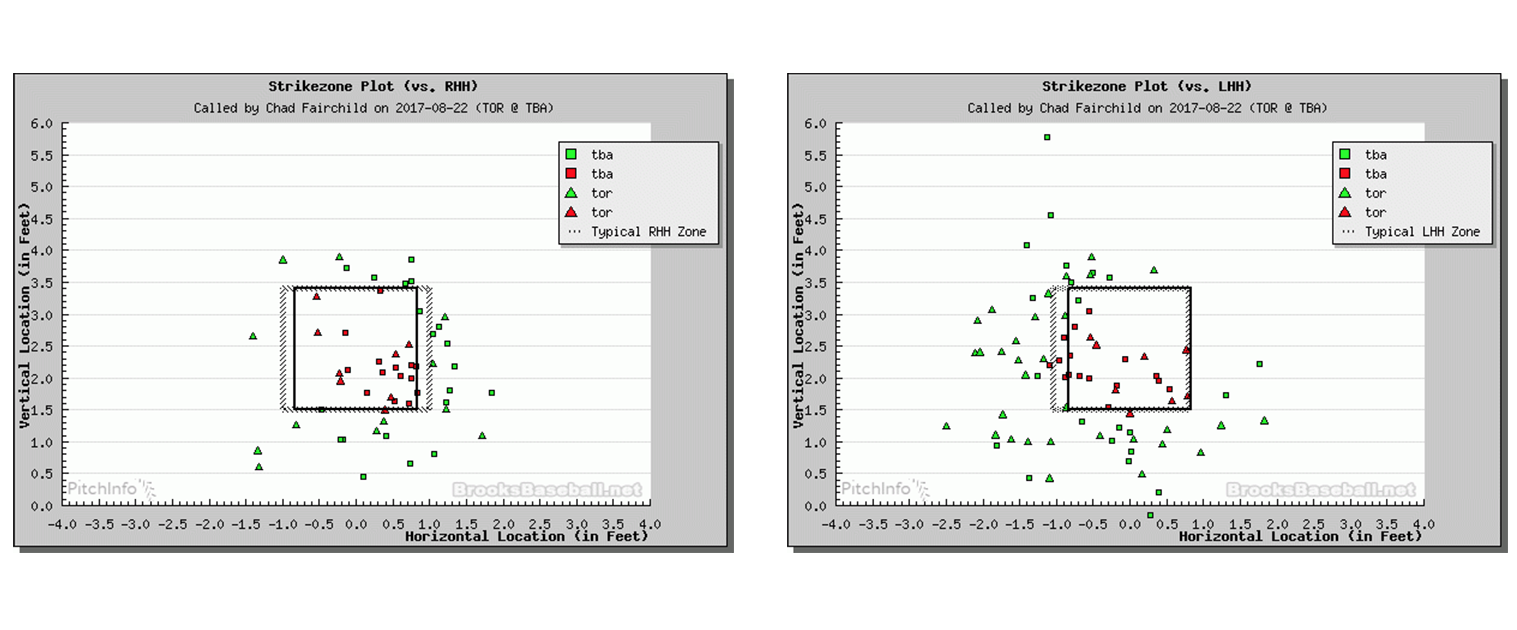 Pillar said he wasn't aware of any prior history with Fairchild and that the Blue Jays' dugout wasn't chirping the umpire during his at-bat. He said he doesn't know much about Fairchild, pointing out that as an outfielder he doesn't get as many chances to interact with umpires like infielders do during stoppages in play.
"I just felt like I could offer my opinion and hopefully he would hear it and hopefully it would make him at least think about why he called it a strike," Pillar said. "You see a lot worse and you hear a lot worse. I don't know if it's with everything that's going on with the umpires right now and they're just being a little bit more sensitive to what the players have to say. But I think on the flip side they have to understand we're human beings too and we're competitive and I don't ever feel like you're wrong when you offer your opinion. And the way I did it was as respectful as I felt like I could be.
"I just wonder if he thought he heard something different and his immediate reaction was to get defensive over what I said. I wish I had an opportunity to have him at least ask me, 'what did you say?' And I would have repeated it because I don't feel like what I said was hurtful or harmful in any way. All I was doing was offering my opinion on it.
"I guess it's just a different time in baseball. Everyone's really sensitive and things get blown out of proportion. I'll learn from it."