CLEARWATER, Fla. — If you happened to be kicking around Santo Domingo nine years ago, and you chose to take in a game at Estadio Quisqueya where the Dominican Winter League's Leones del Escogido play ball, you would've seen a couple grinders everyone calls Salty and Frankie doing their thing.
Jarrod Saltalamacchia was 23 and Francisco Liriano was 24. They'd both put some major league service time under their belts and had success while doing it, but this was an era when those facts didn't preclude a young player from being asked to play winterball during the off-season and get extra reps.
Leones didn't fare particularly well that season, but they had a few standouts—like Liriano, who had a 2.45 ERA in his four starts, all of them throwing to Saltalamacchia, who put up a 1.354 OPS over 20 games.
Thursday afternoon in Clearwater, with thicker beards and thinner hairlines, that old Leones battery reunited for the first time in nearly a decade, this time in Blue Jays colours as Liriano worked three dominant innings against the Philadelphia Phillies with Saltalamacchia behind the dish.
As it turns out, some things have changed over the years.
"His command is so much better now—he trusts his fastball so much more," Saltalamacchia said. "Back then, we would go to the slider and the changeup real quick. But now his fastball, it's so deceptive and he really goes after guys. It's real firm. It's such a weapon for him. He didn't quite have it back then."
That fastball is key for Liriano this season, as he tries to put an up-and-down 2016 behind him. The 33-year-old pitched to a 3.26 ERA over 86 starts from 2013-15, averaging more than a strikeout an inning. Last year he still had his dominant swing-and-miss stuff, but he didn't have the command, battling his release point over four difficult months with the Pittsburgh Pirates when he put up a 5.46 ERA before he was shipped to Toronto.
Once he was with the Blue Jays, Liriano made adjustments, regained his form, and finished the season with a 2.92 ERA over his final two months, lowering his walk rate from 5.5 BB/9 with Pittsburgh to 2.9 with Toronto. And it all started with regaining command of that heater.
"I've been really working on my fastball and it's getting better every start," Liriano said. "I'm working hard in between bullpens and between starts. Getting better every day. I feel great."
He looks great, too. Liriano struck out five over his three innings Thursday, getting his four other outs with groundballs. He walked one and appeared to struggle slightly with his command in the first inning, but there was a reason for that.
This being spring training, Liriano and Saltalamacchia chose to try something new and attack right-handed batters with two-seamers inside—especially with two strikes—just to see how it worked. Liriano wasn't quite able to master the location, but when he missed he wasn't missing in bad areas.
"I was actually happy with it just because he didn't leave it over the plate," Saltalamacchia said of the two-strike sinkers. "Most guys try to get it in there and they miss up, out and over. But his misses were in, off and down—which I'm 100 per cent okay with."
Liriano's strong fastball allowed him to effectively set up his slider, which was truly filthy on the afternoon. He was able to use it to both sides of the plate, and nearly every time he went to it he got a swing-and-miss.
"That pitch was so good. He was able to work it backdoor and backfoot. It's not a pitch that he's just laying in there," Saltalamacchia said. "He's not an easy at-bat. And when he fell behind, which wasn't often, he kept the ball down. So, even if you got to 2-0 and want to do something, you're just going to ground out."
Liriano says his slider feels as good as it has in years. He's focusing this spring on not overthrowing it and letting the natural break on the pitch do the work.
"I'm just throwing it nice and easy—and it's coming out pretty good," Liriano said. "Physically and mentally, I feel a lot better than last year. My arm feels looser. My release point is where I want it to be. Everything feels good."
Liriano had a lot of success working with starting catcher Russell Martin last season, and you can expect the Blue Jays to continue utilizing that pairing in 2017. But on Thursday afternoon Saltalamacchia proved he hasn't forgotten how to catch Liriano either, which gives Blue Jays manager John Gibbons a strong secondary option if Martin needs a day of.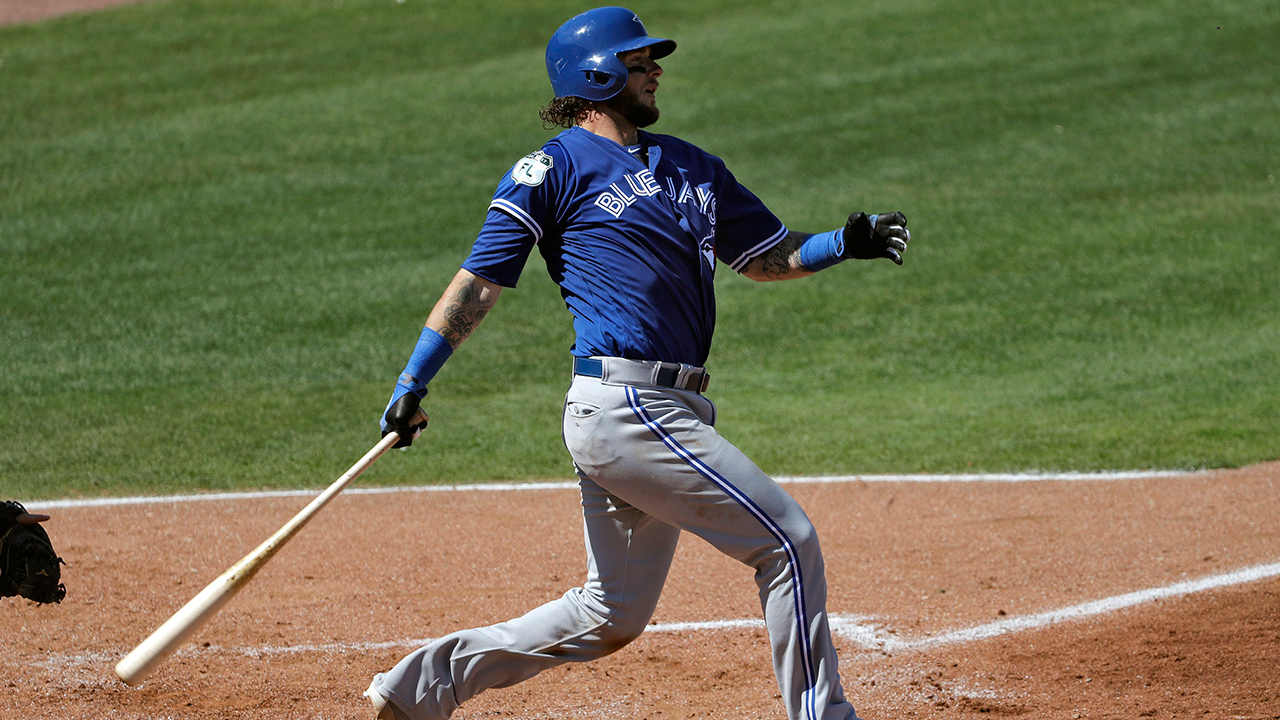 Blue Jays' Jarrod Saltalamacchia lines a single off Phillies starting pitcher Alec Asher during the fourth inning on Thursday, March 9, 2017. (Chris O'Meara/AP)
---
Gibbons actually joked with Saltalamacchia before the game about giving him a tough assignment, as Liriano has a reputation as a difficult guy to catch because his pitches generate so much movement. But the battery sat down for a while before the game to chart out how they wanted to attack hitters and what Liriano wanted to work on, and Saltalamacchia made it look easy behind the plate.
"Liriano, he's going to have his spells where he loses the strike zone. That's just kind of his style. It's not an easy day for a catcher. Those guys don't always know where that ball's going either," Gibbons said. "But I thought Salty handled him very well."
Of course he did. It wasn't his first time. Just his first in nine years.
"I would think that if he's not around the zone, then he could be tough. Just because everything moves and he's really deceptive with his arm angle and how he comes at you," Saltalamacchia said. "But when he's around the zone like today it's pretty easy. He's something else."