TORONTO – Year after year teams advancing to the World Series demonstrate how the foundation of a winning roster is built through the farm system, with a core of homegrown players augmented by additions through trade and free agency.
For all their money and payroll largesse, the Los Angeles Dodgers produced the guts of their team internally, with Clayton Kershaw, Corey Seager, Cody Bellinger, Kenley Jansen, Yasiel Puig and Joc Pederson, among others, rising through the ranks. The Houston Astros, the original purveyors of the tank, are even more self-made, drafting or signing as international free agents Jose Altuve, Dallas Keuchel, Carlos Correa, George Springer, Alex Bregman, Lance McCullers Jr., and Yulieski Gurriel.
For a Toronto Blue Jays franchise approaching the end of a competitive window with its current core, this reality underlines the importance of effectively developing Vladimir Guerrero Jr., and Bo Bichette, the best position-player prospects in the system since Vernon Wells and Alex Rios at the beginning of the century.
The big two, along with fellow position players Anthony Alford, Richard Urena, Lourdes Gurriel Jr., Danny Jansen and Rowdy Tellez, plus pitchers such as Ryan Borucki, Sean Reid-Foley, T.J. Zeuch and Conner Greene, give the Blue Jays an opportunity in the coming years to refurbish their roster, at least in part, from within.
Guerrero, especially, will be a focal point and while the pressure to quickly promote the 18-year-old will grow steadily if he continues to hit next year, it's with him they are likely to use the most caution.
"I suppose there's a chance (of a 2018 debut), I just think it's unlikely that a player moves through the system in two and a half years," general manager Ross Atkins said recently. "Based on the way we're constructed, could it happen? Absolutely it could happen. It's just more likely that we try to give him every chance possible for him to be incredibly, incredibly talented and productive at the major leagues and often times you have to sacrifice a bit (by) not rushing that. Because for him to be the best potential offensive and defensive player, maximizing the opportunity in the minor leagues is extremely important."
The last major infusion of youth onto the Blue Jays roster came in 2015, when they broke camp with six rookies. Three years later, the career paths of starters Aaron Sanchez and Daniel Norris, relievers Roberto Osuna and Miguel Castro, second baseman Devon Travis and centre-fielder Dalton Pompey offer a reminder of how difficult and variable the transition to the big leagues can be.
Baseball Playoff Bracket Pool
Predict the playoff winners, from the Wild Card games to the World Series, and you could win a share of over $5,000 in prizes.
AARON SANCHEZ
The right-hander debuted at 22 as a reliever late in the 2014 season but won a job in the rotation at camp the next year. He was just coming into his own as a starter when a lat injury shut him down and forced him back into the bullpen to finish out the season, where he formed a dominant one-two punch with closer Roberto Osuna. The injury prompted Sanchez to readjust his physical routine and in 2016, he became an all-star and led the American League with a 3.00 ERA over 192 innings in 30 starts, before missing all but eight starts this year due to a blister and its complications.
"I think I was ready," Sanchez says of making the jump in 2015. "Honestly, coming out of the bullpen helped me tremendously getting my feet wet. I know there are some systems out there that say if he's a starter bring him up as a starter, not as a bullpen guy, and people are biased one way or the other. I was in a situation where I was on an innings limit, the only way I was able to be here and reach the innings limit was to go the 'pen and throw in one-inning stints. It got my mindset into attack mode. Coming out of the 'pen, you've got to get outs, quick. As a starter you have a few innings to get stuff dialled in.
"So that little routine jump-started me into the next year. I knew I was going to have to learn as a starter because I'd never done it at this level and I was open-minded to everything. I didn't know what to expect, but I had an idea that there was going to be a big learning curve, that's for sure.
"Coming in from a health standpoint, I didn't think I was at my best. I was fighting a lot of things early on leaving spring training, but I wanted the ball, it was my turn to make a name for myself. Then I went down with a lat injury, take some time off and have to come back as a bullpen guy. All of it together was a learning experience for me because it helped for 2016 (developing a new workout routine). It started in '15, helped me there, so it was good for me."
DANIEL NORRIS
The left-hander debuted Sept. 5, 2014 at Fenway Park, coming out of the bullpen to protect a one-run lead by striking out David Ortiz to end the seventh, capping a four-level season that started in Dunedin. The next year, he won a spot in the rotation at camp, made five uneven starts with an uncharacteristic 12 walks in 23.1 innings, and amid a drop in velocity, was optioned to triple-A Buffalo. Norris didn't pitch for the Blue Jays again, becoming the centrepiece of a package shipped to Detroit for David Price before the non-waiver trade deadline. With the Tigers, he overcame thyroid cancer and struggled through back, oblique and groin injuries, allowing the dominant pitcher he can potentially be to emerge only in glimpses to this point.
"I think it was (the right thing to break camp in the spring of 2015)," says Norris. "Getting called up in September and being able to get to know the guys and build relationships, get my feet wet and then go into spring training having a little bit of confidence, that paid huge dividends for me. Then having a good camp and breaking camp was good.
"Ultimately for me, that April, I wasn't throwing the ball the way I did in the spring, that's why I got sent down, and I understood that at the time. You look at guys like Osuna, he broke camp and took off. So you have to challenge guys, for sure, and see what they're made of.
"For me, in '15 I just wasn't healthy for the first few months of it, really. Even after I got sent down, my velocity was down quite a bit and that was the main thing. Even when I got sent down, I had a 3.86 ERA, which is respectable, but I was throwing 90 miles an hour instead of 95, 96 like I was in the spring. In the spring I was striking out a lot of people and I wasn't walking people, then in April that's kind of what of the story was.
"Also when I got sent down, it wasn't a get-out-of-the-limelight kind of thing, it was more I have a dead arm thing going on. It took me a couple of months to get over that, and when I started throwing the ball better, I pretty much got traded. So for me it was just a matter of getting healthy and feeling right that year. I don't think it was really the test of being in the big leagues, I felt prepared for it."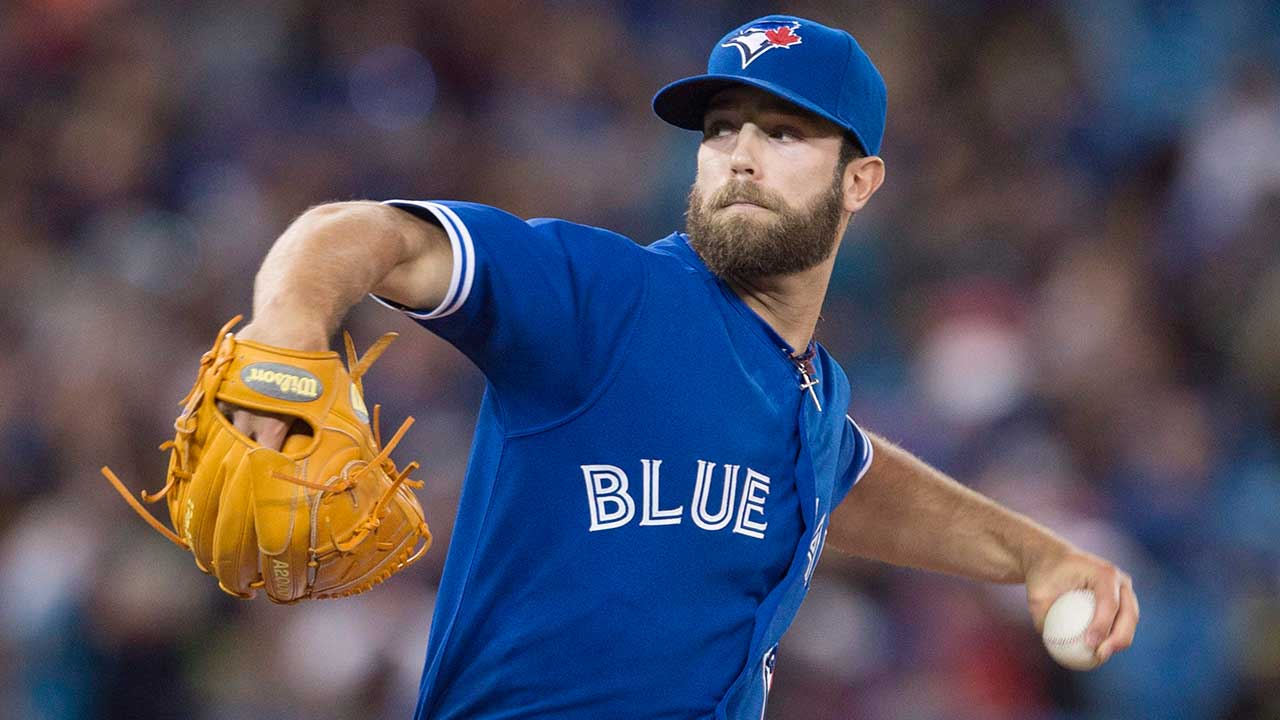 ROBERTO OSUNA
Roughly a year and a half removed from Tommy John surgery, with all of seven games at advanced-A Dunedin under his belt, the right-hander delivered a dominant spring to win a job at the ripe age of 20. Matured by his experience pitching pro ball in Mexico at 16, Osuna was never fazed on a big-league mound, rising rapidly into a trusted leverage role and, eventually, into the closer's job. He was similarly excellent last year before a somewhat uneven 2017, earning his first all-star nod while also blowing 10 save chances.
"This is the right place to learn, this is where everybody wants to be and if you want to learn or make some adjustments, this is the place," Osuna says of reaching the majors so quickly. "You never know what's going to happen in the minors, double-A, triple-A, there's a long process. You get bored, you get tired, you don't want to play anymore, so for me, I think this was the right place because if I have to make some adjustments, I have to make them right away. I don't have a year, I don't have a week, I don't have another day to make them. For me, this was the right place.
"I'm still learning how to use my fastball and I'm going to keep learning forever, how to locate my fastball. I've learned a lot of things about hitters, things I didn't know when I came up to the big leagues. When I came up, I thought everything was about throwing hard and that's it. But when you're here, I learn every day, and I wish I could know those things when I came up.
"I went through (the pressure, the lifestyle and other challenges) when I was 16 and started playing professional in Mexico. It's almost like the big leagues. Probably not as big as it is here, but there was a lot of pressure out there, being 16, I was looking to sign with a team in the big leagues. So really when I came up (in the big leagues) I didn't feel any of those things. I was just focused on what I needed to do, I was never concerned about all those things."
MIGUEL CASTRO
The lanky, six-foot-seven right-hander was even less experienced than Osuna coming into spring training, finishing the 2014 season with a couple of games at Dunedin. Still, he was the story of the spring in 2015, forcing the team's hand with a dominant showing while other relievers faltered. Once the season started, a 20-year-old Castro quickly pitched his way into leverage work, recording saves in his third and fourth appearances. But hitters soon locked in on his near triple-digit velocity and he surrendered runs in five of his seven games before his demotion to Buffalo. He was later demoted to Dunedin, bounced back to triple-A and then was traded to Colorado as part of the package for Troy Tulowitzki. Castro never settled in with the Rockies, who designated him for assignment this past April, eventually sending him to Baltimore. In 39 games with the Orioles, he posted a 3.53 ERA over 66.1 innings, with a 1.221 WHIP and 38 strikeouts.
"It was definitely a whole lot of stuff, very quick," Castro, speaking through interpreter Ramon Alarcon, says of his 2015 debut. "At the same time I'm positive about it, I take the positive things about it. It was a learning experience for me to be there and to watch how the other guys were doing, the veterans, just observe how they prepared for the game. The things they do to try to improve their game, I tried to copy that and implement that to my game. From that standpoint, I really appreciated it, but it was a whole lot of stuff very quick, for sure.
"I'm definitely a different pitcher from that time to now. In this organization I've had the chance to meet Ramon Martinez. Ramon has been very key for me. He has seen stuff in me and pointed out to me, given me really good feedback, stuff I can learn from and apply for the next game. That's really been a helpful tool for me and I'm very thankful for that.
"Experience is invaluable so I would say from that time to here, just learning from every opportunity has been the thing that's made the biggest difference in me. Obviously I'm trying to be more dominant with my pitches so that's what I'm trying to do right now."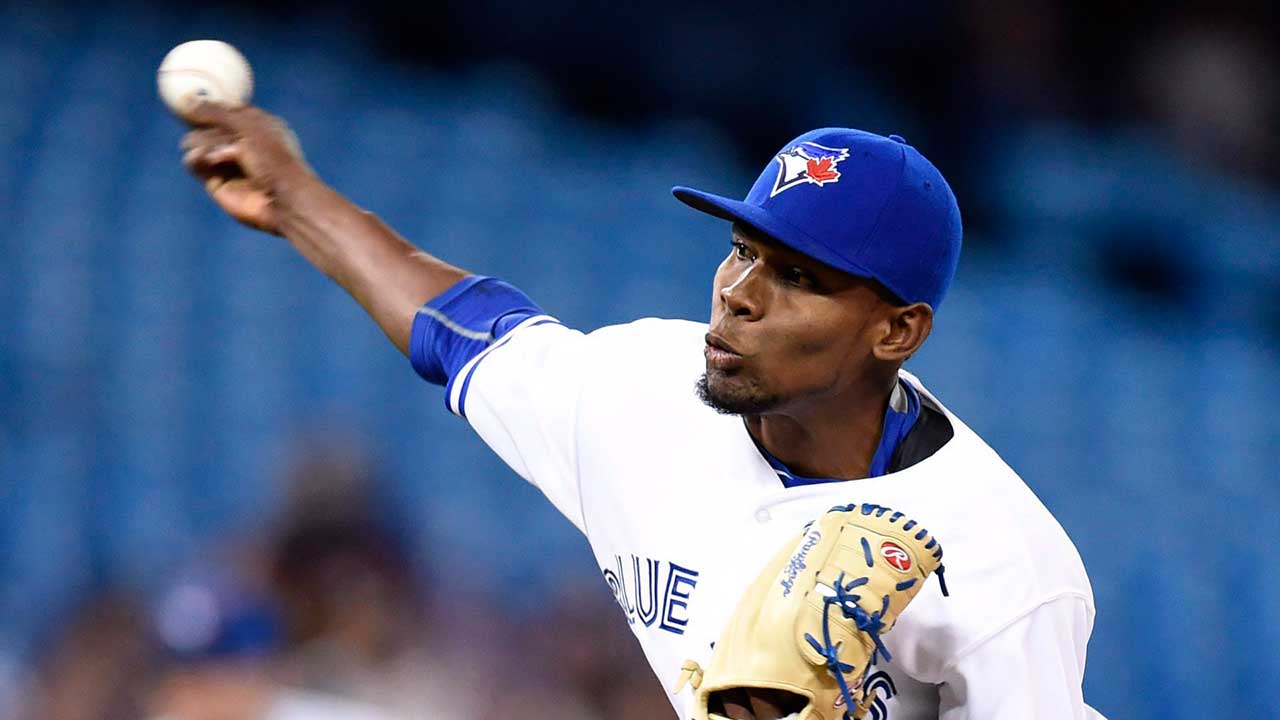 DEVON TRAVIS
Acquired from Detroit for Anthony Gose during the off-season, the second baseman with 100 games at double-A under his belt showed up at spring training and hit his way into the lineup. At the same time, he also answered the questions about his defence that arrived with him, hit the big-league ground running out of the gate, and at 24 looked like an all-star in the making with the bat. Injuries, however, threaten a career filled with promise. A rare shoulder/collarbone issue truncated his rookie year and ate into part of 2016, which ended with a knee injury that recurred this past season. An attempt to get back on the field in September was aborted by a setback and his status for next season is uncertain.
"You have to believe that you are ready but I had just finished my second full season, I only finished in double-A the year before, so I wasn't completely sure," Travis says of making the team in 2015. "There was a lot of uncertainty in my head, just in the sense of the normalness. You want to prove that you belong and you don't know what's about to happen going forward. I wanted to believe I was would probably be the best answer. You have to prove yourself when you get here and I was definitely up for the challenge, that's for sure.
"Getting your first hit is the initial icebreaker. You can't really learn what the big leagues are like until you get to the big leagues. You can have all the preparation you want, try to make things as close as you can, but when you get to the big leagues it's just a different game. It's just fast, it's a faster game, everybody is smarter, better. I don't know exactly what happened that first month that made me realize that it was different, but you've got to get here and play here to feel what it's like.
"I don't think I would have been ready for the Osuna and Castro jump, that's for sure. That takes someone really special to be able to do that. For me, the timing was right, I'm so thankful I got traded here and had the opportunity to make the big-league club, because if I was in Detroit, things could have been a lot different."
Ben Nicholson-Smith is Sportsnet's baseball editor. Arden Zwelling is a senior writer. Together, they bring you the most in-depth Blue Jays podcast in the league, covering off all the latest news with opinion and analysis, as well as interviews with other insiders and team members.
DALTON POMPEY
The athletic, switch-hitting centre-fielder debuted Sept. 2, 2014, like Norris capping a four-level progression to the majors. He impressed in that stint and came to camp the next spring as the favourite to win the job in centre, which he did. Things didn't go well, both at the plate and in the field, he was demoted to triple-A and then double-A, although he ended up on the Blue Jays' post-season roster in 2015, his speed on the basepaths becoming a weapon. Last year a concussion set him back and this spring, with opportunity abounding, he suffered another concussion playing for Canada at the World Baseball Classic. Once he returned to action, knee problems submarined a year of missed opportunities.
"I feel like I'm kind of going through all of these learning experiences now. Usually guys go through it before they get to the big leagues. But I'm going through it after the fact," Pompey told Sportsnet's Arden Zwelling in the summer of 2016. "Like, I didn't know what a routine really was until after I got to the big leagues and I started seeing guys doing different stuff and talking to them about how they go about their business. I really didn't know how to go about things because I just didn't have enough time to learn that, you know?
"I don't regret anything. A lot of the stuff I went through up there was a learning experience – it's only going to help me going forward. And when I went back up in the playoffs and got to make contributions, that did a lot for me. The experience made me more confident. And it also made me appreciate being there. Because I feel like when you're here in the minors sometimes you lose sight of being in the big leagues. But then once you're there you realize how special it is to be there. And how few guys get that opportunity. So, I know every time I go back from now on I'm just going to soak it in and put myself in the best possible situations to succeed. And if I do, I do. And if I don't, I don't. And I go back to the drawing board."