Not many Toronto Blue Jays fans are familiar with Clint Everts, but without him the team's rotation might look a little different.
Everts, a soft-spoken Texan and 12-year veteran of professional baseball, is the man behind Marco Estrada's famous change-up.
Estrada and Everts met in 2007 playing for the high-A Potomac Nationals. Neither was having a particularly good season. The former finished with a 4.94 ERA, the latter with a 4.81 mark. At 23 and 22, both were touch old for the level.
When the pair was playing a casual game of catch one day, Estrada found himself very impressed with what Everts was tossing his way.
"He was throwing a few change-ups and I thought 'that pitch is nasty, I need to be able to throw something like that.'" Estrada recalls. "I just asked him how he held it and he told me how he got on top of it."
Everts didn't have an exotic grip, but he did have a feel for the pitch, which is what he tried to impart to his teammate.
"There wasn't anything special about the grip, I wasn't trying to manipulate the ball differently," Everts says. "We mainly talked about when to use it and how to keep up your arm speed up so the grip slows it down and your arm action creates the movement."
It can take a long time to fully integrate a new pitch, especially a "feel" pitch like a change-up, into a pitcher's repertoire. Many new offerings are experimented on in bullpen sessions for ages before seeing the light of day, and some never do. For Estrada, the change-up became a go-to weapon in a hurry.
"It didn't take me very long to find it," he says. "I just kept throwing it while I played catch and brought it into a game and had a few swings and misses. So I told myself 'this is it, this is a pitch that's going to get me somewhere.'"
Randy Tomlin, Potomac's pitching coach at the time, recalls having long discussions with Estrada about how to get the most out of the change-up.
"We may have talked about grips, but the belief in the pitch and how to use it is what we spent most of our time talking about," Tomlin says. "It became a good pitch for him very quickly."
With a new weapon in hand, Estrada quickly climbed the Washington Nationals' organization ladder. He allowed only four runs in his final four starts of 2007 and breezed through double-A and triple-A in 2008 to make his major-league debut that September.
Now an All-Star who has the best ERA in the American League since joining the Blue Jays, Estrada owes much of his MLB success to the pitch Everts showed him nine summers ago. But if there's nothing unusual about the grip, it's worth asking what makes the pitch so special.
The first piece of the puzzle is the extraordinary velocity gap Estrada gets between his fastball and change-up. With a separation of more than 10 mph, if a hitter sees it as a four-seamer out of Estrada's hand he doesn't stand a chance. Batters are consistently out in front of the pitch and swing above it, like Rockies slugger Nolan Arenado.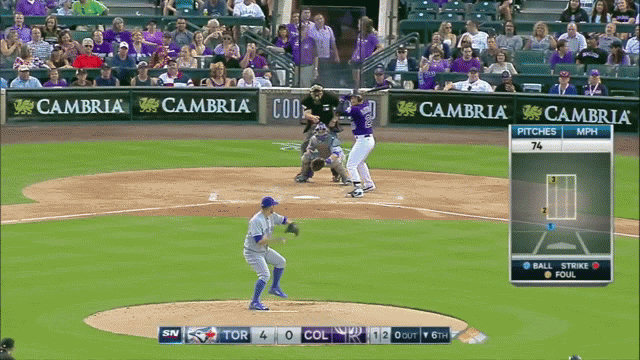 The second wrinkle to the pitch is that it actually has very little drop. Estrada's change-up drops 2.47 inches less than the next-closest change, least among those who have thrown at least 200 change-ups this year.
An ideal change-up is supposed to fall off a cliff, and Estrada's doesn't. That would seem to be a handicap, but according to Eno Sarris, FanGraphs' resident pitch grip and PITCHf/x guru, it's mitigated by the velocity gap.
"I think if you don't have good velocity gap, you want tons of movement — think of Felix Hernandez and Zack Greinke," he says. "If you do have good velocity gap, the movement difference isn't as important."
Also, even if the lack of vertical drop would appear to be sub-optimal, it creates a unexpected challenge for opponents.
"Movement that's different from the norm is always good," Sarris adds.
Hitters expect a pitch travelling at 78 mph to dip, and adjust accordingly. When Estrada's change stays up they find themselves in the unusual position of swinging under an off-speed pitch, like Byung-Ho Park of the Minnesota Twins did in May.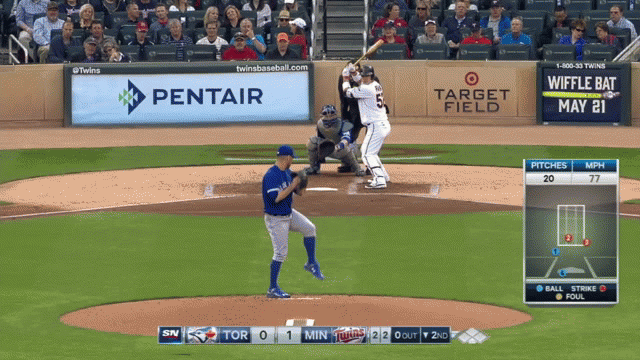 This uncommon vertical movement gives Estrada a little more room for error. Even when opponents sit on his signature pitch it's difficult to barrel up, which gives him more confidence.
"I'm sure there are plenty of times when guys sit on it," he says. "But if I locate and make my pitch it's still not going to get hit."
It certainly hasn't gotten hit during his time in Toronto. Since the beginning of the 2015 seasons he's recorded 115 strikeouts with the change-up, holding opponents to a .166 average and .277 percentage on the offering. The pitch's success is a huge part of what has made Estrada must-see TV for many Blue Jays fans.
Back home in Houston, his old friend Everts also enjoys seeing him put on a show using the weapon that he taught him.
"I always love watching him pitch," he says. "He's not the biggest guy or anything, but he's got some great stuff and over the last two seasons he's really come into his own and become dominant."
The only thing Estrada has failed to do with his change-up is make like Everts and pass it down to the next generation. He'd love to see teammates take his unconventional weapon and run with it, but ultimately he can't teach what he doesn't understand himself.
"I've tried to, but guys just can't throw it. There's nothing special about the grip, it's just a four-seam fastball you move over and hold with your pinkie, middle and ring finger, so I don't know why mine does what it does, if it does anything."