ANAHEIM, Calif. – Mike Trout entered play having reached base an unfathomable 32 times in his last 42 plate appearances yet like the rest of the Los Angeles Angels on Friday night, he was handled rather effectively by Marco Estrada.
The all-world centre-fielder was caught looking not once but twice by the Toronto Blue Jays right-hander, while also flying out lazily to left field against him in the seventh inning. The 0-for-3 ended a nine-game on-base streak for Trout, who failed to reach for the first time since June 10 at Minnesota.
"That guy, he's the best player out there," Estrada said after throwing seven strong innings in a 2-1 Blue Jays loss. "Sometimes you need those calls up in the zone to get him, I guess, which I had two of them. I still haven't seen them so I don't know exactly where they were, but they were close enough, I guess."
Mike Trout's two strikeouts against Marco Estrada. First inning on the left, third inning on the right. (Courtesy: Baseball Savant)
Estrada didn't need any help from home-plate umpire Manny Gonzalez in the first, getting strike one on a changeup up and away, getting to 2-2 on a heater up and in and then freezing Trout on a 3-2 changeup down and away.
In the third, though, Trout had reason to complain when after swinging through a 2-0 fastball, he looked at two heaters up and in that appeared to be out of the zone but Estrada got the calls both times for another of his seven strikeouts on the night.
Perhaps helping Estrada's cause in that regards is that he worked up in the zone effectively all game, overcoming a shaky first in which he allowed a pair of runs to give up only a hit and a walk over the next six innings.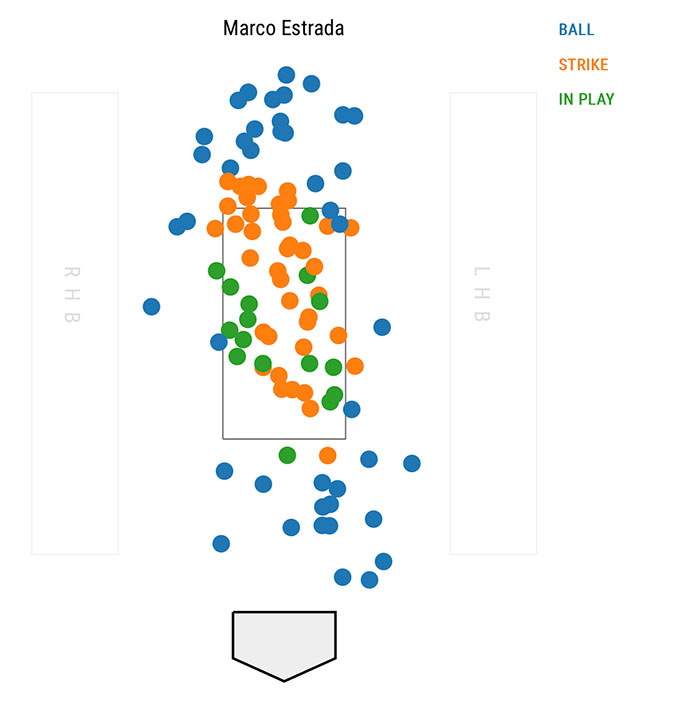 Marco Estrada's pitches against the Angels over seven innings. (Courtesy Baseball Savant)
"To be honest with you, that first inning I had the sun right in my face. I don't know what it was, just a little opening in the top part of the stadium, and I had no idea where the ball was going. It was really hard to see but once that went away, I started making better pitches," said Estrada.
"We elevated a lot of fastballs, it seemed to work well with these guys. That's a really good lineup over there and I've struggled against them so it was good to go out there and give the guys some innings and keep them in the game. We came up a little short."
The outing extended Estrada's recent roll to four starts, during which he's allowed only five runs in 25.2 innings on 16 hits and five walks with 26 strikeouts.
With the Blue Jays bullpen in need of a breather after logging eight innings Thursday when Aaron Sanchez left the game after one frame with a bruised index finger, his latest effort was timely.
"It's been getting on top of the baseball," Estrada said in explaining his recent run. "I feel like I've been spinning the ball a little better, it's the same velocity, but I feel like there's more life behind it. And we've been using every pitch. Not tonight so much, we threw a lot of fastballs and my changeup didn't feel all that great. But in the games before this we used a lot of cutters, a lot of curveballs, today we just elevated. Just keep mixing everything up."
O-FER OFFENCE
Typically when you get three times as many hits as the opposition it's going to be a good night. Yet because they went 1-for-6 with runners in scoring position, the Blue Jays came up short despite outhitting the Angels 9-3.
Crucially, the Angels also took away some hits, most notably in the second inning when Russell Martin mashed a ball that looked gone off the bat but ended up in the glove of Justin Upton as leaped into the left-field wall.
Third baseman Luis Valbuena also made strong defensive plays on Randal Grichuk in the second and fourth innings, all of which loomed large given how tight the game ended up.
"We threw some hits up there, we just couldn't get the big one," lamented Blue Jays manager John Gibbons. "The big play, though, was Upton catching Russ's ball, early in the game you never really realize it at the time. Both pitchers pitched really well. Marco, hell of a job, and (Andrew) Heaney did a good job. A big hit could have made a difference."
Grichuk looked like he might have tied things up in the seventh when he sent a drive down the right-field line but the ball hooked just foul at the last minute. He ended up grounding out to third after a safe call at first was overturned by replay.
"A hit here or there, a big home run, would make a difference but every team in baseball can say that," said Gibbons. "That's just the way the game is sometimes. They scored their two in the first inning and made it hold up, which is tough to do."
In this MLB and Toronto Blue Jays podcast, Dan Shulman takes a look at the human side of baseball. Because everyone in the game has a story.
WELCOME BACK PEARCE
Steve Pearce was activated off the disabled list as part of a series of pre-game roster moves by the Blue Jays and responded with three hits in four at-bats while batting in the leadoff spot versus the left-handed Andrew Heaney.
"It's a good feeling," said Pearce, who missed 43 games with a left oblique strain. "I really didn't have to work that long (on rehab assignment) and sometimes it can go the other way. I'm very fortunate that I came back and I felt really good even when I started rehabbing. At that point, it was get healthy and try to get back as soon as possible."
Along with Pearce, Sam Gaviglio was returned from paternity leave, with Lourdes Gurriel Jr., optioned back to triple-A Buffalo and Danny Barnes placed on the disabled list with tendinitis in his left knee.
The addition of Pearce gives the Blue Jays five outfielders and when asked how he'd fit in all the pieces, Gibbons bluntly replied, "I don't know."
Ben Nicholson-Smith is Sportsnet's baseball editor. Arden Zwelling is a senior writer. Together, they bring you the most in-depth Blue Jays podcast in the league, covering off all the latest news with opinion and analysis, as well as interviews with other insiders and team members.
SHORT HOPS
John Gibbons said Aaron Sanchez's index finger remained tender Friday so the team was no closer to knowing if he can make his next start. The Blue Jays remain TBA for Sunday with Sam Gaviglio and Jaime Garcia up for the outing, although both could end up making starts if Sanchez won't be ready to go. … Josh Donaldson may not be ready for a return to the Blue Jays until next Friday's series opener against Detroit at the dome, as Gibbons said, "I wouldn't think so, but I don't know for sure," when asked if the third baseman could rejoin the the team in Houston on Monday. … The Blue Jays don't have a timeline for Danny Barnes, whom Gibbons said has been fighting discomfort in his knee for a couple of months now.