•Blue Jays should be pleased with the way Stroman achieved WBC success
•Detractors still point out absences of Mike Trout, other major stars from tournament
•Opportunity for both Stroman and WBC to move onwards and upwards

DUNEDIN, Fla. – Amid the celebratory afterglow of Marcus Stroman's dominance in the United States' World Baseball Classic championship, two of the more pertinent talking points are where both the Toronto Blue Jays right-hander and the tournament itself go from here.
That Stroman relishes the bright lights of grand stages is no surprise, and neither is that he threw six no-hit innings against an elite Puerto Rico lineup before surrendering a double to Angel Pagan in the seventh frame of an 8-0 win in the final.
As Blue Jays manager John Gibbons likes to say, it's in there.
Still, a tournament MVP quality Classic – 15.1 innings of four-run ball, with all damage coming in one partially BABIP unfriendly inning, with only 12 hits and two walks allowed – is far from guaranteed to springboard him to a spectacular 2017 with the Blue Jays.
After all, as ferociously as the games were competed during a thoroughly entertaining tournament, performances remain subject to a certain degree of spring training vagary, with players taking the field at different levels of readiness.
That's why the most important takeaways from a Blue Jays perspective for Stroman are not his results, but the way he achieved them.
The way his sinker induced so much weak contact, the way he spun his breaking ball and the way he varied the pace of his delivery to keep hitters off-balance are the things that really bode well, since all are key elements he needs to successful.
In the final, Stroman pulled them all together, recording 11 of his 18 outs on the ground in what he described as "probably one of the biggest if not the biggest game I've ever pitched in."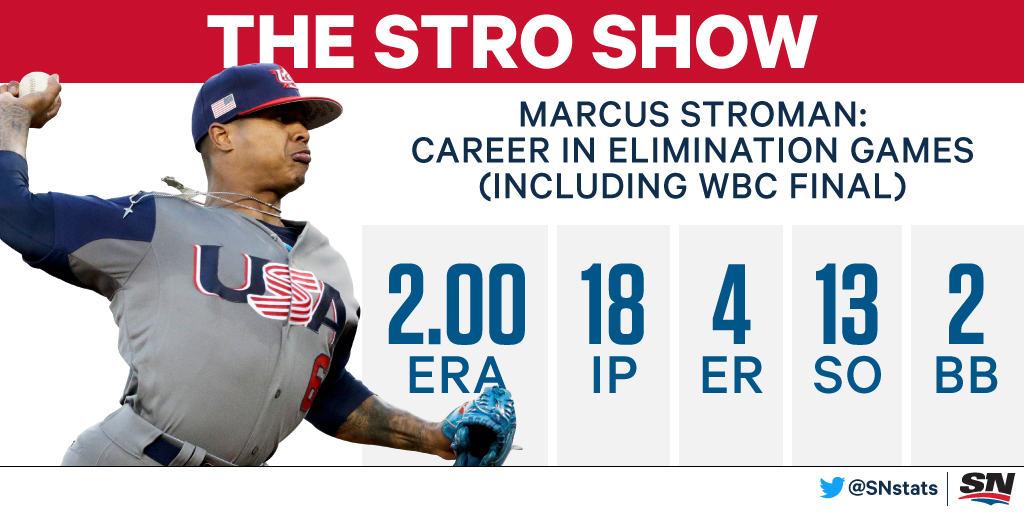 Similarly important is that when he was a touch off – during his one bad frame, when he allowed six straight hits and four runs in the first inning of the Americans' second-round, 6-5 loss to Puerto Rico – Stroman managed to adjust.
He recovered to throw 3.1 more innings in that start without further damage, a service that can't be understated in a tournament like the Classic.
"I was a little more effective with my location and my sinker. I was down more," Stroman told reporters in Los Angeles of the difference between the two outings. "Last time I was a little up. I was able to vary timings (Wednesday)."
The challenge for Stroman now is to stay right there, a notion that goes for the World Baseball Classic, as well, which in many ways has been more polarizing than an uninvited fifth wheel since its 2006 inception.
Typically, the tournament is beloved by participants (super mad Adrian Gonzalez a noted outlier) and Major League Baseball executives eager to expand the game's reach and reap additional profits. It's loathed by baseball operations and player development staffers resentful of the disruption to their spring camps and the inherent risk of injury to their players.
The conflict there plus the unavoidable flaws caused by the Classic's timing (there is no ideal time for it, every option has issues) have prevented the type of full-scale buy-in needed to really have the event get the due it richly deserves.
International baseball competitions remain a largely foreign concept – even four Classics in – to the American baseball public and the feeling has been that a United States victory was needed to better capture the imagination.
Well, Stroman and company delivered this time, clinching the final before a crowd of 51,565 at Dodger Stadium, pushing the Classic's attendance record in 2017 to 1,086,720.
Prior to Wednesday's final, commissioner Rob Manfred noted that Classic games were carried in 182 countries and that MLB Network broke its ratings records for non-playoff games.
And the atmosphere created by the fans in general – but major props to the Dominicans, in particular – "had passion that it's hard to think where you saw something that good the last time, I mean, just really amazing," praised Manfred.
Toronto Blue Jays on Sportsnet NOW
Want to stream every Blue Jays games this season? Sportsnet NOW has you covered. Catch every Blue Jays game, marquee MLB matchups, the 2017 Home Run Derby and All-Star Game, the playoffs and entire World Series.
Yet detractors can still point to the absence of transcendent stars like Mike Trout, Bryce Harper, Clayton Kershaw and Madison Bumgarner from the American roster, the way declined invites ravaged the Canadian roster and the rejection of other stars as major faults.
The criticism is not unfair.
Take Sidney Crosby, Alex Ovechkin, Connor McDavid and Jonathan Toews away from last fall's World Cup of Hockey, for instance, and the product is very much diminished.
But a longstanding issue is that people continually look at the Classic for what it isn't, rather than appreciating it for what it is. There is no March baseball experience comparable to the Classic – not one that's even close – and the drama created by the event's format is completely unique.
Simply put, if you enjoy baseball and are ignoring this tournament, you're missing out on terrific theatre and good fun.
Perhaps, with the Americans winning it for the first time, the gospel will spread. Manfred sounded confident of that, saying that "when you have a tournament that gets the kind of traction that the 2017 edition did, it will make it easier to get players the next time around."
Maybe to get the tournament off the ground again in 2021, as well, as chatter in the leadup to this iteration suggested it might be the last one. But Manfred dismissed that notion back in February, telling Sportsnet that he "had unanimous support among the owners that this is an important initiative for us," and speculation on the Classic's looming demise was "wishful thinking from baseball operations people who'd rather keep their guys in camp. I don't see it at the ownership level."
With strong attendance, strong TV numbers and surely strong profits from this one, he probably won't now either. There's lots of opportunity now to move onwards and upwards, both for the World Baseball Classic as a whole and the Blue Jays right-hander who starred in it.