ANAHEIM, Calif. – Good happenings are a scarce commodity around the Toronto Blue Jays these days and when Marcus Stroman's return from the disabled list Saturday was countered by the loss of not one but two other starting pitchers, they certainly needed a lift.
The right-hander provided one in his first big-league start since throwing five messy innings May 8 against Seattle, navigating traffic effectively over five shutout frames against the Los Angeles Angels.
In combination with Steve Pearce's timely three-run homer in the top of the ninth, which came right after Luis Valbuena's 440-foot solo shot off Seunghwan Oh tied the game in the eighth, the Blue Jays ended a two-game slide with a 4-1 victory.
While the losses of Aaron Sanchez (right index finger contusion) and Jamie Garcia (left shoulder inflammation) hurt, an outing that hinted at a return to form for Stroman helped ease some of the sting.
"Any time guys go down you have to do everything you can to build around your guys and pick them up," said Stroman. "I'm glad to be back, I'm glad I was able to keep our team in a position to win, I look forward to doing that each and every outing, that's kind of my forte and how I pitch. Hopefully those guys get healthy soon, obviously we need them."
The Blue Jays have needed Stroman, slated to be their opening day starter until a bout of shoulder inflammation in the spring derailed those plans, and Angel Stadium certainly made an intriguing place for him to come back. Last May 8 he threw a complete game here but left some Angels players, Albert Pujols first and foremost, fuming after an exuberant celebration of the final out on the mound.
There was no such drama in the return engagement, as Stroman sought to regain the sharp sink on his two-seamer he rode to so much success in recent years. He had spent his time on the disabled list focused on strengthening the right shoulder that truncated his spring and curtailed his effectiveness because he had to gear up on every pitch. That flattened out his sinker, causing more horizontal movement than vertical movement.
Though his ground-ball rates remained steady in the 60 per cent range, the hard-hit ball percentage against him spiked from 31.4 per cent last year to 46.8 per cent, per Fangraphs. His walk rate also rose from 7.4 to 10.2 per cent and as a result, his ERA entering the night was 7.71.
His performance Saturday shaved it down to 6.80.
"When I'm going good I feel like I'm pitching at 80, 85 per cent and that's where I'm at right now," said Stroman, who added in hindsight he should have built up for another two weeks rather than rush through spring training to pitch in the opening series. "Earlier in the season I was max effort, I was pitching at 100 per cent every pitch and now I'm back to being very free and easy. Once I'm free and easy, I can do whatever I want. …
"Arm feels way better and I'm moving way easier, I can pause, I can mess with my delivery now, I can do many things I wasn't able to do previously in the year. Feels great."
[relatedlinks]
To that end, the Angels repeatedly beat the ball into the ground, with seven of his 15 outs coming on grounders. Even five of their six hits came on ground balls that found holes.
Stroman also had two air outs to go with five strikeouts plus a nifty outfield assist from Kevin Pillar, who threw out a tagging David Fletcher at home for an 8-2 double-play that killed a rally in the third.
"The throw couldn't have been any more perfect," said Stroman. "KP is always picking me up."
Stroman's pitch mix was also more along the lines typical for him, riding 32 four-seamers and 23 sliders among his 81 pitches, while he was in the parts of the zone where he can be most effective.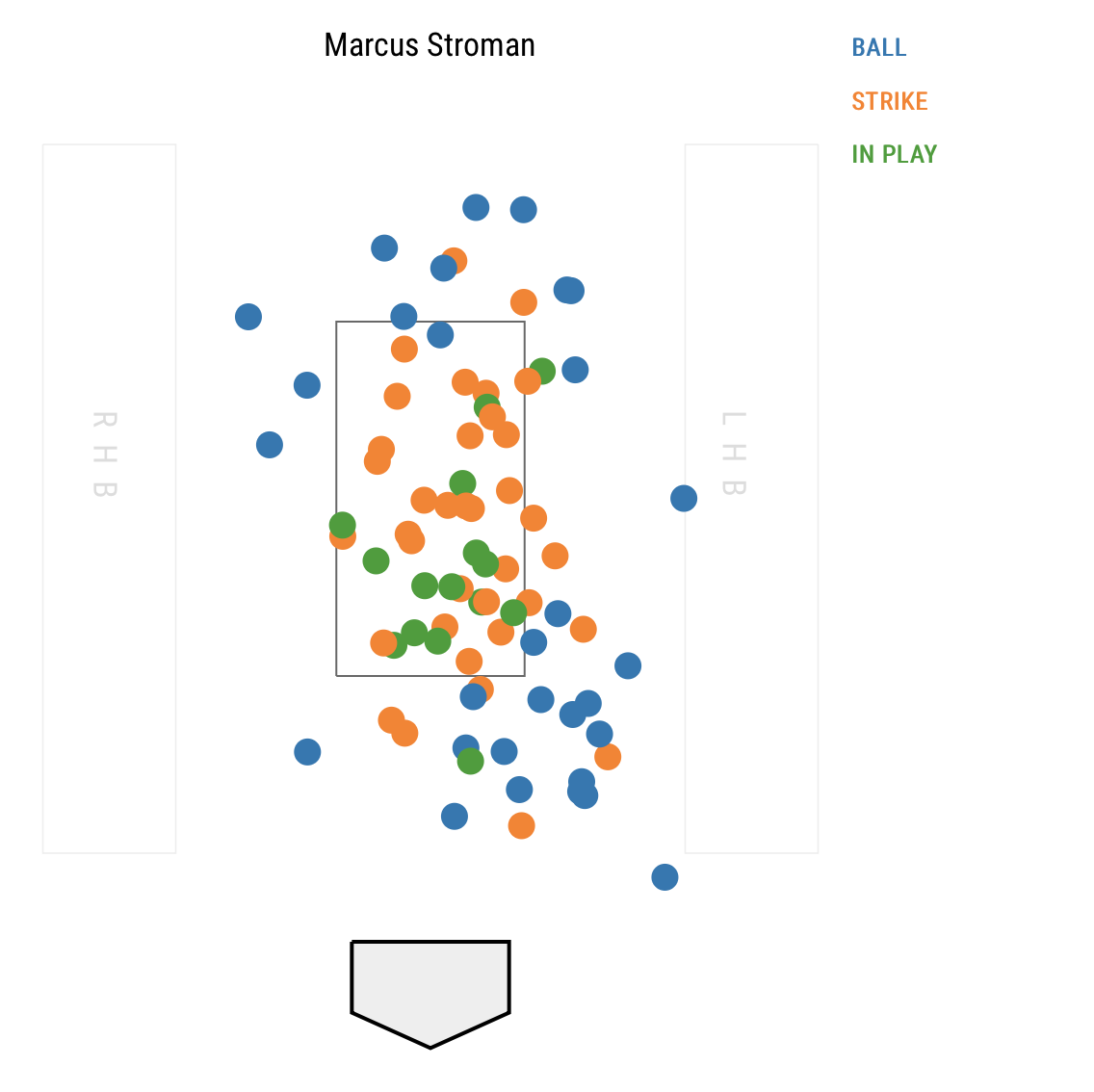 "Everything was really sharp. He didn't really dance around the zone too much, it looked like he was just attacking and making those guys swing the bat," said catcher Russell Martin. "To me that's a huge thing.
"When you get count leverage, strike one early, that's when you can dictate the at-bat a bit better. When it's the other way around, the hitter can dictate, 'OK, I want a pitch right here,' and if he gets it, he can put a better swing on it."
Added manager John Gibbons: "Best he's looked all year."
With Jaime Barria and the Angels relievers largely holding the Blue Jays batters in check, all of Stroman's zeroes were needed.
Teoscar Hernandez's third-inning solo shot into the left-centre field rock pile opened the scoring, and until Valbuena unloaded on Oh, looked like it might stand up as the difference.
Hernandez also helped turn an unusual double-play in the seventh, as he caught Ian Kinsler's liner, threw to second where a tagging Jose Fernandez slid in safely, but was called out on replay as his foot came off the bag while Devon Travis maintained the tag.
The Blue Jays broke through in the ninth despite a botched hit-and-run that led to Martin getting thrown out at second. With two out, Aledmys Diaz singled, Travis walked and Pearce, who entered the game as a pinch-hitter in the seventh, turned on the fifth consecutive slider Justin Anderson offered up and ripped a liner over the left-field wall just fair at 105.8 m.p.h.
"It was in the back of my mind, but I was just trying not to strike out," Pearce said of sitting slider. "In that situation, you've got two guys on, you've got to put the ball in play and let the chips fall where they may."
Ryan Tepera, the fourth Blue Jays reliever, closed things out in the ninth for his sixth save, helping ensure Stroman's promising return didn't go to waste.