TORONTO – Some of the leather is so weak that it rips as easily as paper. It's a grey-green colour in one area, where it used to be brown. There are two big holes in the middle, each about two or three inches long. It's even been subject to a hole punch.
This is Troy Tulowitzki's ball glove.
"Obviously it's old," the Toronto Blue Jays shortstop says, grinning. "I've been using it for a long time. But I feel comfortable with it."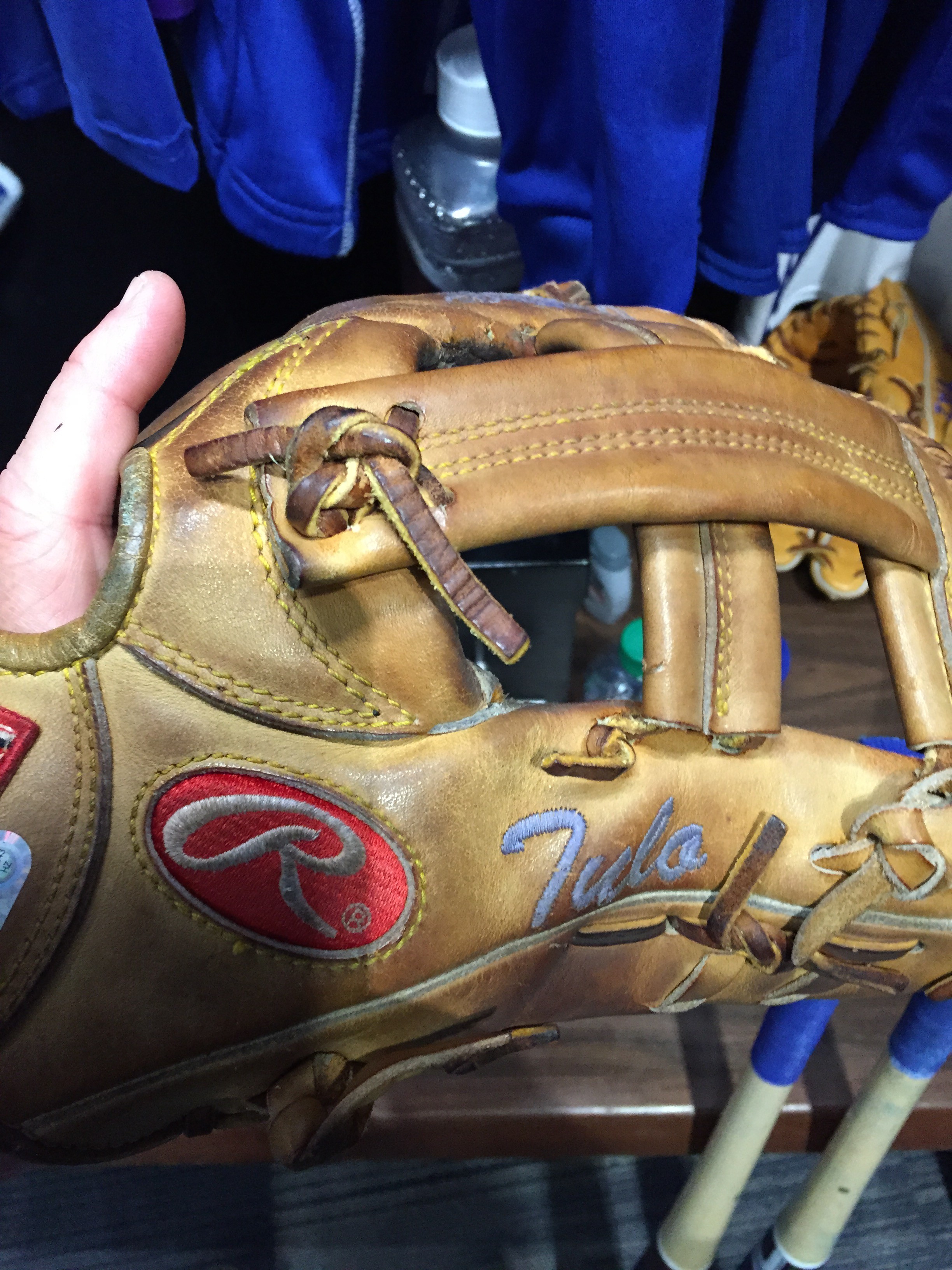 Photos courtesy of Kevin Malloy, Toronto Blue Jays clubhouse manager
Manager John Gibbons has noticed his shortstop's Rawlings, which looks like it's been through a war or two. "You mean how beat up it is?" Gibbons asks, grinning. "That's kinda the way baseball is; guys fall in love with a certain glove and they play very well with it. It's tough to let it go, you know?"
Well, Tulowitzki has had a harder time letting go than most.
"It's the worst glove I've ever seen," says clubhouse manager, Kevin Malloy. He's been working with the team for 33 years. He even witnessed Pat Borders' glove get lit on fire by teammates in the '90s because it was so worn out, and they wanted him to get a new one. Still, Tulowitzki's is worse.
You probably can't blame No. 2 for holding onto his glove, though: Tulowitzki won two Gold Glove awards with it, in 2010 and 2011. The 31-year-old hasn't made an error with it as a member of the Blue Jays, even though he figures the hole-filled and sun-cracked glove is in something like its eighth season.
"I put it away for a little bit and then brought it back out, so I don't know exactly, but it's been goin' for a while," he says.
Take a good look at that Rawlings and you have to wonder how it's still going.
"It's amazing, isn't it?" Malloy says, looking at a picture of the old mitt on his phone. "It's stunning that he would use this. It's something out of the Smithsonian."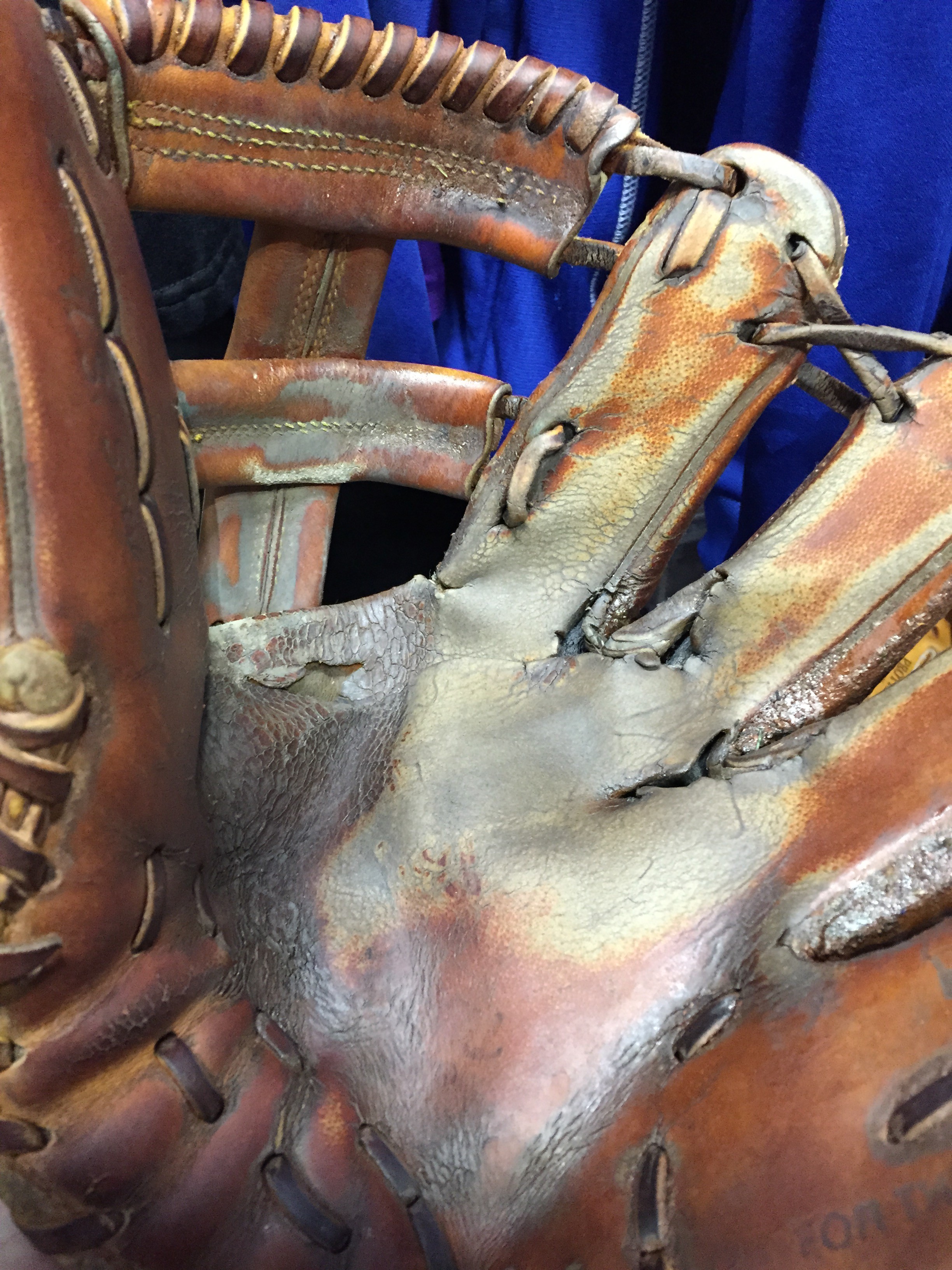 Malloy checks on the glove every day, to make sure the back webbing is tight. Back in August, in Texas, it came loose in the middle of the game. Malloy had three outs to work with, because Tulowitzki wanted his glove back in the top of the next frame. So he wrapped the leather string that keeps the glove tight around the hole where you'd stick out your index finger.
"At least that's solid," he says, pointing to the finger hole on the back of the glove, and the huge knot of leather laces outside it. "Anything else is too flimsy and it keeps ripping through the other side. It's like it's not leather anymore. It's paper."
Another time Malloy sent the glove to Bobby Hastings, the assistant equipment manager with the Toronto Maple Leafs, for a little surgery. Hastings stitched it up with a machine he uses on hockey equipment, and he ran a leather lace through an existing hole in the glove's palm. It held for a while, then ripped in a different spot. That's when Malloy took a hole punch to it and created new holes to tie the leather strings to. Those have ripped a few times, too.
"Look at those laces," Malloy says. "Looks like something from Christopher Columbus' shoe or something, right? That should all be replaced. That's gonna break. If he ever caught a ball in there [the back webbing], it would go through. I think it's done."
Well, it's certainly on life support. The goal now is to get the glove through the season, which the Blue Jays hope extends another two-and-a-half weeks or so.
Tulowitzki is doing what he can to prolong this beat up Rawlings' life. He tries to field the ball as much as he can with the palm, to save the back webbing from stress. (The palm is a colour that defies description: Something only spit and mud and pine tar and wear and tear can create). He uses the glove only in games, and has since August. In practice, he uses the glove he's working in, which he calls his "backup."
The way Malloy sees it, the old glove has a maximum couple weeks left in it, and then they'll have a nice ceremony for it and it'll live on a shelf. He hasn't told Tulowitzki about that plan, though.
"He has to know," Malloy says. "It's done."
Tulowitzki, it turns out, doesn't know. Asked if he'll retire the relic after this season, he smiles. "I'm not sure. We'll see," he says. "It gets the job done."