It was a busy off-season on the south side of Chicago.
The White Sox decided to go into full rebuild mode and dealt ace Chris Sale to the Boston Red Sox in exchange for a strong haul of prospects. They also moved outfielder Adam Eaton to Washington, receiving a good package centred around prized arm Lucas Giolito.
As we approach the 2017 season, we're previewing what's ahead for each of the 30 MLB teams. The Chicago White Sox are next:
Up-and-coming player to watch
Giolito could easily be the focus here, but we'll instead turn to one of the players brought to the Windy City in the Sale trade.
Yoan Moncada is Baseball America's No. 2 prospect for plenty of reasons. After opening eyes as a teenager in Cuba's top professional league, the switch-hitter posted an impressive .407 on-base percentage across two minor-league levels in 2016. He was called up to the majors in September, but only saw 19 at-bats over eight games.
The 21-year-old's swing has been described as line-drive oriented, which should lead to plenty of doubles, but more power could easily come as he ages. The second baseman also possesses great speed, especially considering he's six-foot-two.
What a successful 2017 season would look like
Don't expect many wins this year, but the White Sox are an interesting team to keep an eye on because of their high-profile prospects. This season will be all about developing those players, and letting them play through some mistakes.
Moncada was getting reps at third base in the Red Sox system, but his primary position is at second. With Brett Lawrie out of the picture, Moncada should be an everyday player at some point soon. Any growing pains can be easily swallowed because of the superstar potential he carries with him.
With Eaton gone, the starting centre field job should belong to Charlie Tilson, who came over from the St. Louis Cardinals last season. He put up strong numbers in the minors, including a 46-steal season with double-A Springfield in 2015. Tilson suffered a stress fracture in his foot early in spring training, but figures to slide into Rick Renteria's lineup on a regular basis once healthy.
Shortstop Tim Anderson, who was called up to the big club last June, is another name to monitor. He'll look to build on a season in which he hit .283/.303/.432.
Biggest remaining question
What exactly will this team look like at season's end? Despite boasting some impressive young talent, the White Sox still have some useful veterans who are likely to be coveted come the trade deadline.
Jose Quintana, who has been brought up in seemingly countless trade rumours, will be Chicago's biggest chip. The left-hander is coming off an all-star season in which he posted a 3.20 ERA. With Sale gone, the White Sox will be looking to Quintana to anchor their rotation.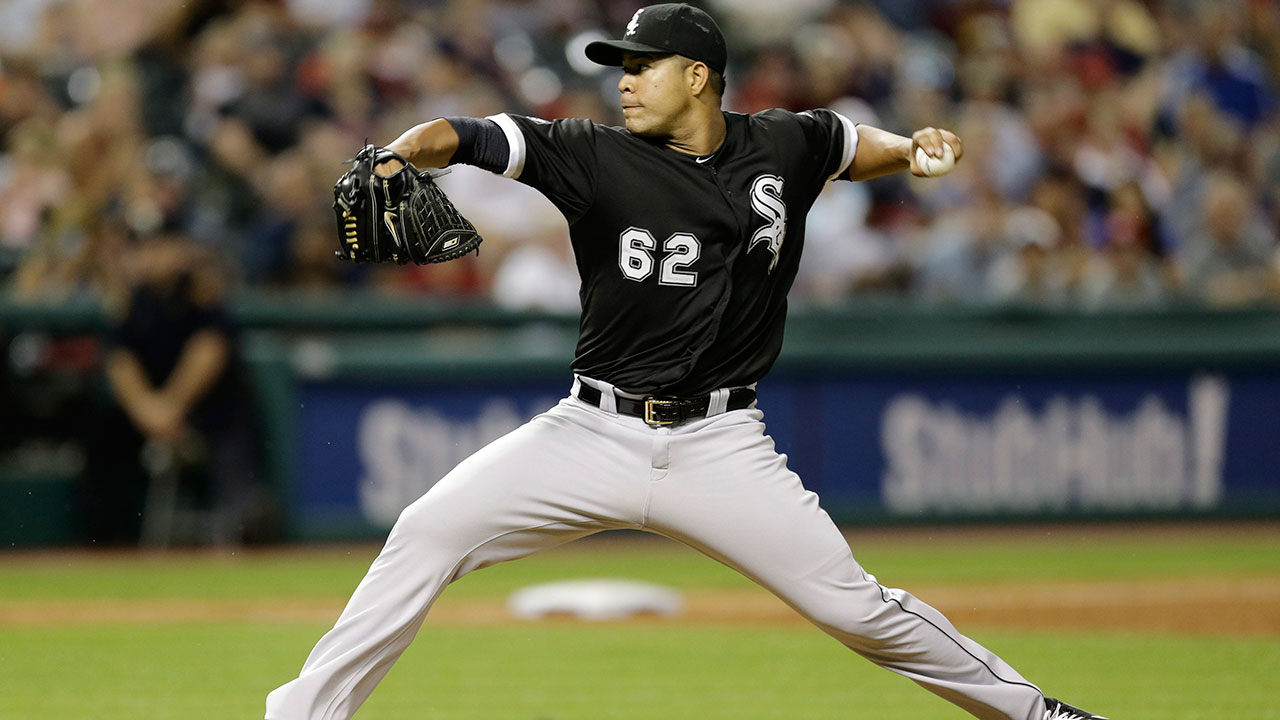 Quintana will serve as the ace of Chicago's rotation. (Tony Dejak/AP)
Contending teams eyeing someone to bolster their late-inning relief can set their sights on David Robertson, who has registered 110 saves over the past three years.
Offensively, the likes of Todd Frazier and Melky Cabrera should be readily available. Shipping out these veterans will allow the White Sox to acquire more impact youngsters as they look to the future.