Forgive me, because the battle still rages. The optimist in me is admittedly smitten by the Toronto Blue Jays' young arms — spring training was a bad case of 'Radar Love' given the way Aaron Sanchez, Daniel Norris and those two kids in the bullpen pitched — and a lineup that is among the best in the majors, but …
The realist fears for the youth. And Jose Reyes' hamstring.
So, you'll have to look elsewhere to find somebody who is picking the Blue Jays to go to the playoffs. Shoot, you won't even have to leave this website to do that. But as we get ready for opening day in the Bronx, I will tell you this: I am more optimistic than I was even in 2013 and I'm looking forward to this season more than any I've covered since, maybe, the 1993 and 1994 Montreal Expos. I promise you this will be fun; I promise you that we on Sportsnet.ca will write the hell out of it like nobody else.
And, in the meantime, here's how I see each division breaking down — with a storyline or two thrown in for good measure:
AL EAST
Boston Red Sox: Curt Schilling said Clay Buchholz isn't cut out to be an ace. He's right … but that won't be a mortal wound in this division.
Toronto Blue Jays: No organization in this division is as well-positioned for the long-term. If Drew Hutchison and the young arms keep body and soul together, they'll be in the picture at the end of this season, too. Prediction: Josh Donaldson hits more home runs than any other Blue Jays player and gets some MVP consideration.
Baltimore Orioles: No team makes better use of their 40-man roster than the Orioles. They'll need to this season, with early-season injuries to J.J. Hardy and Matt Wieters.
New York Yankees: The Yankees have had fewer wins than the Mets just once in 23 years. That was in 2000. They'll have fewer wins than the Mets this season, too.
Tampa Bay Rays: What happens first: the Rays make it back to the playoffs or relocate?
AL CENTRAL
Detroit Tigers: Shh. Hear those sounds? The first one is Justin Verlander's arm creaking. The second is the sound of a window of opportunity slamming shut.
Cleveland Indians: Brandon Moss is the finishing touch to a team on the cusp; in some ways, the smartest off-season pickup in the majors.
Kansas City Royals: Picking them as a wild-card team was a gut call … in honour of manager Ned Yost.
Chicago White Sox: General manager Rick Hahn spent $132 million on five free agents and traded for Jeff Samardzija. Massive, expensive turnover doesn't always work (see: 2013 Toronto Blue Jays).
Minnesota Twins: Paul Molitor picked a bad time to decide to manage.
AL WEST
Seattle Mariners: They're my pick to win the AL pennant; but you can pitch to that top of the order (Austin Jackson and Seth Smith). Nelson Cruz might want to note that free-agent righty hitters have had a tough time transitioning to Safeco Field, but at least they're not the …
Los Angeles Angels of Anaheim: Albert Pujols, Josh Hamilton, C.J. Wilson and Jered Weaver will make $87.5 million this year after a combined 8.4 WAR in 2014. Yikes. Howie Kendrick, maybe their most efficient player, is gone. This is a poorly-constructed team on the way down.
Oakland Athletics: They scored a ton of spring runs without Josh Reddick and now Coco Crisp, who is out for two months because of elbow surgery; since they're the A's, they'll figure out a way to contend.
Houston Astros: Collin McHugh's career trajectory looks suspiciously like that of Corey Kluber and while they'll strike out a ton, the Astros won't be in last place again for a long, long time.
Texas Rangers: The lineup for Adrian Beltre forms on the right.
---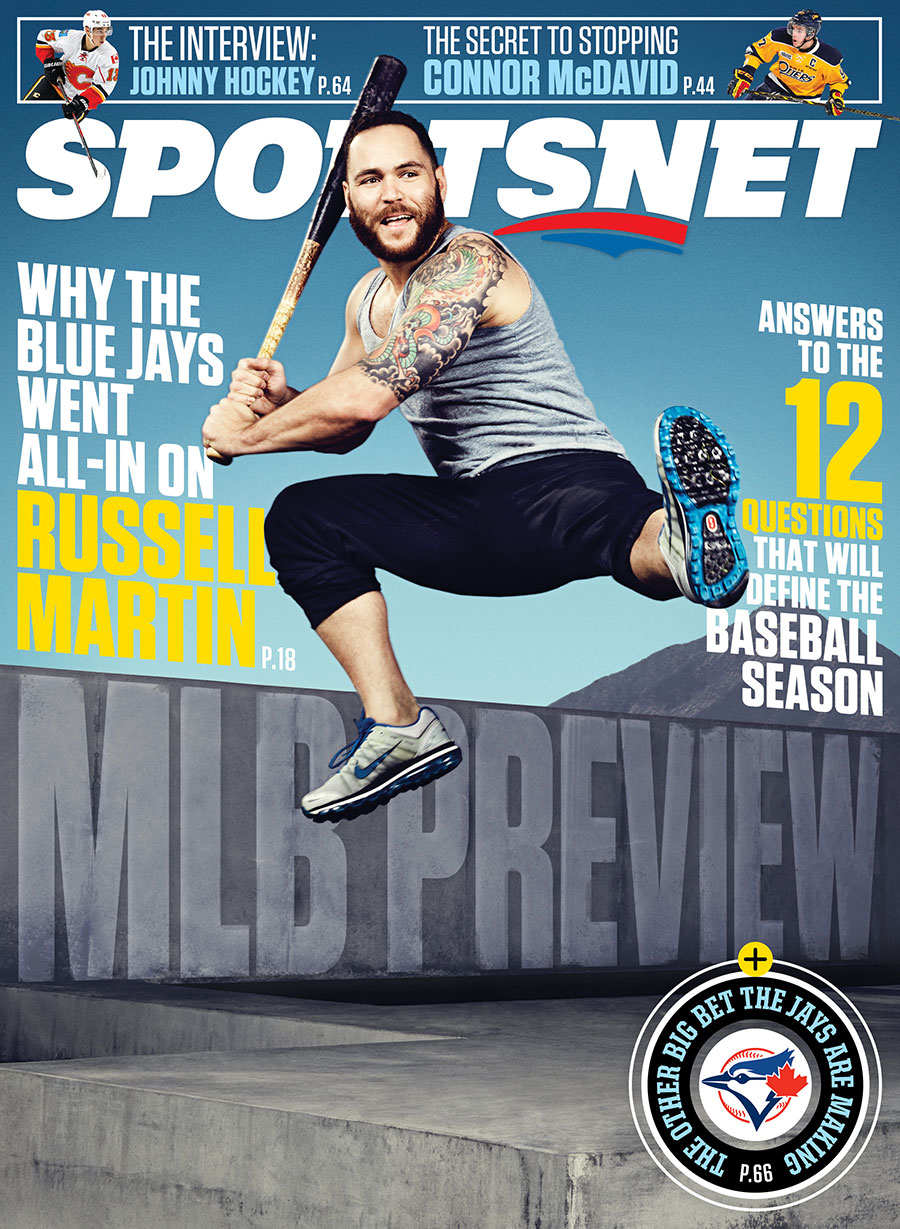 Sportsnet Magazine's MLB Preview: Why the Blue Jays went all in with Russell Martin, and answers to the 12 questions that will define the baseball season. Download it right now on your iOS or Android device, free to Sportsnet ONE subscribers.
---
NL EAST
Washington Nationals: They won't win the division by 17 games this season. More like 14 games.
Miami Marlins: They will score a ton of runs with Dee Gordon atop the lineup and if Jose Fernandez comes back in the mid-season, you won't want to face this team in the playoffs. Christian Yelich could be a breakout player.
New York Mets: Terry Collins could be the first manager fired in the majors; he could also be NL manager of the year.
Atlanta Braves: After back-to-back 90-win seasons, the Braves dumped Jason Heyward, Justin Upton, Melvin Upton, Craig Kimbrel and Evan Gattis to signal a re-build. What the Braves are saying is: 'Don't watch us until our new stadium opens in 2017.' They'll find people more than willing to take them up on the offer.
Philadelphia Phillies: Three spring training questions: when do they trade Cole Hamels and Chase Utley? How will they ever be able to trade Ryan Howard? How does general manager Ruben Amaro, Jr., still have his job?
NL CENTRAL
St. Louis Cardinals: Their fans are reprehensible and smug in that small-minded Midwestern sort of way … as we'll get to see in the playoffs once again.
Pittsburgh Pirates: No team reinvents a bullpen like the Pirates. Don't bet against them doing it again, even without Russell Martin.
Milwaukee Brewers: The Brewers led the toughest division in baseball for the better half of five months last year. Bounce-back seasons from Ryan Braun and Jean Segura might give them a sniff of the wild card.
Chicago Cubs: Not yet, Cubs fans. Not yet. But you have a better chance of winning the World Series in the next five years than, say, the Toronto Maple Leafs do of winning the Stanley Cup. One area of concern among the streamers and balloons: the high strikeout rates of youngsters Jorge Soler, Arismendy Alcantara, Javier Baez and Kris Bryant.
Cincinnati Reds: The Reds haven't had a pitcher win 20 games back to back since Bucky Walters in 1939-40. Johnny Cueto could pull off that trick … on the way to breaking the bank as a free agent and fleeing a last-place team that needs a rebuild.
NL WEST
Los Angeles Dodgers: Take the 12th-worst bullpen in the league and subtract the closer for at least a month; now add in health concerns for No. 3 starter Hyun-jin Ryu? Good thing this is the NL West, where the San Francisco Giants take odd-numbered years off.
San Diego Padres: Baseball's weird chemistry experiment won't blow up in anybody's face. But it won't make the playoffs, either.
San Francisco Giants: Madison Bumgarner tossed 270 innings last season between the regular season and playoffs. Think about that.
Colorado Rockies: Is there any reason for this franchise to exist other than to give Troy Tulowitzki and Carlos Gonzalez a place to play until they go elsewhere? The answer: no.
Arizona Diamondbacks: Smart baseball people expected the combination of an analytics-allergic front office (GM Dave Stewart and Tony LaRussa) and manager Chip Hale to be a mess. They are correct. Cuban free-agent Yasmany Tomas and his $68.5-million contract will start the year in the minors, where he will continue the transition from outfield to third base.
QUIBBLES AND BITS
Shi Davidi, Ben Nicholson-Smith, Arden Zwelling and myself weighed in with some predictions on Sportsnet.ca but I'm going to add some individual awards picks:
AL MVP: Robinson Cano, Mariners. Runner-up: Mike Trout, Angels.
NL MVP: Giancarlo Stanton, Marlins. Runner-up: Clayton Kershaw, Dodgers.
AL Cy Young: Felix Hernandez, Mariners. Runner-up: Corey Kluber, Indians.
NL Cy Young: Clayton Kershaw, Dodgers. Runner-up: Max Scherzer, Nationals.
AL Rookie of the Year: Carlos Rodon, White Sox. Runner-up: Taijuan Walker, Mariners.
NL Rookie of the Year: Joc Pederson, Dodgers. Runner-up: Kris Bryant, Cubs.
AL Manager of the Year: Terry Francona, Indians. Runner-up: John Farrell, Red Sox.
NL Manager of the Year: Mike Matheny, Cardinals. Runner-up: Mike Redmond, Marlins.
THE END-GAME
The most remarkable story of the spring might be the volte-face by Yankees ownership and management on Alex Rodriguez. Not only has his spring put him in a position to be a regular contributor, but he has been invited to appear in a charity golf tournament hosted by Yankees general partner Hank Steinbrenner, who says he is "proud" of A-Rod's spring. There are eerie overtones to the late George Steinbrenner's mercurial relationship with some of his stars and managers.
Jeff Blair hosts The Jeff Blair Show from 9-11 a.m. ET and Baseball Central from 11-noon ET on Sportsnet 590 The Fan. He also appears frequently on Prime Time Sports with Bob McCown.