This past Saturday's game between the Texas Rangers and Toronto Blue Jays presented an intriguing pitching matchup, and likely not for the reasons you'd think.
Sure, Yu Darvish and Marco Estrada are the respective aces of their clubs, but they're also impending free agents, both enjoying strong seasons and improving their stock with each outing.
Estrada outduelled his counterpart, with a Jose Bautista home run off Darvish acting as the difference maker in the Blue Jays' 3-1 win. The Toronto right-hander allowed just one run on four hits with eight strikeouts, further underscoring his transition into an elite-level starter.
Both hurlers moved up in the latest edition of our free-agent rankings (players who have contracts that will expire following the 2017 World Series, or who can opt to become free agents at that point):
No. 10
Mike Moustakas

Age: 28 | Position: Third base | Bats: Left
13 HR | .250/.293/.506| 0.3 WAR

Previous ranking: No. 7
A .293 on-base percentage is somewhat disappointing, but when you're just outside the top-10 in MLB home run leaders like Moustakas is, it's less of an issue. Like many of the Royals approaching free agency — including Lorenzo Cain, who dropped off this list, and Eric Hosmer, listed below — there's a strong possibility Moustakas will be building his value for another organization following the July 31 trade deadline. KC is currently last in the AL Central and just got word that ace Danny Duffy will be out six-to-eight weeks, news that inches the club even closer to seller status.
No. 9
Marco Estrada

Age: 33 | Position: Starting pitcher | Throws: Right
3.15 ERA | 68.2 innings | 78 strikeouts | 17 walks | 89.9 mph average fastball

Previous ranking: Not included
Age kept Estrada off our top 10 ranking last month, but what he's doing this season can't be ignored. He's morphed into a strikeout machine — his 78 Ks rank third in the AL, behind only Chris Sale and Chris Archer — and is the picture of consistency, allowing two runs or fewer in eight of his 11 starts. The fact he turns 34 in July means Estrada likely won't get as much term as other pitchers on this list, but right now he's pitching as well as any of them.
No. 8
Wade Davis

Age: 31 | Position: Closer | Throws: Right
0.98 ERA | 18.1 innings | 24 strikeouts | 6 walks | 94.2 mph average fastball


Previous ranking: No. 8
Davis already has 10 saves for the defending World Series champs, but to really understand how dominant he's been, consider this: He's appeared in 19 games this season and only allowed runs in one outing. That came May 24 when San Francisco Giants right-fielder Mac Williamson took him deep for a two-run shot. It was the first homer Davis surrendered since Sept. 24, 2015, so don't expect that to be a trend.

(Charles Rex Arbogast/AP)
No. 7
Jonathan Lucroy

Age: 30 | Position: Catcher | Bats: Right
3 HR | .266./.312/.399 | 0.5 WAR

Previous ranking: No. 4
The prized catcher on the market has been better of late, hitting .313 (25-for-80) with an .851 OPS since May 1. He'll need to maintain that to make up for a decline in his defensive prowess. As Ben Lindbergh noted in a recent article on The Ringer, Lucroy has severely regressed from being "one of the faces of pitch-framing" during his time with the Milwaukee Brewers.
No. 6
J.D. Martinez

Age: 29 | Position: Right field | Bats: Right
8 HR | .288/.433/.769 | 0.7 WAR

Previous ranking: 10
In our last ranking we said that if Martinez could maintain his career trajectory upon returning from a right foot sprain, he'd likely be the premier free agent slugger at season's end. Turns out he was listening. Martinez has already blasted eight home runs in just 17 games and is sporting a 1.202 OPS in 67 plate appearances, accruing 0.7 WAR — a number that figures to increase massively, just like the figures in his bank account.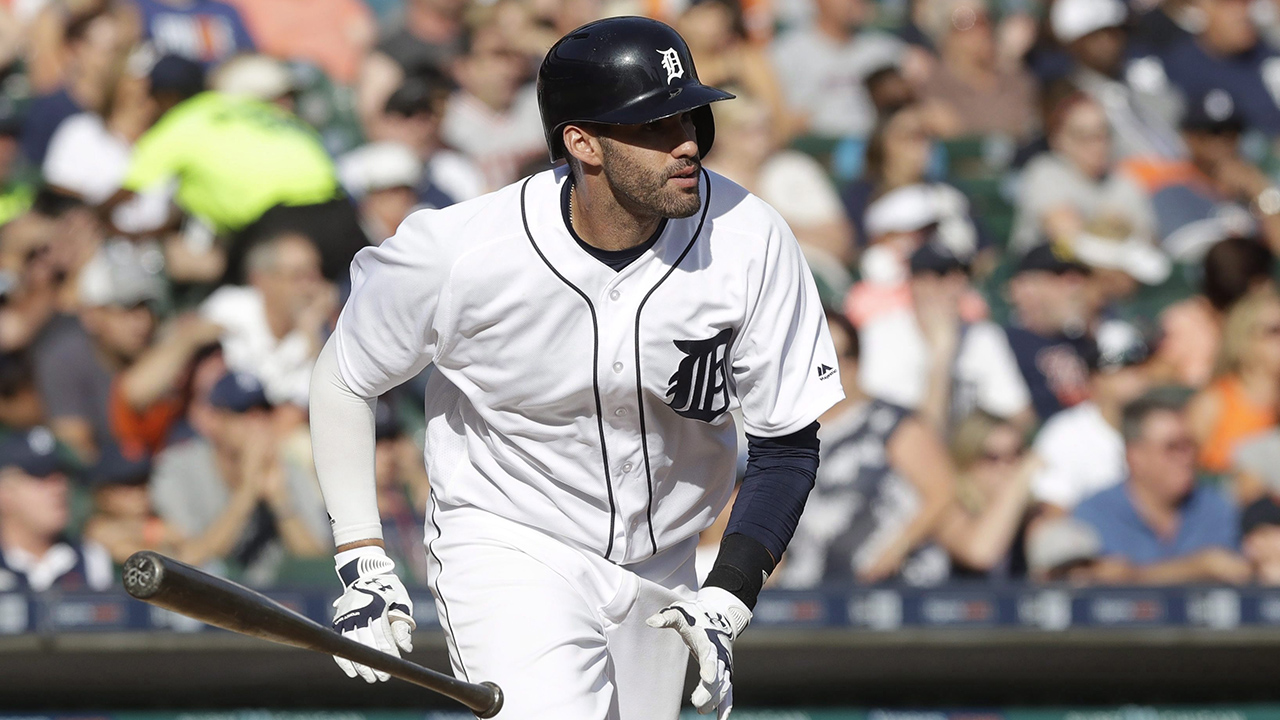 (Carlos Osorio/AP)
No. 5
Johnny Cueto

Age: 31 | Position: Starting pitcher | Throws: Right
4.37 ERA | 70 innings | 68 strikeouts | 18 walks | 91.6 mph average fastball


Previous ranking: No. 5
Cueto's peripherals this season are mostly in line with his career norms, a bloated ERA the result of a pair of blisters that hindered him on the mound. Once fully recovered, the right-hander can continue to gather information on what will be an important career decision: whether to opt out of his contract, which has four-years and $84 million remaining.
No. 4
Eric Hosmer

Age: 27| Position: First base | Bats: Left
5 HR | .300/.359/.442 | 0.7 WAR

Previous ranking: No. 6
Hosmer is a prime example of how the outlook of a player can change in just one month. Entering May 1 he was hitting .225 with just one home run, but after a torrid month, those numbers have vastly improved. Across 27 May games, Hosmer is batting .366/.425/.574 with four homers, nine doubles and 12 RBIs. He might not be able to match his 25 homers and 104 RBIs from last season, but the three-time Gold Glover has plenty of time to strengthen his earning potential.
No. 3
Masahiro Tanaka

Age: 28 | Position: Starting pitcher | Throws: Right
5.86 ERA | 55.1 innings | 52 strikeouts | 15 walks | 91.8 mph average fastball


Previous ranking: 3
On a Yankees team where pretty much everything has gone right, Tanaka has been an outlier. He's been uncharacteristically inconsistent, puzzling the organization and many observers. However, he struck out 13 Oakland batters in his most recent start, leaving some to ponder if Austin Romine, not Gary Sanchez, should be entrenched as his personal catcher. If that dominant outing helps Tanaka right the ship, a decision to opt out of his contract (three years, $67 million remaining) and become a free agent will become easier.
No. 2
Jake Arrieta

Age: 31 | Position: Starting pitcher | Throws: Right
4.92 ERA | 56.2 innings | 64 strikeouts | 15 walks | 92.1 mph average fastball

Previous ranking: No. 1
Questions have surrounded Arrieta all season regarding the drop in his velocity. It's becoming enough of a concern that his agent, Scott Boras, recently defended the right-hander, telling ESPN: that Arrieta is an "elite pitcher," adding, "We're going to sit here and evaluate a player on a 60-day moment or a 10-start moment when he has three years of history. Don't do it. That's not fair. That's not an evaluation." The fact remains though, that something is amiss with the hurler, whose ERA (4.92) and WHIP (1.36) are their highest since 2013.
No. 1
Yu Darvish

Age: 30 | Position: Starting pitcher | Throws: Right
2.97 ERA | 69.2 innings | 72 strikeouts | 30 walks | 94.2 mph average fastball

Previous ranking: No. 2
A strong season from Darvish thus far has landed him in the top spot. Sure, there are some aspects of his game left to be desired — his walk rate has climbed from 2.78 to 3.88 BB/9, while his K/9 has dipped from 11.84 to 9.30 — but he's among the AL leaders in innings pitched and is still throwing harder than ever. Factor in his age and no ill effects from 2015 Tommy John surgery and he's on track to have plenty of suitors at season's end.
Bonus: Blue Jays free agent to watch
Jose Bautista

Age: 36 | Position: Right field | Bats: Right
9 HR | . 246/.362/.443 | 0.7 WAR
Bautista has mutual options for 2018 and '19, and if he continues to rake like he did in May, his potential free agency will become more intriguing as the season progresses. Pinch yourself if you've seen that story before.
Other Blue Jays free agents
• Francisco Liriano, SP
• Darwin Barney, UTIL
• Jason Grilli, RP
• Joe Smith, RP
• J.P. Howell, RP
[relatedlinks]