We're only one month into the MLB season, but that's been enough time for some players to build their value ahead of free agency.
Sure, it's only April, but some trends have already begun to emerge, and it's never a bad time to inhale the constant whiff emanating from the hot stove.
With that said, here's the first of our monthly rankings of 10 players who either have contracts that will expire following the 2017 World Series, or can opt to become free agents at that point…
No. 10
J.D. Martinez

Age: 29 | Position: Right Field | Bats: Right
Has not played in 2017
A right foot sprain has sidelined Martinez, but he's reportedly close to a return, and if he can maintain his recent production, the six-foot-three, 220-lb. outfielder figures to be the premier slugger on the market. He's been legit since re-working his swing and, over the past three seasons, has amassed 83 homers, 98 doubles and a 145 OPS+, largely outpacing the league average of 100.
No. 9
Lorenzo Cain

Age: 31 | Position: Centre Field | Bats: R
0 HR | .278/.402/.333 | 1.0 WAR
Teams looking to become more athletic and defensive-minded up the middle could target Cain. The late-bloomer has a reputation for his glove, but is actually a very solid hitter. He followed a strong 2014 season with a .307 average and .838 OPS in '15, but was limited to just 103 games last year due to injuries. So far this season he's off to a good start helped by vastly improved plate discipline, which has always been a flaw in his otherwise stellar game.
No. 8
Wade Davis

Age: 31 | Position: Closer | Throws: Right
0.00 ERA | 9.1 innings | 9 strikeouts | 2 walks | 94.6 mph average fastball
Davis has been among the elite of the elite relievers over the past three seasons, but it feels like he's never been given his rightful due. That figures to change now that he's with the reigning World Series-champion Cubs. He's already off to a strong start, having allowed no runs and converted five saves. Considering closer Mark Melancon got four years, $62 million from the Giants at age 31, Davis is going to get paid if he can stay healthy.
No. 7
Mike Moustakas

Age: 28 | Position: Third Base | Bats: Left
7 HR | .276/.313/.592 | 0.3 WAR
Moustakas altered his plate approach in 2015, learning how to hit the ball to the opposite field with regularity. It resulted in a strong campaign, but he didn't get a chance to build off it the next season, when a torn ACL cost him all but 27 games. He looks healthy now, with seven homers already this year. That will play when it comes to his contract demands, in addition to the fact he's a solid defender and considered a heart-and-soul figure in the clubhouse.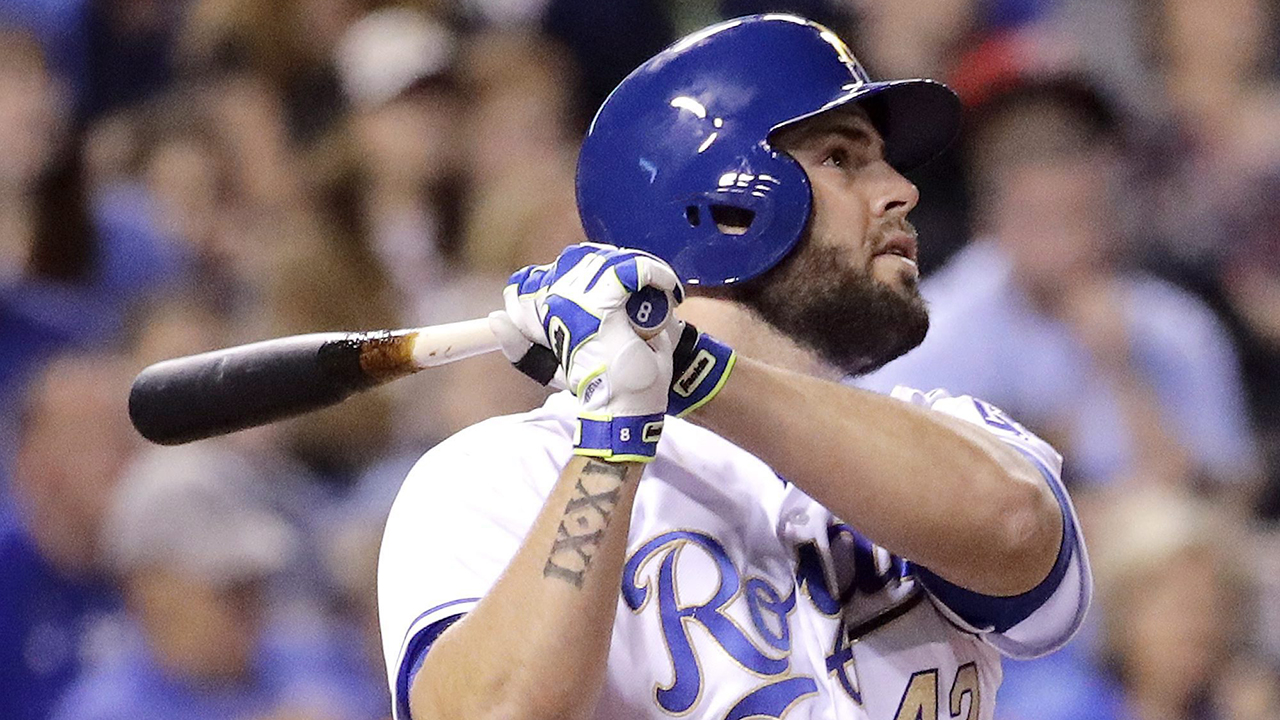 (Charlie Riedel/AP)
No. 6
Eric Hosmer

Age: 27| Position: First Base | Bats: Left
1 HR | .220/.273/.293 | -0.1 WAR
Hosmer's stock has seemingly dropped the past few months, with many pointing out that he hits the ball on the ground so frequently at a time that many hitters are focusing on driving it in the air. But the fact is this Scott Boras client has a healthy track record and reached a career high in home runs (25) and RBIs (104) last season. He's also a three-time Gold Glover, a strong clubhouse presence, and in all likelihood, will rebound from his wretched start to 2017.
No. 5
Johnny Cueto

Age: 31 | Position: Starting Pitcher | Throws: Right
5.10 ERA | 30 innings | 24 strikeouts | 10 walks | 91.5 mph average fastball
Cueto can opt out of the remaining four years and $84 million left on his contract at season's end, and if he performs up to his usual standards in 2017, it might be a smart call. Though he hasn't pitched well this April, the right-hander has registered a sub-3.00 ERA in five of the past six years. His importance to the Giants now is larger than ever, with ace Madison Bumgarner sidelined indefinitely.

(Ben Margot/AP)
No. 4
Jonathan Lucroy

Age: 30 | Position: Catcher | Bats: Right
1 HR | .196/.237/.268 | -0.1 WAR
One of the better all-around catchers in the game, Lucroy will likely hit the market looking to earn big because he's coming off a deal that paid him just $15.5 million over six years. He's off to a slow start this season, but expect Lucroy to seek something in line with the three-year, $60-million extension that the Cardinals just gave Yadier Molina, albeit with a longer term.
No. 3
Masahiro Tanaka

Age: 28 | Position: Starting Pitcher | Throws: Right
4.20 ERA | 30 innings | 22 strikeouts | 10 walks | 91.7 mph average fastball
The Yankees' ace can become a free agent if he opts out of his deal that has three years and $67 million remaining. Tanaka's quelled concerns about a tender right elbow over the past few seasons, and has age on his side, as well a strong resume, having thrived against mighty AL East offences since he entered the majors in 2014. He did that again Thursday night, spinning a masterful complete game on 97 pitches at Fenway Park to outduel Chris Sale and the Red Sox.
No. 2
Yu Darvish

Age: 30 | Position: Starting Pitcher | Throws: Right
3.03 ERA | 32.2 innings | 31 strikeouts | 13 walks | 94.2 mph average fastball
This will be Darvish's first full season since undergoing Tommy John surgery in 2015, providing ample opportunity to fully establish his value. It's only been five starts but he's already throwing harder than ever, with his fastball clocked in at an average of 94.2 mph — a few notches up from his career mark of 92.9.
No. 1
Jake Arrieta

Age: 31 | Position: Starting Pitcher | Throws: Right
3.65 ERA | 24.2 innings | 29 strikeouts | 5 walks | 91.8 mph average fastball
Arrieta's average fastball velocity has dipped almost two miles per hour in the early going, but the Cubs say they aren't too concerned, pointing out that he's throwing more strikes. Regardless, it bears watching as the season wears on. Arrieta took a slight step back last season from his Cy Young campaign in '15, but still remains in line to fetch the first mega-deal of his career.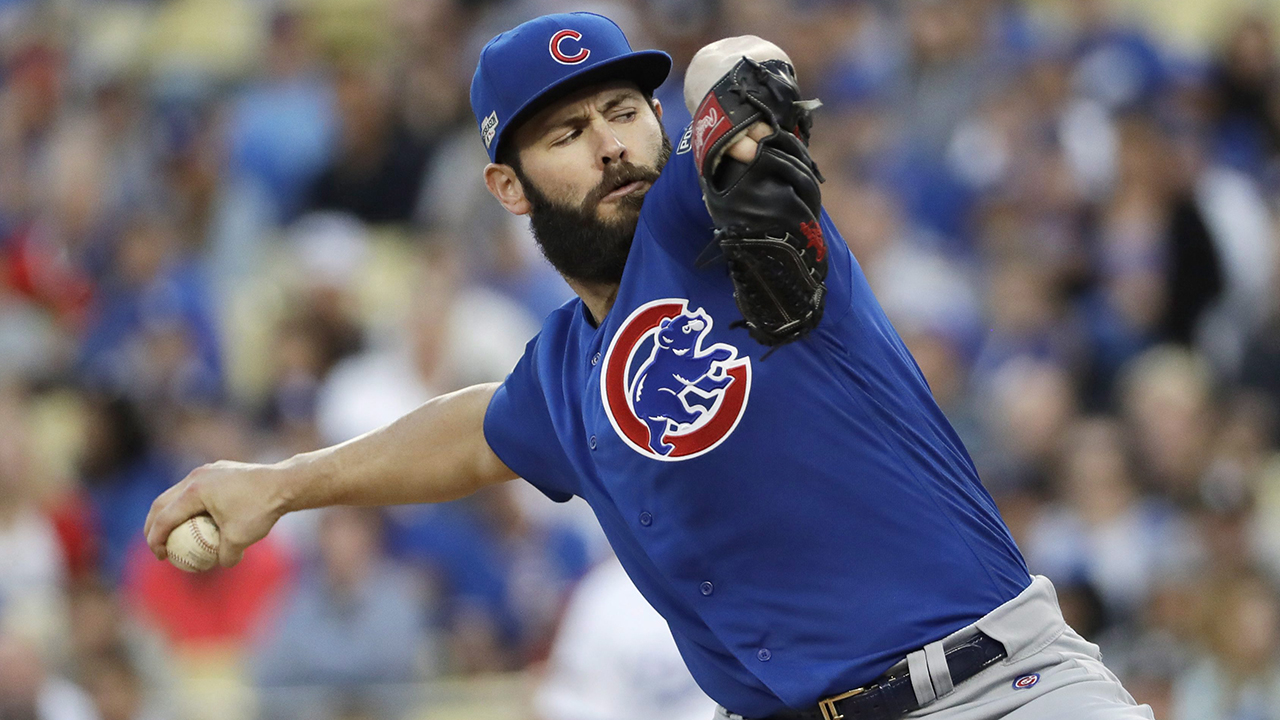 (David J. Phillip/AP)
Bonus: Blue Jays free agent to watch
Marco Estrada

Age: 33 | Position: Starting Pitcher | Throws: Right
2.70 ERA | 30 innings | 33 strikeouts | 10 walks | 89.5 mph average fastball
Age might be working against Estrada on the open market — he'll turn 34 in June — but the impending free agent keeps producing. Opponents are hitting just .223 off him over the season's first month and he's now striking out batters at a higher rate. As well, his 3.14 FIP is the lowest of his career, though the small sample size is admittedly small. Bottom line is if the Blue Jays don't re-sign the changeup artist, there'll be plenty of suitors waiting in line.
Other Blue Jays free agents
• Francisco Liriano, SP
• Jose Bautista, RF
• Darwin Barney, UTIL
• Jason Grilli, RP
• Joe Smith, RP
• J.P. Howell, RP
[relatedlinks]