From Kelby Tomlinson and Dixon Machado to Giancarlo Stanton and Aaron Judge, 525 different big-leaguers homered in 2017. One hundred and seventeen of those players went deep at least 20 times. All told, MLB hitters hit 6,105 home runs, shattering the previous record.
Evidently, the power that MLB executives long prized isn't so hard to obtain anymore. As Athletics GM David Forst says, "it's become a lot easier to find in the last few years."
Gradually, this abundance of power has impacted team decision making. If the slugger market is over-saturated, GMs can prioritize other needs. This amounts to a significant shift, and leads to a related question: now that power is readily available, which skill is hardest to find?
Position players have traditionally been graded on their ability to run, throw, field, hit and hit for power. With power now more accessible than ever, many big-league executives suggest the toughest skill to find is hitting ability—the combination of bat speed, strength, pitch recognition, timing, consistent contact and mechanics that separates a .220 hitter from a .280 hitter. There simply aren't many players who consistently control the strike zone and do damage.
"There's so much velocity in the game, you look at how effective breaking balls are," says Padres GM A.J. Preller. "It seems like each guy in the bullpen comes in throwing harder than the last guy, so to have someone who's really locked in offensively, understands the strike zone and grinds ABs? It's not easy to find."
The goal is to reach base, not hit for average, but hitting the ball hard sure helps your chances of reaching. As teams have placed more of an emphasis on defence, shifted more aggressively and become increasingly comfortable watching their hitters strike out, batting average has dropped in recent years. These trends tend to be cyclical if you zoom out far enough, but in today's unforgiving environment, it's tough to find hitters who can consistently make quality contact against a steady stream of elite velocity and breaking stuff.
"Identifying what's going through the hitter's head and how quickly can he recognize off-speed pitches or breaking pitches," Pirates GM Neal Huntington says. "Does he have a plan? Does he execute his plan? The hit grade is probably the hardest one."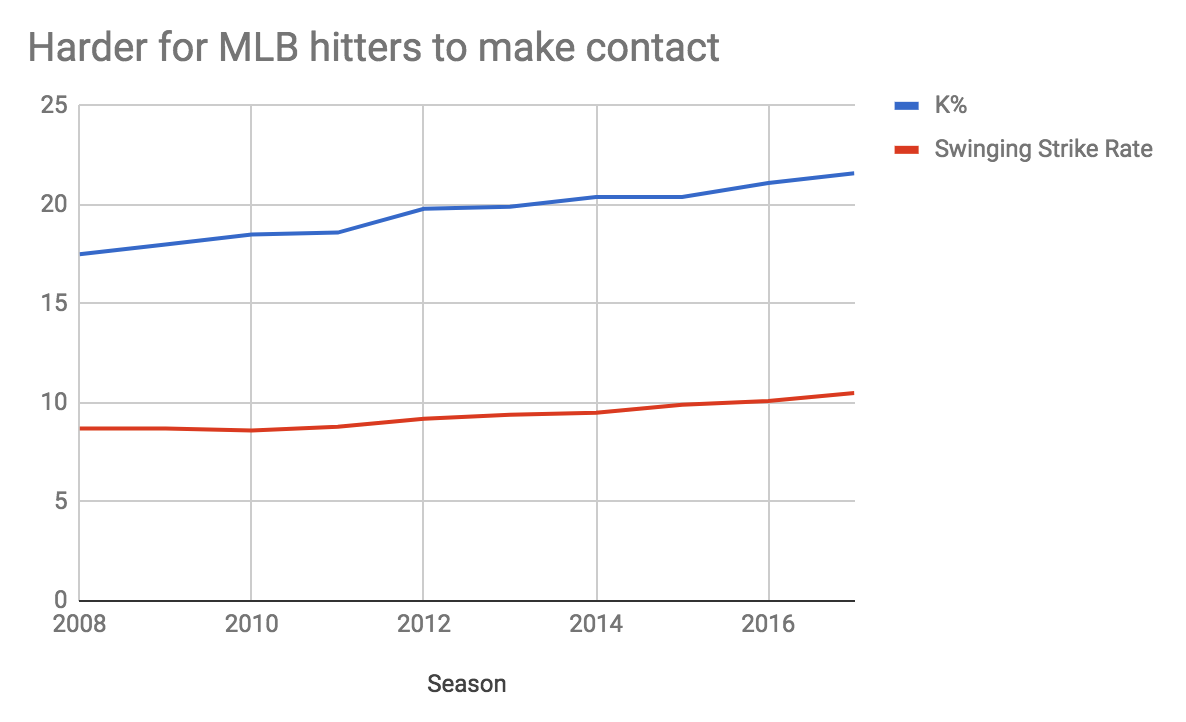 One reason quality hitters are so hard to find? They're extremely tough to project. Lorenzo Cain grew up playing basketball and had never played in an organized baseball game until his sophomore year of high school. Yet in eight years at the big-league level, he has a .290 batting average.
Mike Trout went to high school in New Jersey, so he didn't face much velocity or top breaking stuff before the Angels drafted him in 2009. As one amateur scout asks, "How do you judge against weak competition that he's going to be able to adjust to premium stuff?"
After seven years in the big leagues, Trout's a lifetime .306 hitter. "It's the hardest thing (to evaluate)," the scout continues. While skills like arm strength and footspeed can be measured accurately at any level of competition, it's hard to accurately assess hitting ability absent quality pitching. That creates information gaps for those charged with identifying the sport's next great hitters.
Finding a hitter like Cain is challenging enough, but it's even rarer to come across a player who combines power and hitting ability like Trout. Of the 25 players who hit .300 in 2017, some of them—the DJ LeMahieu and Joe Mauer types—offer very little power. Only 11 players hit 25-plus homers with a .300 average.
"A good hitter that can hit for average and hit for power is very, very difficult to find," says Nationals GM Mike Rizzo. "We see a lot of guys who can put the bat on the ball and hit for a high average, and we see guys who can hit the ball a long way and strike out a bunch."
It seems, then, that hitting ability has displaced power as the toughest-to-find skill. That is, if you're inclined to view players in terms of skills in the first place. While some executives have strong opinions on which skills are hardest to find, others rarely approach roster construction from that perspective.
"It's hard to answer," says Cardinals GM Michael Girsch. "We try to think of players as a combination of skills and what those skills ultimately do. I don't spend a lot of time thinking, 'How hard is it to find X?'
"I can't shop for a skill," Girsch continues. "I have to shop for a player and so I don't think of the world in terms of skills very often."
After all, the end goal is to win games regardless of whether you get there with hitting ability, power, speed, defence or some combination of those skills. There's a strong case to be made that in this instance, the destination matters more than the journey.
"However you get to those wins or runs, it's all sort of equal at this point," Forst says.
[relatedlinks]