The MLB playoff push is our daily look back and ahead at the post-season picture as teams position themselves for October.
---
Latest on the Blue Jays:
It all comes down to this. After 161 games, the seeding for the American League wild card game comes down to one final day of baseball. Aaron Sanchez will faceoff against former Blue Jay David Price Sunday afternoon, with a place in the playoffs still very much within reach for Toronto.
The Blue Jays fought through a long, walk-heavy game to beat the Red Sox Saturday night. Toronto benefited from Baltimore, Detroit and Seattle losing Saturday, but nothing helps a playoff push more than wins. Seattle is now eliminated from contention, but there are scenarios where the Blue Jays will be on the outside looking in, watching the Orioles and Tigers in a wildcard game.
There is a chance that the Tigers will have one more game on Monday against the Cleveland Indians, a makeup game from earlier in the week. This all hinges on if that Monday contest would have post-season implications. If it does then the Blue Jays still may not know exactly where they sit in the standings after Sunday. That extra wrinkle adds more intrigue to the final day of the season, and magnifies how important it is for the Blue Jays to win if they want their season to continue.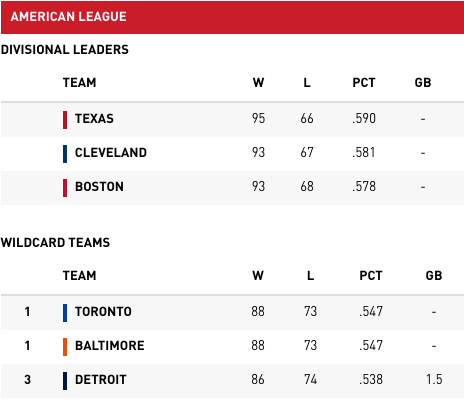 If the playoffs started today…
Wild Card
Orioles vs. Blue Jays
ALDS
Rangers vs. Orioles or Blue Jays
Red Sox vs. Indians
---
Toronto Blue Jays
Next up: Boston Red Sox
Pitching: Aaron Sanchez vs. David Price
Baltimore Orioles
Next up: New York Yankees
Pitching: Kevin Gausman vs. Luis Cessa
Detroit Tigers
Next up: Atlanta Braves
Pitching: Justin Verlander vs. Julio Teheran
Texas Rangers
Next up: Tampa Bay Rays
Pitching: Martin Perez vs. Chase Whitley
Cleveland Indians
Next up: Kansas City Royals
Pitching: Josh Tomlin vs. Ian Kennedy
---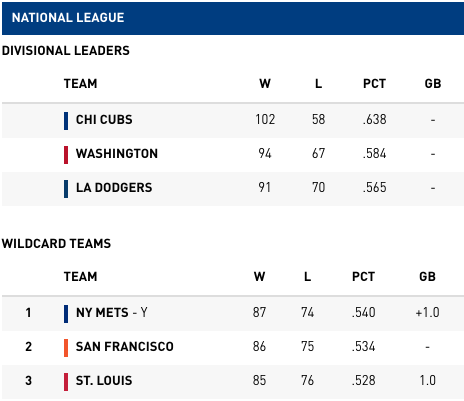 If the playoffs started today…
Wild Card
Mets (clinched home field) vs. Giants
ALDS
Cubs vs. Mets or Giants
Nationals vs. Dodgers
---
Chicago Cubs
Next up: Cincinnati Reds
Pitching: Kyle Hendricks vs. Robert Stephenson
Washington Nationals
Next up: Miami Marlins
Pitching: Max Scherzer vs. Tom Koehler
Los Angeles Dodgers
Next up: San Francisco Giants
Pitching: Kenta Maeda vs. Matt Moore
New York Mets
Next up: Philadelphia Phillies
Pitching: Gabriel Ynoa vs. Jerad Eickhoff,
St. Louis Cardinals
Next up: Pittsburgh Pirates
Pitching: Adam Wainwright vs. Ryan Vogelsong