The MLB playoff push is our daily look back and ahead at the post-season picture as teams position themselves for October.
---
Latest on the Toronto Blue Jays: So far, so good for the Blue Jays in Seattle, where they've taken the first two games against the Mariners. The Toronto offence broke out during Tuesday night's 10-2 win, which secured a one-game lead over the Baltimore Orioles for top spot in the wild-card standings, and will look to carry the hot bats into Wednesday afternoon's series finale.
Aaron Sanchez takes the mound for the Blue Birds against right-hander Felix Hernandez in a game that's pretty much a must-win for the M's. Should the Mariners get swept, it would be a major blow to their wild-card hopes — they'd be five games back of the top spot and 3.5 behind the second position, with 10 games remaining.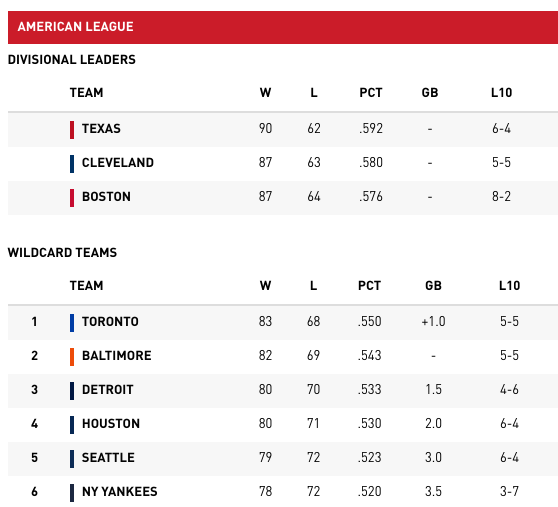 If the playoffs started today…
Wild Card
Blue Jays vs. Orioles
ALDS
Rangers vs. Blue Jays or Orioles
Indians vs. Red Sox
---
Toronto Blue Jays
Next up: Seattle Mariners
Pitching matchup: Aarón Sánchez vs. Félix Hernández
Boston Red Sox
Next up: Baltimore Orioles
Pitching matchup: Clay Buchholz vs. Ubaldo Jiménez
New York Yankees
Next up: Tampa Bay Rays
Pitching matchup: Masahiro Tanaka vs. Alex Cobb
Cleveland Indians
Next up: Kansas City Royals
Pitching matchup: Ian Kennedy vs. Corey Kluber
Detroit Tigers
Next up: Minnesota Twins
Pitching matchup: Buck Farmer vs. José Berrios
Texas Rangers
Next up: Los Angeles Angels
Pitching matchup: Jered Weaver vs. Derek Holland
Houston Astros
Next up: Oakland Athletics
Pitching matchup: Collin McHugh vs. Daniel Mengden
---
If the playoffs started today…
Wild Card
Mets, Giants, Cardinals engage in three-team tiebreaker over multiple days
NLDS
Cubs vs. Mets, Giants or Cardinals
Nationals vs. Dodgers
Washington Nationals
Next up: Miami Marlins
Pitching matchup: Max Scherzer vs. Tom Koehler
New York Mets
Next up: Atlanta Braves
Pitching matchup: Ryan Weber vs. Bartolo Colón
Chicago Cubs
Next up: Cincinnati Reds
Pitching matchup: Robert Stephenson vs. John Lackey
St. Louis Cardinals
Next up: Colorado Rockies
Pitching matchup: Luke Weaver vs. Germán Márquez
Los Angeles Dodgers
Next up: San Francisco Giants
Pitching matchup: Matt Moore vs. Kenta Maeda