The MLB playoff push is our daily look back and ahead at the post-season picture as teams position themselves for October.
---
Latest on the Blue Jays: Toronto is going to want to forget Friday's blowout loss to the Boston Red Sox, and they can start that by winning Saturday's rematch. The loss put the Blue Jays two games back of Boston for the AL East division lead, a gap that will only get wider unless the Blue Jays can put an end their four-game losing streak.
The Blue Jays also need to watch out for the teams chasing them in the wild card race. Detroit beat Baltimore on Friday to open their three-game series, meaning both the Tigers and the Orioles are only one game back of Toronto for the first wild card spot.
J.A. Happ will take the mound for Toronto on Saturday, hoping to last longer than Marco Estrada's 2 1/3 innings Friday. The Blue Jays may also get catcher Russell Martin back after missing Friday with a sore knee.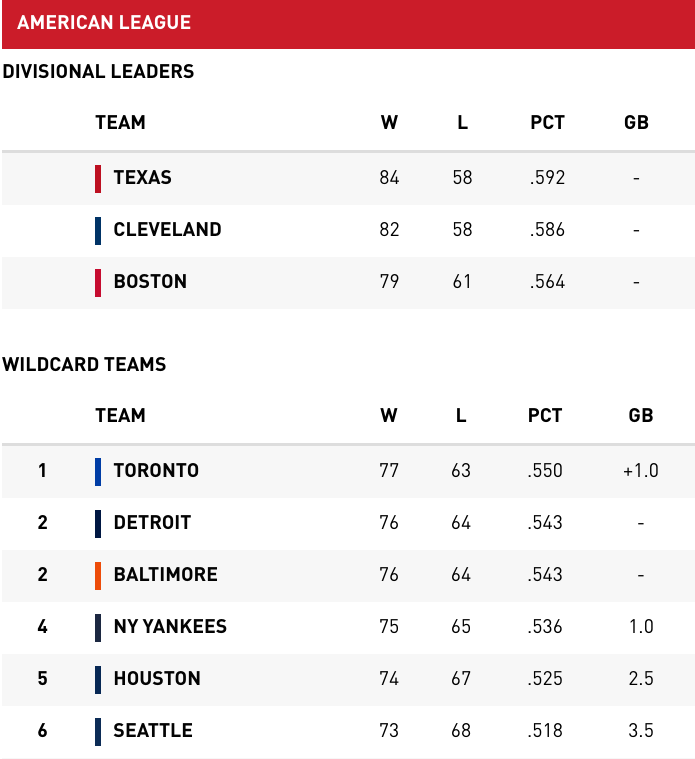 If the playoffs started today…
Wild Card
Blue Jays vs. Tigers or Blue Jays vs. Orioles
ALDS
Rangers vs. Blue Jays or Tigers or Orioles
Indians vs. Red Sox
---
Toronto Blue Jays
Next up: Boston Red Sox
Pitching matchup: J.A. Happ vs. Eduardo Rodriguez
Baltimore Orioles
Next up: Detroit Tigers
Pitching matchup: Ubaldo Jimenez vs. Jordan Zimmermann
New York Yankees
Next up: Tampa Bay Rays
Pitching matchup: Masahiro Tanaka vs. Chris Archer
Cleveland Indians
Next up: Minnesota Twins
Pitching matchup: Mike Clevinger vs. Hector Santiago
Texas Rangers
Next up: Los Angeles Angels
Pitching matchup: Cole Hamels vs. Daniel Wright
Houston Astros
Next up: Chicago Cubs
Pitching matchup: Collin McHugh vs. John Lackey
Seattle Mariners
Next up: Oakland Athletics
Pitching matchup: Felix Hernandez vs. Kendall Graveman
---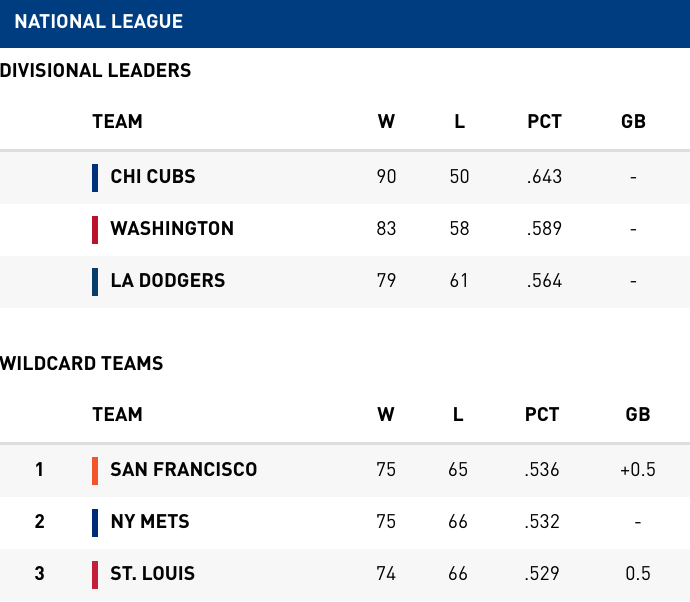 If the playoffs started today…
Wild Card
Giants vs. Mets
NLDS
Cubs vs. Giants or Mets
Nationals vs. Dodgers
---
Chicago Cubs
Next up: Houston Astros
Pitching matchup: John Lackey vs. Collin McHugh
Washington Nationals
Next up: Philadelphia Phillies
Pitching matchup: Max Scherzer vs. Jerad Eickhoff
Los Angeles Dodgers
Next up: Miami Marlins
Pitching matchup: Rich Hill vs. Tom Koehler
San Francisco Giants
Next up: Arizona Diamondbacks
Pitching matchup: Johnny Cueto vs. Archie Bradley
New York Mets
Next up: Atlanta Braves
Pitching matchup: Bartolo Colon vs. John Gant
St. Louis Cardinals
Next up: Milwaukee Brewers
Pitching matchup: Adam Wainwright vs. Chase Anderson