The MLB trade deadline is rapidly approaching and some moves have already been made as teams try to position themselves for a post-season run. Here's some of the latest buzz from around the majors.
Updates on contract talks between Blue Jays and star sluggers
The Skinny: Edwin Encarnacion is still unwilling to negotiate a new contract with the Toronto Blue Jays during the season, reports Jon Heyman. Heyman also notes the Blue Jays may be interested in offering Jose Bautista a 'Cespedes-type deal' of three years for about $25 million per season. No talks with either player are generating much, if any, momentum as confirmed by Blue Jays general manager Ross Atkins in a radio appearance earlier this week.
Analysis: The biggest talking point of spring training has reared its head once again as we begin the unofficial second half of the season. Encarnacion and his agent Paul Kinzer made it known contract talks would have to wait until after the season if no deal came to fruition by Opening Day. Kinzer told Heyman his client was 'the most relaxed he's ever seen him,' and it shows on the field. The Dominican slugger leads the majors in RBI with 80 and has blasted 23 home runs to this point. All Encarnacion needs to do is keep producing and he can keep watching that future paycheque climb higher and higher. If things don't work out in Toronto, David Ortiz has made it very well known there'd be a place for him in Boston.
On the other hand, Bautista has had a tumultuous season to this point, posting his lowest batting average since breaking into the majors on a full-time basis. His OPS of .815 is also his lowest since 2009. Making matters worse, the two-time home run champion has been sidelined since June 16 due to turf toe. The 35-year-old Bautista was rumoured to be seeking a five-year, $150 million contract in spring training, which is too high of a price for an aging player with waning defensive abilities. Locking up a fan-favourite in Bautista on a three-year deal would be easier for the Blue Jays to swallow but is still an enormous commitment that Atkins and the front office may not be willing to make.
Rays fielding offers on Archer
The Skinny: The Tampa Bay Rays are receiving trade offers for Chris Archer but none have been serious enough to warrant consideration, tweets Ken Rosenthal.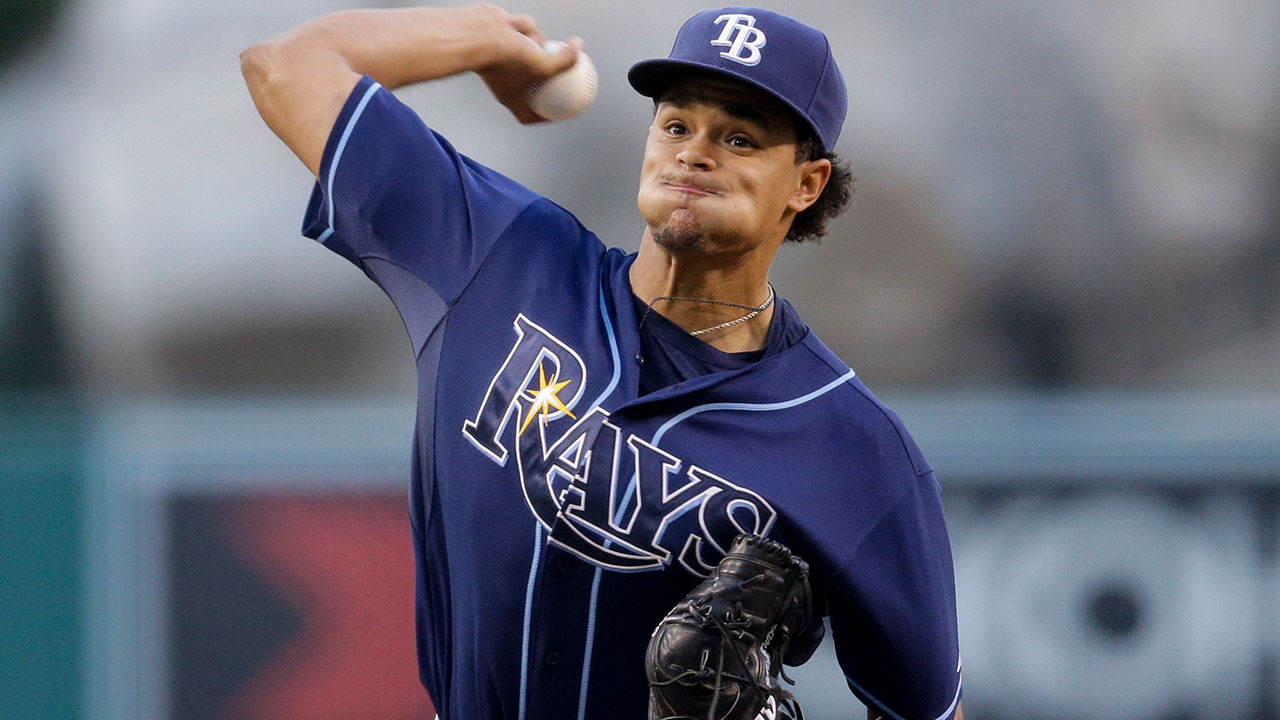 Chris Archer has disappointed this season, but still possesses ace potential. (Jae C. Hong/AP)
Analysis: Tampa Bay has been one of the AL's biggest disappointments in 2016, sitting in the basement of its division and well out of playoff contention. After three consecutive strong seasons, including an all-star nod last year, Archer has taken a major step backwards. He's started 20 games and lost 13 of them, pitching to a 4.68 ERA in the process. His K/9 inning rate remains high, but he's surrendering more walks and has been susceptible to the long ball, already allowing more home runs this year than last in nearly 100 fewer innings.
Even still, Archer has demonstrated ace potential over his career and is locked into a club-friendly contract through 2019, with team options for the 2020 and 2021 seasons. The Rays would be selling the 27-year-old at his lowest value, although he would still figure to command quite the haul in return. The Los Angeles Dodgers are the team that seems to come up the most in rumours but nothing has tickled the Rays' fancy as of yet. Dodgers president of baseball operations Andrew Friedman is familiar with Archer from his time as Tampa Bay's general manager.
Orioles inquire about Athletics' Hill
The Skinny: The Baltimore Orioles have looked into acquiring veteran left-hander Rich Hill from the Oakland Athletics, reports Heyman.
Analysis: It's no secret the Orioles' success has been due to their mighty offence. No team in baseball has hit more home runs than Baltimore, and only the Boston Red Sox have posted a higher team OPS. Manny Machado and Co. average better than five runs per game, which has them narrowly leading the American League East. The reason why they haven't run away with the division is because their starting rotation has an ERA north of 5.00.
Beyond Chris Tillman, the Orioles' starting staff has been a mess. Off-season acquisition Yovani Gallardo has only started 10 games and hasn't made it past the sixth inning in any of them. Ubaldo Jimenez has been pretty much unusable with an ERA of 7.38 and youngster Kevin Gausman had a strong start to the year but has been hit-or-miss since the middle of May. With prized lefty Drew Pomeranz now off the market, the resurgent Hill would give manager Buck Showalter another trustworthy arm on the front line. With the way the Baltimore offence scores runs, 'reliable' is all a pitcher needs to be to enjoy success. Selling high on Hill would be a smart move for the Athletics, who aren't going to be contending for anything in 2016.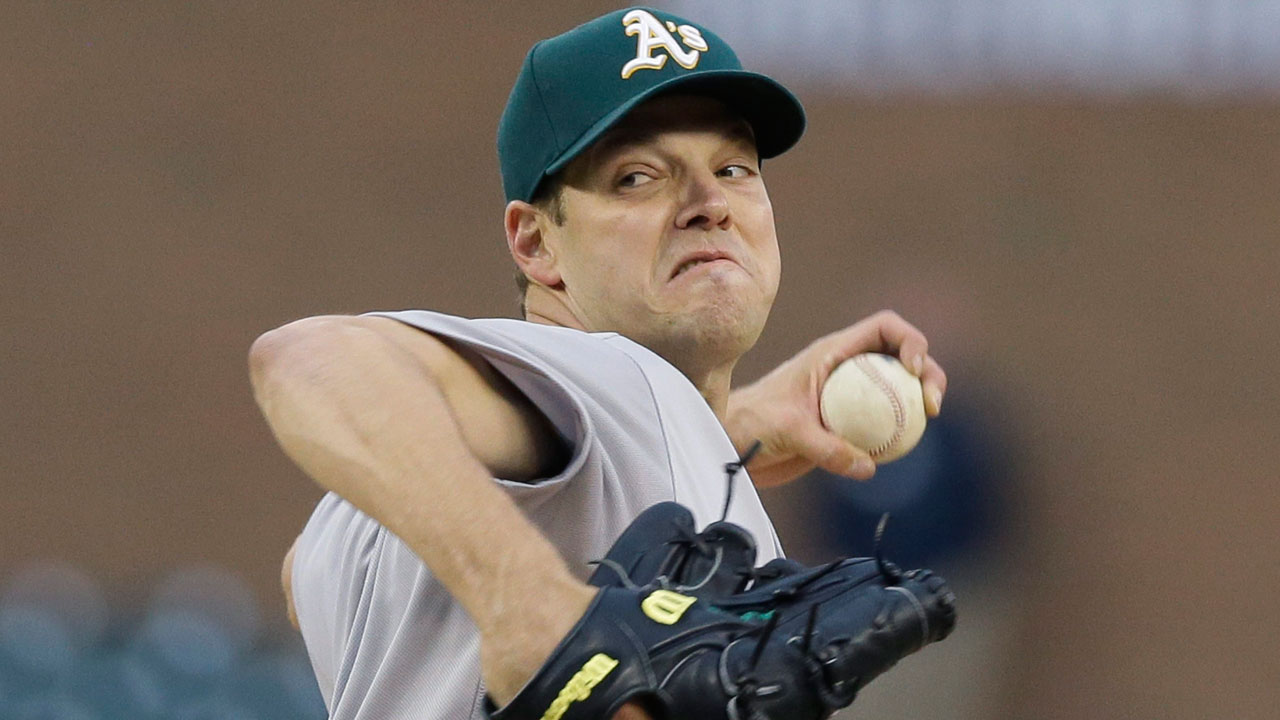 Rich Hill's trade value may never be higher than it is now. (Carlos Osorio/AP)
Rangers eyeing Lucroy?
The Skinny: The Milwaukee Brewers had numerous scouts in attendance at a recent Texas Rangers class-A Rookie League game, leading Rosenthal to believe Texas could be planning a move for catcher Jonathan Lucroy.
Analysis: The Rangers' biggest need remains starting pitching, but with Pomeranz off the table and a shortage of other intriguing options, Texas may look to add more firepower to an already-dangerous offence in an attempt to outslug opponents. A two-time all-star, Lucroy currently ranks third in MLB in terms of wins above replacement for catchers behind only Salvador Perez and Buster Posey and his OPS of .853 has him second among major-league backstops. The Rangers could use some help behind the plate as the duo of Robinson Chirinos and Bobby Wilson has been the weakest spot in an otherwise-loaded lineup.
Texas has a deep well of intriguing talent in its farm system with names like Joey Gallo, Luis Ortiz and Lewis Brinson nearly ready for big-league action, while a number of promising arms continue to hone their skills at lower levels.