Steve Sanders' dream of pitching in the big leagues ended abruptly during his senior year of high school, when he tore the labrum in his right shoulder. Though he still attended Northwestern University, majoring in economics with a minor in business, and appeared in seven games his final year, the Los Angeles native understood that if he wanted to make a living in baseball, it wasn't going to be on a mound.
Instead, he turned his focus to the front office and made it to the majors a different way. In 2009, Artie Harris, a family friend and longtime scout, helped him land an internship in the Los Angeles Dodgers' baseball operations department and, after a holding a number of positions with the Boston Red Sox, Sanders worked his way up to director, amateur scouting for the Toronto Blue Jays, a position he was named to on Sept. 29.
"I've always loved the game, I'm passionate about it, I've been happiest when I'm around it and I knew I wanted to find some way to stay in the game and make a career of it," Sanders says during an interview. "The injury opened other doors for me and looking back now, it was a different path, it was my path. It opened my eyes to some other things at that age, so it wasn't all bad."
Given that the Blue Jays may have three first-round picks in the June draft (their own plus compensatory picks for Edwin Encarnacion and Jose Bautista), Sanders will have an opportunity to make a potentially lasting impact right out of the gate.
***
Sanders emerged from an initial group of 50 potential candidates, and when general manager Ross Atkins called Mike Hazen, at the time his counterpart with the Red Sox before he left for the Arizona Diamondbacks, he was told, "this is the guy you've got to hire."
"I know I'm biased, but this is the guy for me," says Hazen. "He's smart, he's innovative, he works as hard as any person I've ever worked with. He's passionate about the game, about scouting, about finding every little detail on every player. He embraces every stream and piece of technology, he blends in and connects with veteran scouts and has a great feel for the balance of all that.
"Valuing people's opinions, building relationships – he's fantastic."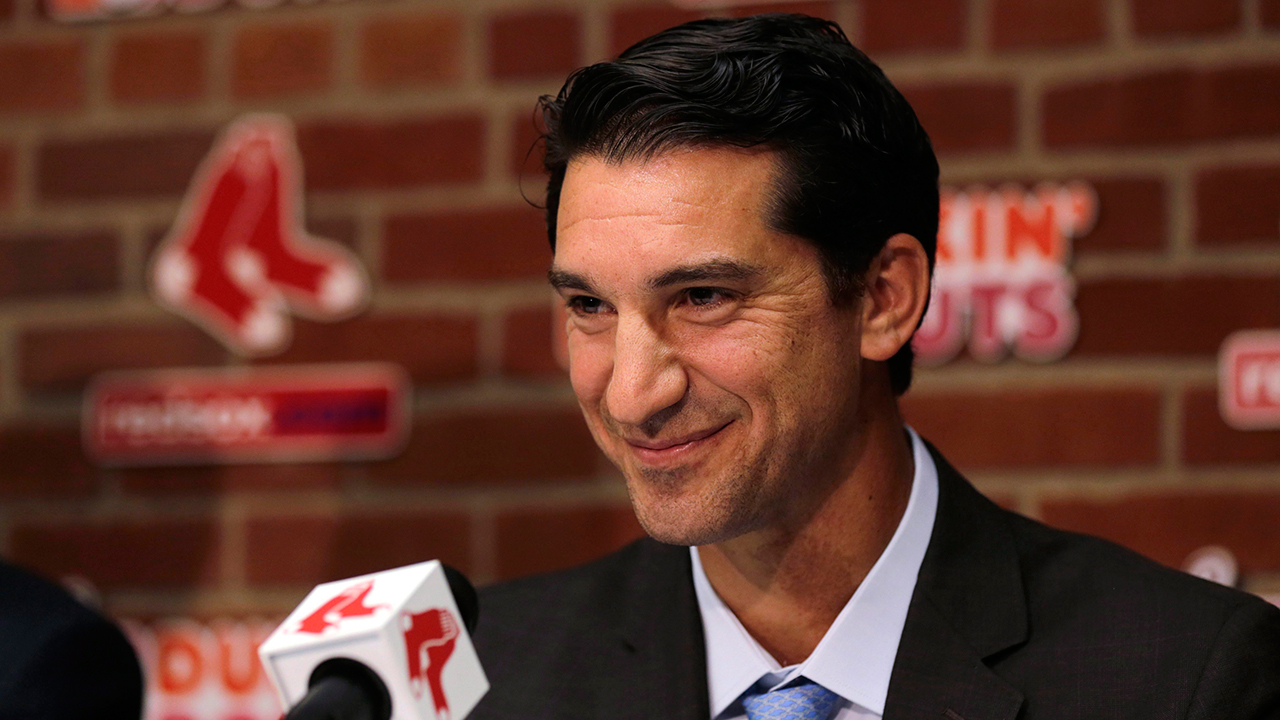 Sanders has drawn rave reviews from Diamondbacks executive vice president and general manager Mike Hazen. (Charles Krupa/AP)
---
The Blue Jays certainly need him to be as they continue to try and restock a farm system lacking impact talent at the upper levels. Sanders did a couple of summer internships with the Dodgers while he was in school in 2009 and 2010 before doing another with the Red Sox post-graduation in 2011.
The next year he was hired full time as an assistant, amateur and international scouting and in 2014, was promoted to co-ordinator, amateur and international scouting. He was named the Red Sox's assistant director, amateur scouting at the beginning of 2015 before taking over from Brian Parker in Toronto, who was fired in August after four solid drafts.
"One thing that was pivotal for me was being exposed to different areas of the operation," says Sanders. "Seeing the international market. Working closely with our scouts, both international and domestic. Being around the draft on a yearly basis, being around for the trade deadline, seeing different areas of the organization and how they worked. But also, most importantly, really getting to work with a wide range of people on a daily basis, both in the office and out in the field, our scouts, our player development staff. All of those were equally important in terms of preparing me for this job and allowed me to see things from a lot of different angles, which was pretty important."
***
How the Blue Jays may change in terms of philosophy and their approach to the draft is uncertain at this point.
Under the previous regime of Alex Anthopoulos, they prioritized power-armed high-school pitchers – one of the riskiest commodities in the draft – believing they created the most currency.
Last year, in the first draft under president and CEO Mark Shapiro, the Blue Jays chose a more balanced portfolio, using their first pick on college right-hander T.J. Zeuch while later selecting high-risk, high-reward high-schoolers like infielder Bo Bichette.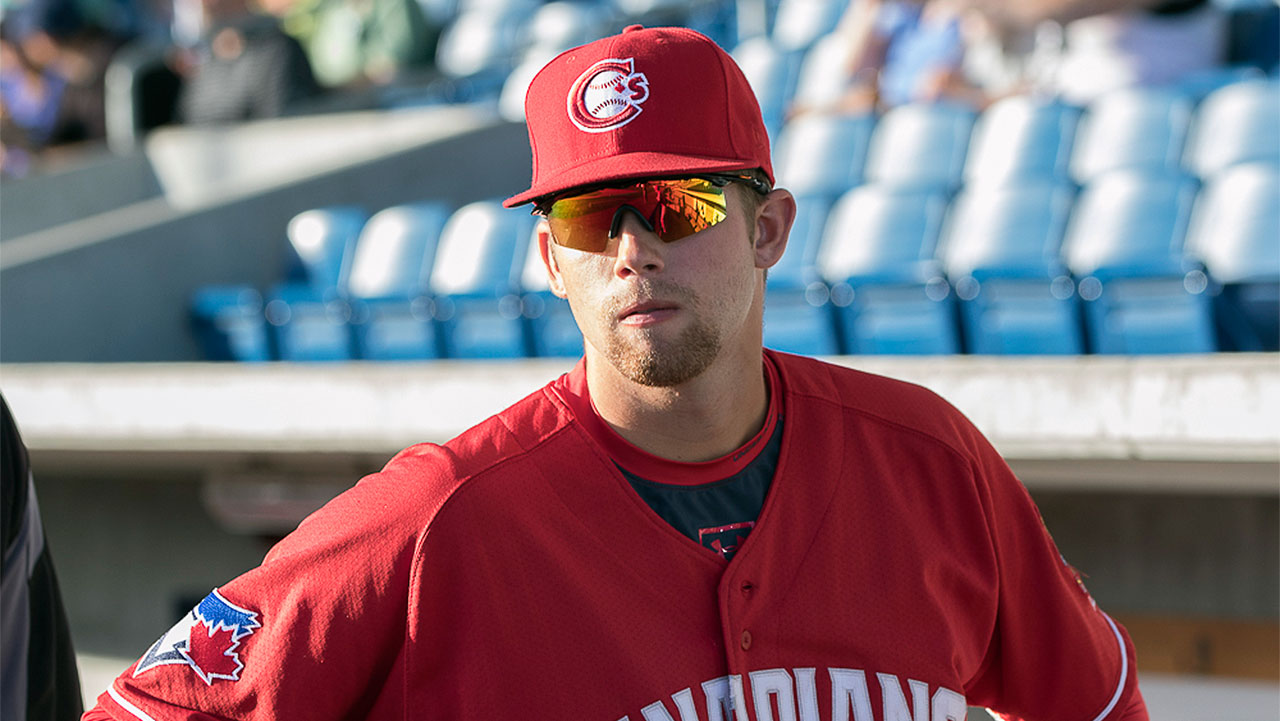 Toronto Blue Jays 2016 first-round pick T. J. Zeuch. (Mark Steffens – Fotoguy / Vancouver Canadians)
---
"I don't think there's a certain type of player we're necessarily going to target," says Sanders. "What we're going to have to weigh is who's the best player available to us in a given spot that we feel has a chance to impact this organization at the major-league level. Everything is taken into account in that. We certainly recognize that certain players or certain demographics tend to be riskier than others and at the end of the day it's all part of the equation that we're going to have to answer."
The Blue Jays have also been among the more aggressive teams in recent years in trying to manipulate the draft's bonus pool systems by relocating dollars to top-end talent that may have slipped through the cracks, or to buy out players intent on fulfilling their college commitments.
Whether or not that continues is another unknown, and the next collective bargaining agreement could end up rewriting some of the rules, anyway.
"The draft is different every year," says Sanders. "I think it's important to have a strong idea of what we're looking to accomplish but also be flexible and be able to adapt and adjust to what the draft gives you. We certainly will have a philosophy and what's important to us in what we look for and what we look to accomplish, but at the same time, we don't want to be so rigid that we close ourselves off to certain opportunities that are presented to us in any given year.
"At the end of the day, really the most important thing for us, on a very general level, is come draft time, to be in the best position to make the best decisions for the Blue Jays."
***
Since being named to the position, Sanders has prioritized becoming familiar with the Blue Jays' various processes and one of, if not the biggest amateur scouting staffs in baseball. The August dismissals of Parker and national crosschecker Blake Davis created uncertainty about the department's future direction, although offers to return are believed to have been made to the rest of the staff.
Under Anthopoulos, the Blue Jays expanded their array of scouts because of an emphasis on getting as many first-hand looks at draft-eligible players as possible, something that looks set to continue.
"We're incredibly lucky. We've got not only a large staff but an incredibly talented staff, we've got a lot of guys who've been doing what they're doing for a really long time and are really good at it," says Sanders. "This is a group that's had a lot of success, and like anything else it's a balance. We have a group here that moving forward we're going to believe in and rely on. At the end of the day, our scouts and our scouting staff is at the very core of what we do and that's to evaluate.
"That being said, there's a lot of information out there and it's our job to collect and digest that in a way that comes down to helping us make the best decision. It's being able to take everything into account, consider it, weight it appropriately and factor it into our decision-making process. You can't emphasize enough the importance of our scouts and what they do because that really is the core of the operation and what makes it continue to work."
Players drafted and developed in recent years by the Blue Jays to impact the big-league club include Aaron Sanchez, Marcus Stroman, Kevin Pillar and Ryan Goins while dozens of prospects were used by Anthopoulos in trades to bolster the major-league roster.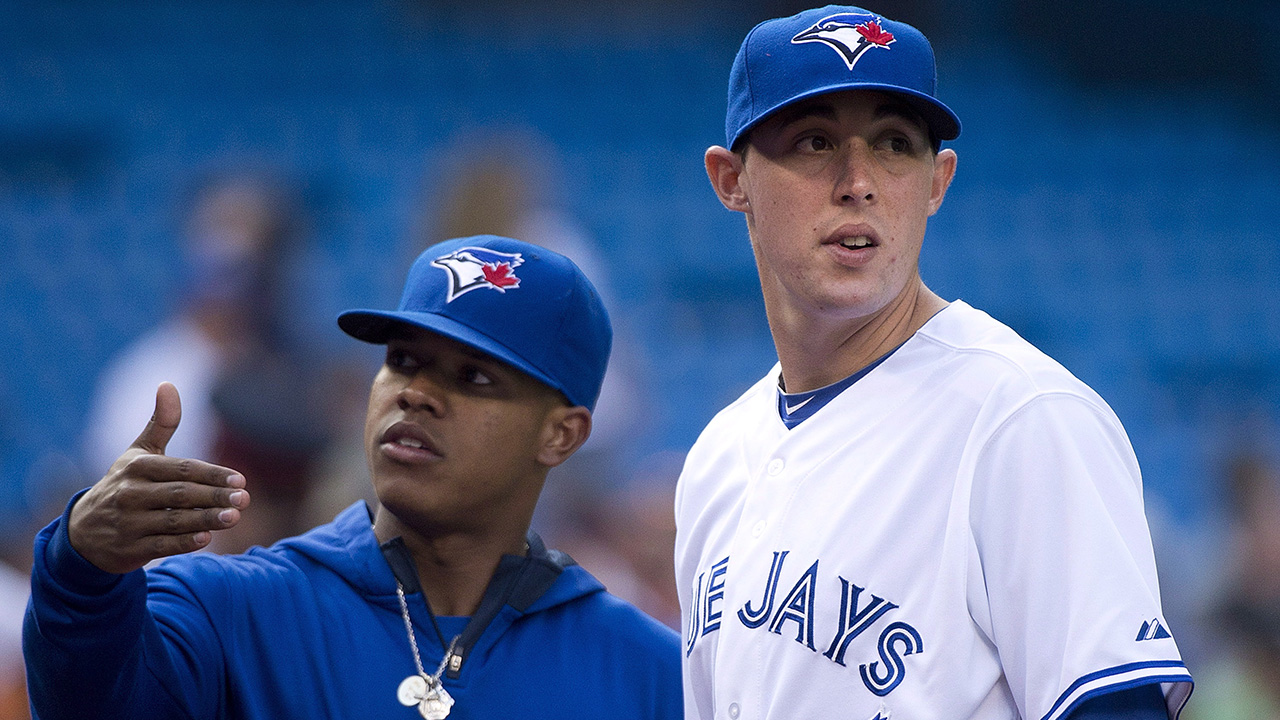 Marcus Stroman and Aaron Sanchez have developed into key pieces for the Blue Jays. (Nathan Denette/CP)
---
Over the course of Parker's four drafts, his selections included most of the club's current top prospects, highlighted by Conner Greene, Rowdy Tellez, Max Pentecost, Sean Reid-Foley, Jon Harris and Justin Maese.
Under Sanders, the challenge now is to not only keep the pipeline going, but make it even more productive.
"From afar, the Blue Jays have always done a tremendous job, they've had a lot of success in the draft, especially with some of the high school pitchers who have gotten up more recently," says Sanders. "I've been able to admire them from afar and now being a part of it, I'm really excited to get to work alongside this group."